Although some countries have introduced women-only cars for trains, the introduction of women-only cars in Japan is increasing.
Although there are differences in the services of each company, such as hours of use and who can use them, they are introduced on various trains throughout Japan. Men are not banned from riding, but be aware that if a man is riding, it will be seen as a giraffe from around. Also, you may be warned that "This is a women-only car!", So it is better to avoid riding men if possible.
Sometimes you get on a train you aren't used to, and you suddenly see a man who changes vehicles in a hurry. If there is a women-only car, it is good to note that the information is posted.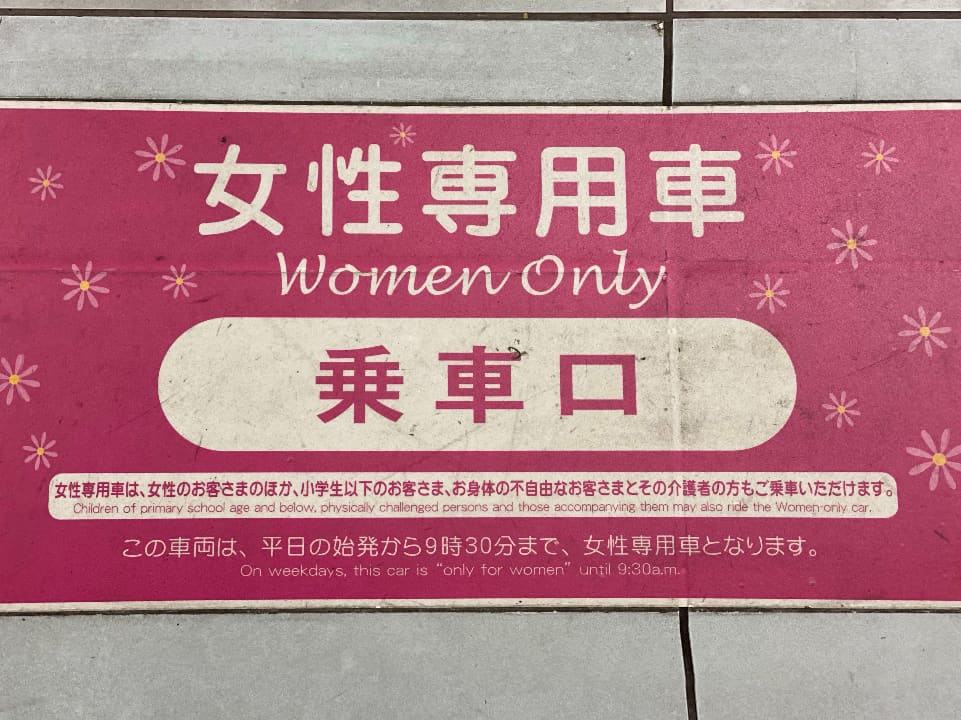 Vehicle location
If there is a women-only car, the mark is displayed on the platform or train car, so you can check it. (The mark is slightly different for each company)
■ Home display example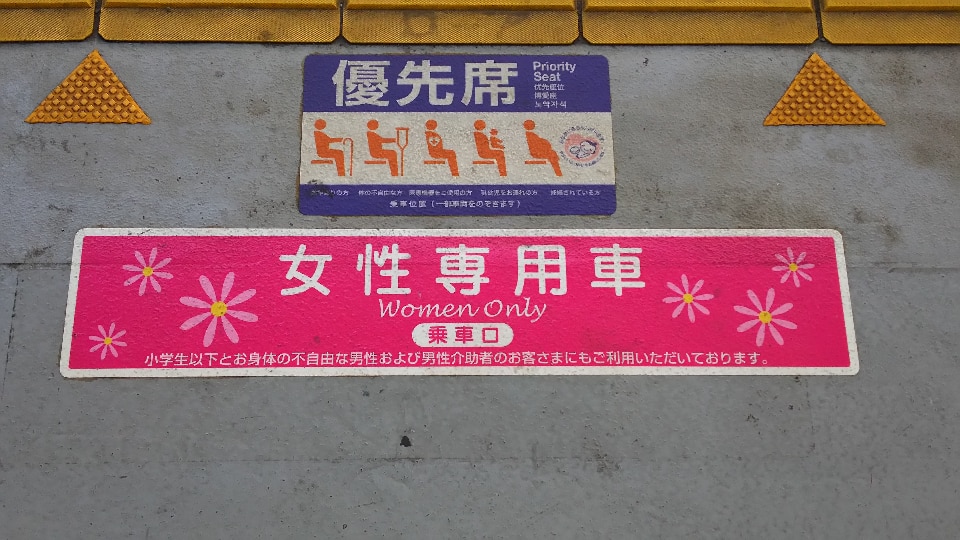 ■ Display example in the vehicle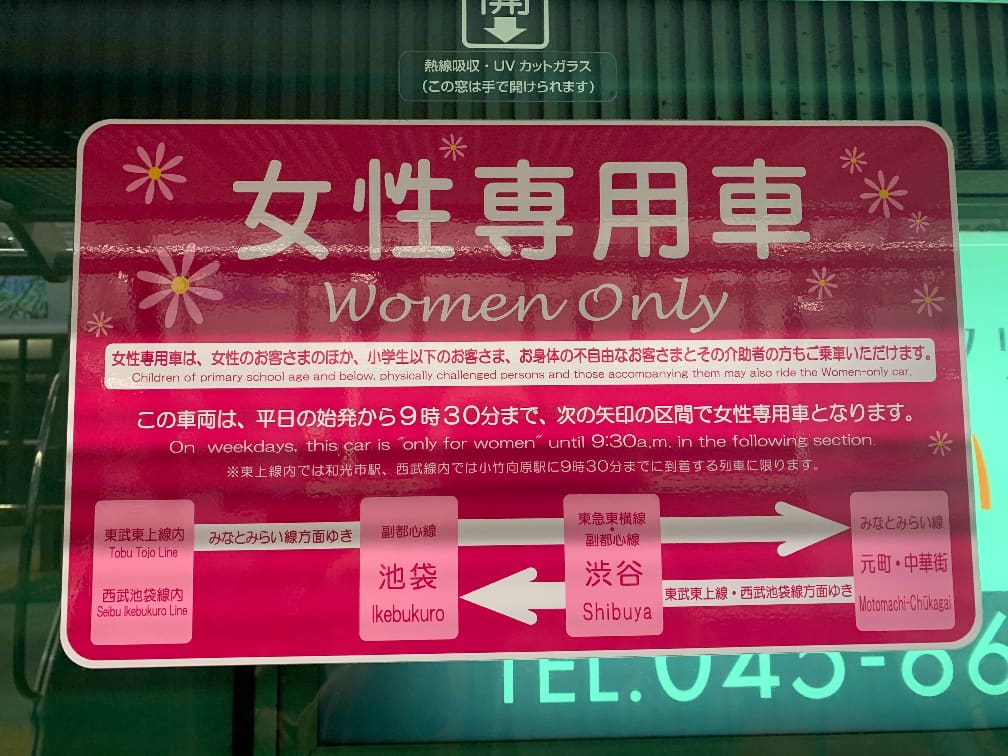 Please note that the vehicles for which women-only vehicles are set differ depending on the train.
■ Examples of routes in Tokyo
・ JR Keihin-Tohoku Line / Negishi Line: 3rd car starting from Ofuna Station
・ Tokyo Metro Hanzomon Line: The last vehicle
・ Odakyu Line: The last vehicle
■ Example of Kansai route
・ Osaka Loop Line: When starting from Osaka Station bound for Nishi-Kujo: Fourth car from the front For Kyobashi car: Five cars from the front
・ Midosuji Line: Car 6 (6th car from Nakamozu side)
・ Hanshin Main Line: Fourth car from Hanshin Umeda side
Depending on the route, available sections may be set instead of all sections.
By the way,
The set vehicles tend to be different between Tokyo and Kansai.
In Tokyo, there are relatively many at the end of the vehicle, the front and the last, but it seems that Kansai is often set in the middle of the vehicle. It is better to check the guidance display without deciding.
Utilization time
Usage time is also set by each company. In Tokyo, most commuting hours are set on weekdays (from the first train to around 9:00).
There are some trains that are set to return home in the evening or are set all day, so let's check the guidance display.
■ Examples of routes in Tokyo
・ JR Saikyo Line / Kawagoe Line: Trains arriving at Shinjuku Station on weekdays from 7:30 to 9:30 Trains departing from Shinjuku Station on weekdays after 23:00
・ Tokyo Metro Yurakucho Line: First train on weekdays-9:30
・ Toyoko Line ・ Minato Mirai Line ・ Denentoshi Line: First bus on weekdays ~ 9: 30
■ Example of Kansai route
・ Osaka Loop Line, JR Kyoto Line: All day
・ Hankyu Kyoto Main Line: All day on weekdays
・ Keihan Main Line: Weekday, morning up Depart Yodoyabashi from 6:39 to 8:51 down Depart Demachiyanagi from 6:09 to 8:49
By the way,
There are differences between Tokyo and Kansai.
In Tokyo, it is set only during the commuting rush on weekdays, but in Kansai it seems that many trains are set all day, including weekends.
Available users
Only women can ride a women-only vehicle, but many boys and children with disabilities (elementary school students or younger) and men who have physical disabilities and men who assist them are also available. is.
This is also different for each company, so it is better to check.
Pros and cons
The main purpose of introducing women-only vehicles in Japan is to prevent molesting and false charges, but there are many oppositions and opinions.
There are some sayings such as "male discrimination" and there are many opponents.
Women-only vehicles do not legally prohibit men from riding, so riding a car does not mean you are guilty, but because it is noticed by the eyes and verbal surroundings, it is difficult to ride think.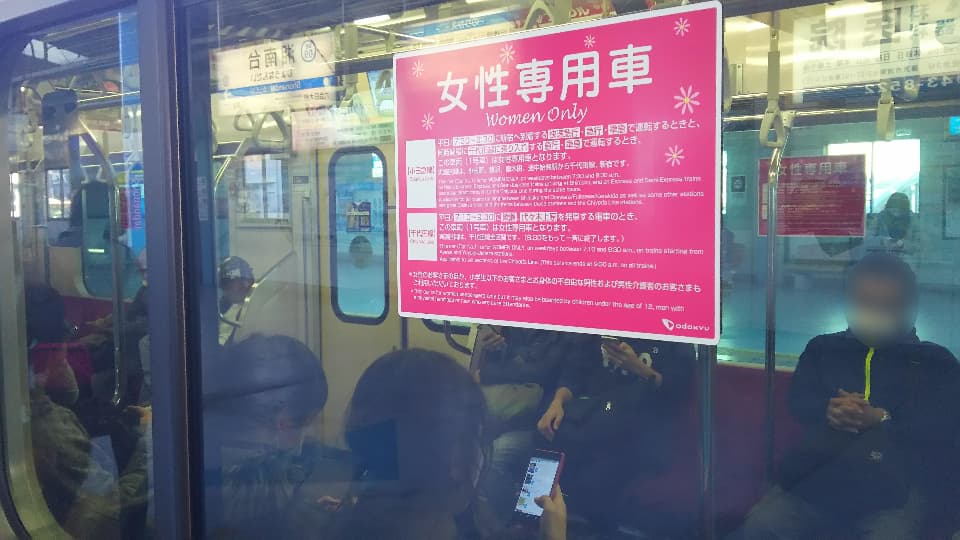 Note: The images are for times other than women's use hours.
Because there are various opinions, it is difficult to judge whether it is good or bad. However, during the rush hour of commuting on weekdays in Tokyo, many people use it and it becomes very crowded. I often use women-only vehicles, but it's easier to use than a crowded train with men.
As women-only vehicles are introduced, please follow the rules for using trains!