Convenience store sually open for 24x7, located everywhere, can buy daily necessites and foods, so it makes our life more convenience. Currently, "Seven-Eleven" and "Family Mart" and other company provided many convenience services. Today, I will introduce 11 convenience service that can do in Japanese convenience store.
1. Can withdrawal/deposit money from the ATM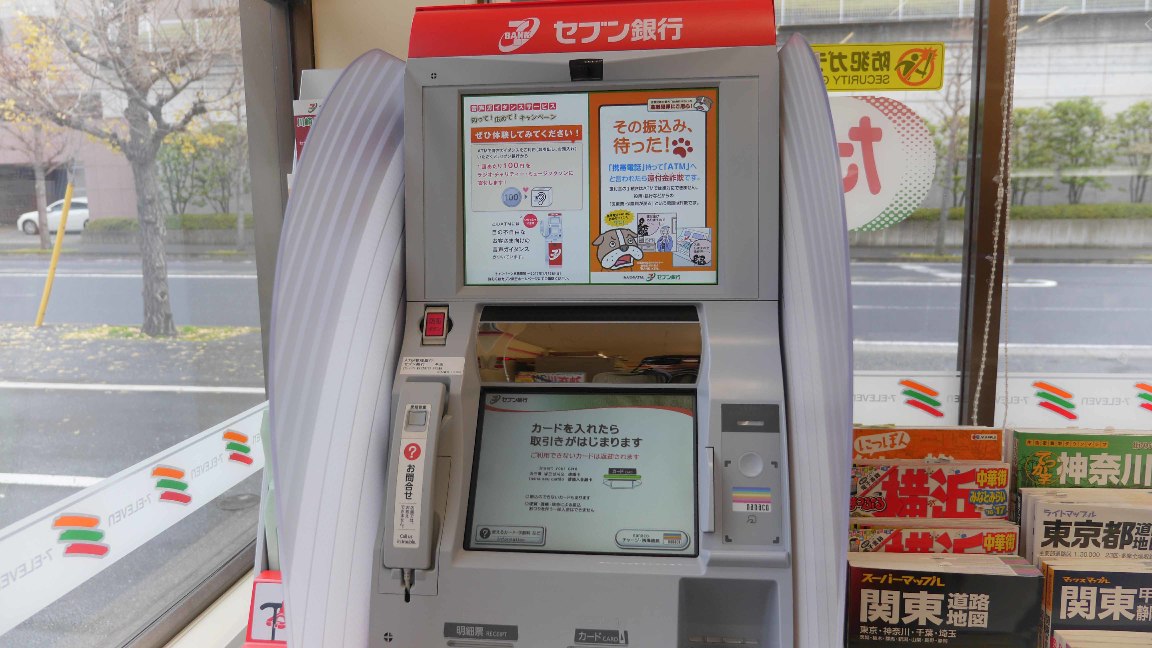 At the
Seven Bank ATM
mainly place in Seven-Eleven,
Lawson ATM
in Lawson Store, and other many convenience stores,
e-net ATM
can withdrawal(sometime deposit) money from it. If you have PLUS/Cirrus/Unionpay compatible cards that issued in outside of Japan, most of these ATM accept withdrawal cash in JPY.
2. Can use Wi-Fi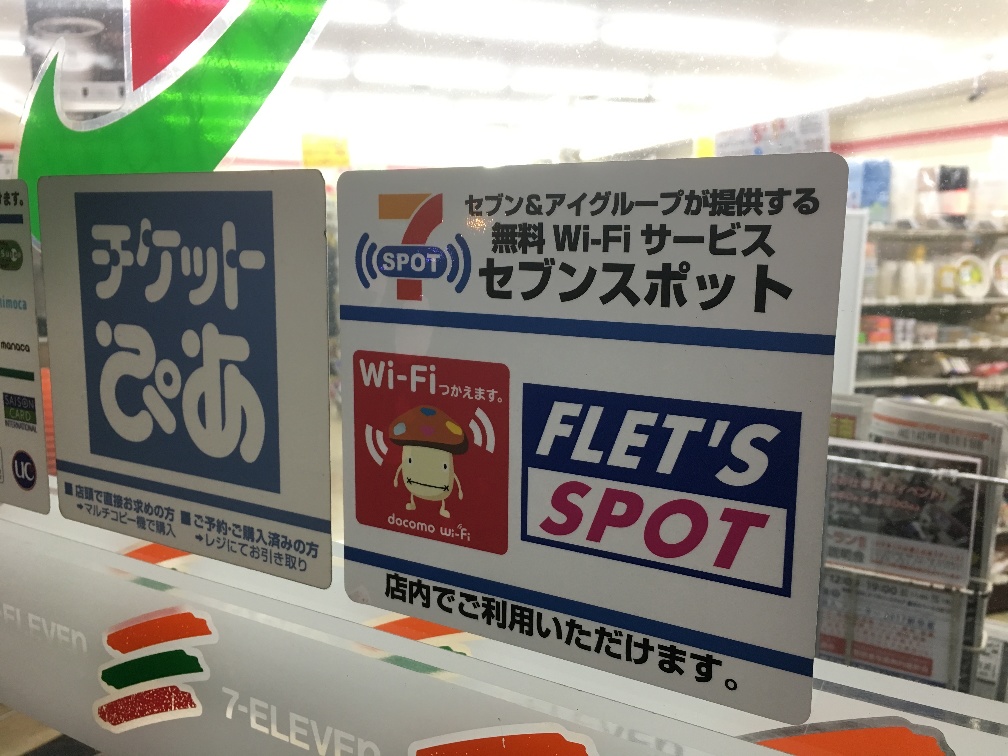 3. Can buy many tickets
Each convenience store, can buy movie/concert/sport/ski lift/Disney®️ land/Expressway bus tickets. Fujiko-Fujio museum, and Mitaka-no-mori museum of fine-arts can only buy in Loppi in Lawson.
4. Can send parcel
If you can not send it in business hours, you can send it in convenience store, instead. But be careful, packaging items such as cardboard(box), bags are not prepared in there so you have to packing before you bring it into there.
5. Receive Amazon products
One of largest online shopping site, Amazon is accepting send box to Lawson, Family Mart, and Mini Stop. It is very convenience if you bought items that you don't want to see by your family or wants get it in other place. But they cannot accept deliver heavy items(≥10kg) and box total dimensions must be within 80cm. Also, they cannot accept more valuable items(≥300,000JPY) and not send from Amazon.
6.Can buy clothes and daily necessites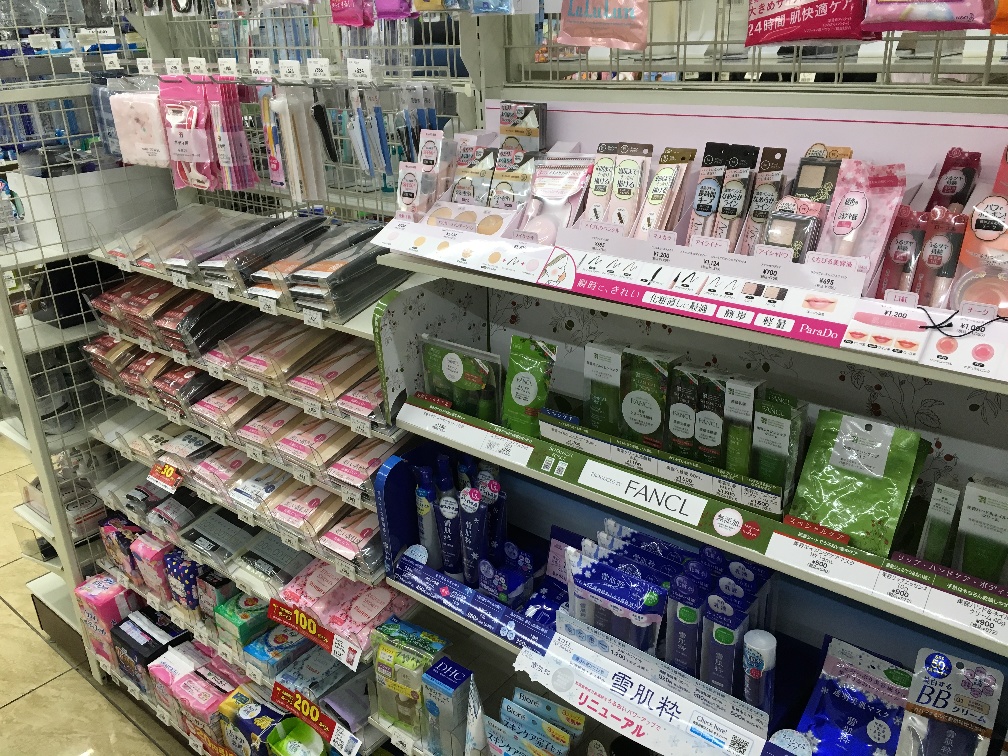 If you need socks or underwear, or forget tie in the wedding or funeral, you can buy them in convenience store. Other things such as detergent, softener, [hair|skin|body] care item, and umbrella can buy in there.
7.Can eat fresh food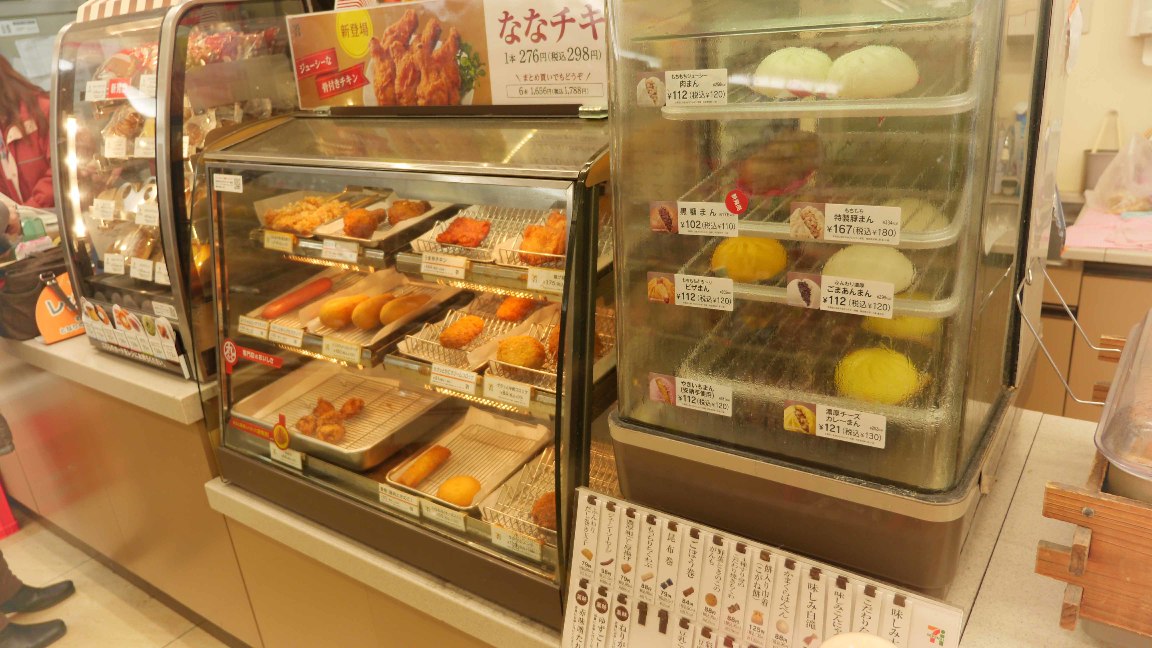 All of convenience store are effort to hot snack. Fried Chicken, American hotdog, steamed meat bun can buy and eat in there. I recommend "Kara-age-kun"(Fried chicken in lawason),"FamiChicki"(Fried chicken in Family Mart), "Cranky chicken" in Mini Stop. All of them are similar, but tastes are different, so you should try it. In the winter, they sell oden, and it is so delicious. Ministop has not store so much but they sell parfait/soft cream. Also, they are selling doughnut. It is delicious as same as doughnuts store.
8.Can drink fresh ground drip coffee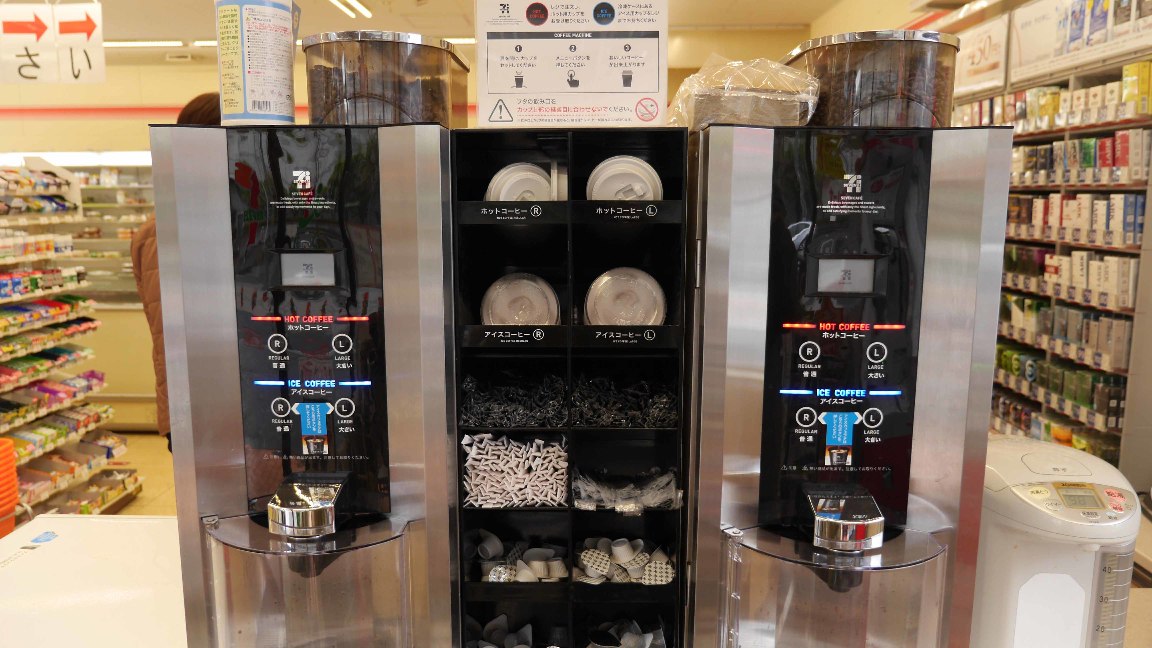 カップを購入してレジの隣に置いてあるコーヒーマシンで挽きたてのドリップコーヒーを飲むことができます。機械にカップをセットしてメニューボタンを押すだけで完了です。アイスコーヒーの場合はセブンイレブンとサークルKサンクスでは冷凍庫にある氷入りのカップをレジに持っていく必要があります。ローソンでは「ロイヤルミルクティー」「ダージリンティー」「アイスアールグレイティー」など紅茶も楽しめます。
You can buy cup and pour coffee from coffee machine which is placed on next to the register. Put cup to the machine and push the button, and wait several seconds... That's all for you have to drink! In Lawson, you can buy "Royal Milk Tea", "Darjeeling Tea", and "Ice Earl Gray Tea", too.
9.Can use copy machine and net print, also fax.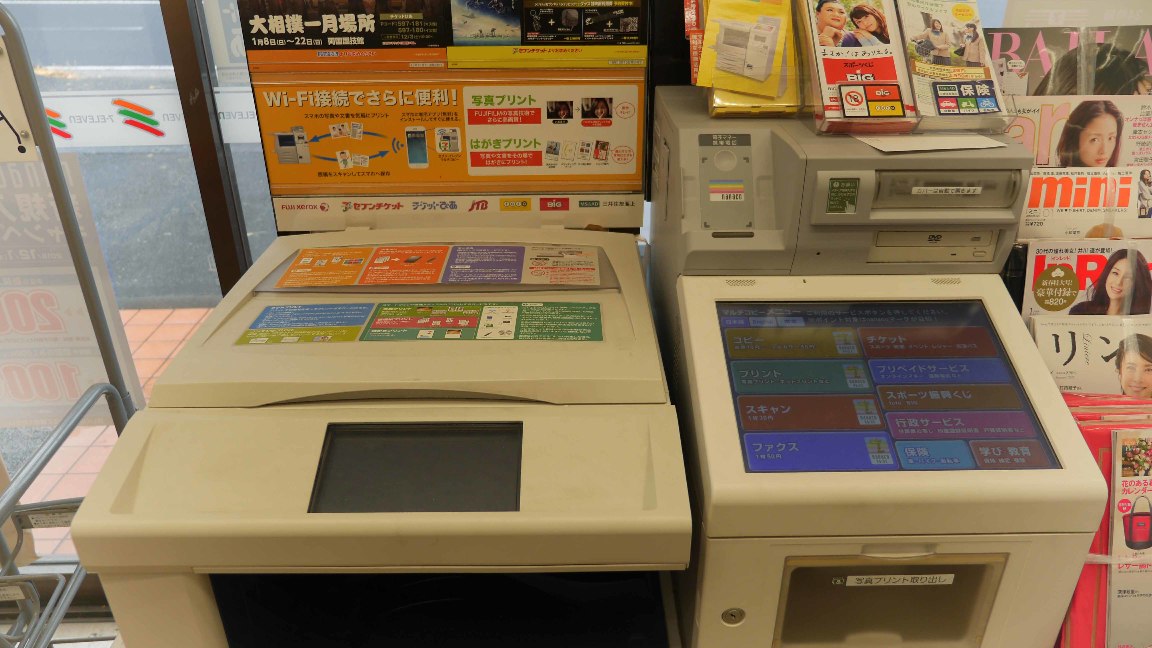 If you have not printer in your house, multi copy machine in convenience store is very useful. Not only copy function, but also it has Wi-Fi print function so you can print directly from your smart phone(in this printer, has beautify skin filter!). Also it can print from USB, upload files from the internet service. If you need send FAX from outside of your work place or home, you can send it from convenience store.
10. Can buy deli food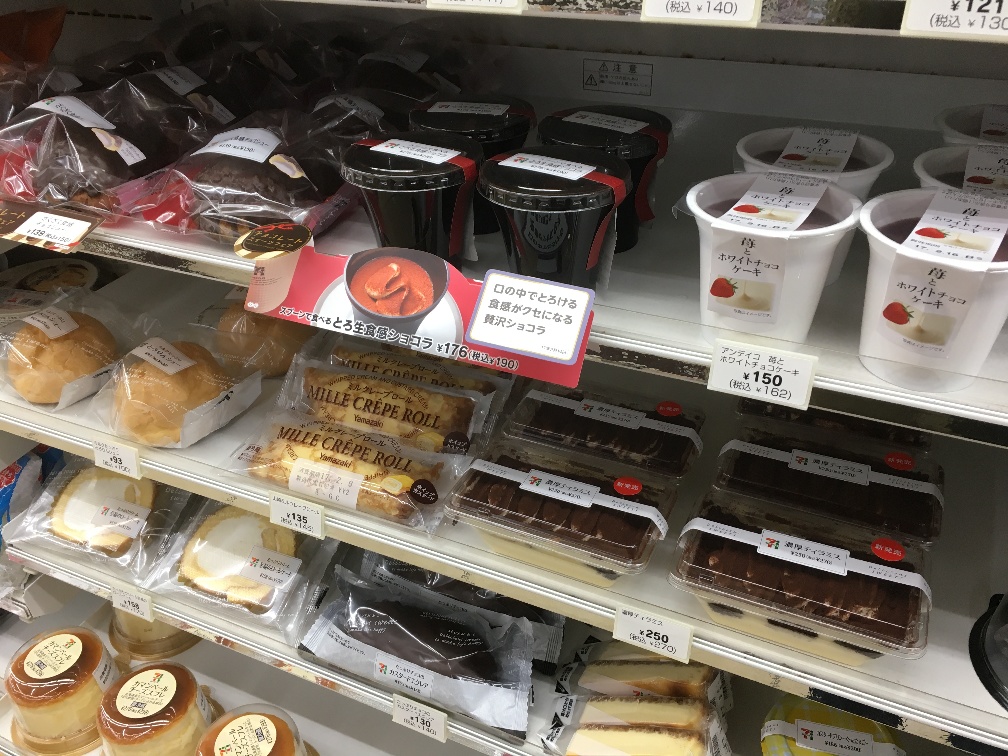 忙しくて料理が作れない時や一人暮らしで料理をしない人に便利なのがコンビニのお惣菜です。「豚ロース生姜焼き」や「さばの味噌煮」、「厚焼き玉子」に「ひじき煮」など洋食から日本食まで様々な種類があるのが特徴で、個包装で販売されています。セブンイレブンの「サラダチキン」は低カロリーで高タンパク、味も美味しいのでダイエットにいいと話題となり一時は入手困難な時期もあった程の人気商品です。
If you busy and have no time to make foods, or if you live home alone, deli is very useful. "Roast pork with ginger", "Boiled Mackrel with miso", "Thick omelet", "Boiled hijiki"...etc... from Japanese foods or not, many kinds foods are ready and packed each one food. Seven-Eleven's salad chicken has low carolie but high protain, and delicious so it become famous and difficult to get it.
11.Can use bathroom
Some store such as small or in front of station is not have bathroom(toilet), but usually convenience store have bathroom so it is very useful in some urgent situation. You must tell that you will use bathroom to staff before you use.
このように日本のコンビニはとても便利で生活に欠かすことのできないものになっています。他にもお酒やタバコ、雑誌にプリペイドカードも販売しています。ぜひ実際に訪れて日本のコンビニの便利さを体感してみてください。
As illustrate, Japanese convenience store is very useful so it is become essential. Tabacco, Alcohol, Magazine and Prepaid card also sell in there so you should visit and feel convenient in Japan!