In England, there is a custom of "AfternoonTea" which enjoys afternoon time with tea and confectionery.
You can get it at the hotel's cafe in Japan, but there are places where you are expanding stores under the brand name of "AfternoonTea".
It handling miscellaneous goods, eating and drinking, also expanding stores according to themes such as "Afternoon Tea Living" for sundries and 'Afternoon Tea Room' for eating and drinking.
Since it is deployed nationwide, it can be found in various places in Japan.
Time Limited Event Suites Order Buffet
Afternoon Tea Tearoom offers pasta, salads and desserts, as well as a large selection of tea.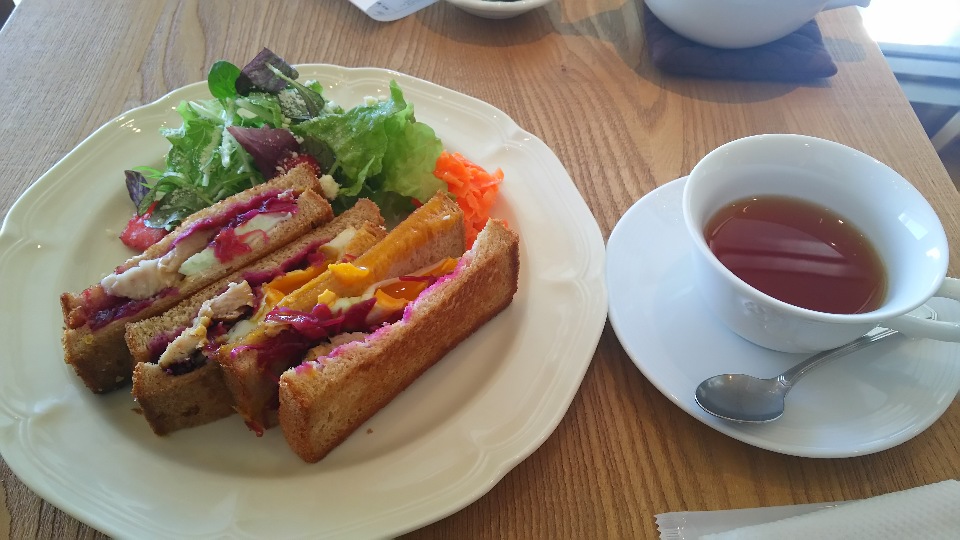 Because tea is mostly offered in pots, you can enjoy 2-3 cups!
At this Afternoon Tea Tearoom, an event called "Sweet Order Buffet" will be held that regularly orders sweets and drinks as much as you like.
It is available for a limited time and limited stores, but very very popular!
Although it looks a little expensive as 3,200 yen per person, AfternoonTea's sweets are very elegant and of good quality.
It is very advantageous to just eat as much as you like and also like drinks!!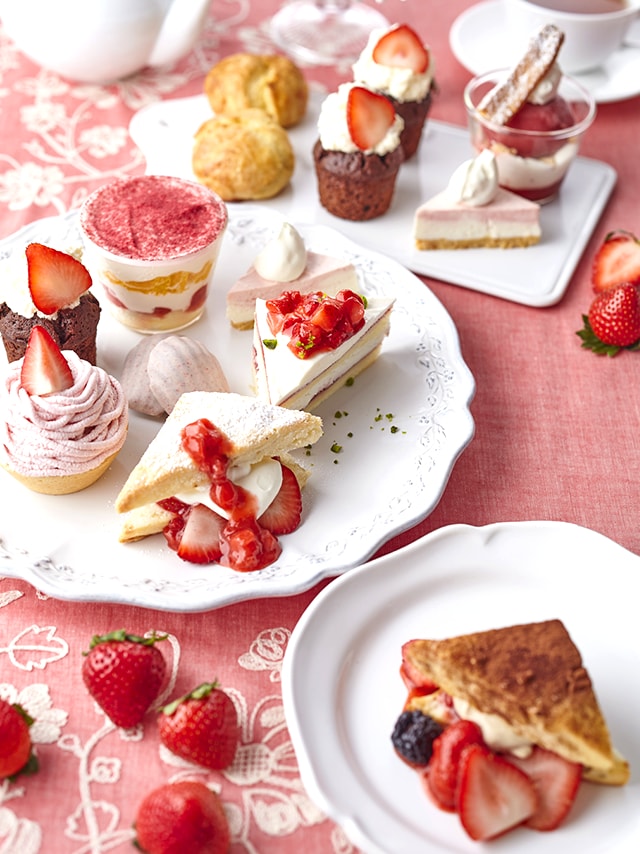 (Image quotation: From AfternoonTea site)
It is necessary to make a reservation from a dedicated site, but as soon as an announcement comes out everywhere is occupied in many places and it is often booked It is also a hard time.
Announcement will be made at AfternoonTea site notice. You can also receive it by email once you register for members.
The leading role of this sweet "Strawberry".
There were plenty of spring-like sweets!
I came across Yokohama's Kamioka store. It is located at "Kamio-oka station" of Keihin Kyuko Line and Yokohama municipal subway, and it is within the building directly linked to the station, so it is very accessible.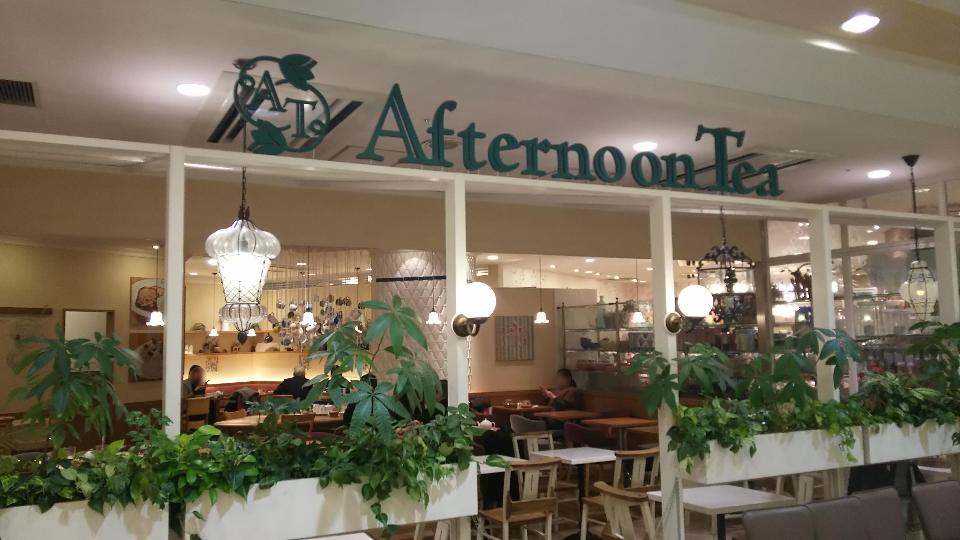 This shop is like an open space, so it has a very open feeling.
When entering the store, I will explain the sweet order buffet.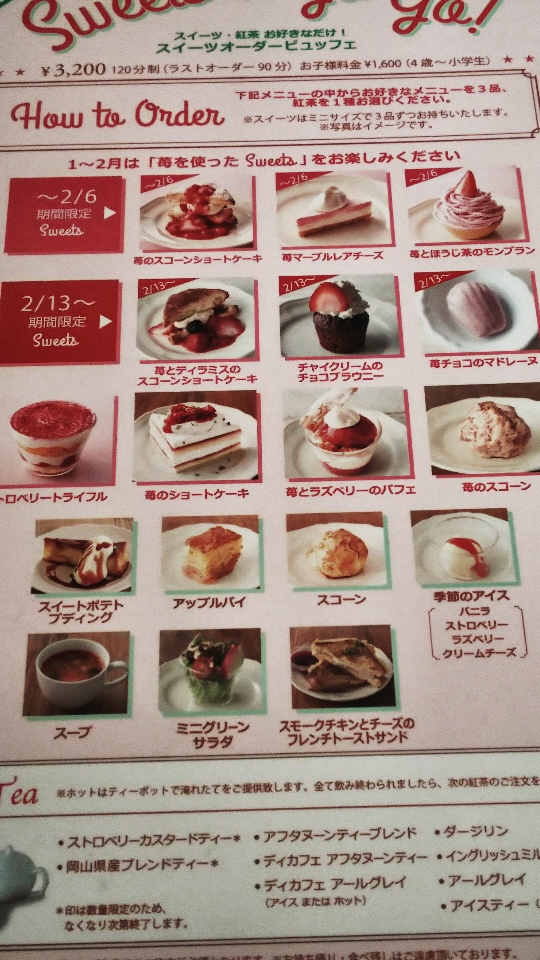 Buffet serving time is 120 minutes. The last order is 30 minutes before end.
You can order three from 11 kinds of sweets and 3 types of savory.
Once three have finished eating, the following three types can be ordered.
You can choose from 9 kinds of tea for drinks. Although it is not on the menu, it seemed that coffee could also be ordered.
But, if you come to AfternoonTea, the best thing about you is tea!
Selectable and enjoyable ordering system
So now,start it from pick the first 3 kinds and tea!
At first, "strawberry and tiramisu scone short cake", "strawberry and raspberry parfait", "smoked chicken and cheese French toast sand."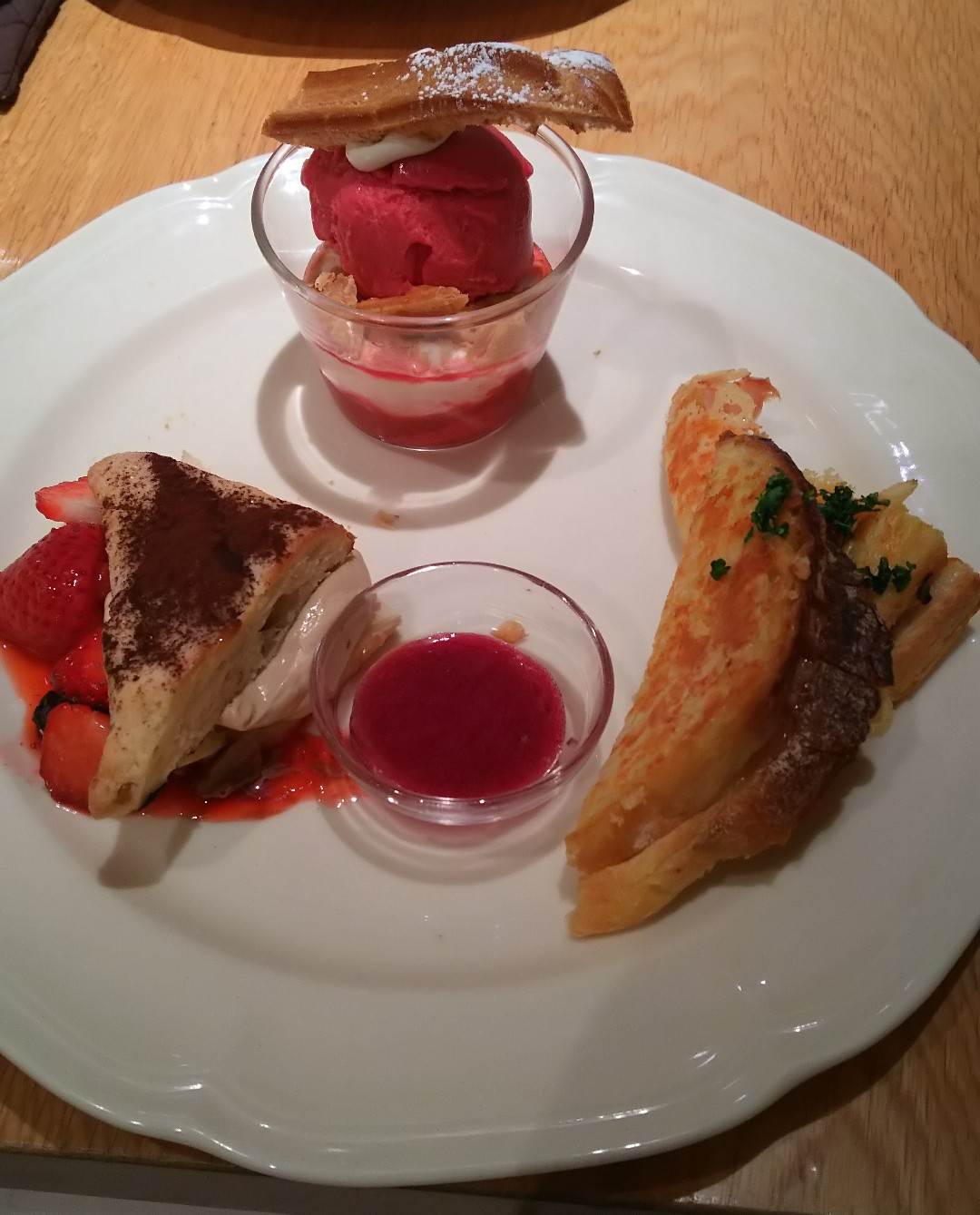 Because all sizes are small, it is a pleasing part of this event that you can enjoy many things a little at a time!
The scone short cake (image lower left) was covered with coffee cream in between, and it was entwined with strawberry sauce. The scones are also good and tasty!!
The parfait (on the center of the image), the raspberry ice was sweet and sour and very refreshing!
French toast (image lower right) is a product that is offered seasonally every year at AfternoonTea. Cheese and smoked chicken are unbearably delicious! One of my favorite menus was included in the buffet this time, it was very lucky!!
You can apply raspberry sauce (center of image) as you like. You can enjoy changing taste.
Although tea ordered Earl Gray that I love, I was taken care of by sweets alone, I forgot to take pictures of tea ...
It was offered properly in a pot!
The 2nd order was "Chocolate Chocolate Brownie", "Strawberry Shortcake", "Scone".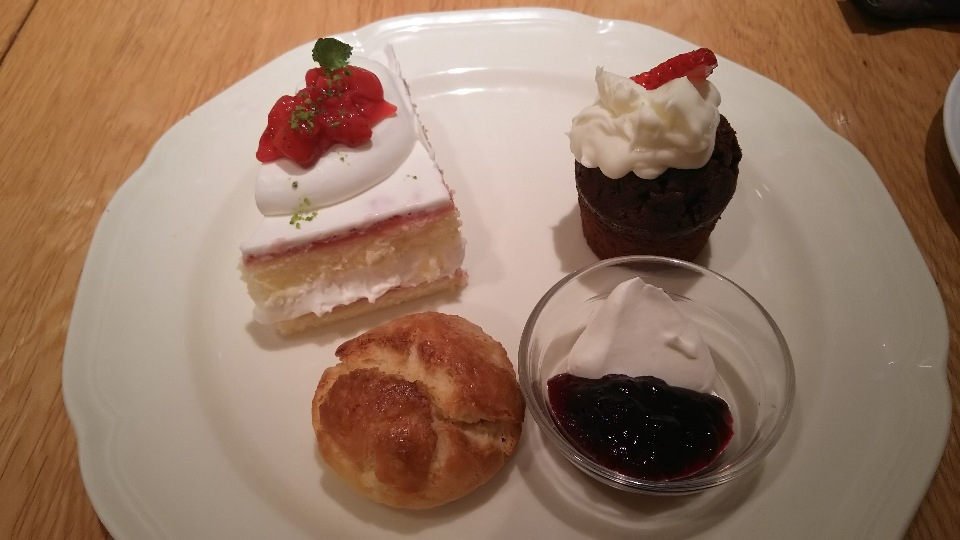 The short cake (image upper left) is a plump cream with fullffy sponge and sweetness. It was easy to eat and it was served well.
Brownie (image on the right) is a sour cream on top. A rough chai cream came out from inside, It was delicious.
And then, the regular scones (under the picture) are cooked with fresh cream and blueberry sauce.
Very crisp, but it also has a moist feeling Recommended items.
Choosing from 14 types is very troublesome, but you can be excited when you choose it.
Third time, we ordered "Strawberry Trifle", "Madeline of Strawberry Chocolate", "Seasonal Ice Cream Cheese".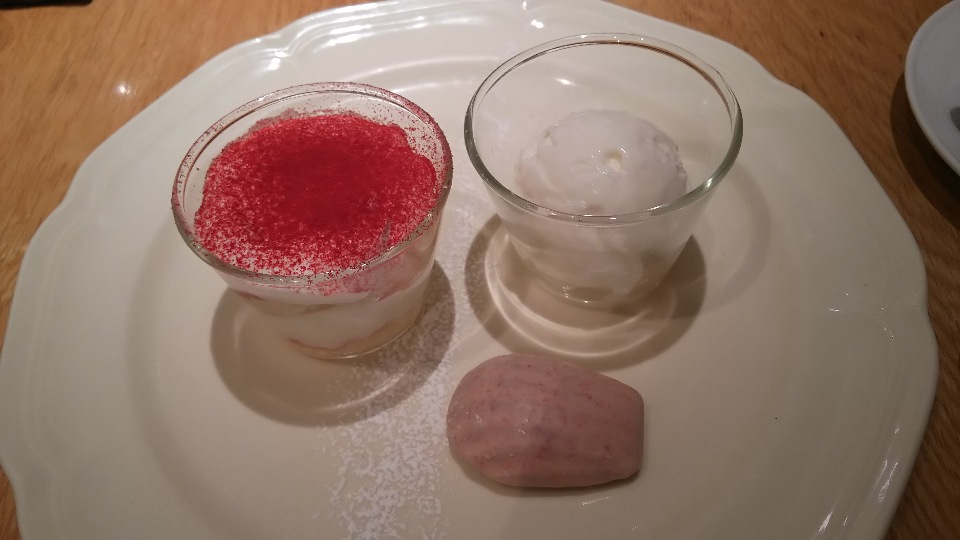 My stomach has become full, so I took a rest with small things or ice cream.
Even with a buffet, not order going to pick up, but order it and provide it properly, so none is really delicious!
Well, I've got a lot of stomach, but I ordered again what I was greedy last, which means last order.
"Strawberry and tiramisu scone shortcake", "smoked chicken and cheese french toast sand", "chai cream's chocolate brownie".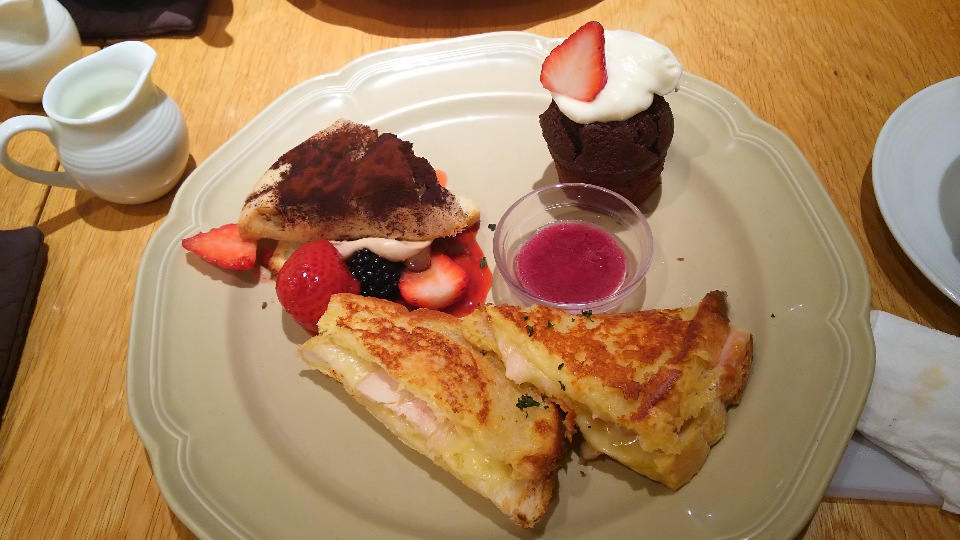 It was quickly 120 minutes.
The sweet order buffet is offered in a composition of seasonal desserts and standard desserts, so you can enjoy a different dessert any time you go.
Goods of AfternoonTea are all very fine, so it is an event of recommendation anyway.
Details
Name: Afternoon Tea Tearoom Kamioka shop
Address: 1-6-1 Kamiokaoka west Konanaka-west, Yokohama-shi, Kanagawa Prefecture Wing Kamioka Okaoka 2nd floor.
Phone Number:045-848-7934
Homepage:https://www.afternoon-tea.net/(AfternoonTea)