Do you guys know Monzen-Nakacho where is in Koto-Ku, Tokyo?
There is a convenient place because you can come there by 10 minutes from Ginza by using the train, and you also can go to Odaiba and Tokyo Skytree by bus.
So there is a such of fabulous shopping and entertainment area, but also we have a secret right sightseeing place that is well-known in the local area people.
This time, I will introduce that place name "Fukagawa Fudo-do."
What is a Naritasan Fukagawa Fudo-Do?
There has two entrance. Below of picture is showing the main entrance.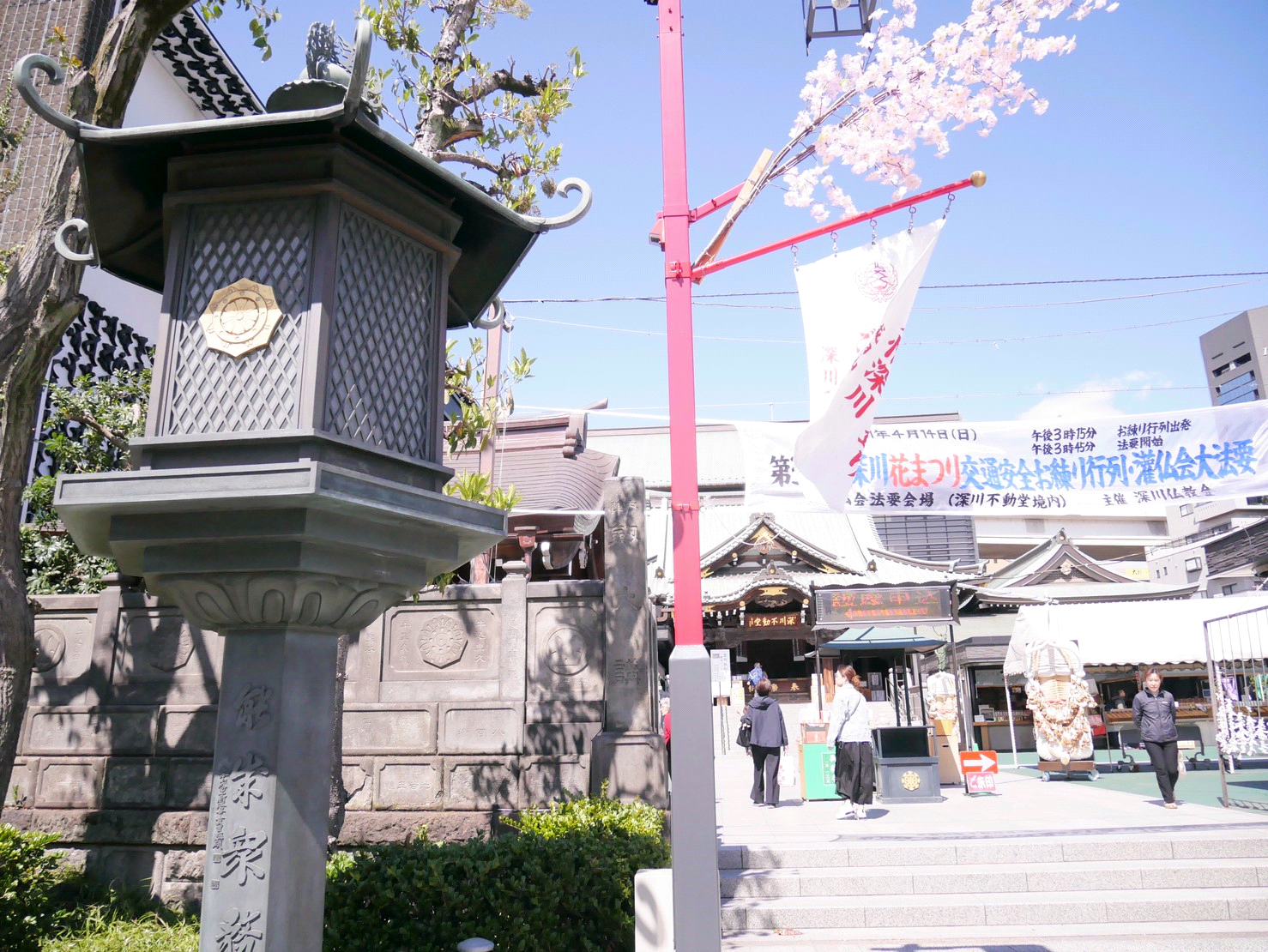 In the back, you could see the old main temple.
The second entrance not so crowded by people, but it is worthy of visiting because you could see a significant gateway.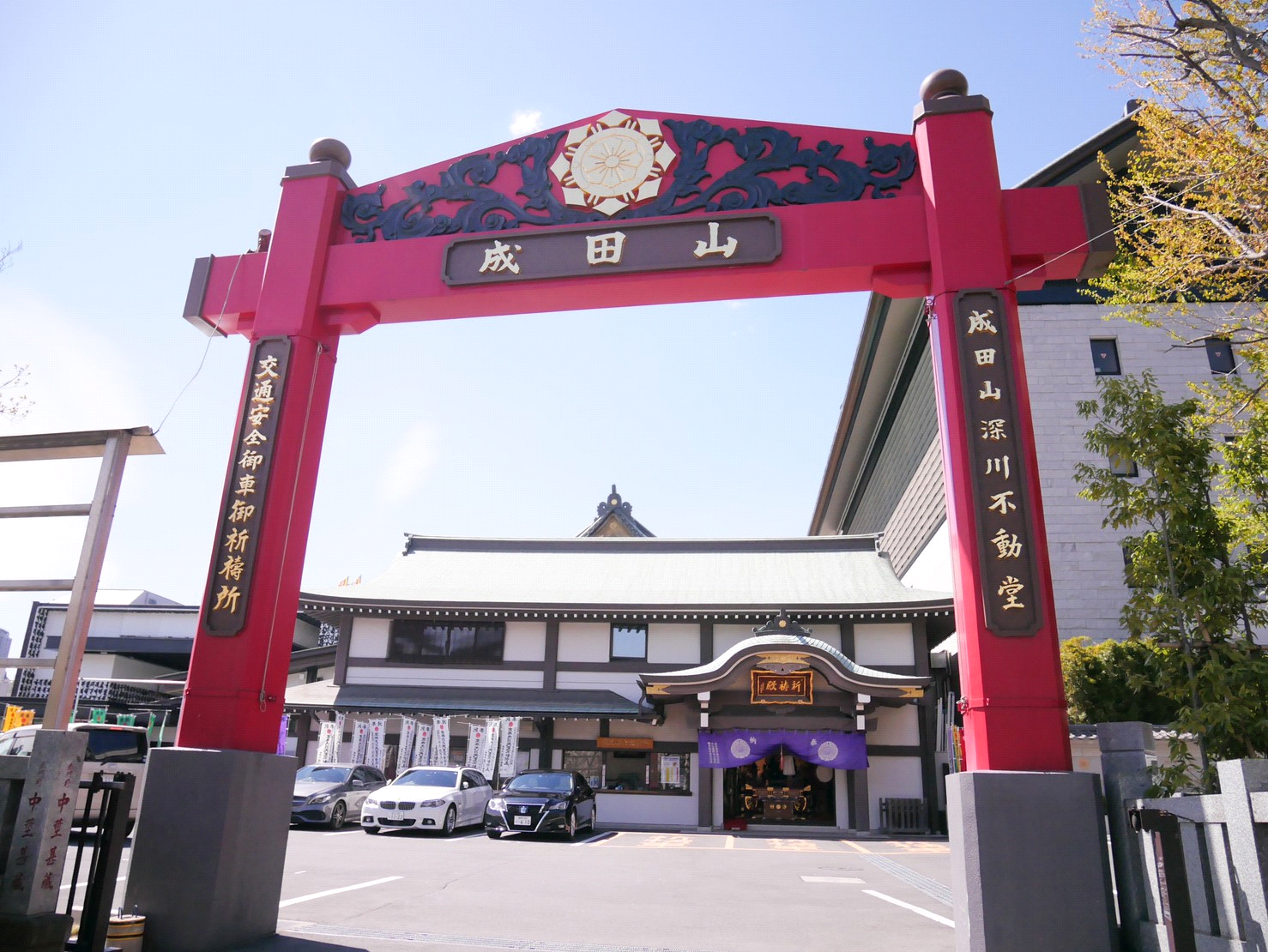 Naritasan Fukagawa Fudo-do has 310 years of history and a sort of Singon-shu temple.
Near this temple area encountered a couple of disaster and war, but fortunately, this temple never collapses.
This temple is the oldest building that made by wood, so recently this building gets remodeled.
I found one thing inside the temple!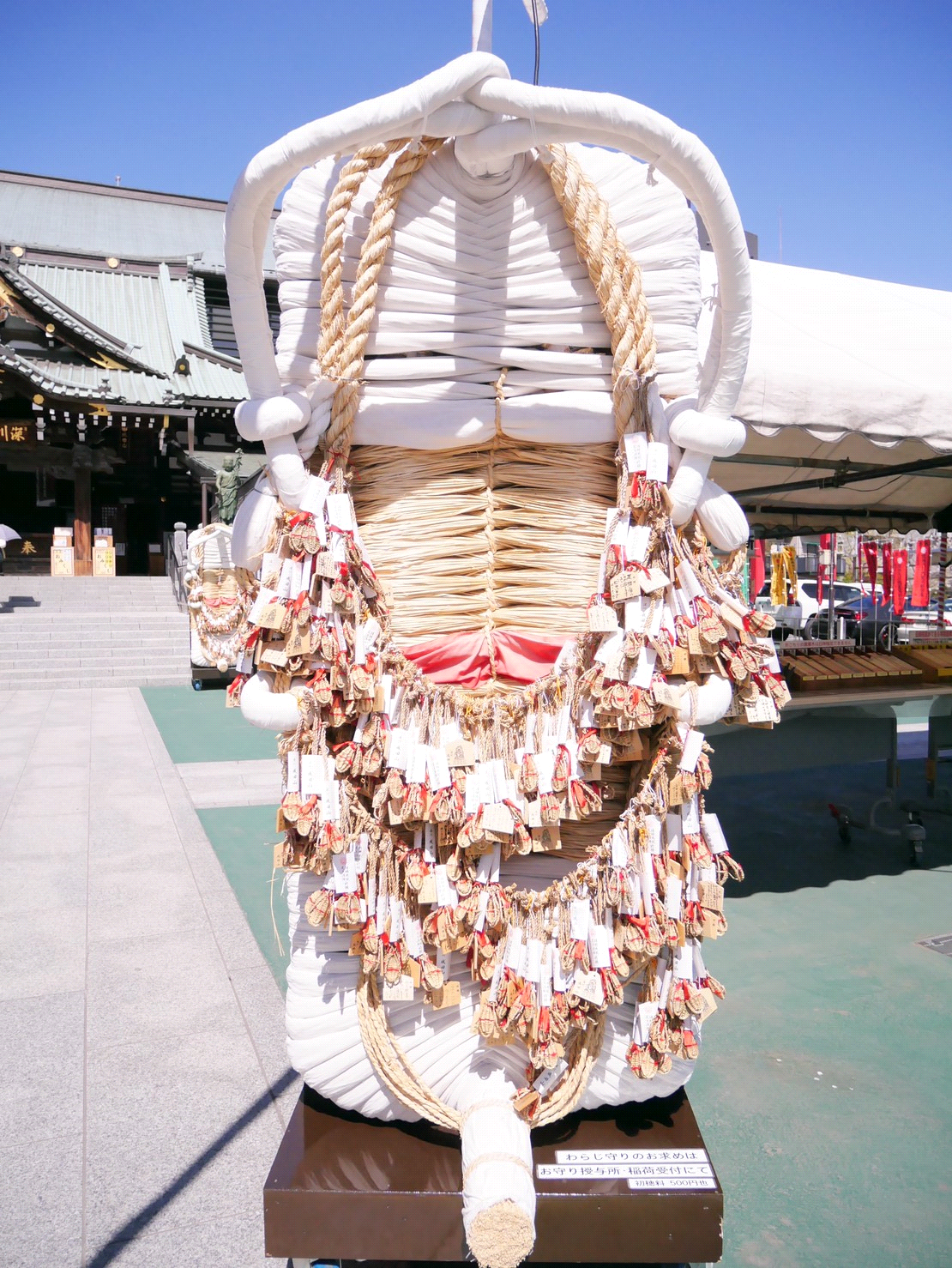 敷地内に一歩足を踏み入れると、大きなわらじが飾ってあり目を惹かれました!
Once I'd got into the property, I notice huge Japanese-sandals!
This one is called "Waraji-Mamori," and praying to keep wellness on back and feet.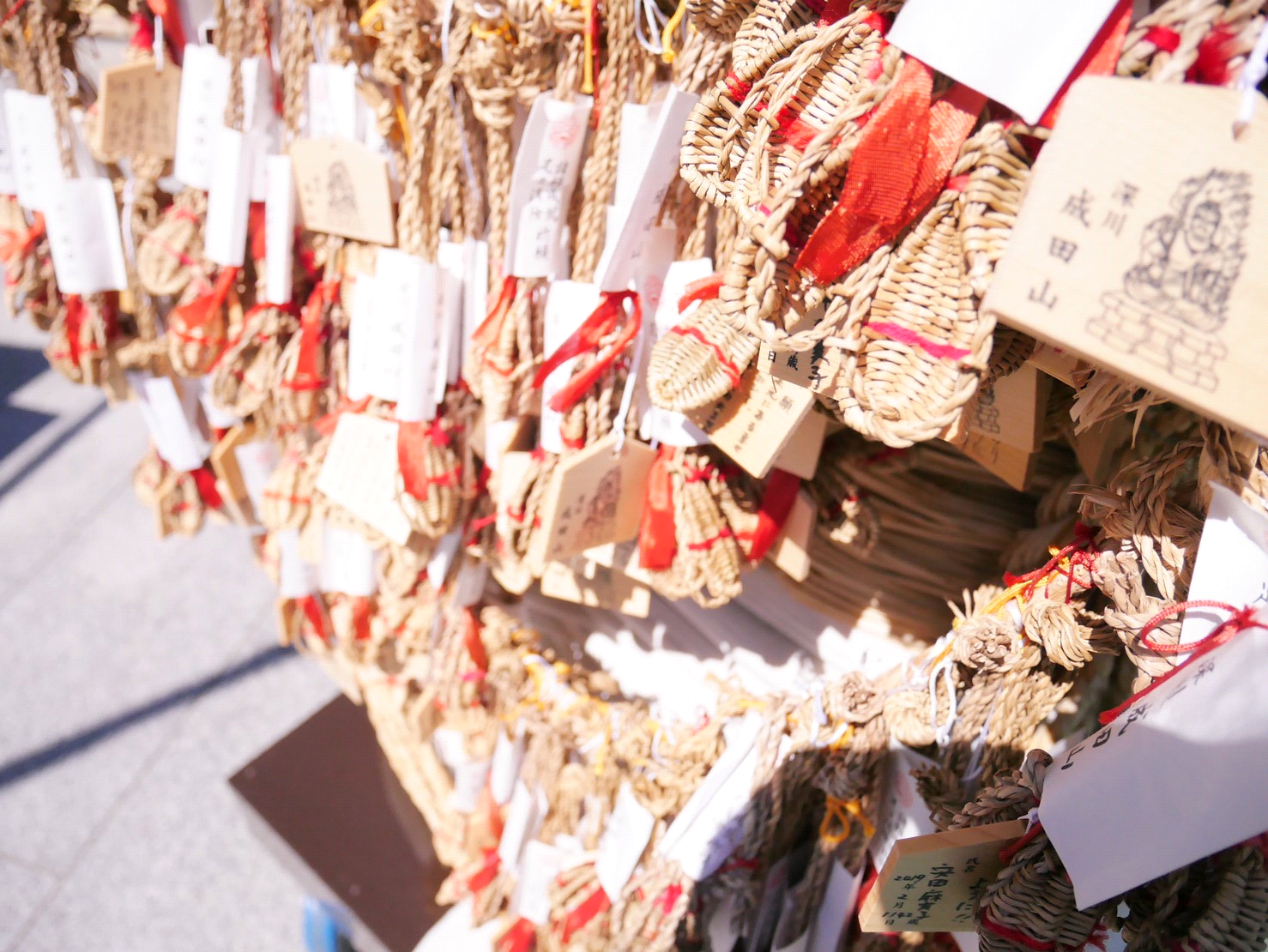 Many people are praying about those kinds of things.
The professional maker makes this one, so I feel a significant impact from that.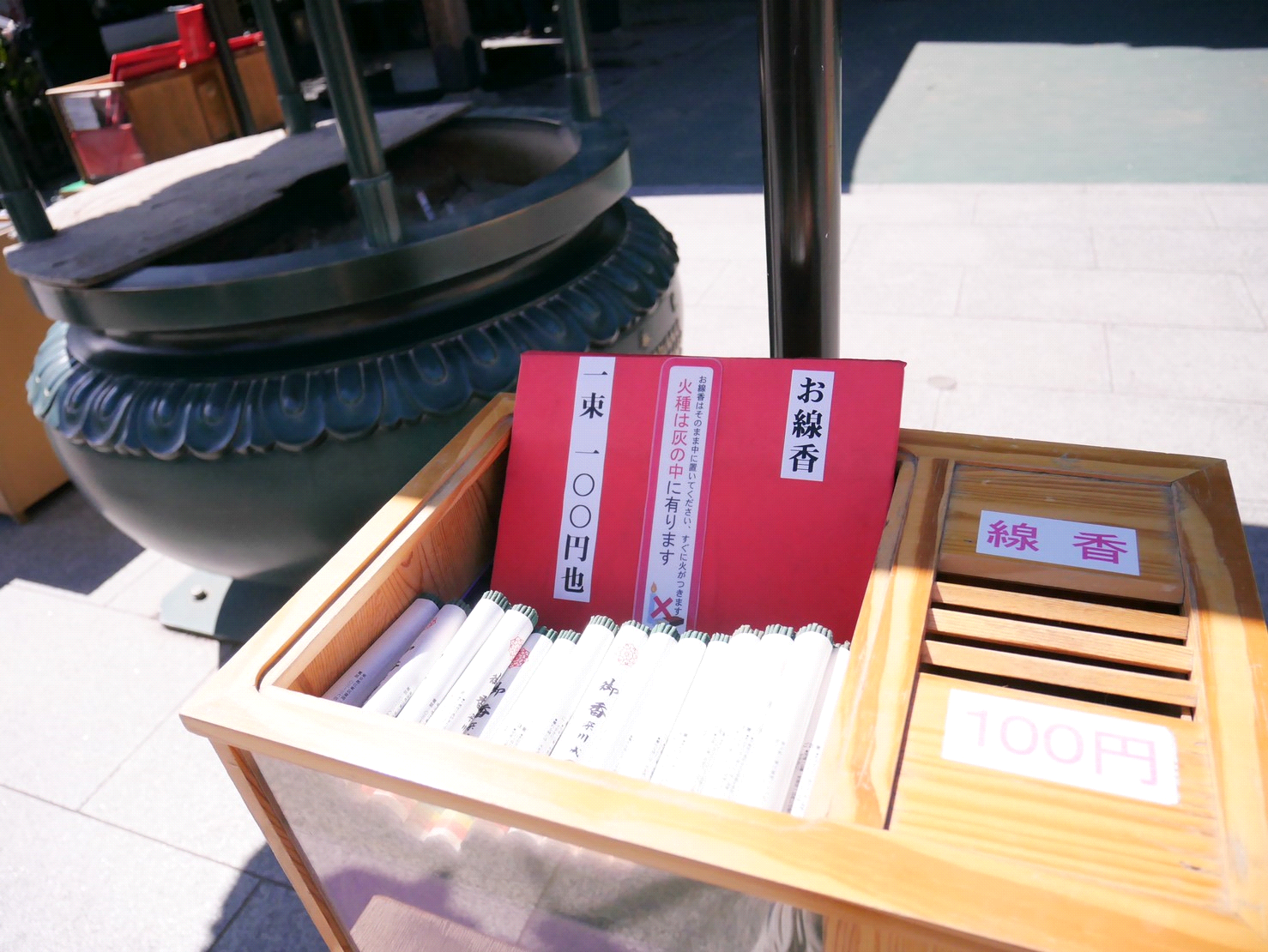 You could buy incense sticks by paying 100 JPY / each pack.
It is difficult to put fire to that pack, but it can be enjoyable because this place is a special place.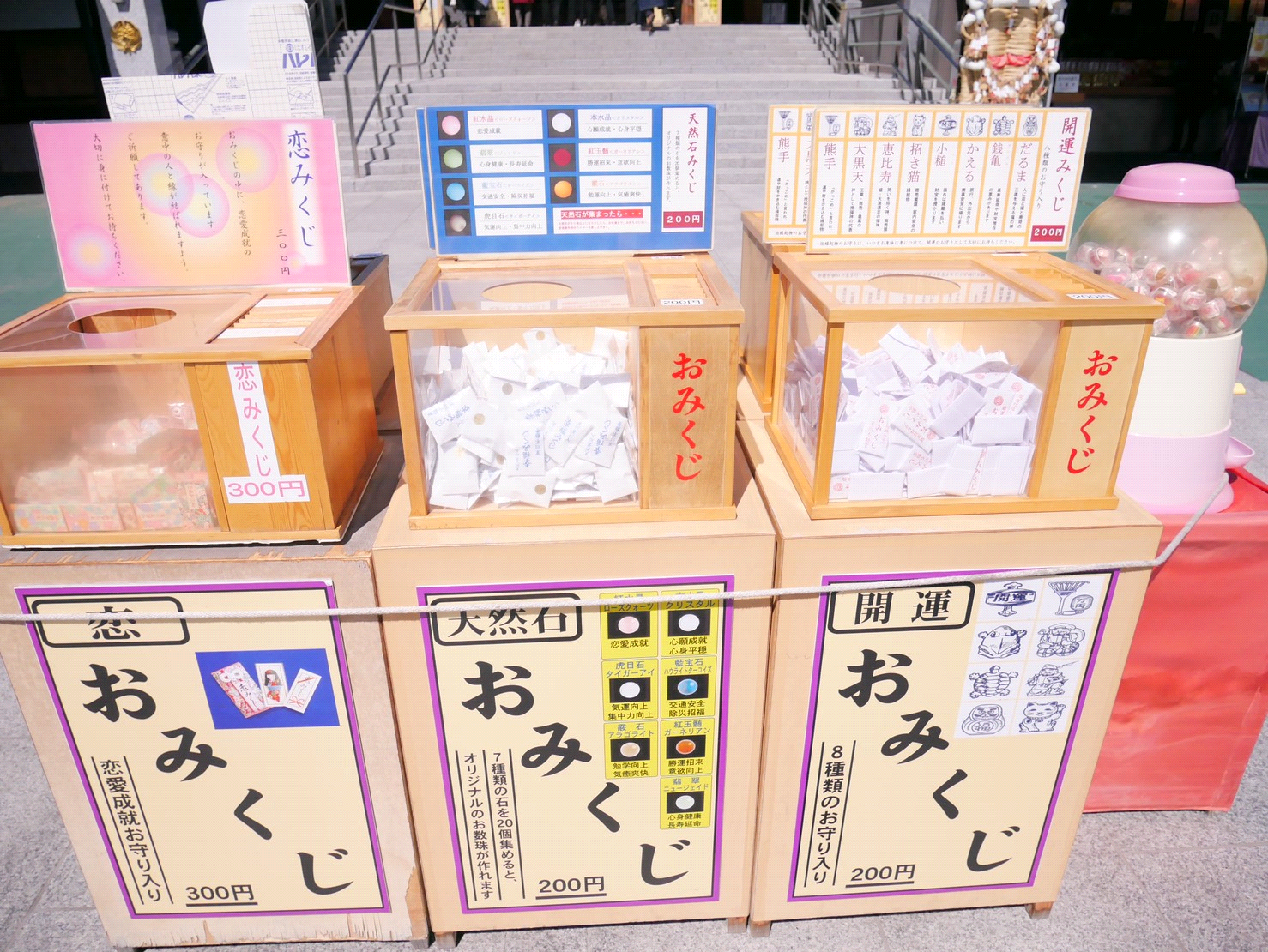 You could find many kinds of fortune slip, so it was interesting.
I picked one fortune slip, and the result is below: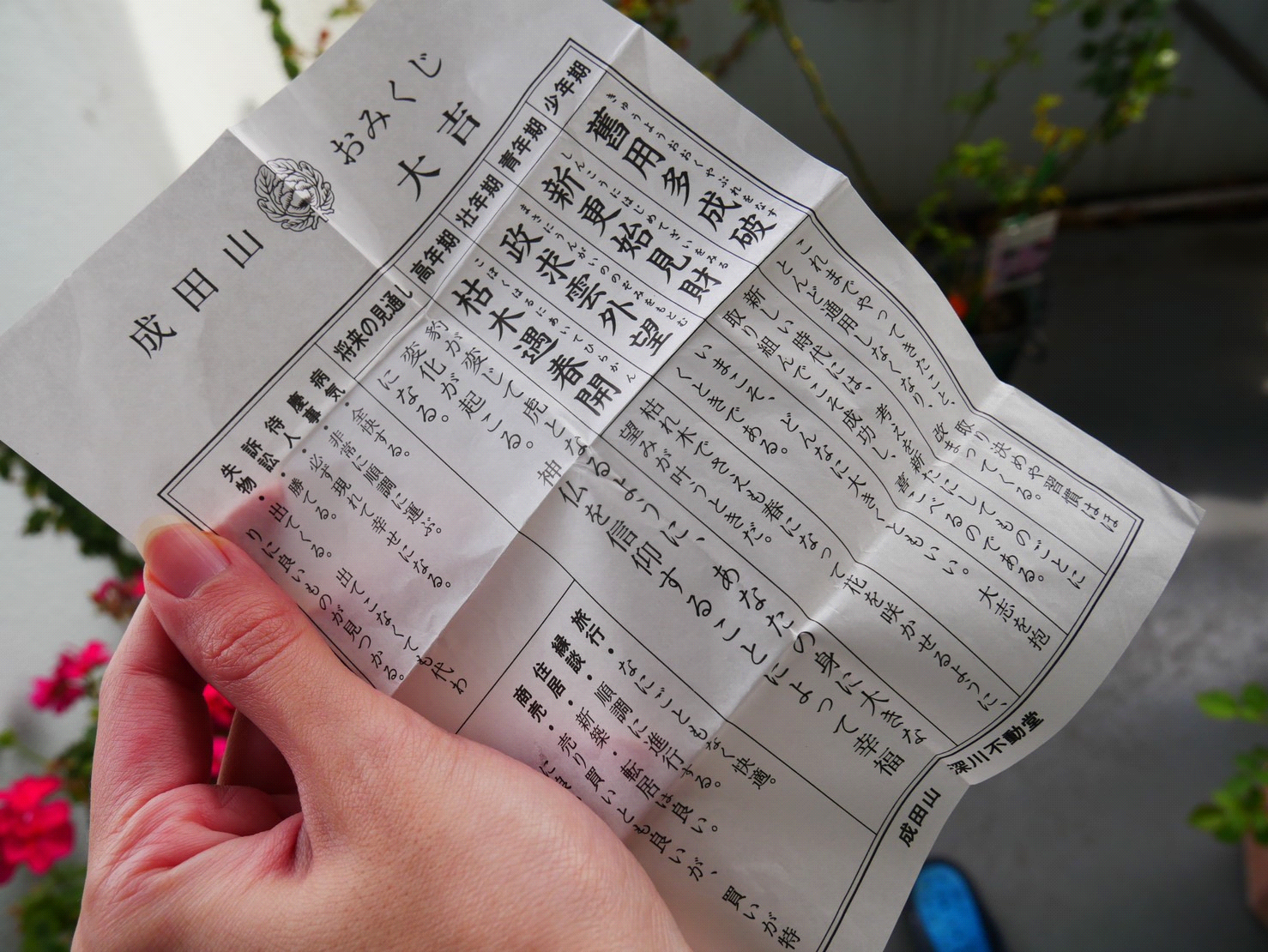 This one said, "You are super lucky." So I'm looking forward to getting an excellent experience this year!
Even if you got not a good result, it is OK.
You could tie your unfortunate fortune slip to a specific place, and if you to do so, you will get good luck in the future. So don't worry.
Also, they are selling many kinds of amulets.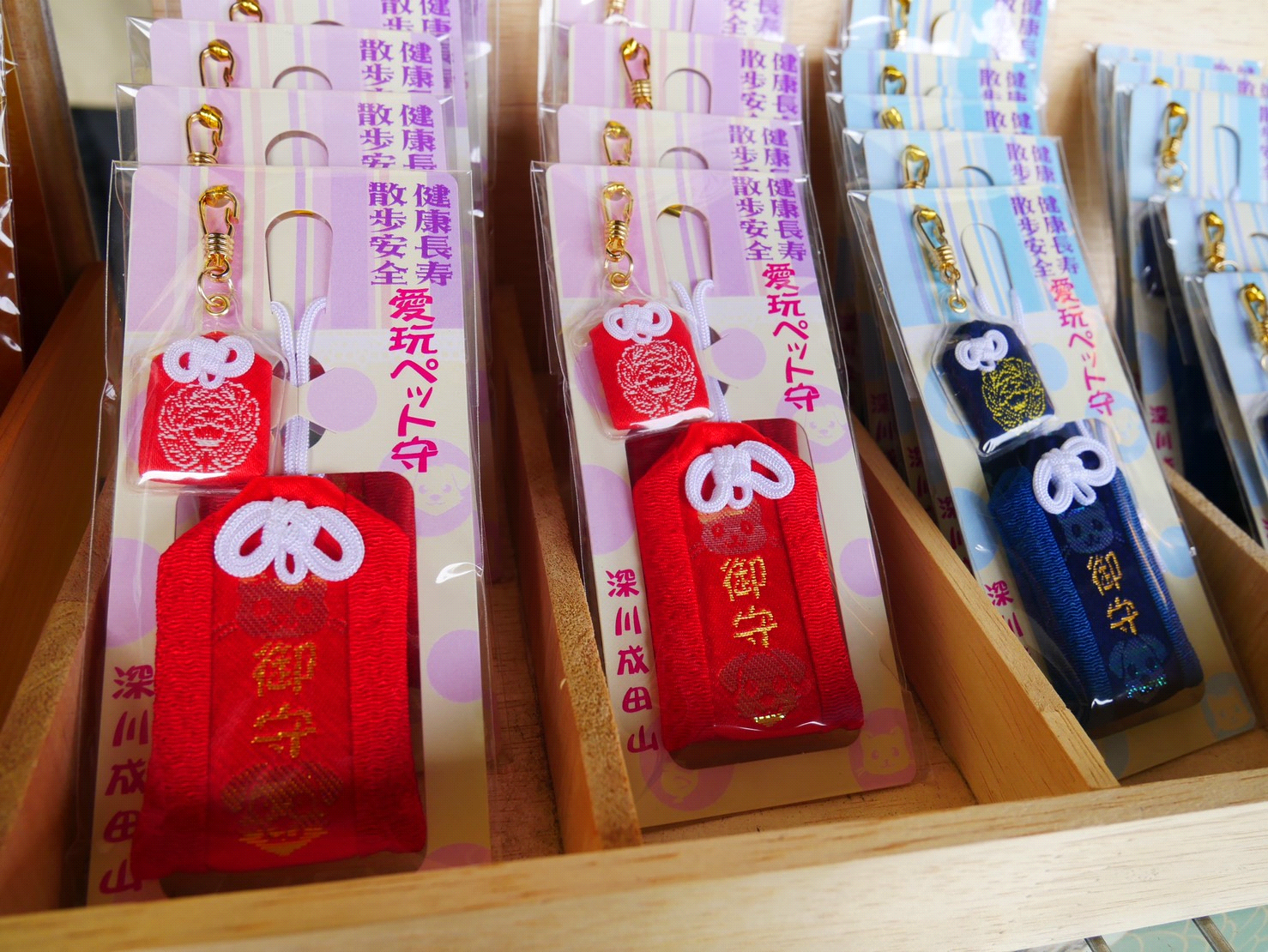 I'm interested in the above amulet, that is "Pet amulet."
This temple is also praying for long-lives of pets and hold memorial service for pets.
The smaller one is for the pet, and the bigger one is for the feeder. It's super cute if a pet is putting this smaller amulet.
This temple is not only helping to let thanks to for pets but also helping giving thanks to your favorite toys.
Good point in Fukagawa Fudo-do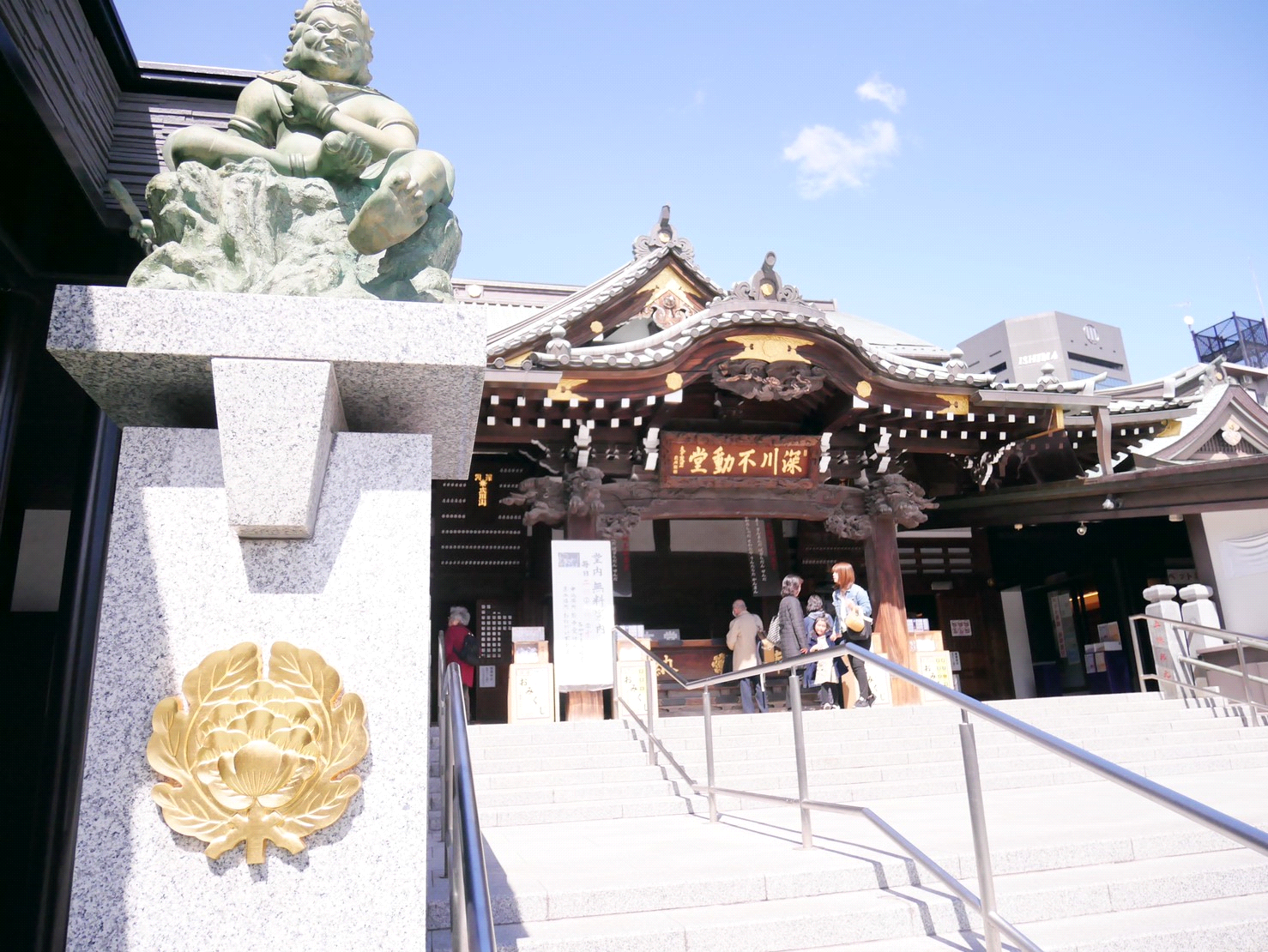 Once you get into this temple, you will see this big old main temple.
This one is a central place in this temple so you should pray there.
At that place, usually, you could see the people and may know a lot of praying people.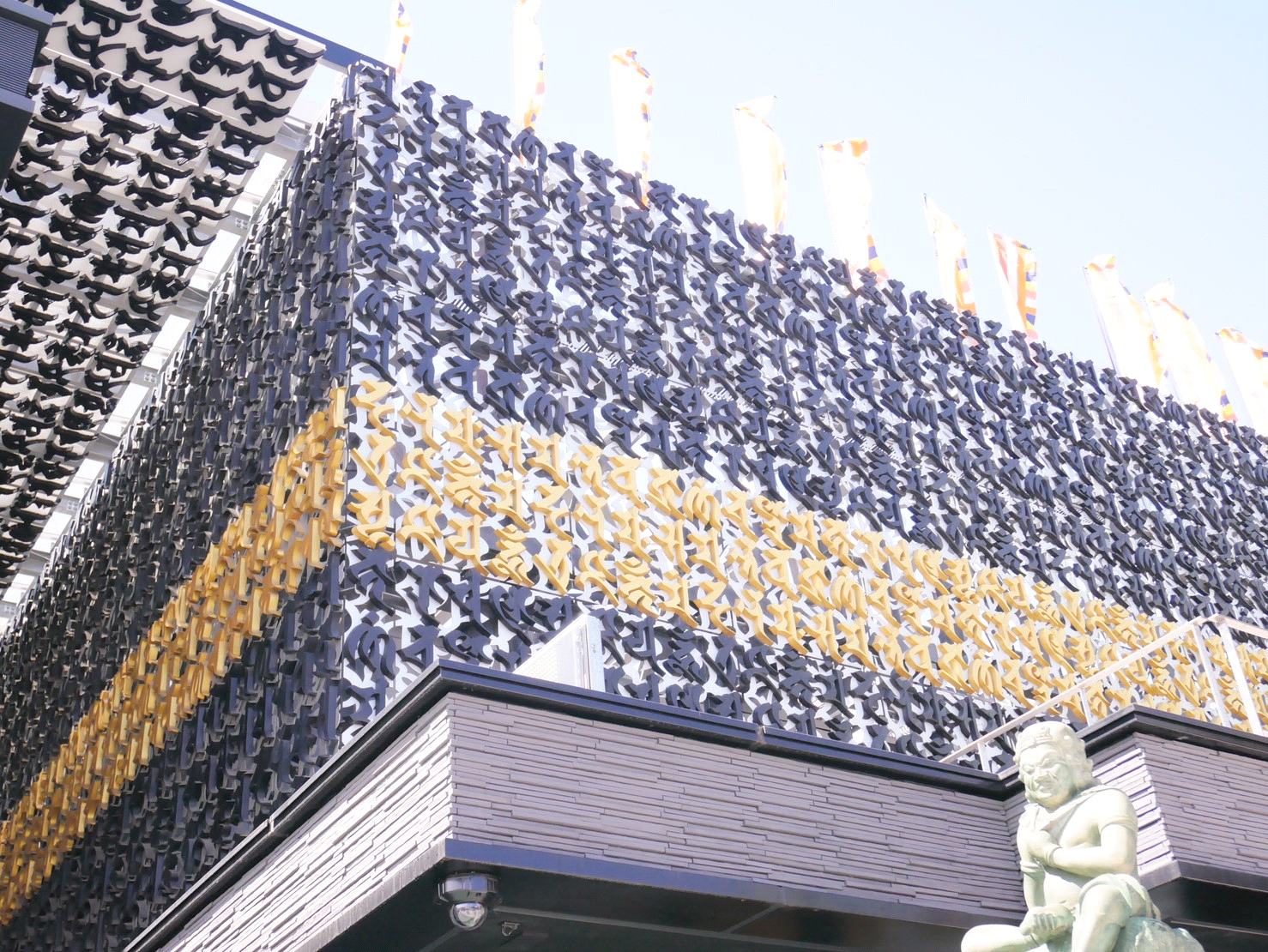 If you look left-upper place from that temple, you could see the outer of the main building.
The appearance looks writing a lot of characters, but this one calls "Shingon Bonji-Heki."
That character contains a word from "Ofudo-samesama"(Which is a kind of god in the Shingon-Shu). But this one looks very artistic.
That word is repeatedly saying during the Goma-Shugyo(One type of religious austerities with having the fire that caused by the budda and aiming for burning the root of people's suffering.) At that place, you could see this one every day at 9 AM, 11 AM, 1 PM, 3 PM, and 5 PM so please look it by your eyes. However, you could not take a picture because they prohibit to do so.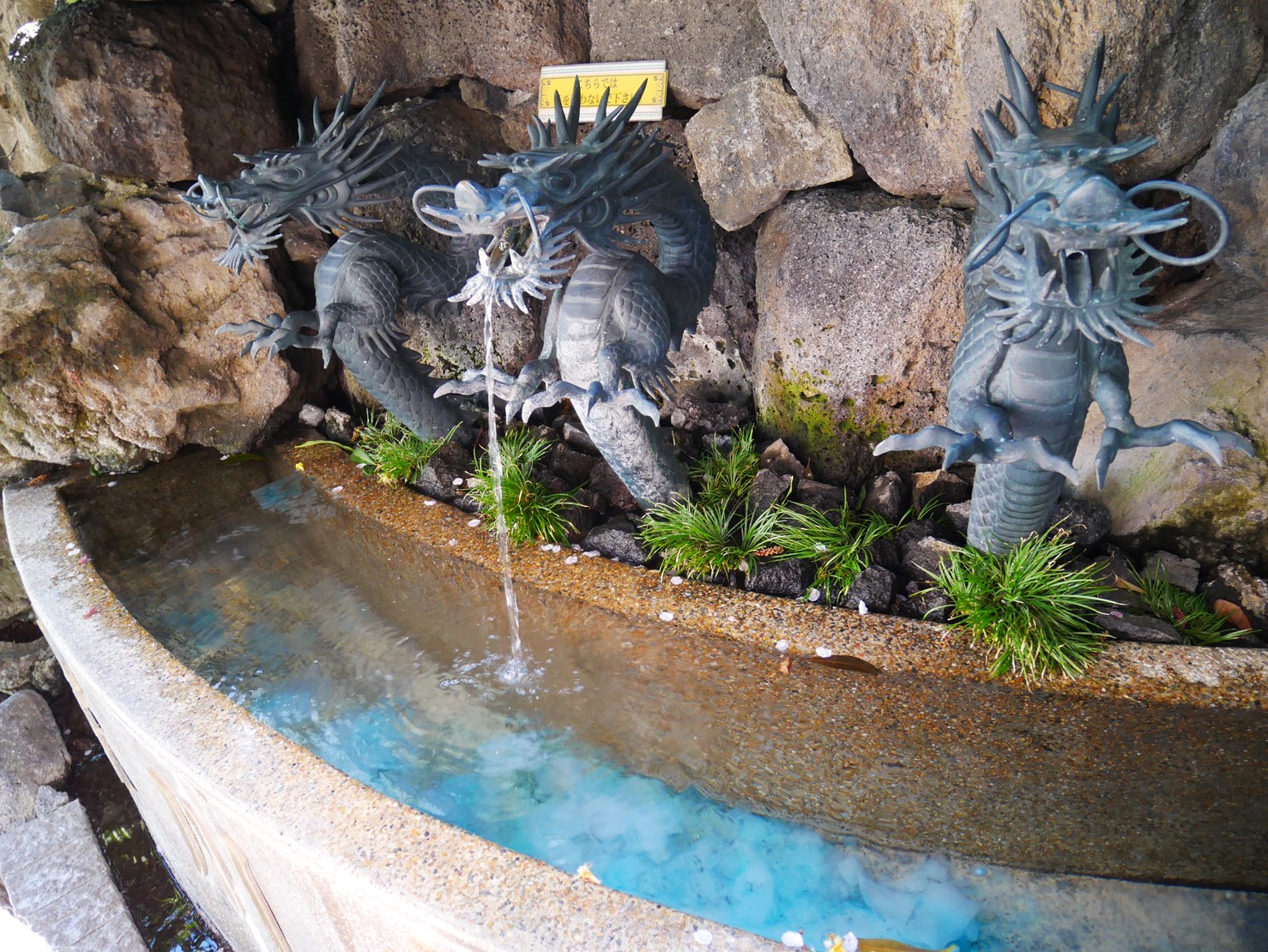 When you return to near the entrance, there has the praying place called "Fukagawa Ryujin-Sama."
This one is an original place in Fukagawa Fudo-do. If you put a unique tag on the water and pray, that tag will dissolve, and the god will hear your prayers.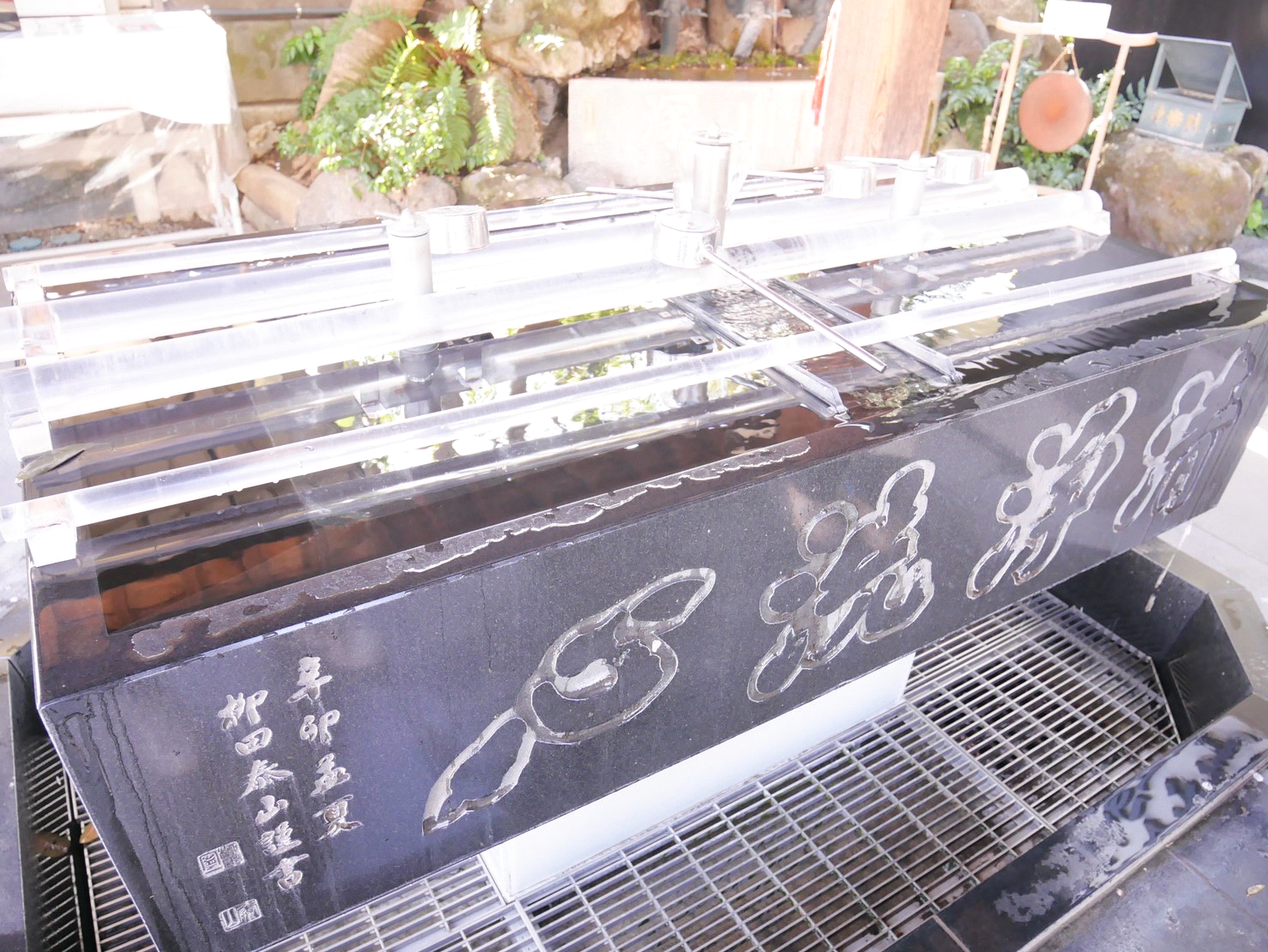 First of all, you should wash your hands and so on.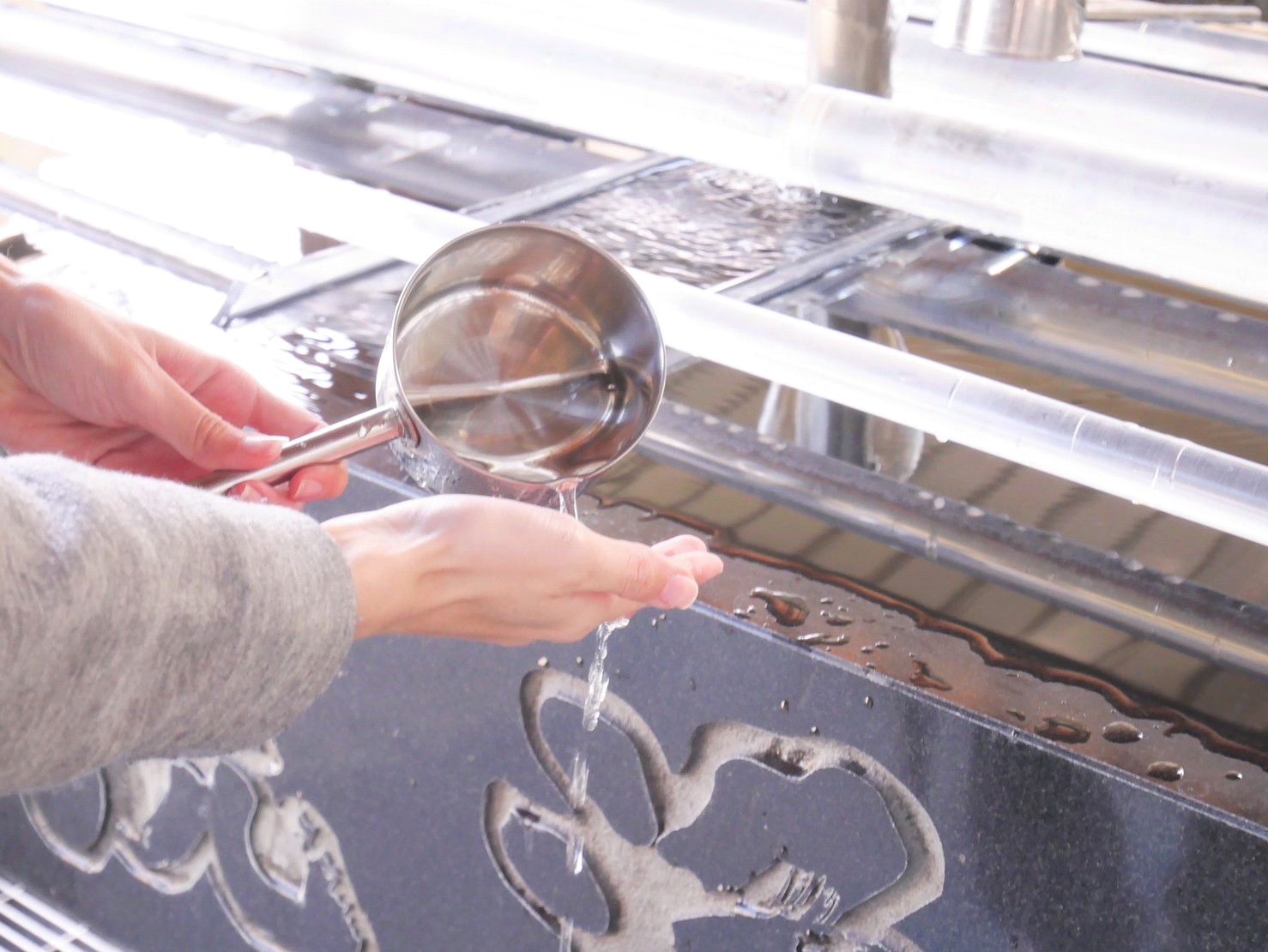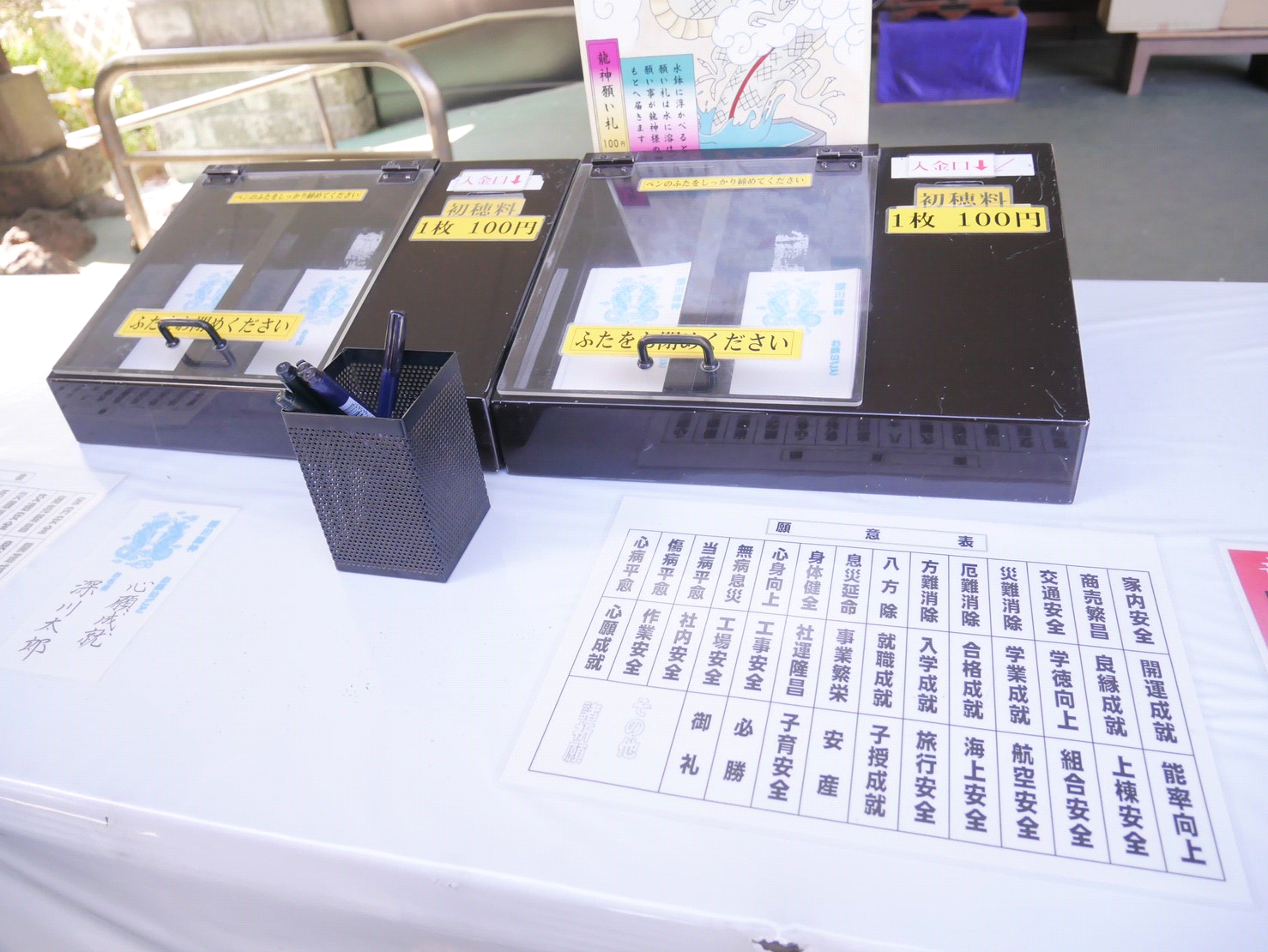 Put 100 JPY in the box and pick one tag.
If you don't know what should, I write, but it's OK because you could refer the example, pray board.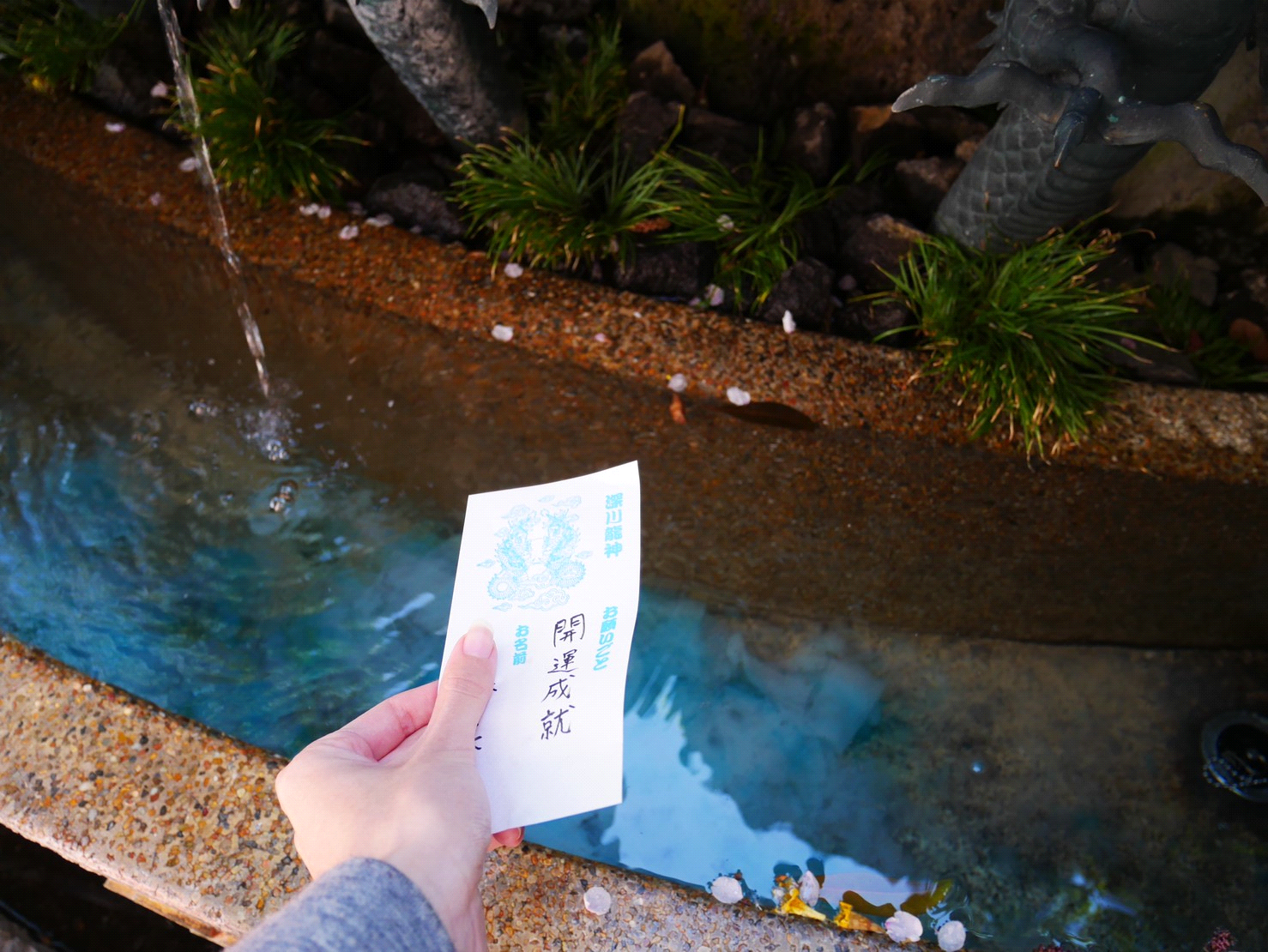 Once you finish writing your pray and your name, let's go to the place.
And then put the tag on the water: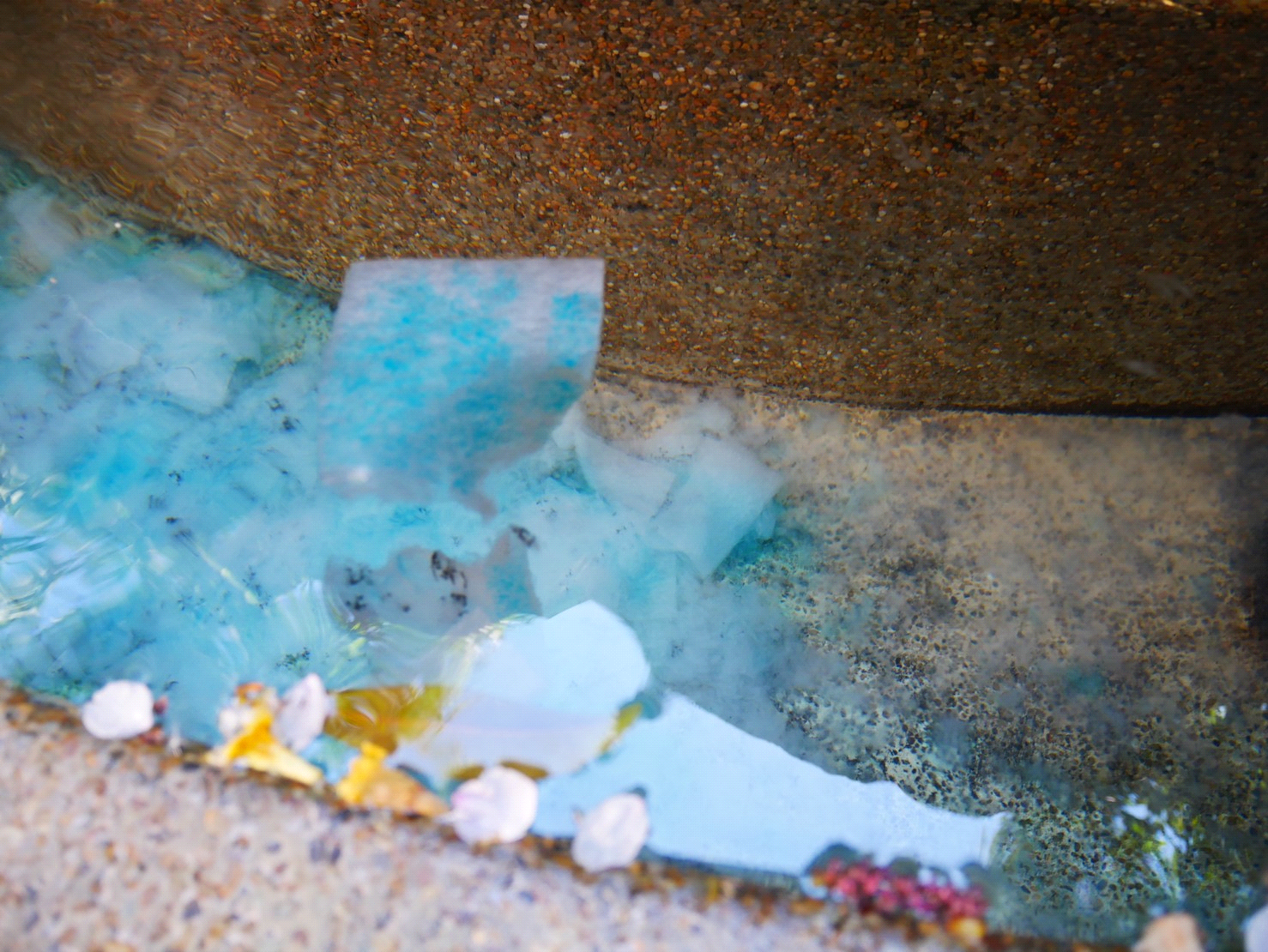 It gets dissolved in a second, so the god knows my pray.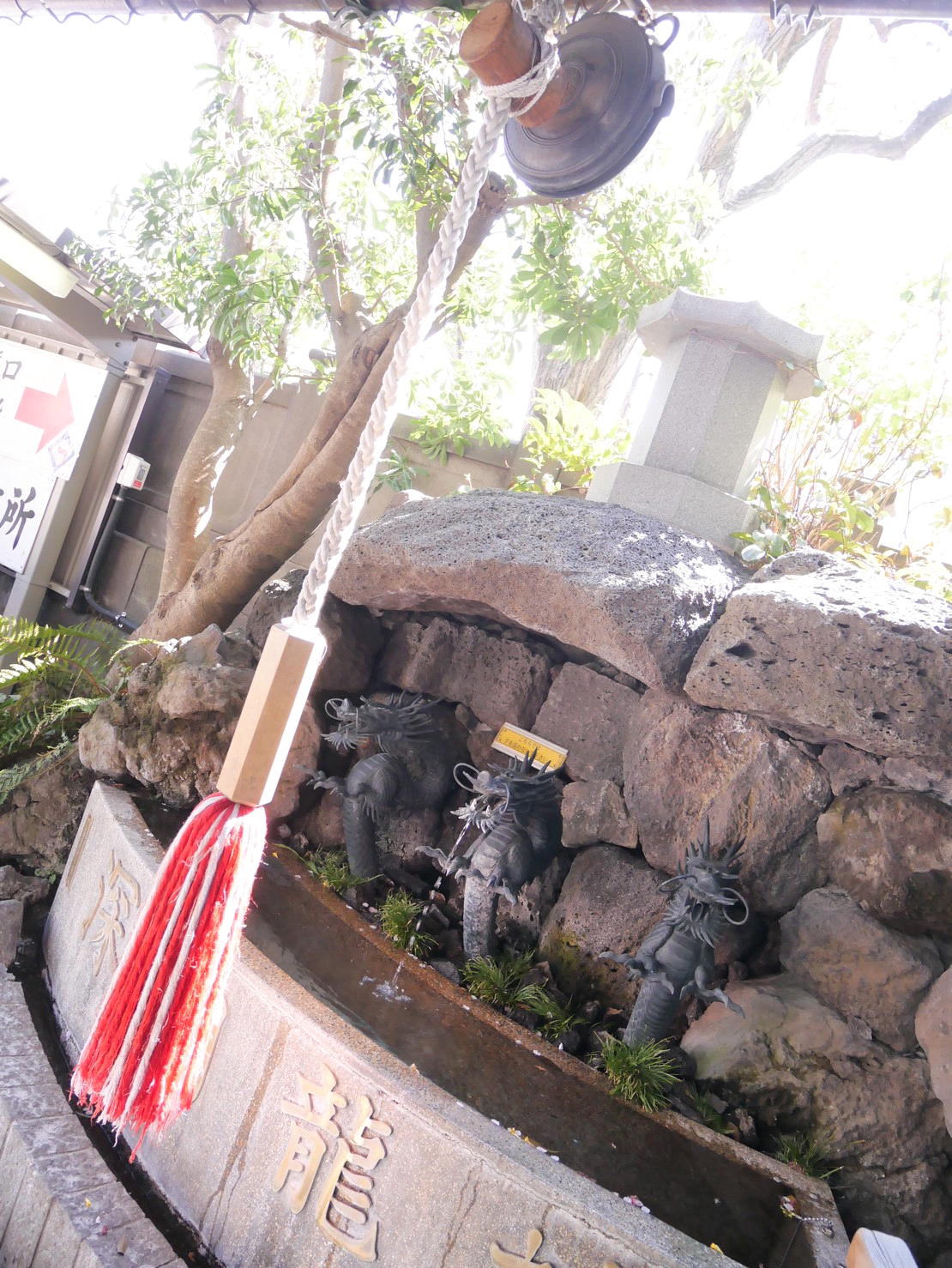 When you are praying, don't forget to ring this bell.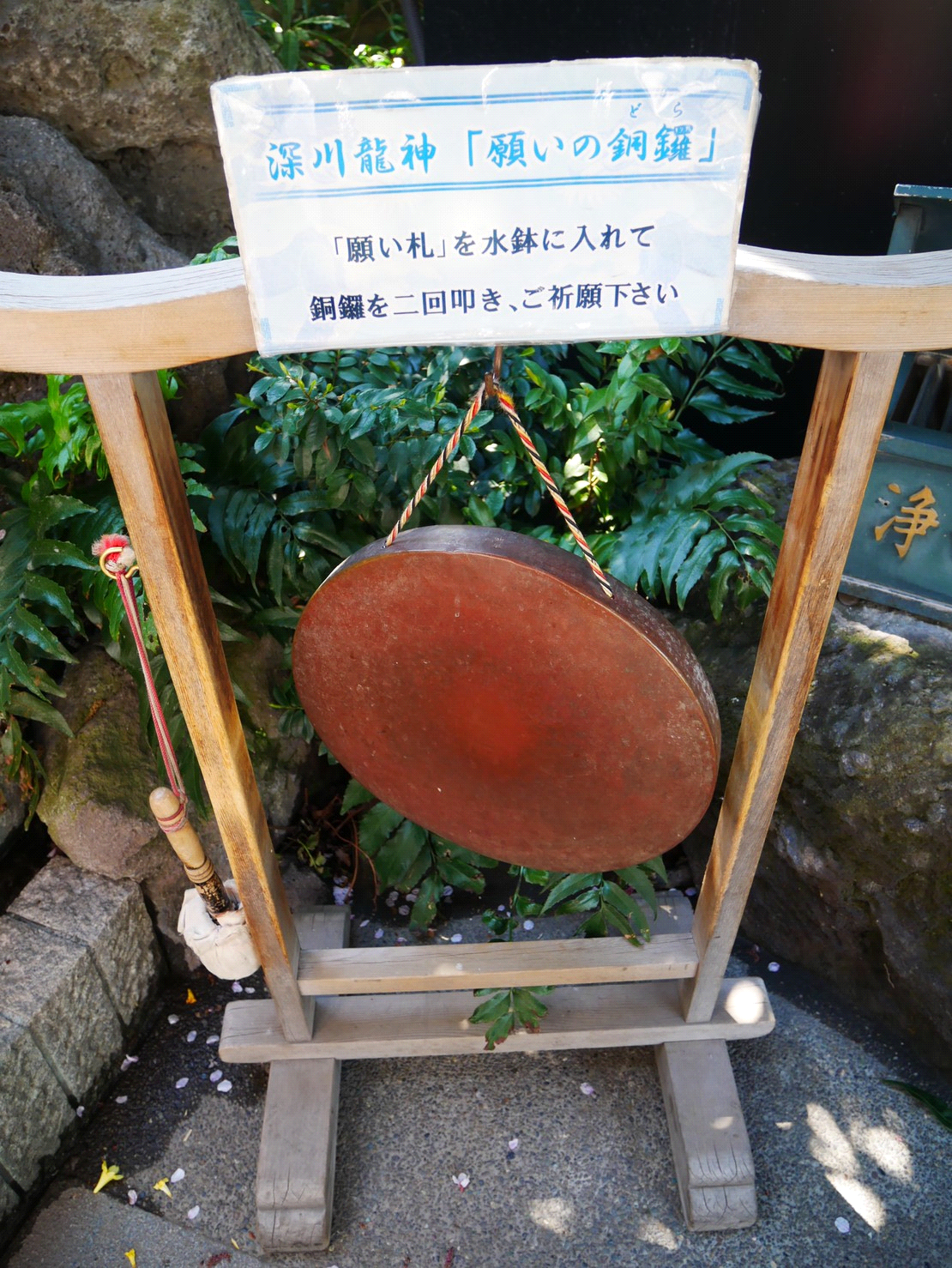 Can I see the main temple?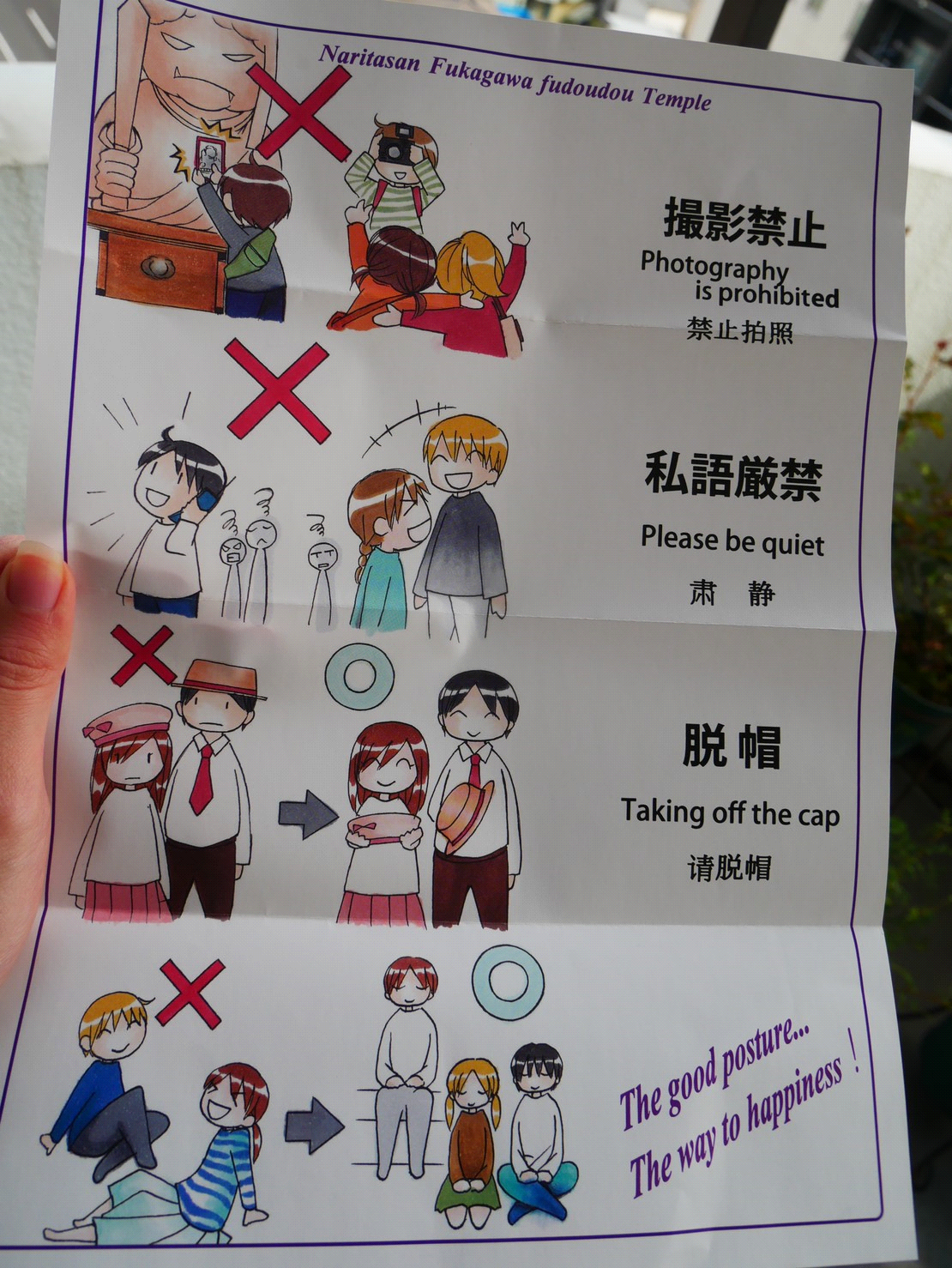 You can see the main temple by free; however, do not take a picture as they described above.
Inside that temple, they have the "Praying Corridor" that has> 10000 crystals in that area. In the side of the wall, they put colossal rosary, so if you see that area with touching that thing, probably you could get good luck.
Also, you could cross the fortune bridge call "Aji-bashi," so you could have a lot of spiritual experience inside the main temple.
It has so many right places inside that temple, but I could not take a picture due to that restriction so let's go there at least one time!
By the way, the pamphlet for foreigners has the Sanskrit character that is having on the side of the main temple as a souvenir.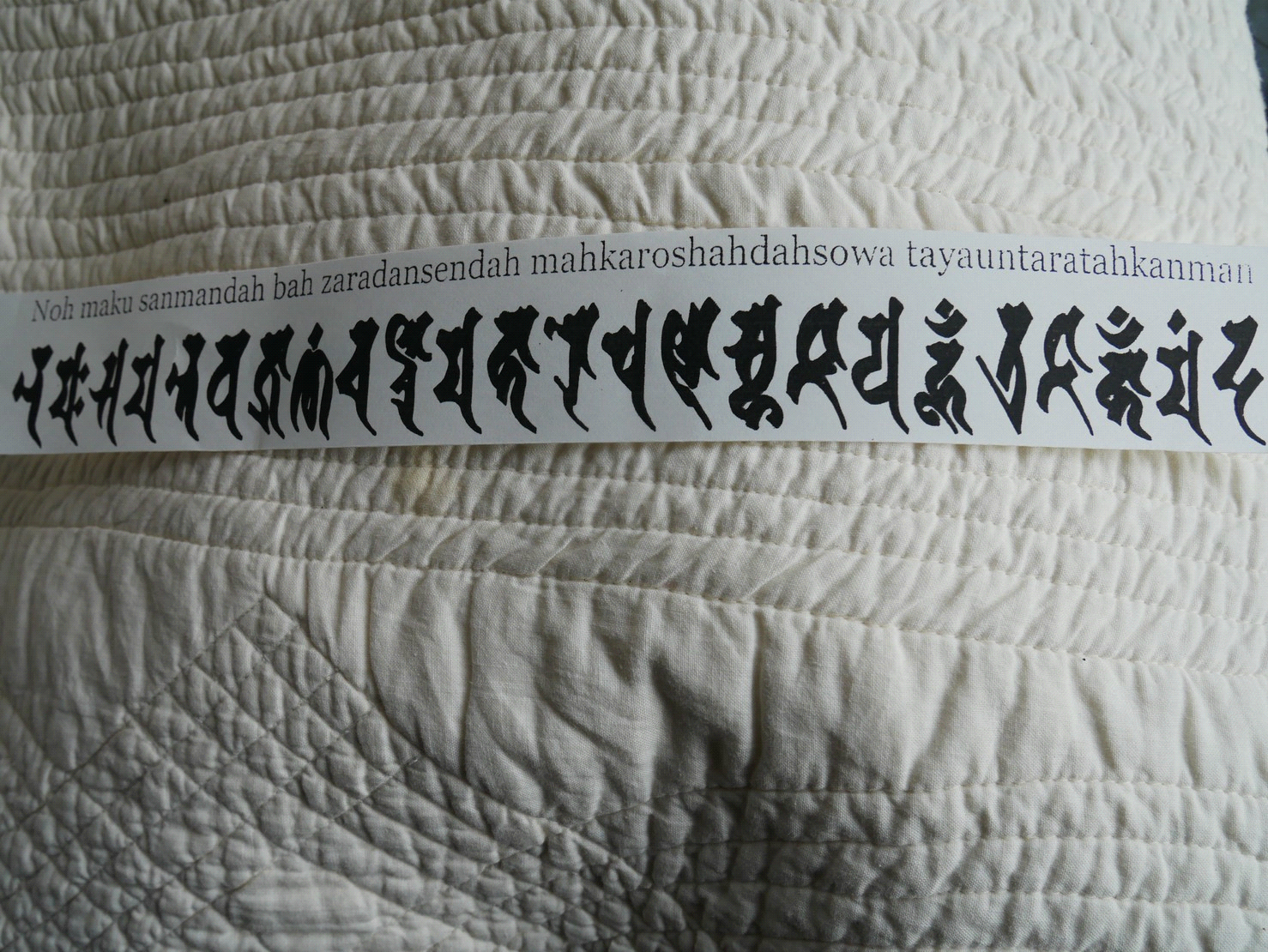 This place is the holy place that is available from the Edo period so let's go to that place!
Details
Name: Naritasan Fukagawa Fudo-do
Address: 1-17-13 Tomioka, Koto-Ku Tokyo, Japan
TEL: +81-3-3641-8288
Closed days: Open 24/7
Website: http://fukagawafudou.gr.jp/index.html (Available in Japanese)
Nearest station: Monzen-Nakacho Station. Walk one minute from Tokyo Metro Tozai-Line Exit #1. Walk three minutes from Toei Oedo Line Exit #6.