"Afternoon tea", which is usually eat and drink scone, sandwitch and tarte with tea.
But, at this time, I will introduce "Japanese style afternoon tea".
When I saw foods, I am amazed because it seems very new, also can enjoy see design!
The Prince Gallery Tokyo-Kioicho
Before this build is built, it has "Akasaka Prince Hotel".
"The Prince Gallery Tokyo-Kioicho" is managed by Prince Hotel from 30th floor to 36 floor in this building.
You can stay in here, but today I visit 35th floor, which has lounge name "Sky-gallery Lounge Levita".
First, I came to entrance of the tower. Flower objet can use as landmark.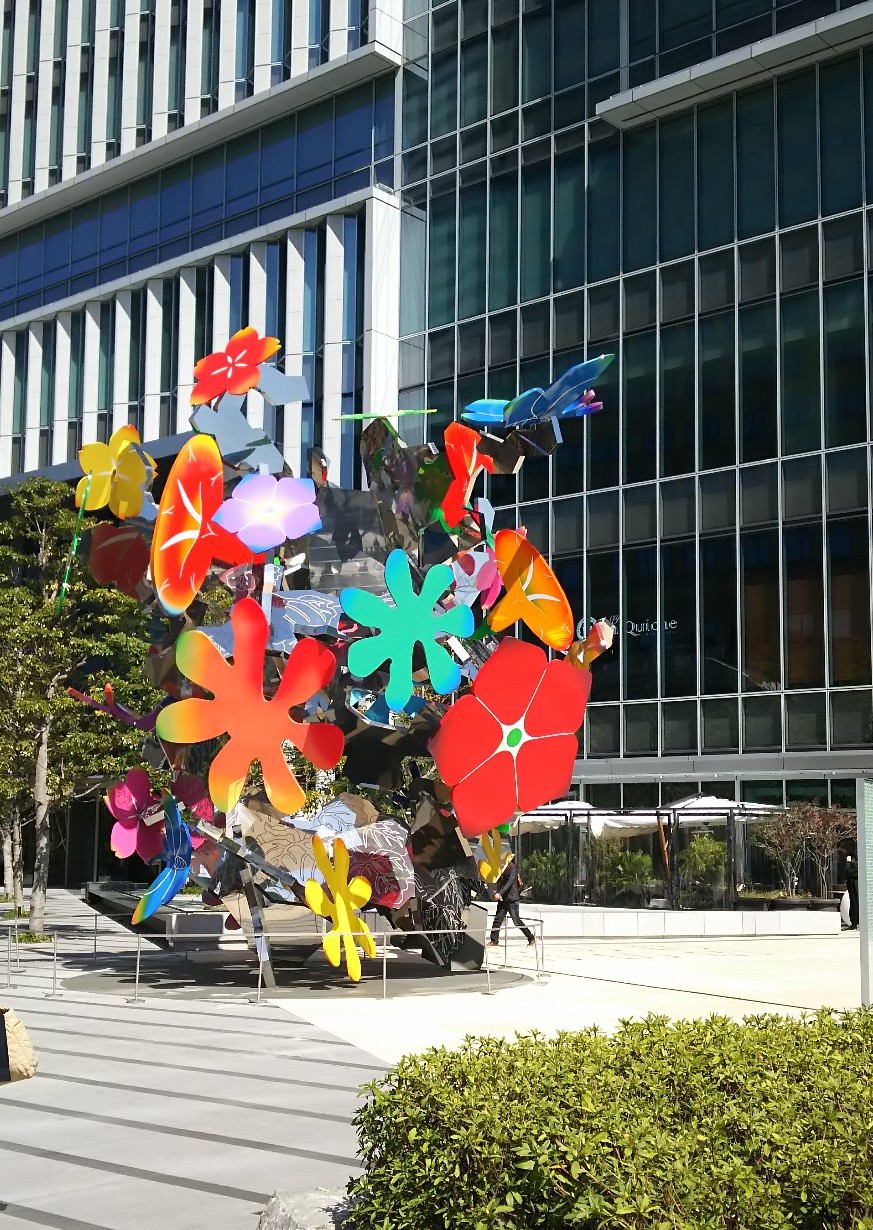 After enter this building, I went to 36th floor by elevator.
When I get off it, I saw a beautiful scene from big window.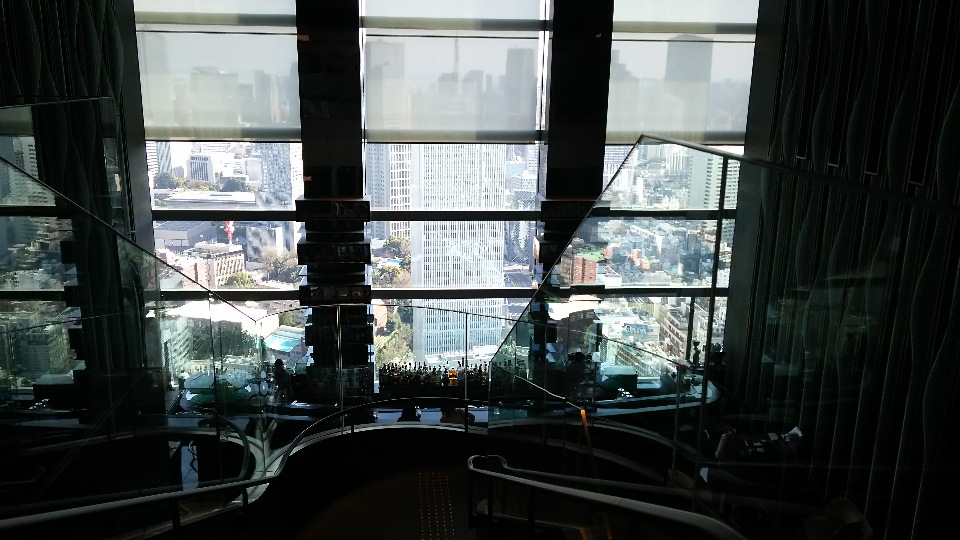 I went to downstairs, which has "Lounge Levita" by using spiral staircase.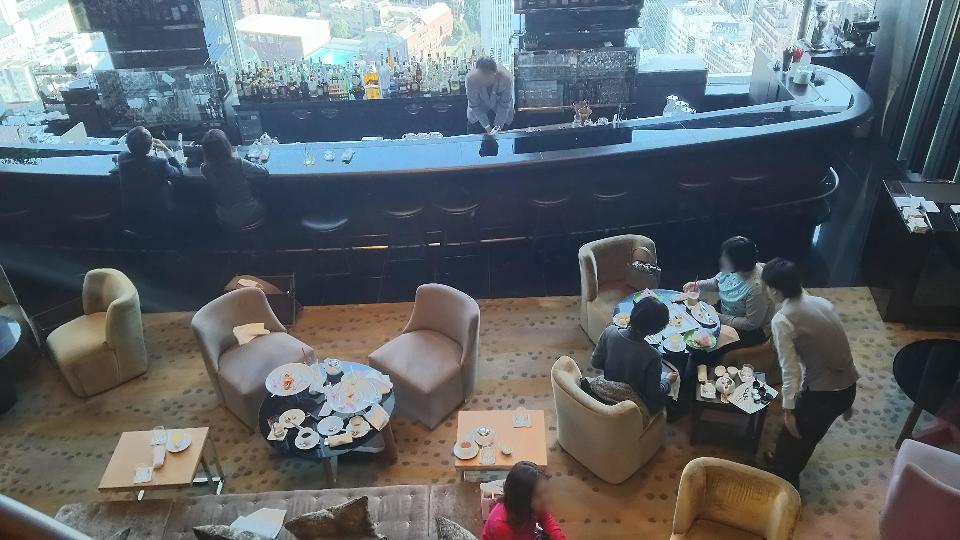 Only about 10 tables in there so it is not wide room, but has big window and high ceiling so I feel this room is so wide.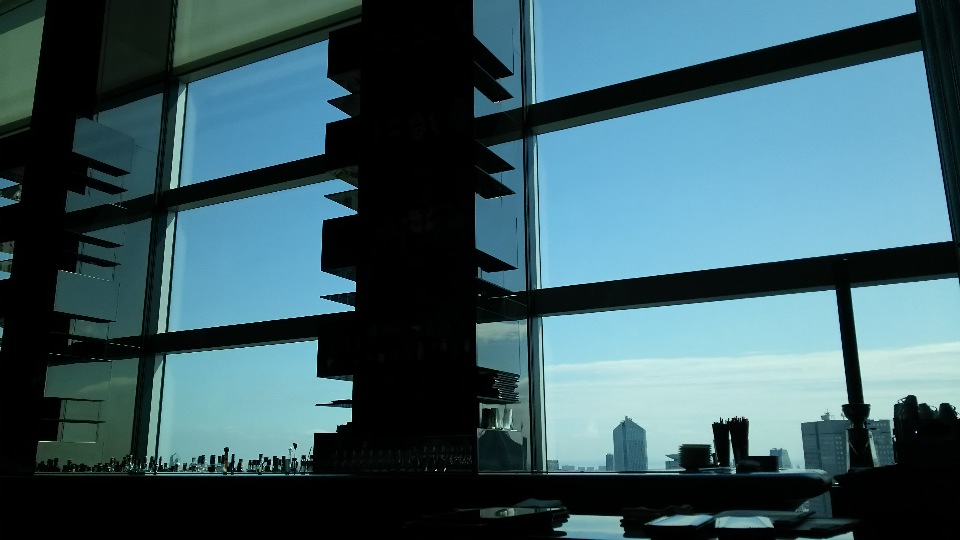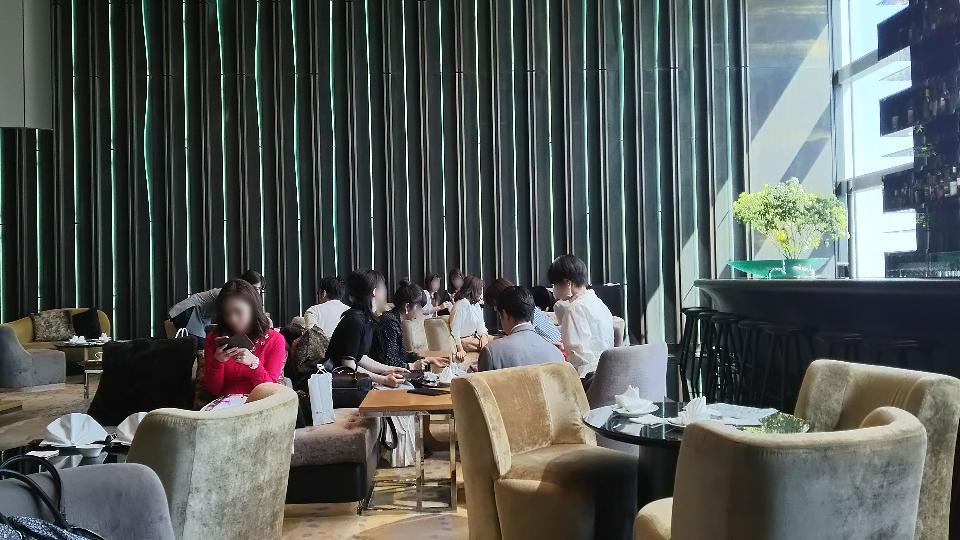 Start from the appetizer
Table seems tidy by default.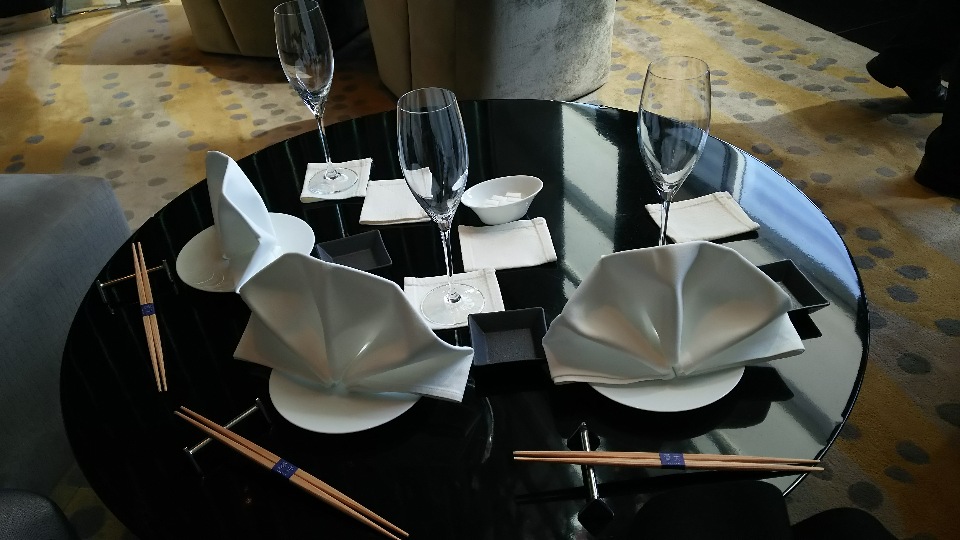 At this time, I make a reservation by using "Ikyu.com" and choose exclusive plan that has normal afternoon tea with a champagne for toast and dessert plate.
First, cheers with rosé champagne!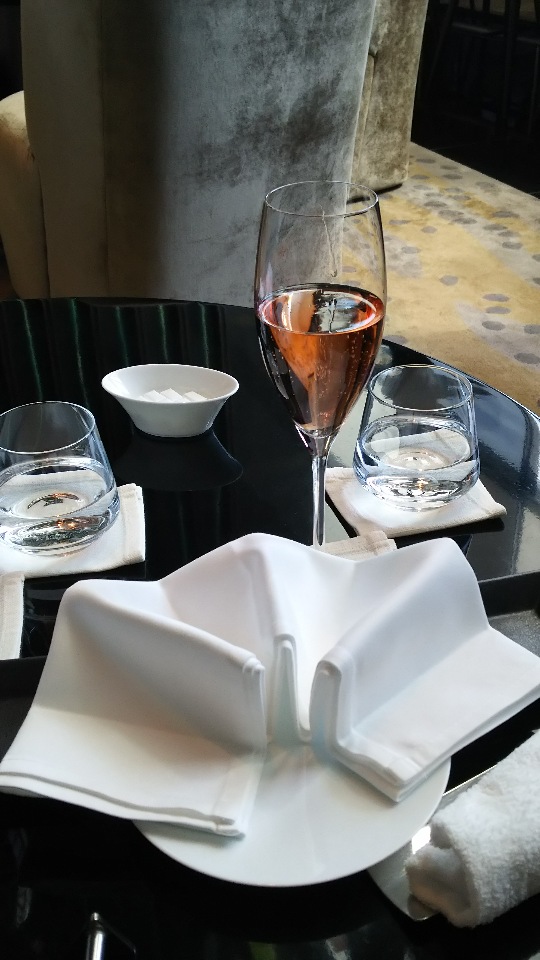 Lunch is from three appetizers.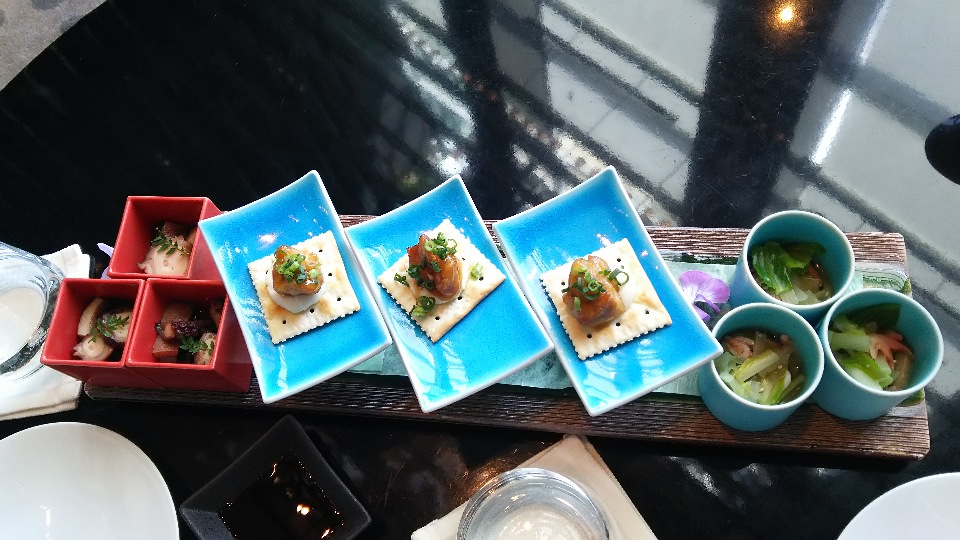 Inside a small bowl, has vegitable food. It will remember spring because has green and pink colors.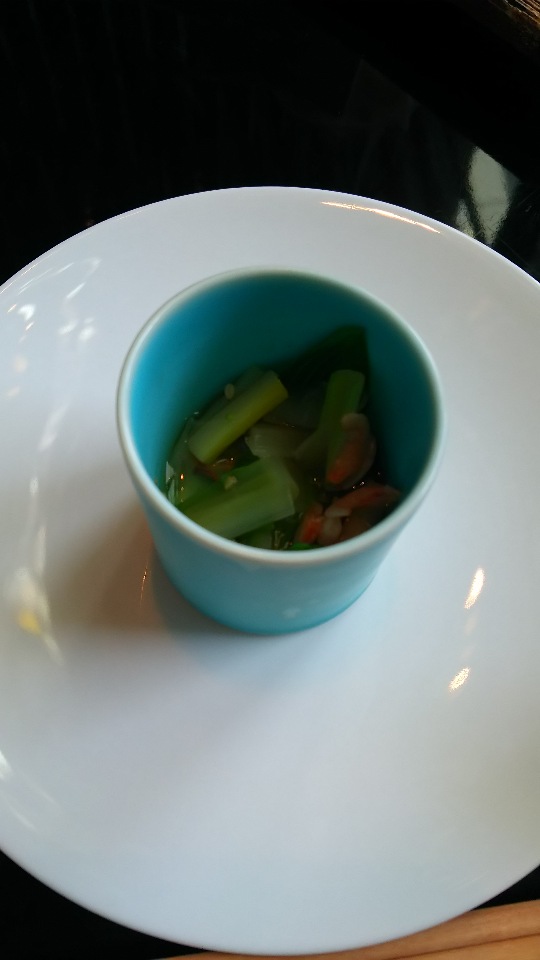 Inside the other one small bowl, has well-boiled octopus and under that, adzuki beans.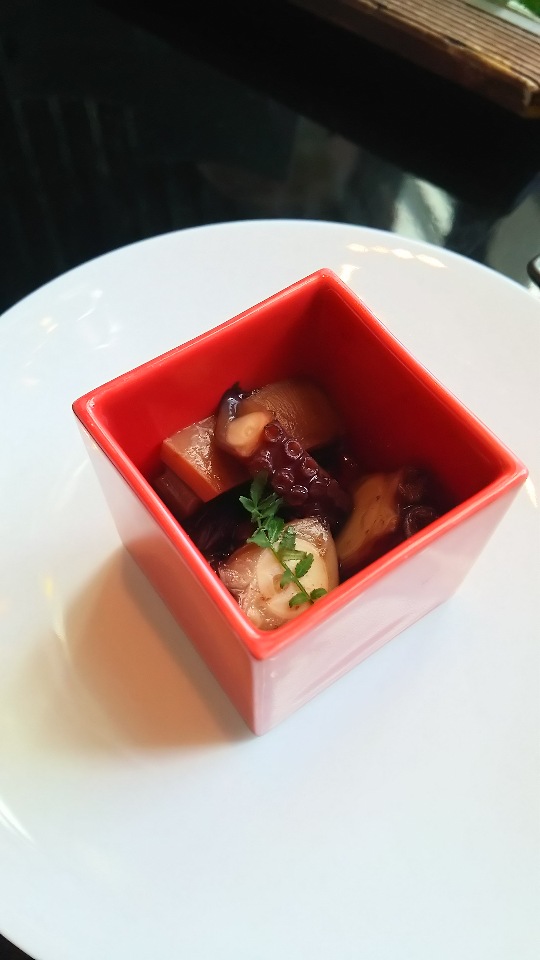 So last one small bowl has Yu Lin Chi(Fried Chicken - Chinese style - w/ sesame oil sauce). Eat it with crunchy cracker!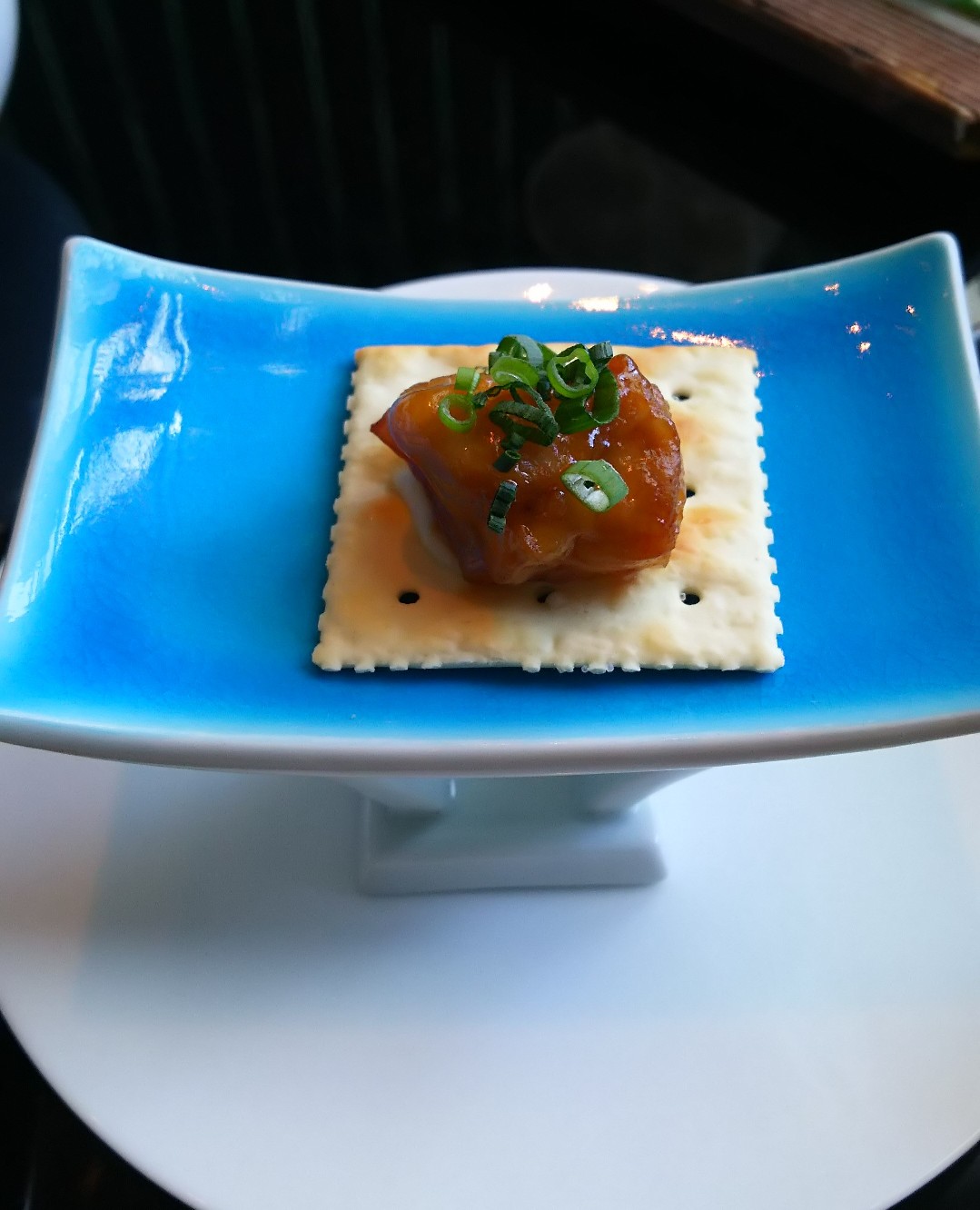 You can choose drink from about ten kinds of tea and about six kinds of coffee.
First, I chose Earl Gray Tea because I love it.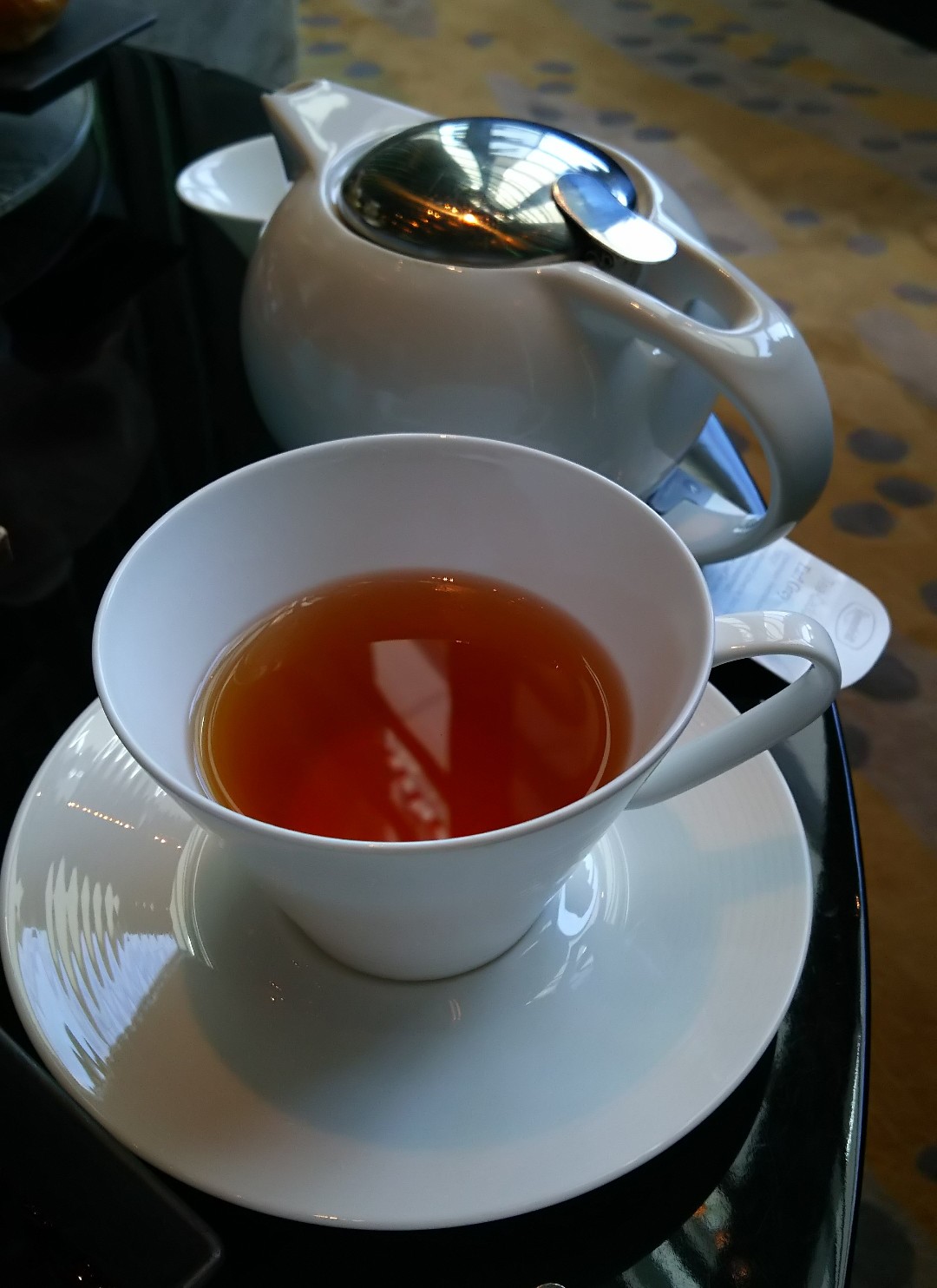 Smell is very nice and can be relax.
Tea and coffee are served as pot, so can drink upto 2 or 3 cups at one time.
Ball sushi with afternoon tea
Main plate is mainly have sushi.
It seems Japanese Style, aren't it?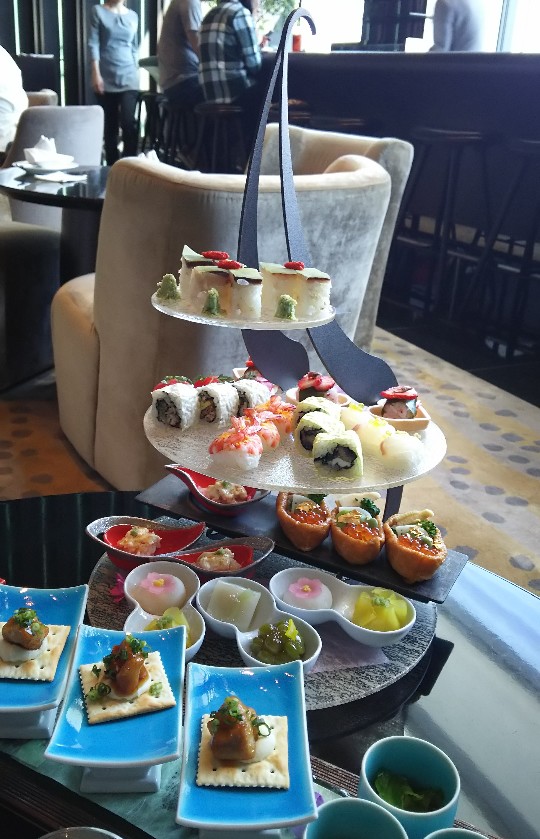 Cuty-round shape temari(a traditional Japanese ball) sushi is looks good!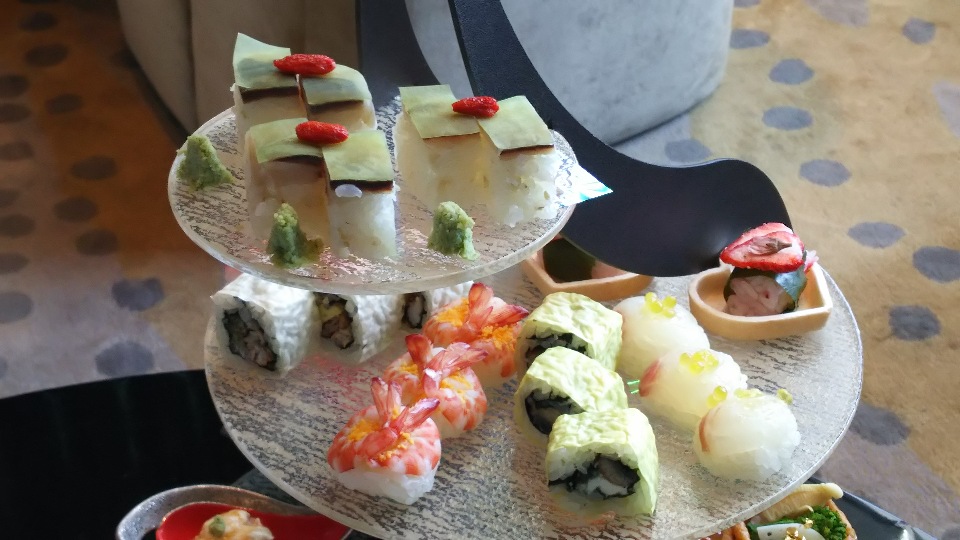 Colorful foods, and looks delicious!!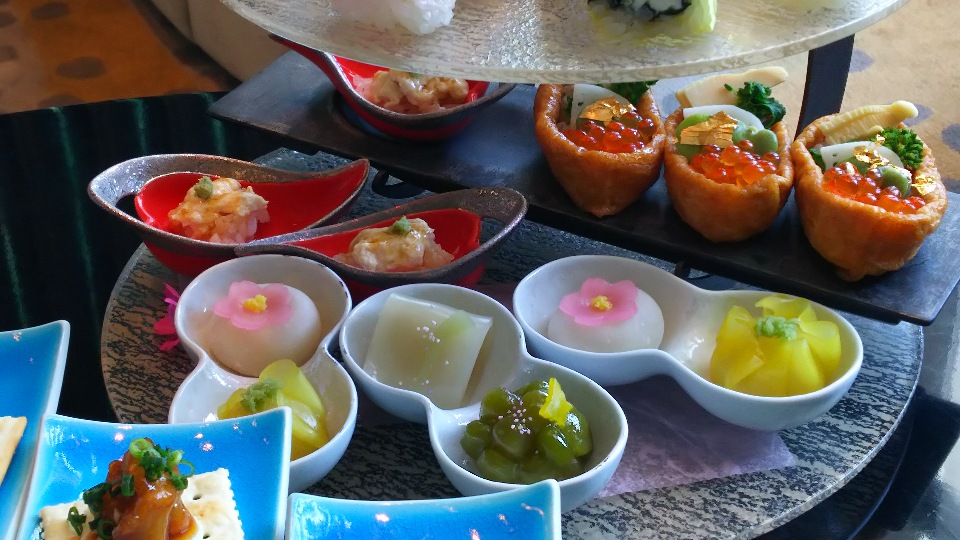 It looks like afternoon tea lack.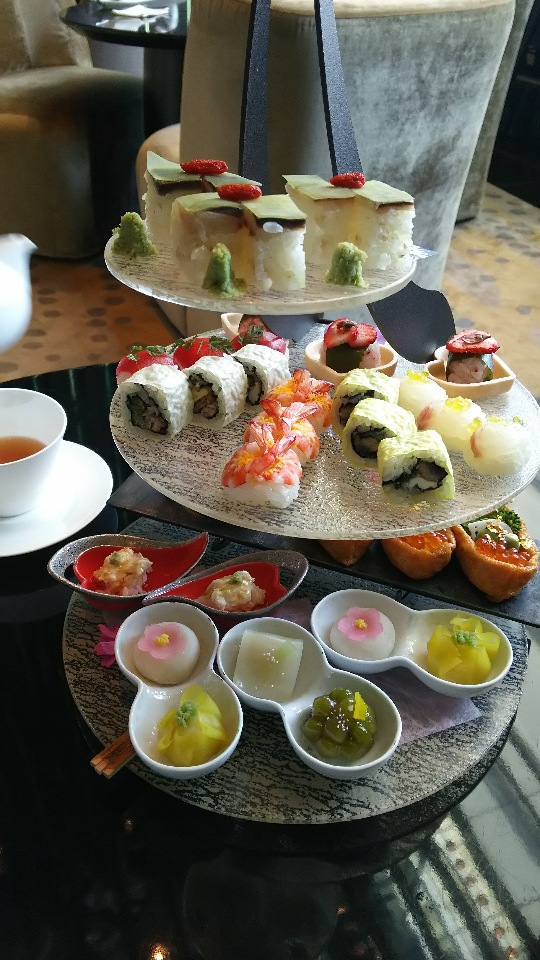 I feel difficult to decide that I eat first.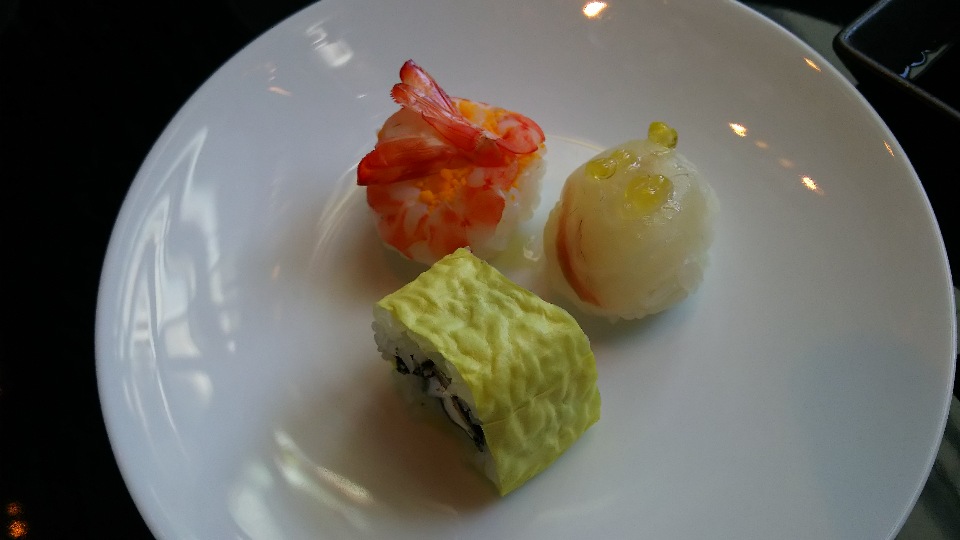 Left-upper side is prawn temari sushi, Right-upper side is a red sea bream temari sushi, and other one is an eel cheese roll.
All of them can eat it at a bite.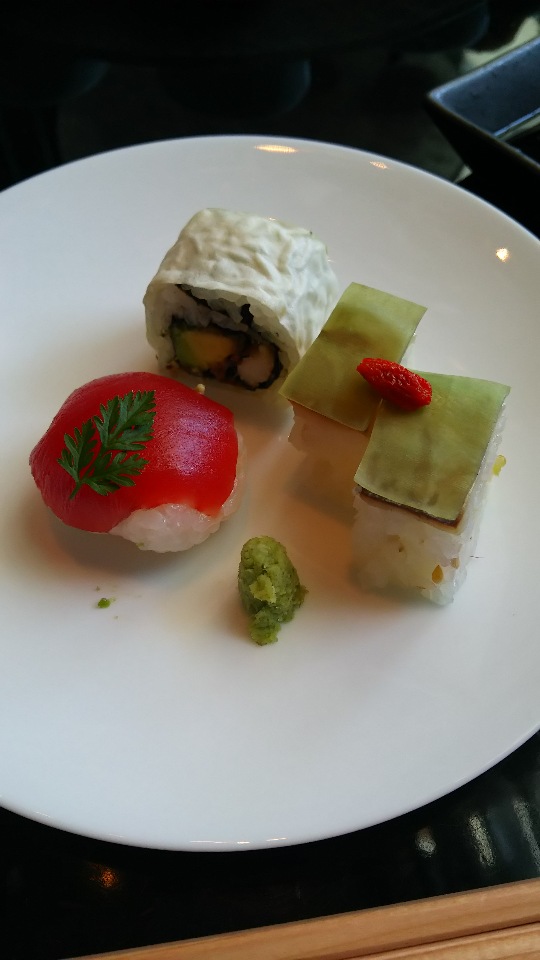 Upper one is soft-shell crab roll
It is so luxuary and delicious!
2nd drink, I chose berry tea.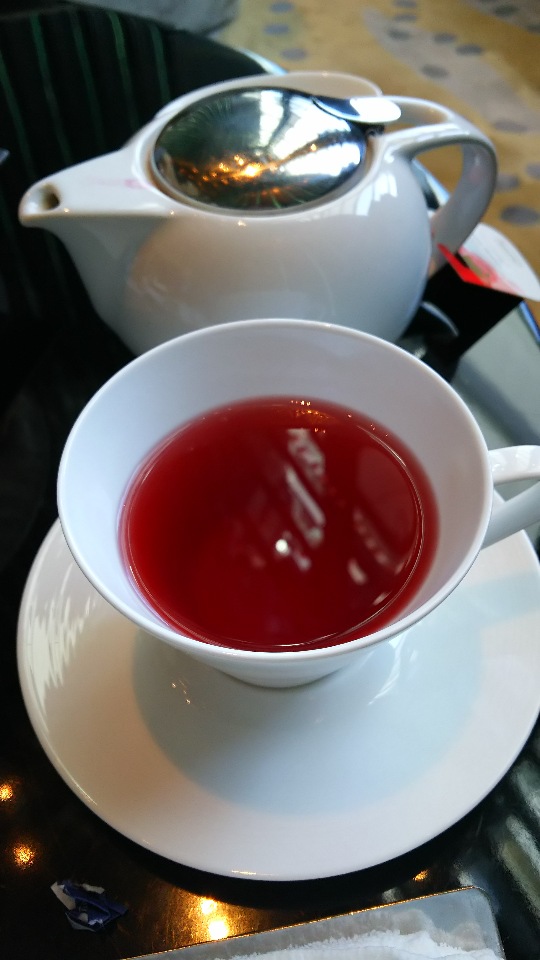 Taste is not only sweet but also has sour taste. Also, I felt berry smell, too.
And... Three gorgeous sushi!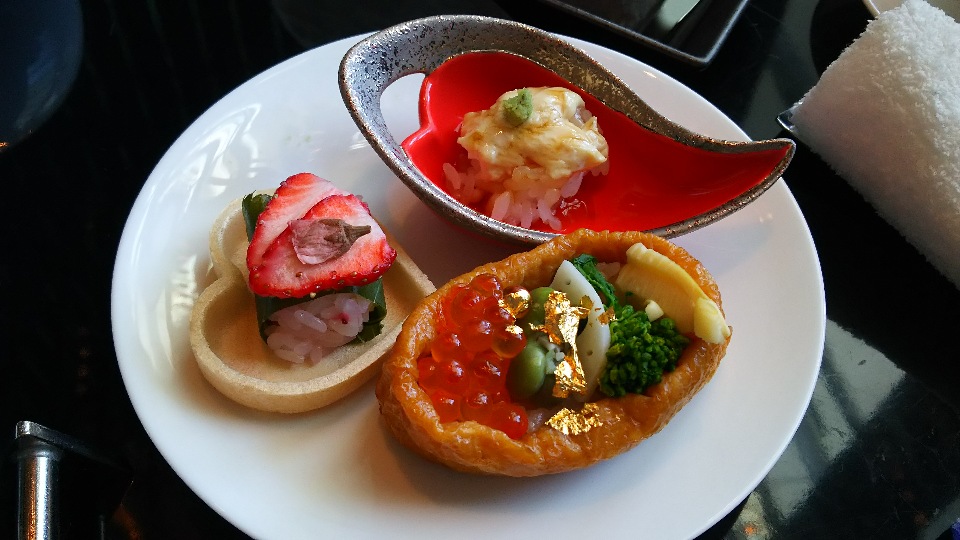 Upper side one's sushi is using dried soybean milk skin. Right down side one is inari sushi.
This sushi is so colorful.
Inside a Inari sushi, has salmon roe, broad bean, bamboo shoot, and canola flower so it can feel spring. Also, it put gold foil so can see luxuary.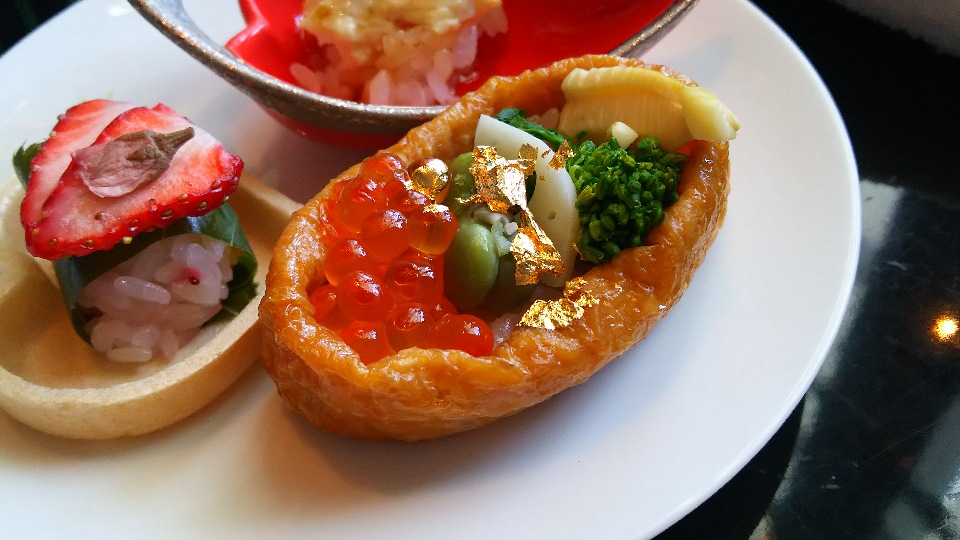 Strawberry sushi is using cherry leaf, and bowl is using heart-shaped wafer cake.
I think it is well-designed.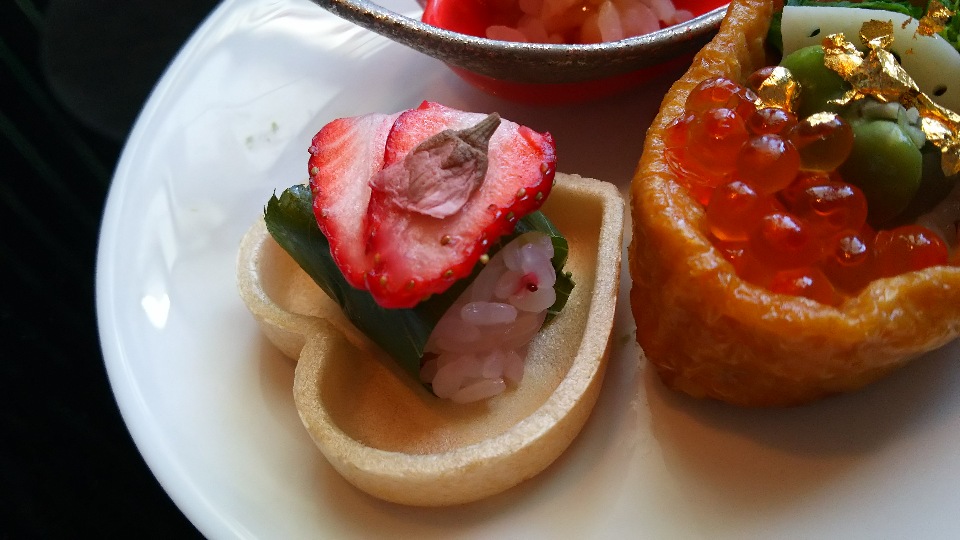 And Japanese sweet.
Colors, and sweetness are nice.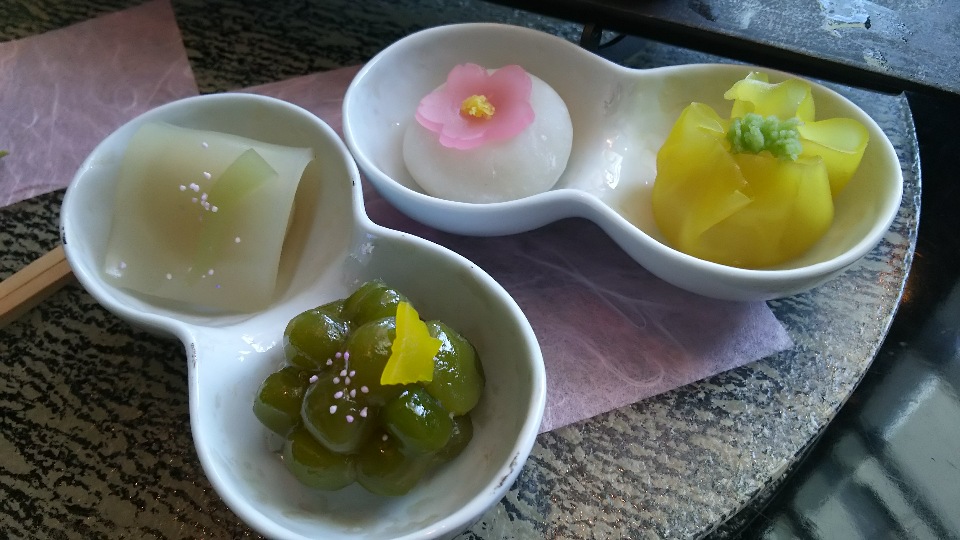 Ease dessert are good so delicious. Also, if you just see it, you can enjoy so much.
Last: Dessert plate!
I was full but this plan is special, so staff deliverd dessert plate at the last.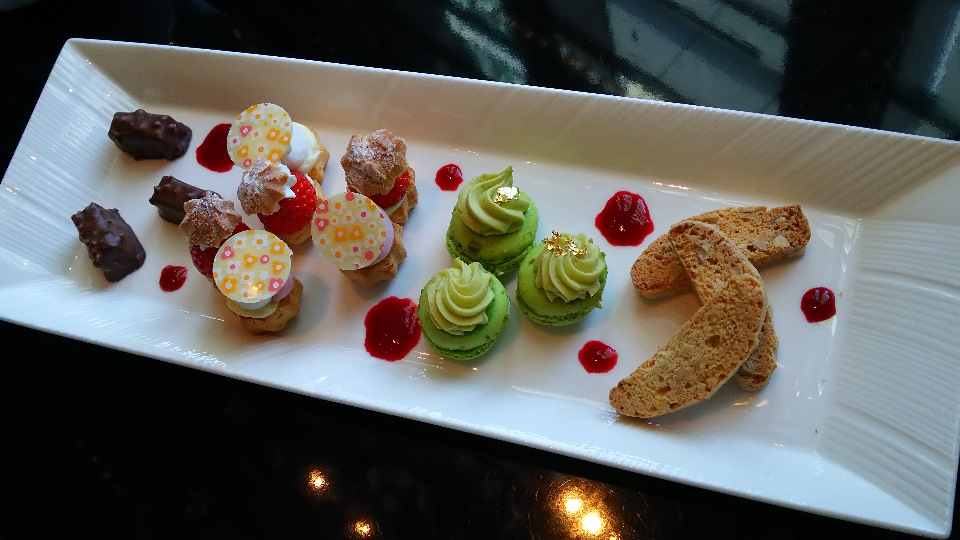 Unexpectedly gorgeous!
Biscotti, macaron, shoe color are color is light so beautiful.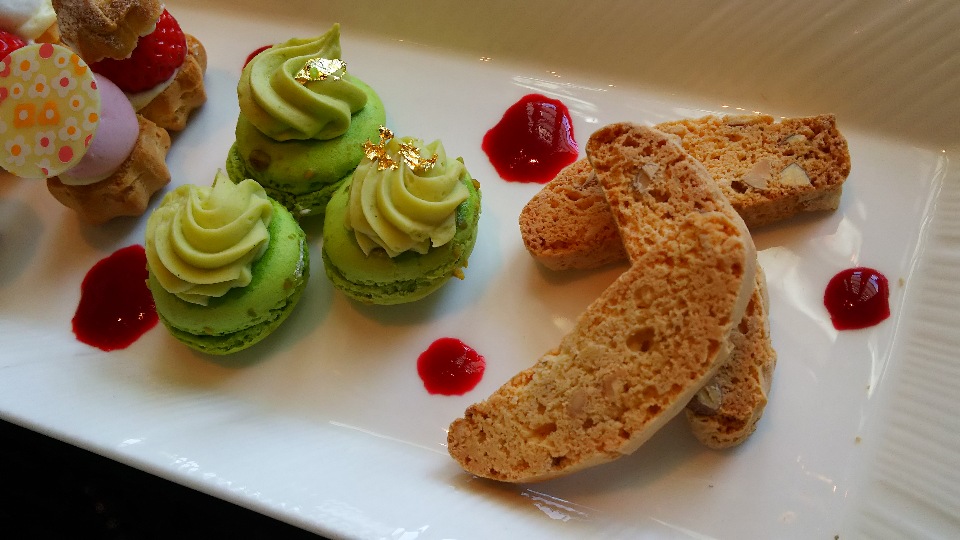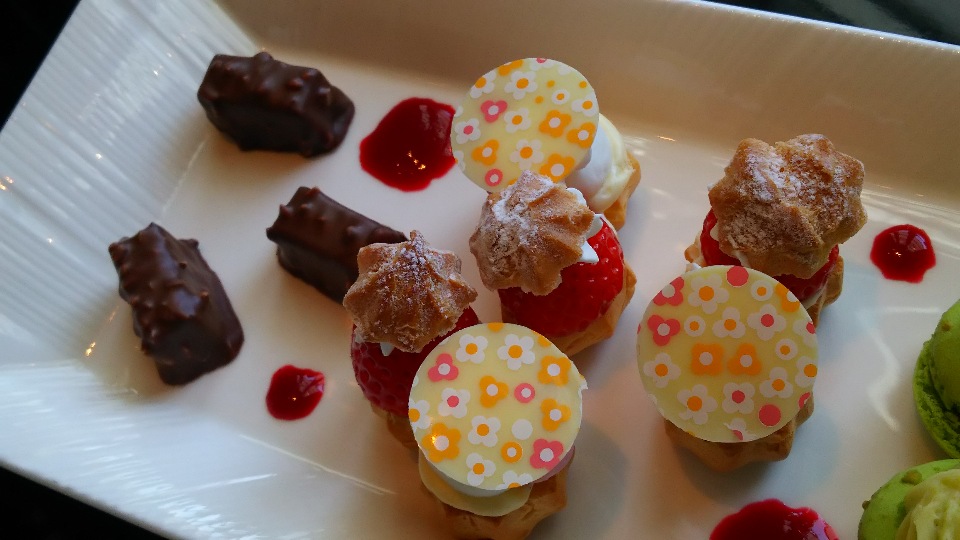 I eat sweets with coffee.
Hand drip coffee is so delicious!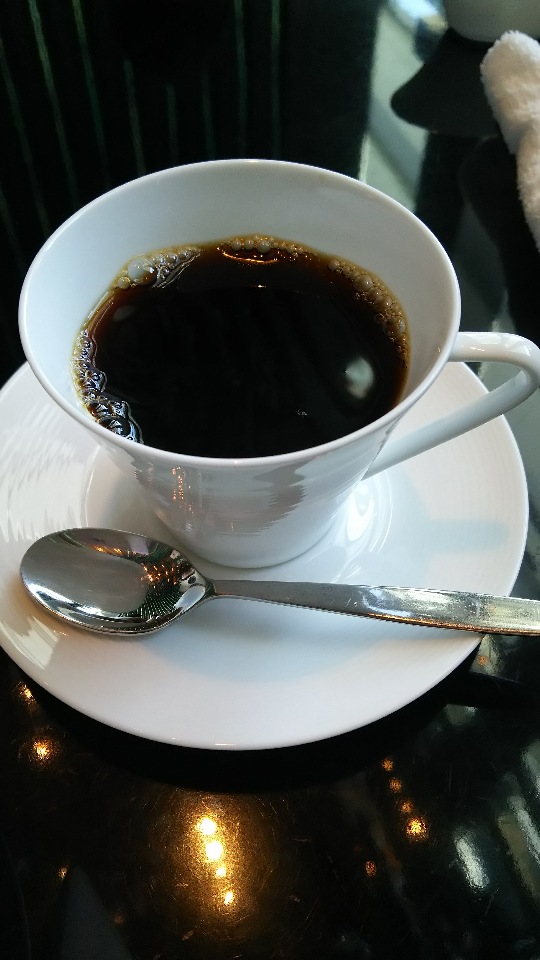 From first to last, all of them are cute, beautiful and delicious so I amazed so many times!
I was so excite.
I strongly recommend to try to Japanese style afternoon tea.
At this time, use Ikyu.com exclusive plan, but usually without champagne and dessert plate course menu, only 5,400 JPY(excluded service fee).
At same floor, has Japanese dinning name "Souten", can serve same course(excluded drink), only 4,000 JPY(exlcuded service fee).
Afternoon tea service menu changed by the season, so you can excite what will they serve!!
More information
Name: The Price Gallery Tokyo-Kioicho Sky gallery lounge Levita
Address: 35th floor of The Prince Gallery Tokyo-Kioicho, 1-2 Kioicho, Chiyoda-ku Tokyo Japan
Access: Tokyo metro Ginza line/Marunouchi line,1 minute from Akasakamitsuke station Akasaka underground walk D exit. Tokyo metro Nanboku line 9-a exit,2 minutes from Hanzomon line exit number 7. 1 minute from Tokyo metro Yurakcho line 9-b exit.
Homepage:http://www.princehotels.co.jp/kioicho/dining/levita/