Japanese sake, which is proud of the world, sake.
In the last time I introduced a shop where you can drink sake in Ginza, this time Yokohama will introduce a store named hanasaku in Nogei Town.
For drinkers (aka Nibei), Yokohama Road connecting Tokaido and Yokohama ports in the end of the Edo Period was harvested, in the end of the Edo Period, people knew who they knew, and cut through the northern part of the Nogeyama The road was made, which means that the area became a major point of transportation.
There are a lot of shops that can receive various delicious sake and food at that wild hair, but this time we will introduce wonderful shops that casually stop by women alone or even overseas .
Noge and Sake!
There is "that shop" in Hanasaki Town which is located a bit aside from the main street of Noge.
Get off at JR Sakuragicho station. I will leave the South entrance gate. (You can go by subway, but I will skip this time.)
Exit the ticket gate and head towards Noge Chikamichi on the right.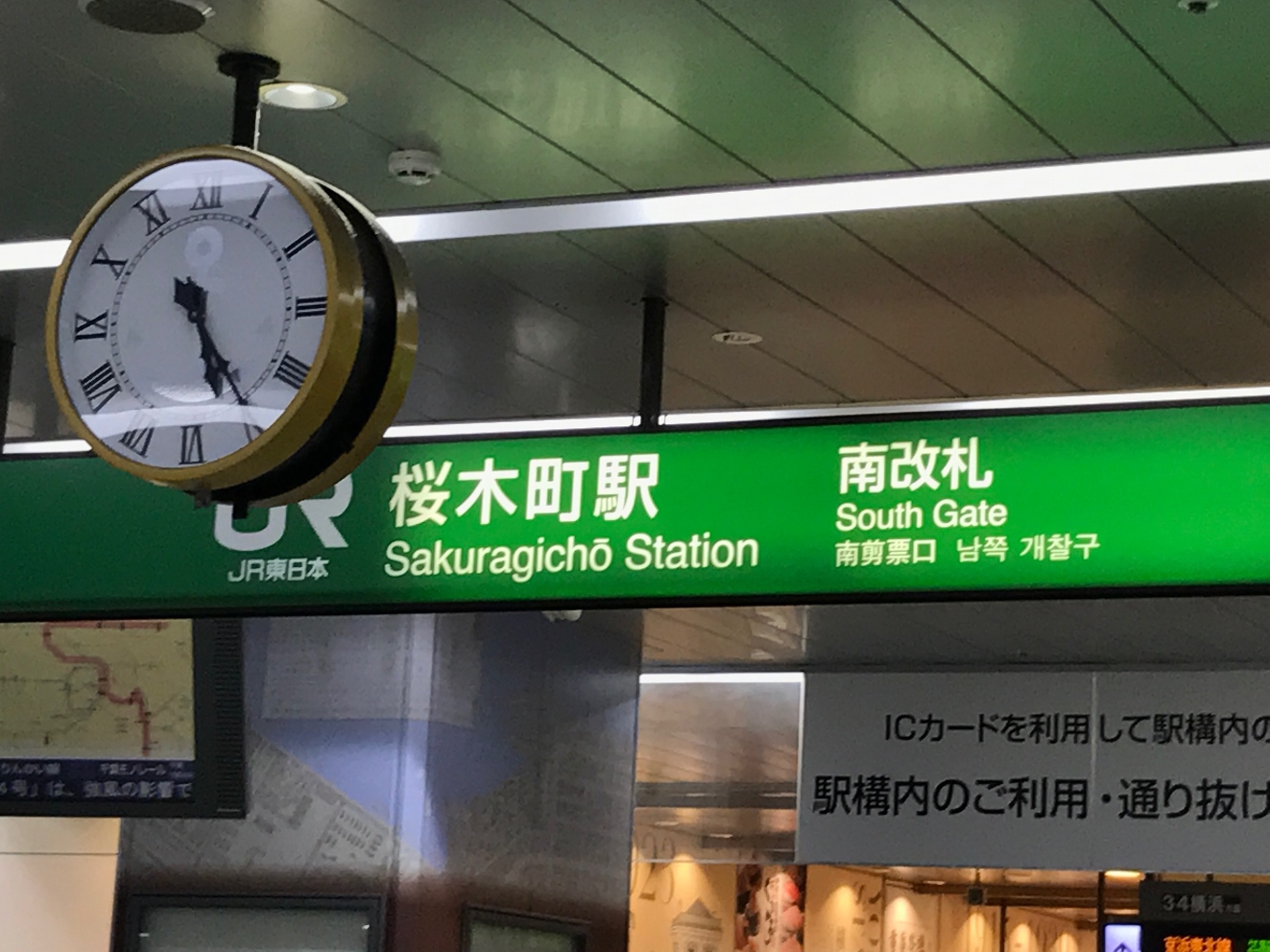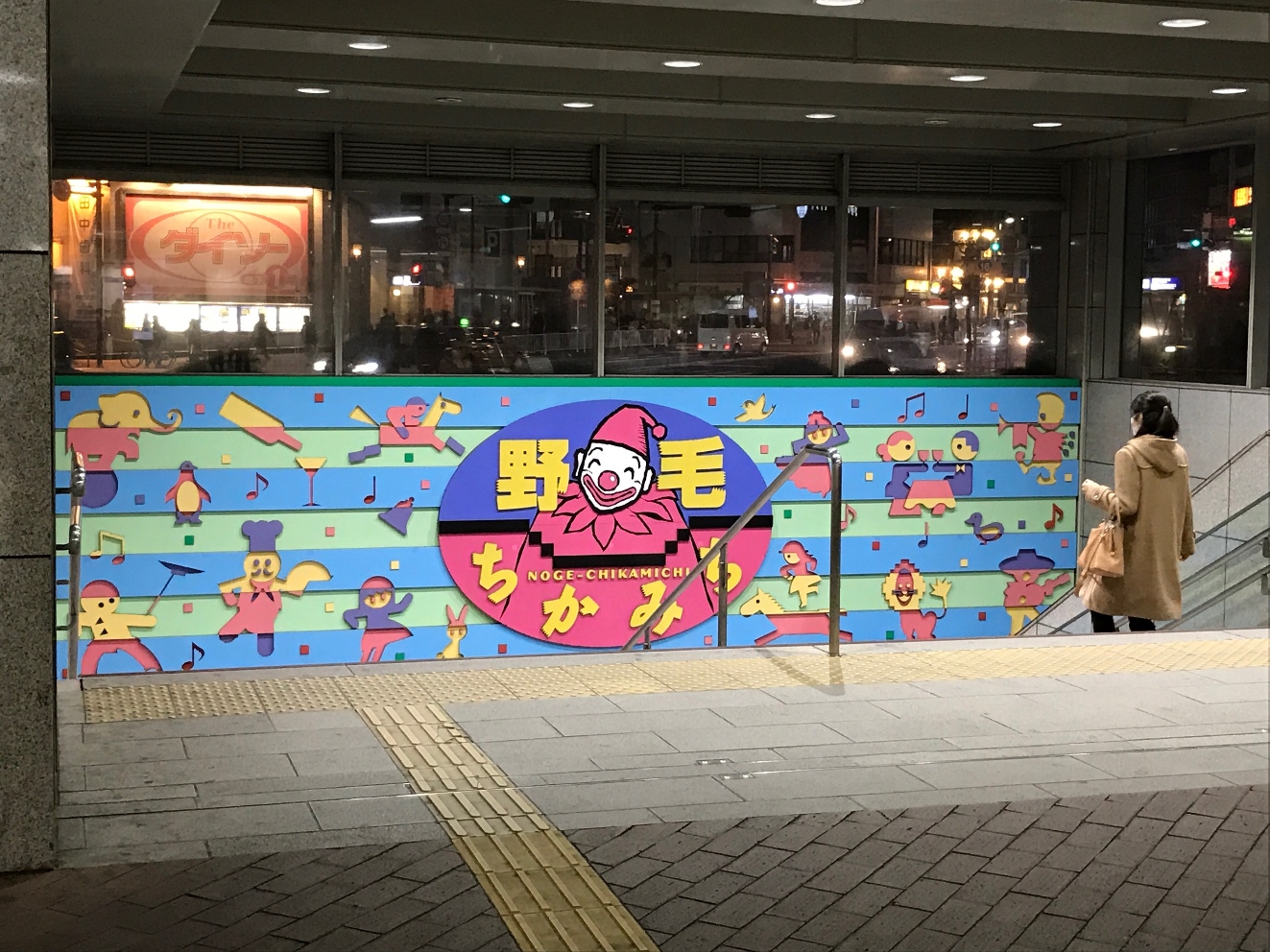 Get off the stairs and head right in the direction.
Immediately there is a stairway and an escalator that goes upward (Exit South 1: Nogeyama park direction), so go up.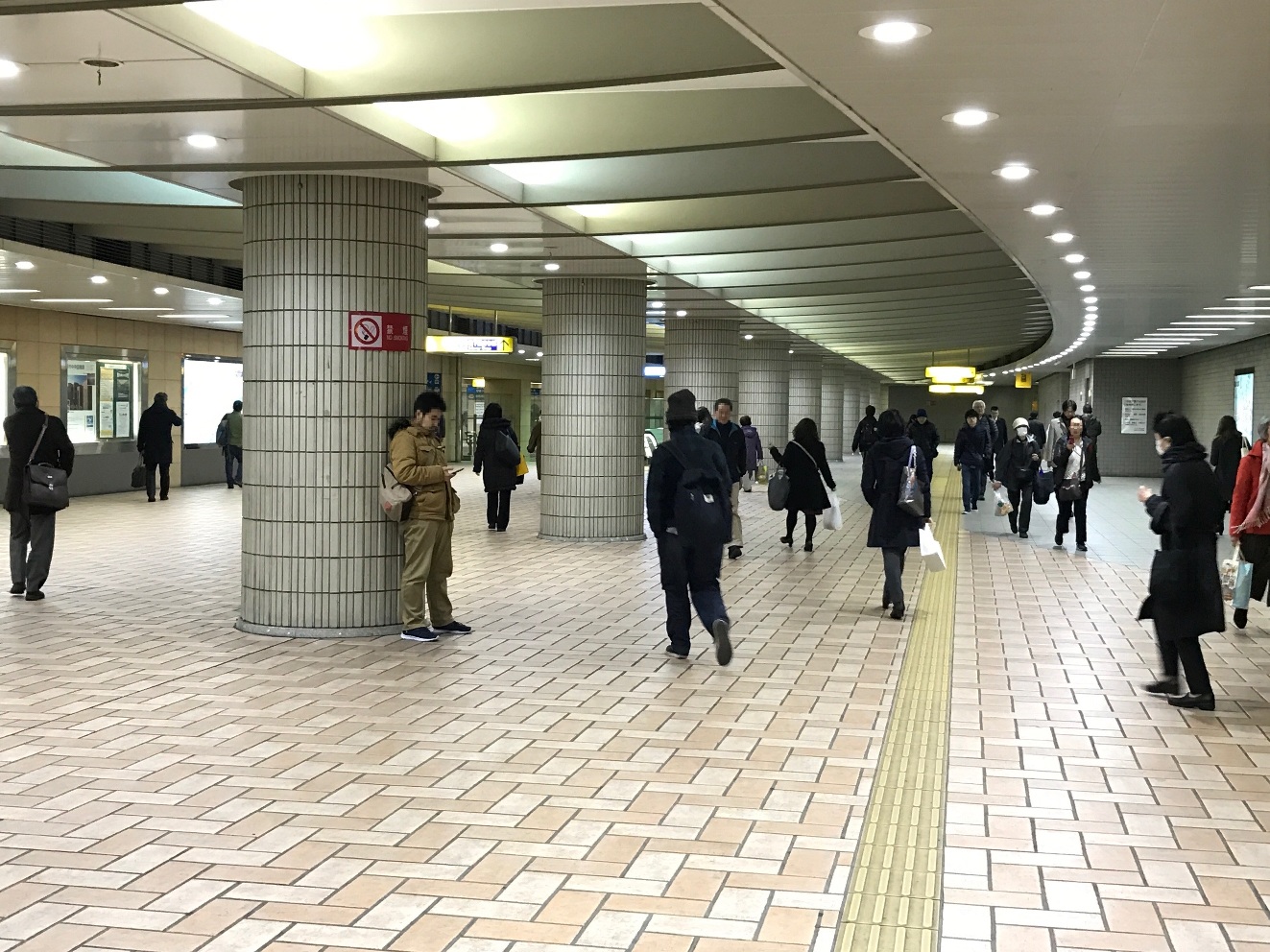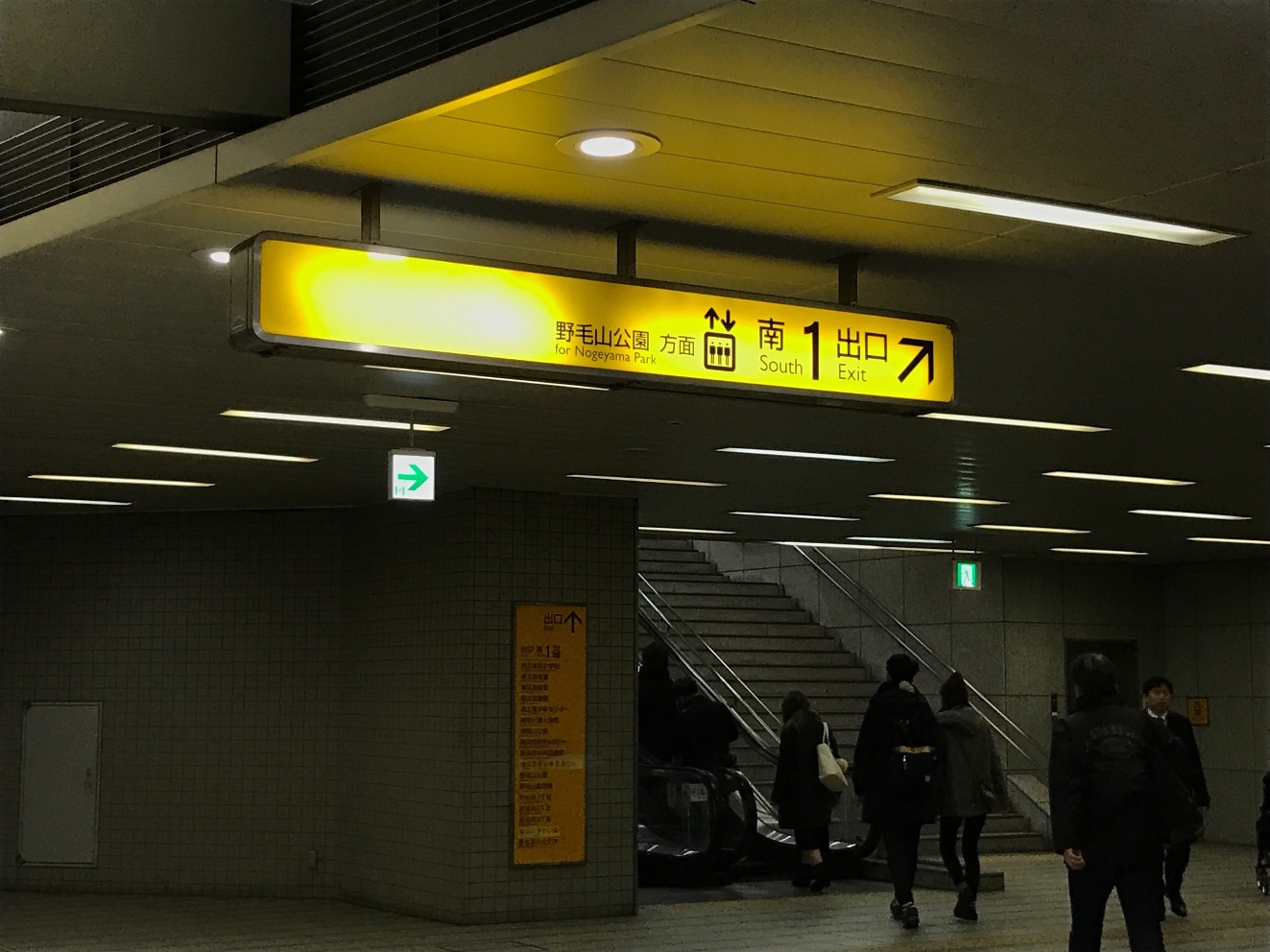 As soon as it gets on the ground there is a convenience store, so go straight ahead while looking at it on your right.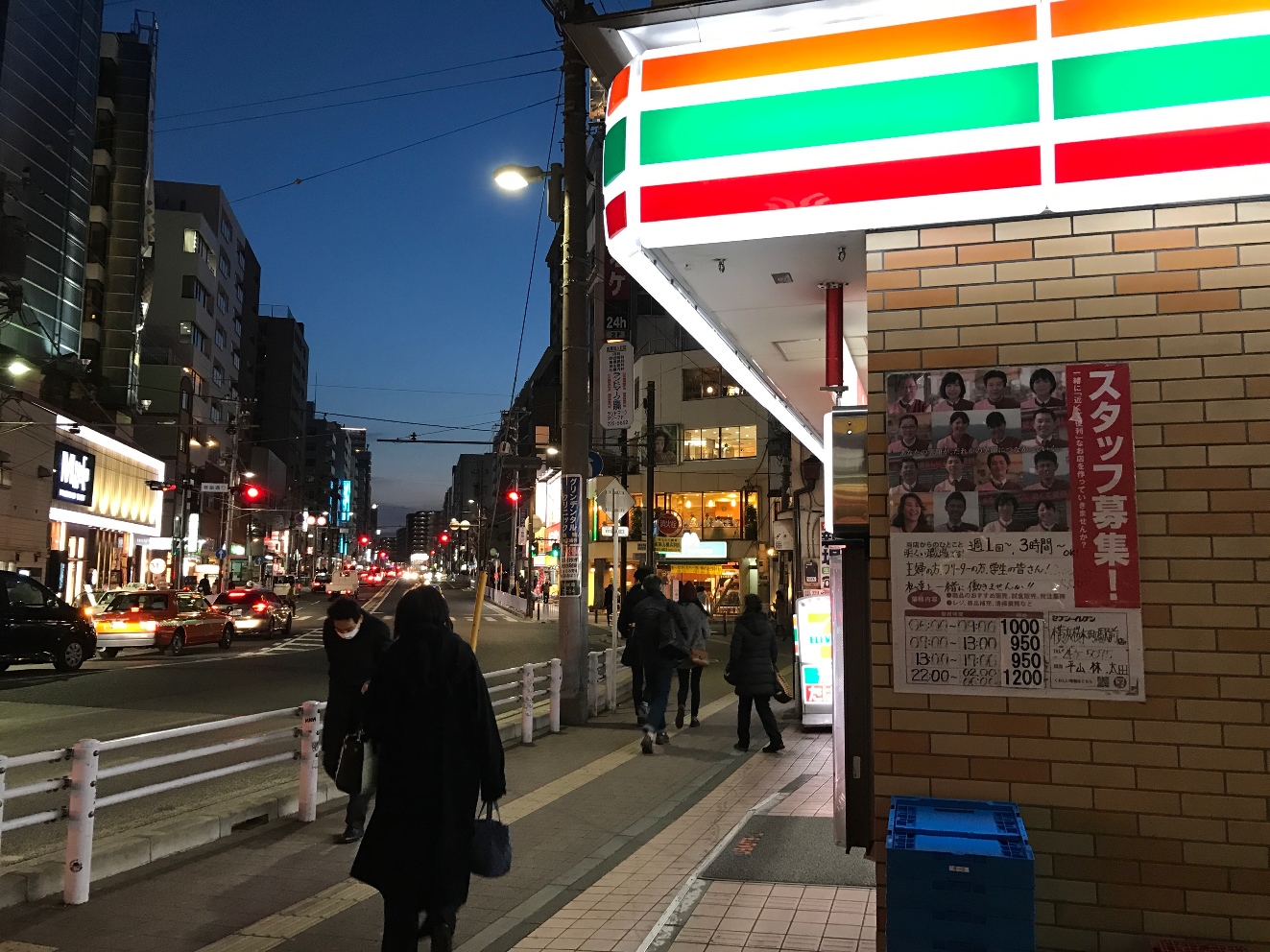 Crossing the pedestrian crossroads, you can find the shop as soon as you enter the alley on your right.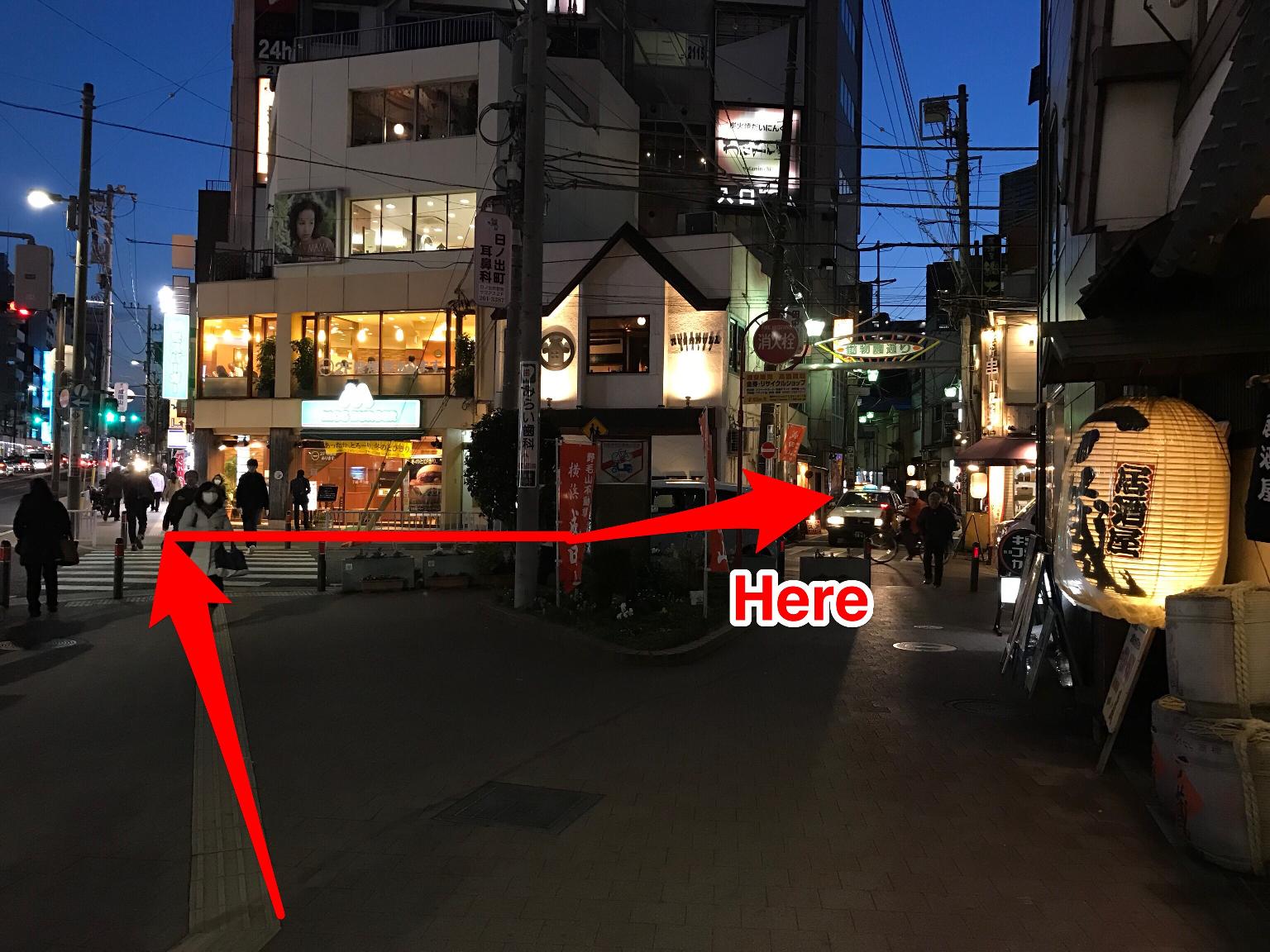 Finally I will arrive at "hanasaku" to introduce this time.
Since a red signboard is at the entrance of the shop, you will soon see.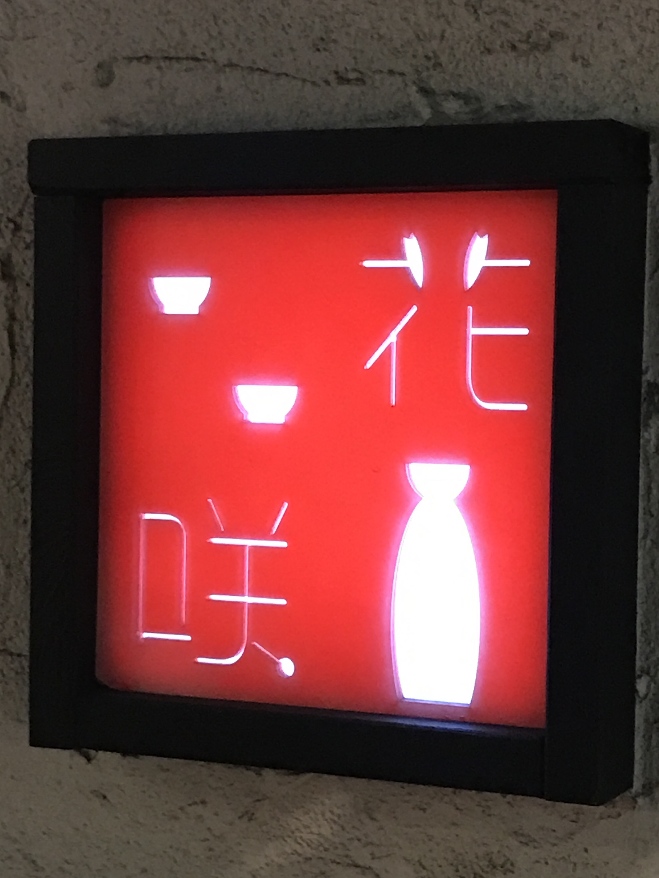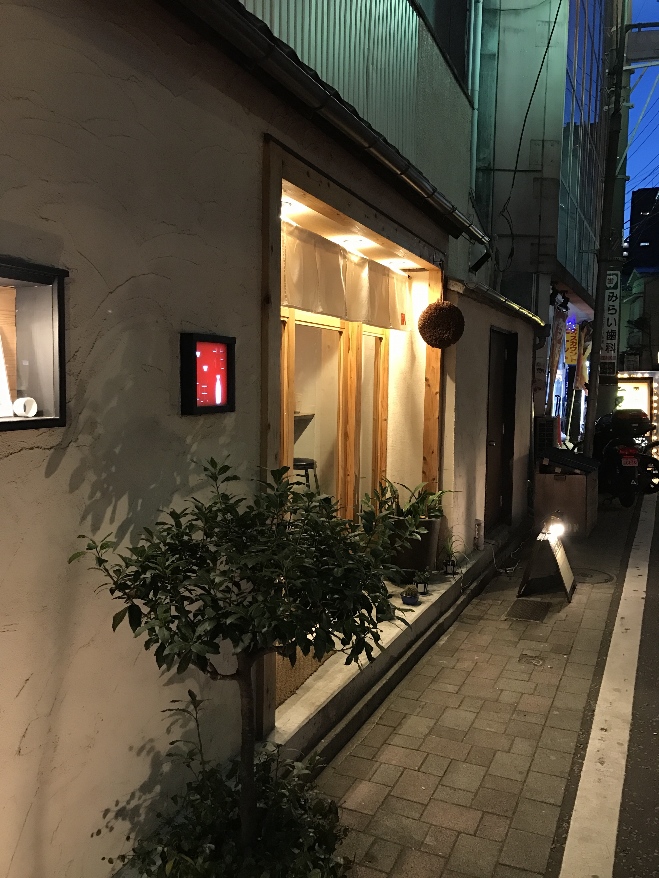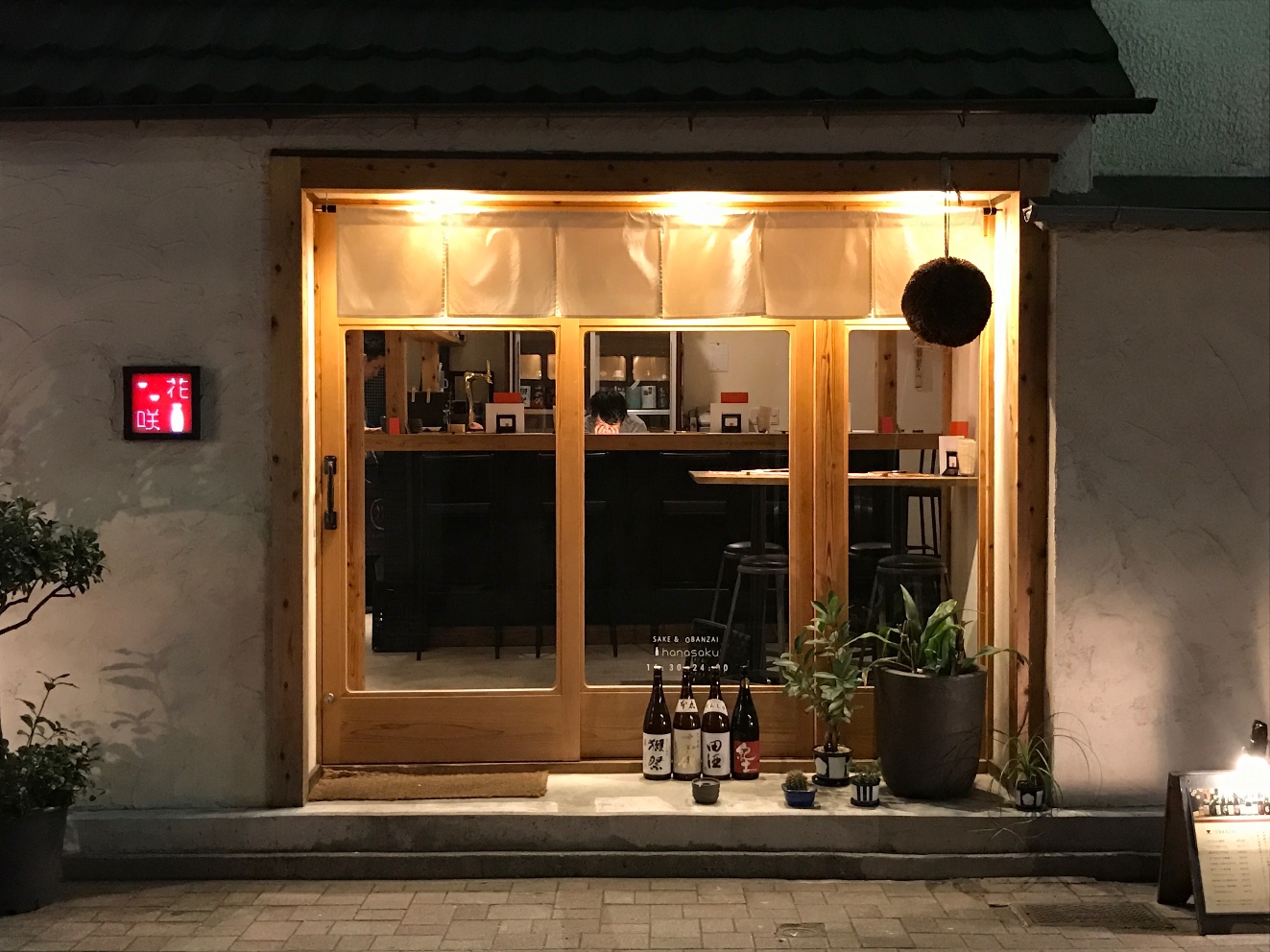 I am small, but it is a very nice shop. Let's get in.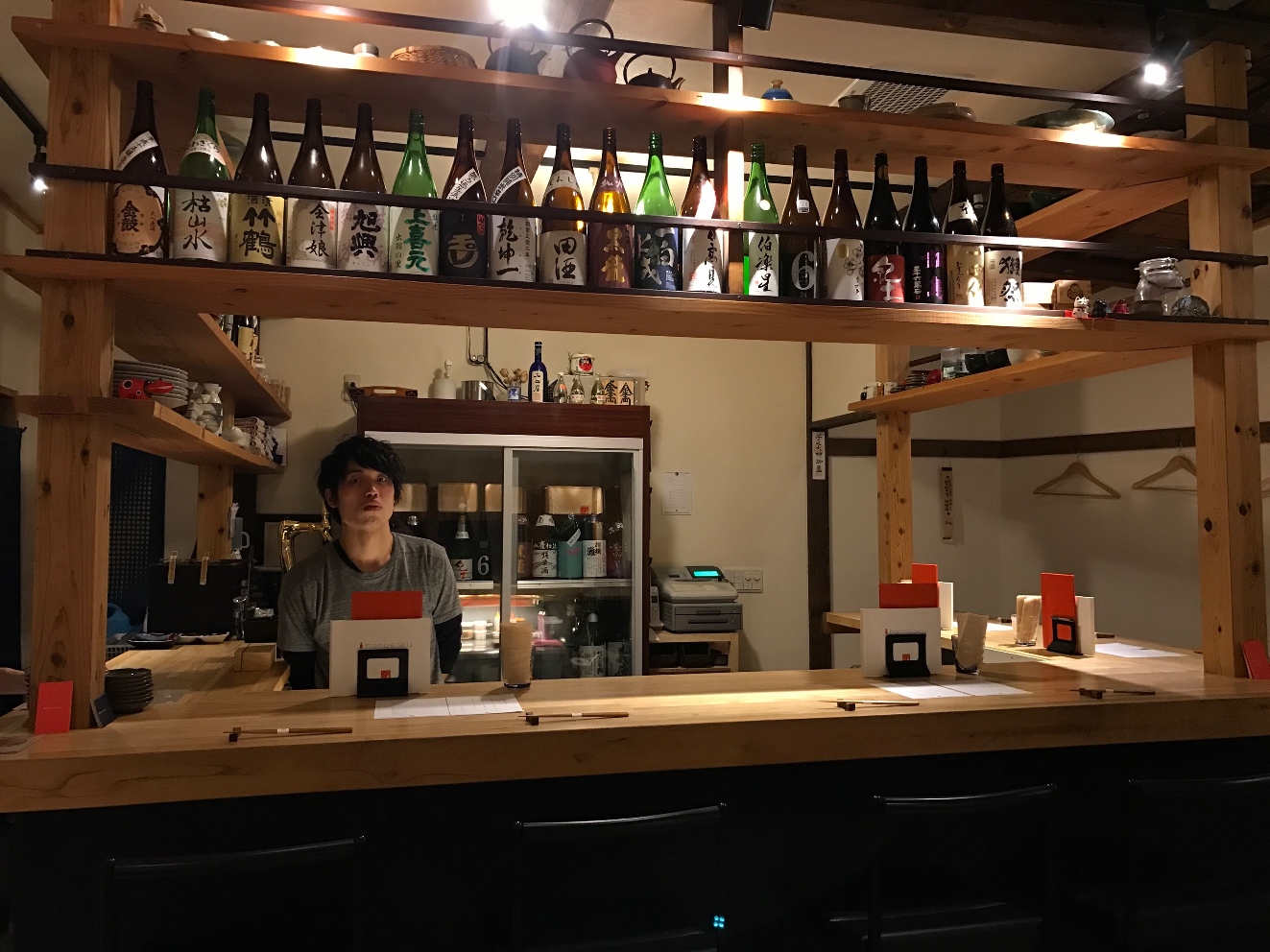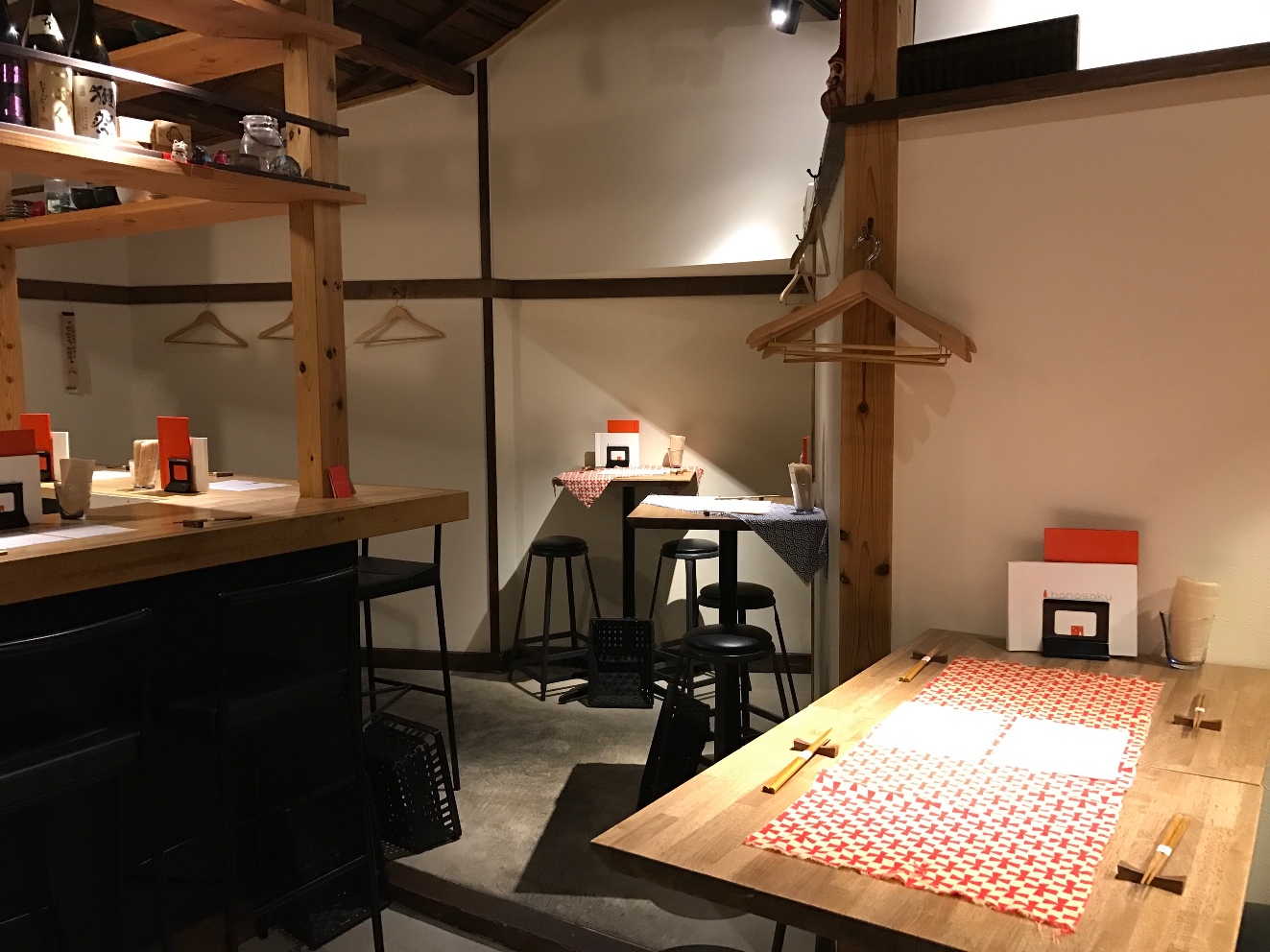 Well then to the store!
When entering the shop, Mr. Iijima of the manager will welcome you. Every time two or three people correspond to the staff.
On the scale of the shop, 10 table seats and 8 counterparts are prepared, and it is a fashionable drinking shop with a refreshing interior decoration. Because of that, I often see a lady one customer recently. Customers from overseas were also visited after the event held at Minato Mirai 's Pacifico Yokohama the other day. The shop staff here are young, including the manager, but they are very friendly and can interfere with the first person without hesitation.
Even if you are a drinker like me, I will feel comfortable with you, so I visit it frequently.
Although this shop is open for a few years, various sake of various places in Japan are not only provided in accordance with the season, but also when the timing matches, it is rare in famous sake store Because I can drink, there are also many people who frequent like me.
Although drinks are the main sake, beers etc. are also prepared, so you can choose beer at the first cup.
In addition, some snacks are also prepared at this shop according to sake. You can order from the menu prepared in the seat and enjoy it with sake. First of all the daily change will be served so you can enjoy sake alone.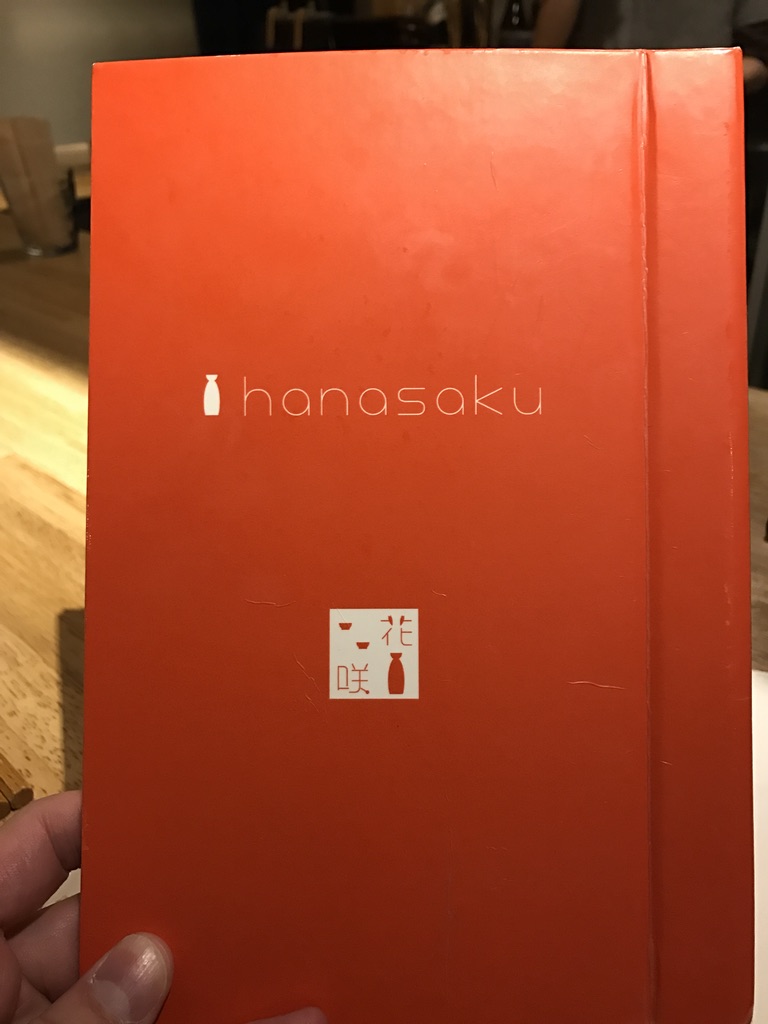 It is the same menu as the red signboard.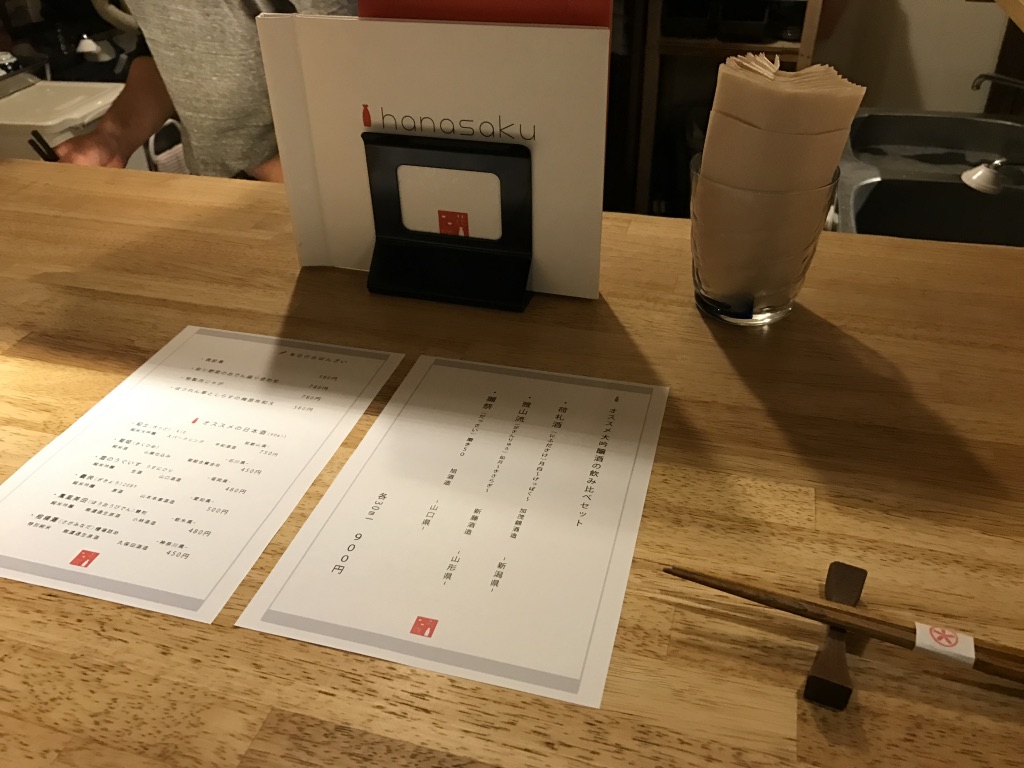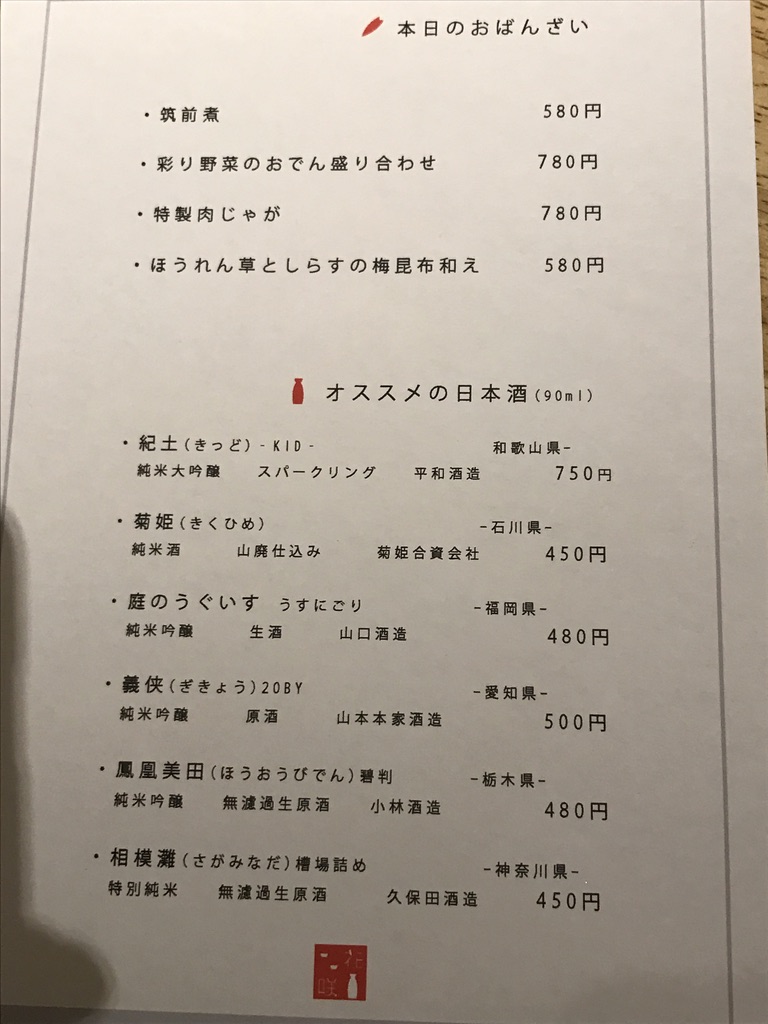 A shame Sake
Then let's ask for sake immediately. Besides regular menus in the table, today's recommended menu is prepared. In addition to Japanese sake, recommended snacks are also available, so please have a drink together with the sake of the day. Also reasonable price The reasonable recommendation drink comparison set of sake is prepared, so when asking what to drink it is also interesting to ask it.
At this shop, we will have a staff first.
On this day, it is three kinds of "Lotus Notes Kinpira" "Potato Salad Potato Salad" "Nemuko Goshi". As the menu will change almost every day, the enjoyment of the show is unique to this shop. Sake will proceed!
Well, it is a Japanese sake that I ordered on this day but it is "Kikuhime mountains abolished net rice" from recommendation. Ishikawa Prefecture received sake provided by Kaga Kikuhime Honpo, a male in Hokuriku.
A happy sauce appears on one of the favorite sake, Kikuhime's mountain abandoned. That's excellent.
Although it is an excerpt from the homepage of the warehouse, in this warehouse now it is analyzing and converting the excellent technology and intuition which Mr. has possesses to thoroughly and it is accumulating it as company know-how. Know-how is that the company has a detailed "design drawing" or judgment of how to make it, it is not simply to promote mechanization and computerization.
I understand it well.
Kikuhime is not aiming for sake brewing as an industrial product like a major brewery manufacturer, but wants to continue the sake brewing making the best of materials and human sensitivity And things. Because sake is a luxury goods, I would like to make sake making which makes the most of the human five senses.
That feeling appears in the taste of sake!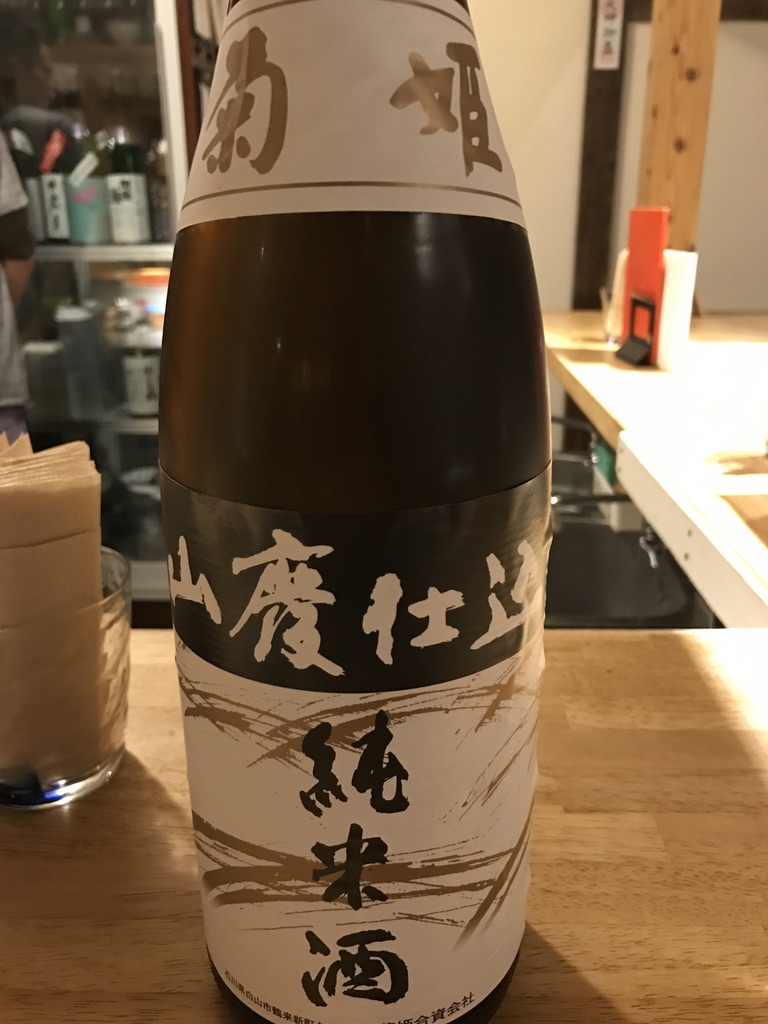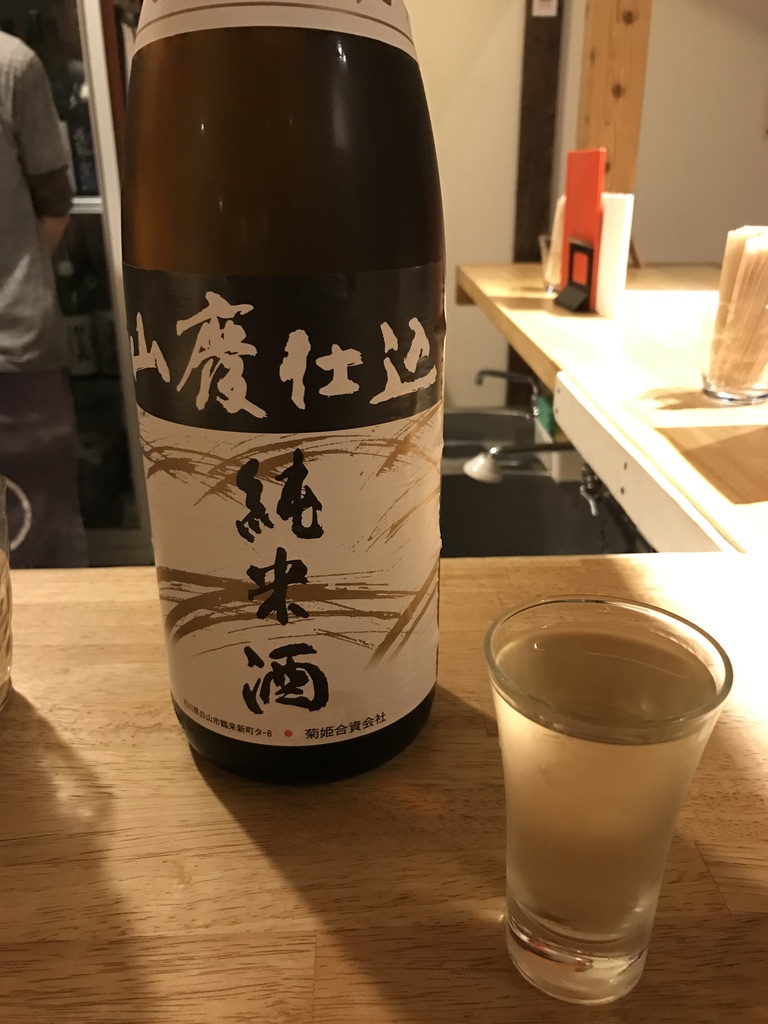 Okay, get it!
The color of alcohol is slightly golden color when you look closely.
Happy ,,,. Koooooo ー ー ー ー ー. delicious! Too delicious! !
While it tastes distinctive, it is a sake with a sour taste and a solid taste. At the moment of inclusion in the mouth it is rich but tasty umami taste penetrates through the top of the head!
This is amazing. As a drinker, you can enjoy only alcohol, but it is solid enough that you can not lose to suit any type of meal, so you can enjoy it variously as a sake during a meal.
As for the refreshing lineage, because I take advantage of the taste of sake, I am satisfied feeling of alcoholic beverage.
While I was doing it I quickly drank it. Now, next!
What shall we do next? I asked Mr. Iijima of the store manager the recommendation. He is young, but he is one who knows my taste very well so I can ask with confidence.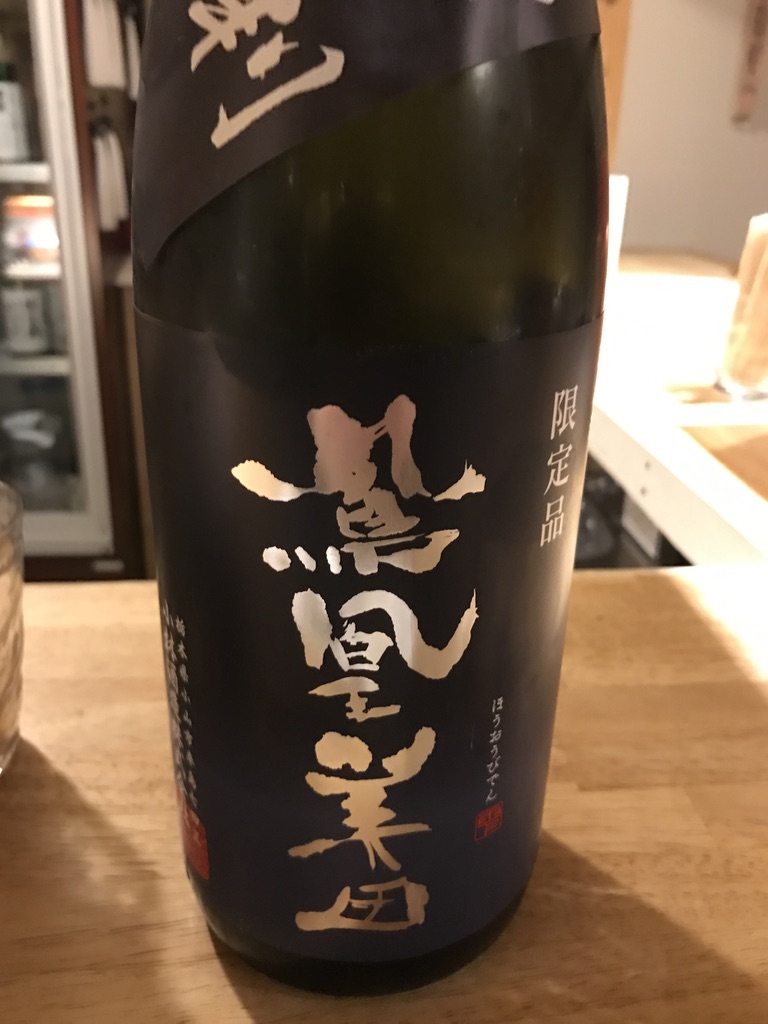 It came out. From Osu, Limited Liquor Junmyo Ginjo "Phoenix Mida Akira" non-filtered raw sake. It is liquor offered by Kobayashi Sake Brewery located in Tochigi. Although it is a small sake brewery, it produces delicious brands. Recently, it is getting difficult to obtain due to growing demand.
Firstly smell. Hmm? It has a very Muscat fruity scent. I will set it up when I see the label, but I am a little surprised. And the taste is. . .
Wow - ー ー ー ー. delicious! It is elegant and smooth taste with scent. This is also exceptionally delicious.
I can not drink only in winter, so I usually can not see you, but the fun of this season every year is "surprise" of sake. Even the same things are surprising and moving each year.
If you were drinking Phoenix Mida chipping off, you lost access too early. Let's ask something.
Today I tried to ask Chikuzen to boil from recommended.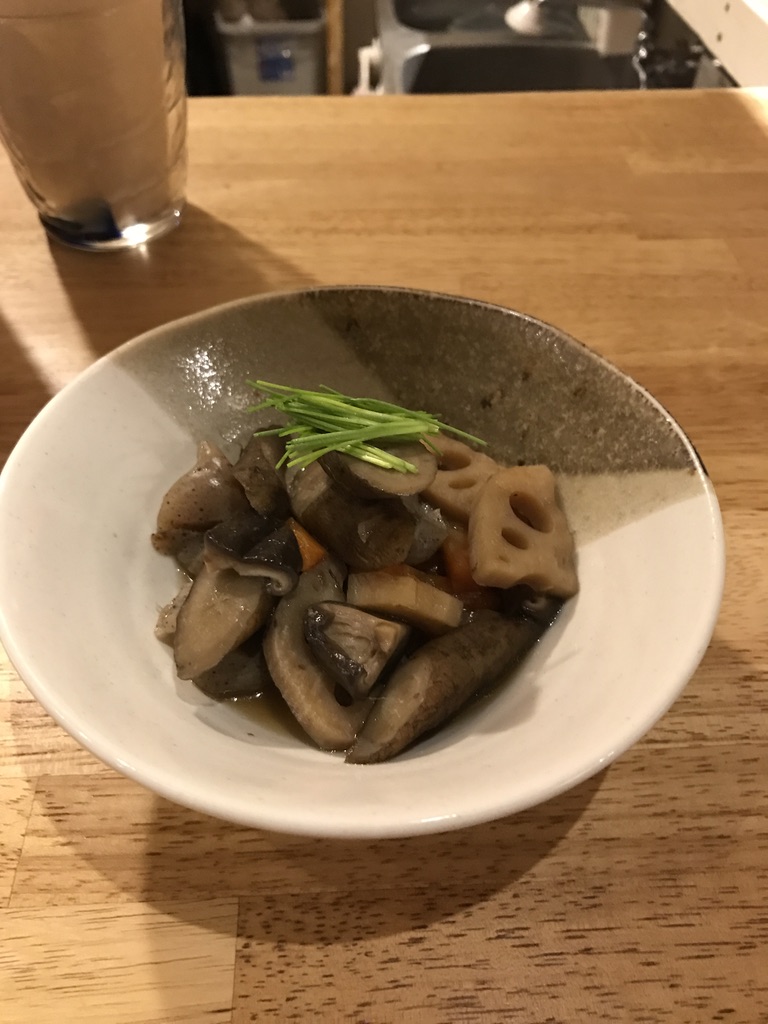 Because soup stock is working, it is very tasty Chikuzen boil. This is suitable for any sake.
Well. It fits sake. .
I also drunk delicious sake today. Well do you account for soon? I will come again.
This shop is open from 16:30. Why do not you visit the day when you finish work earlier, or when you are off for work?
Next time, look for sake! It is Roppongi ed.
Finally, a message from a young shop owner of hanasaku got a message.
One word from shopkeeper
Wiping out the stiff image of sake
Young people and women, still in sake
people not familiar with Sake of sake etc. to all people
We propose thought and suggestion with customers
Once we have delivered a new discovery, excitement
I am fortunate.
The sake introduced this time
"Kikuhime Sanabashi net rice" (450 yen)
Kikuhime Joint Stock Company
= = Ishikawa ken Hakusan city Tsurugi Shinmachi evening 8
TEL 076-272-1234 (representative)
FAX 076-273-1222
http://www.kikuhime.co.jp/index.html
"Phoenix Mida Akira" (480 yen)
Kobayashi Shuzo Co., Ltd.
Oyama Graduate School of Tochigi Prefecture Graduate School 743
TEL 0285-37-0005
Appetizer
Staying (300 yen)
Boiled Chikuzen (580 yen)
Shop information
Name: Sake with sake and stubborn hanasaku
Address: Kanagawa ken Naka-ku Hanasakamachi 2-60
Tel: 045-325-9215
Opening Hours: 16: 30-24: 00 (23: 00 LO)
Closed Holidays: Normal holiday (except New Year's holidays)
Credit card correspondence: Yes
Mobile phone: SoftBank, au, docomo
Wi-Fi: None
Access:
2 minutes on foot from JR Sakuragicho Station
2 minutes on foot from Sakuragicho Municipal Subway Station
Keihin Kyuko Sunrise 5 minutes on foot from town station
Official website:
http://kulakula.info/hanasaku/index.html