One of the most famous villa in Muromachi period is Kinkakuji, that is built by 3rd generation shogun of Muromachi shogunate "Yoshimitsu Asikaga".
Today, I will introduce Ginkakuji, that is built by 8th generation shogun of that shogunate "Yoshimasa Ashikaga".
This villa is based on Zen spirits and a fruit of Higashiyama culture
Kinkakuji has a official name, that is "Rokuonji". Similarly, Ginkakuji has official name that is "Jishoji".
Each of these buildings are used as villa for these shoguns. But after these shoguns pass away, these villas are changed to temples.
Well, at Ginkakuji, you cannot find out silver color on the front so you may have a question "Why this temple have not have silver color because Gin(銀) means silver?".
This reason is by the culture. At that time is Higashiyama Bunka(literally, Culture) Period, so that villa/temple is built based on zen spirits and "Wabi,Sabi".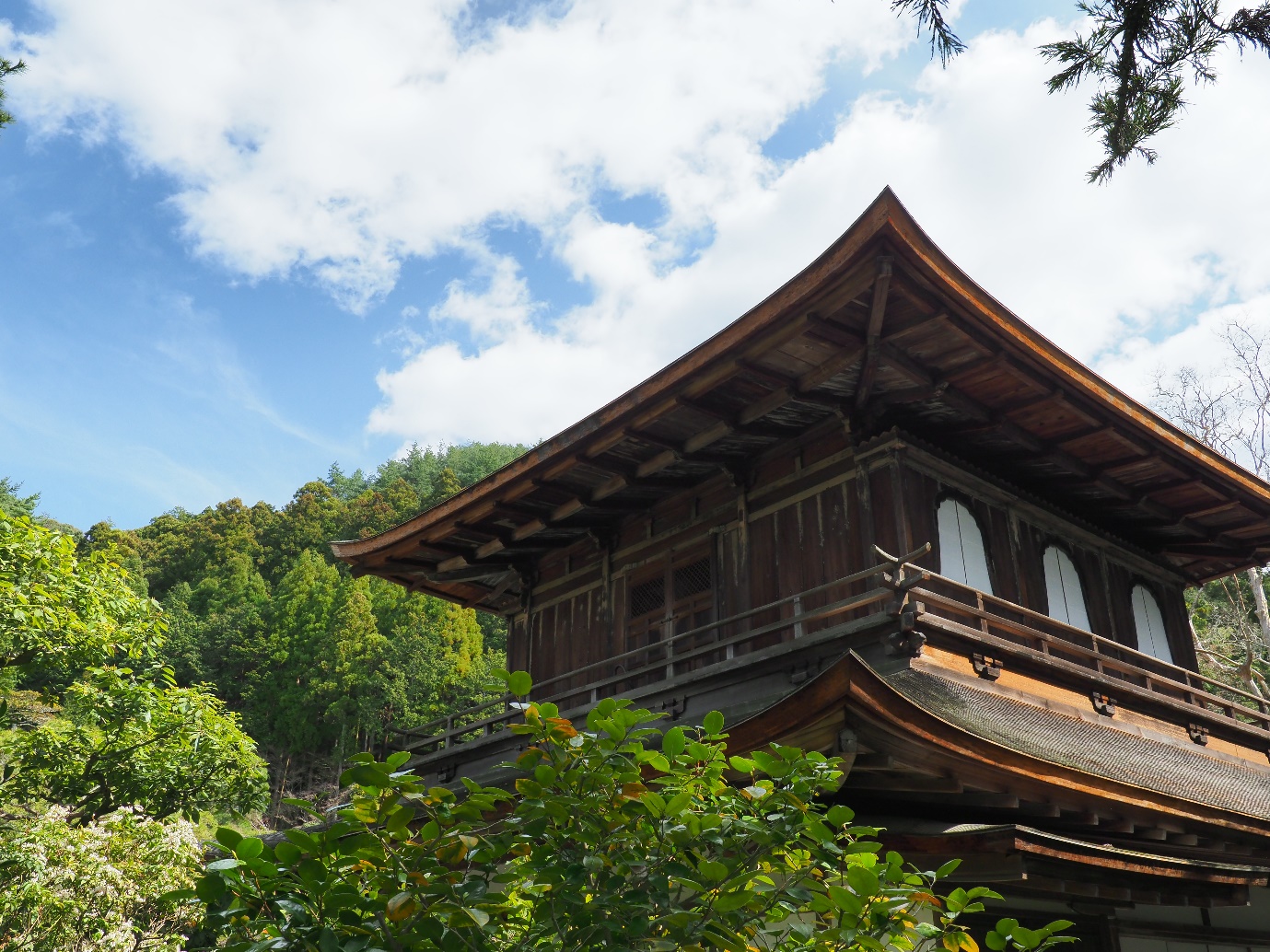 To go to Ginkakuji, walk through Ginkakuji Bashi bridge.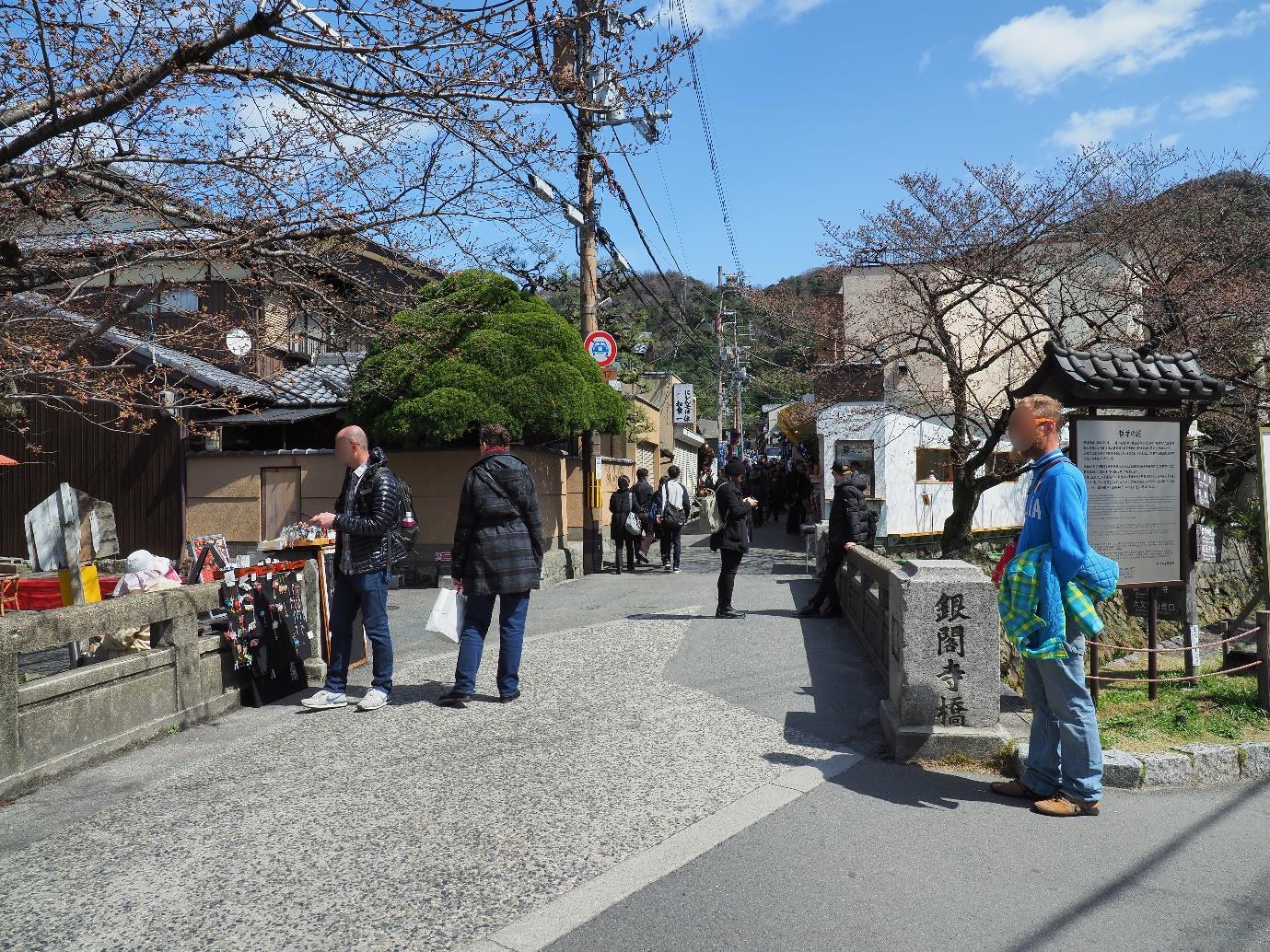 This area is crowded in holiday...weekday... everyday!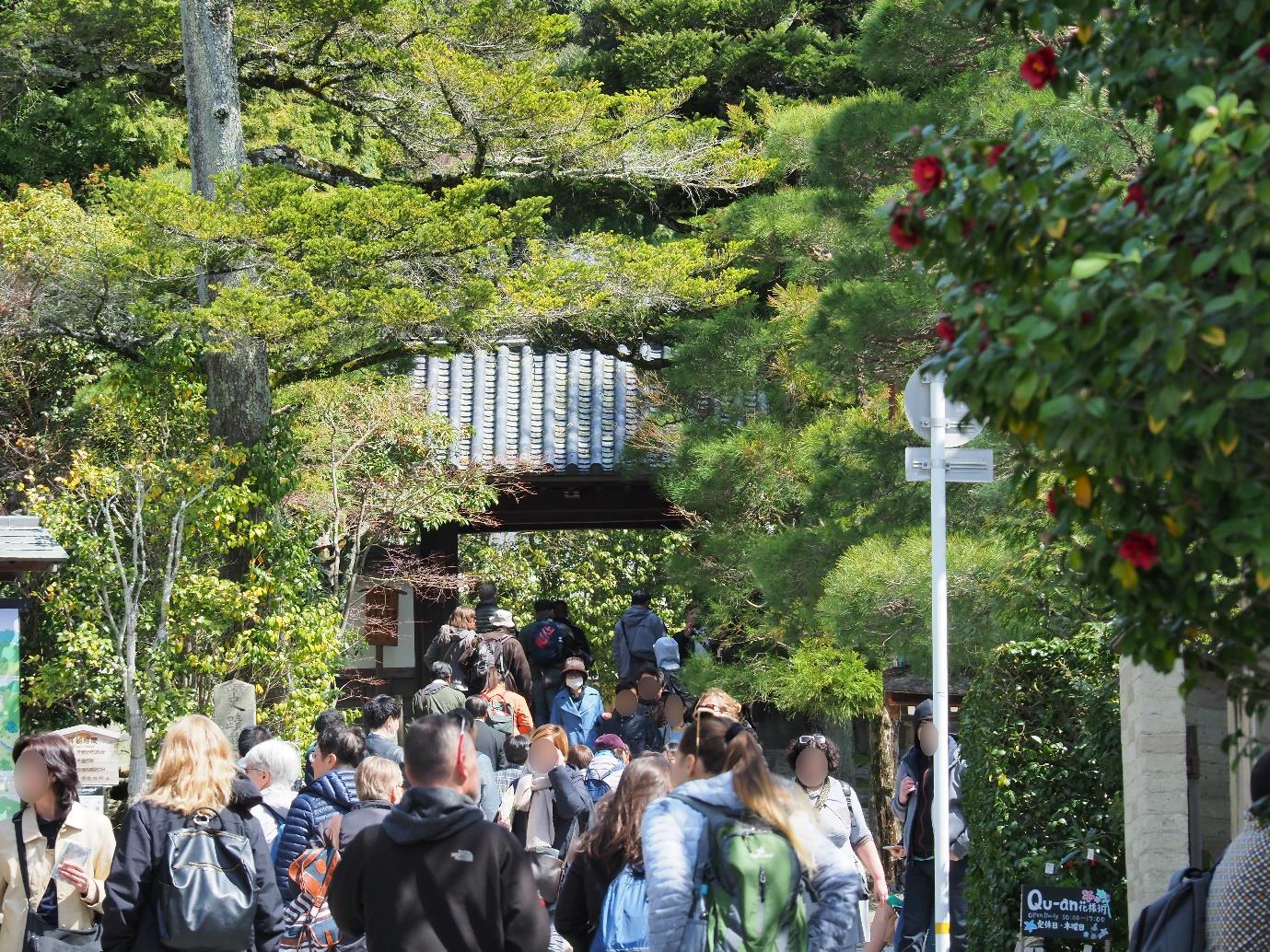 This temple is big like Kinkakuji. I know that by precinct map.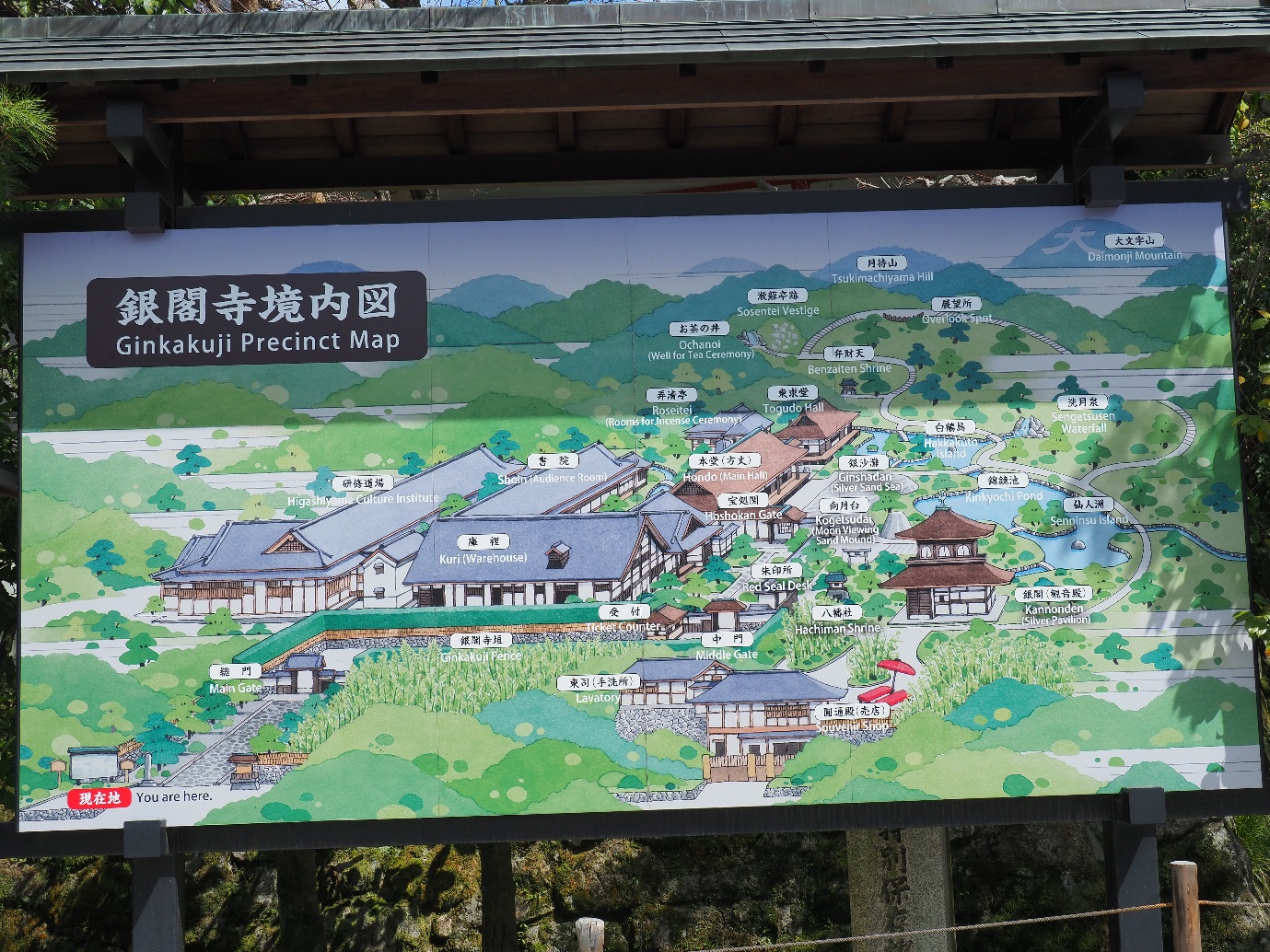 大人500円を納めると、パンフレットと御札までいただけます。
Pay 500 JPY(adult) to the temple, you can get panphlet and a good luck charm.
Ginkaku's official name is "Ginkaku-Kan-non-den". It is confusable.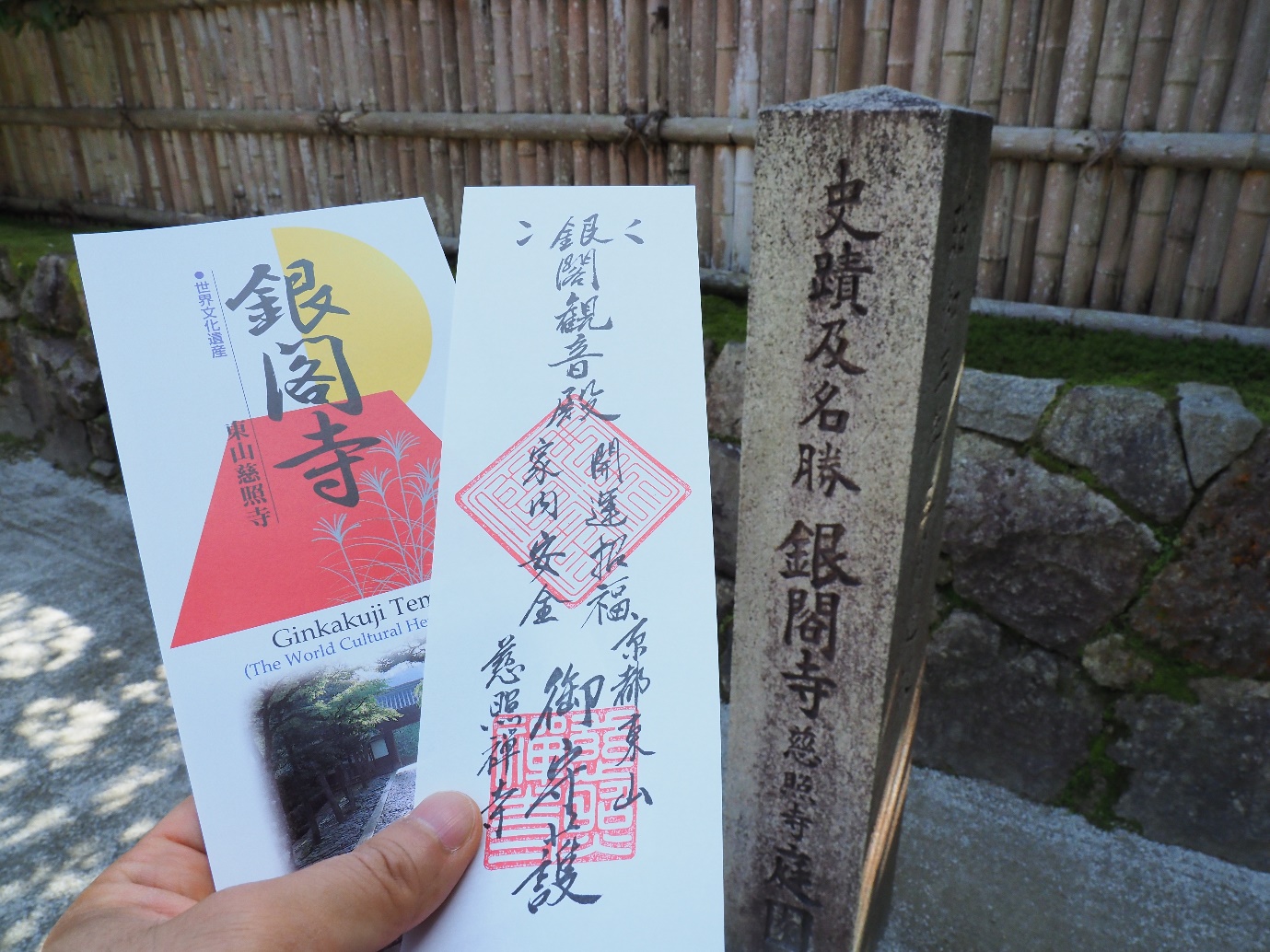 Ginkaku Kan-non-den
From the entrance, you can find a Japanese pine tree that is well-maintained by the artisan. On the right side, you will see...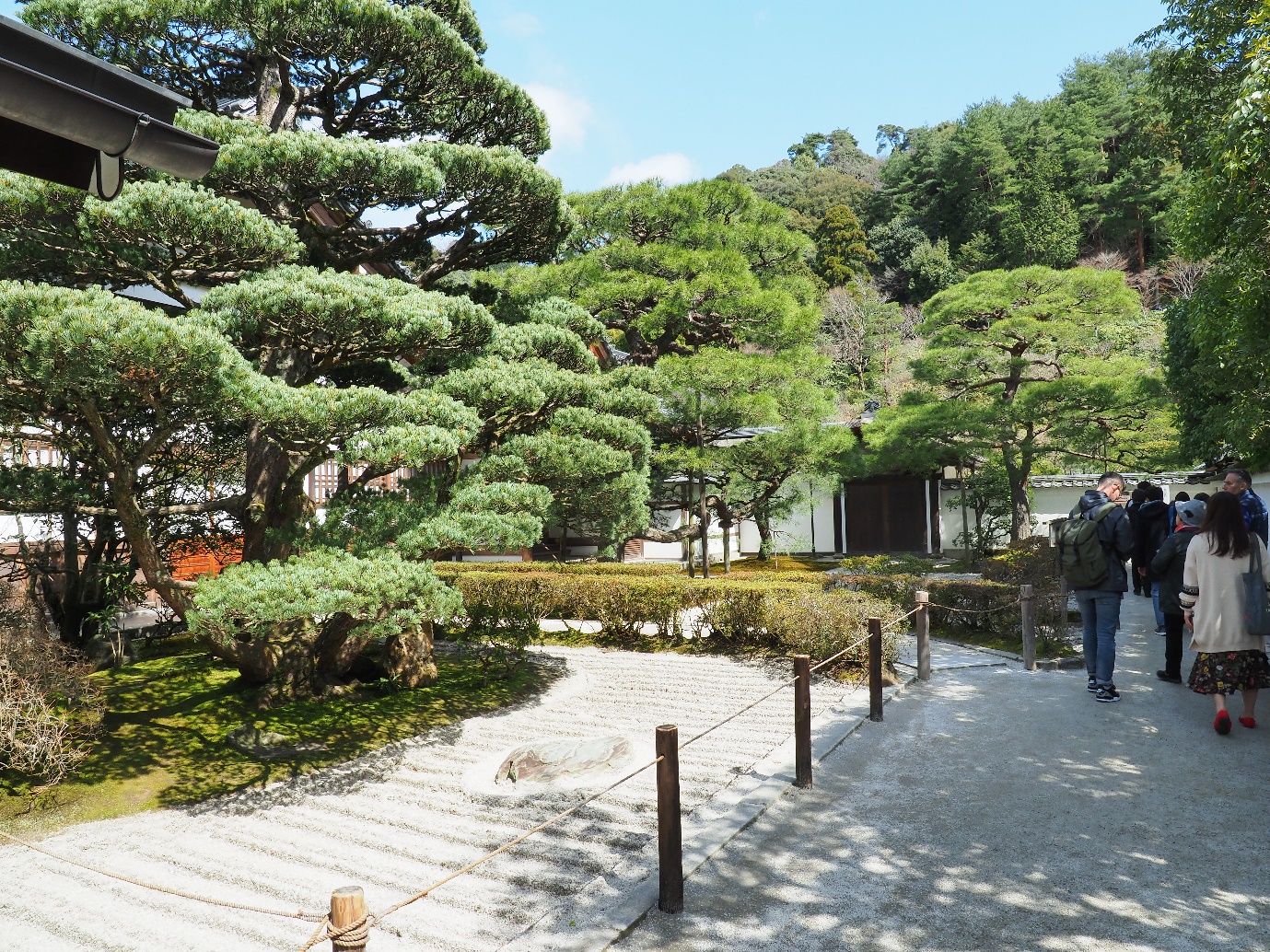 National treasure Ginkaku. It is simple but have a charm woody-building so I want to see it for hours.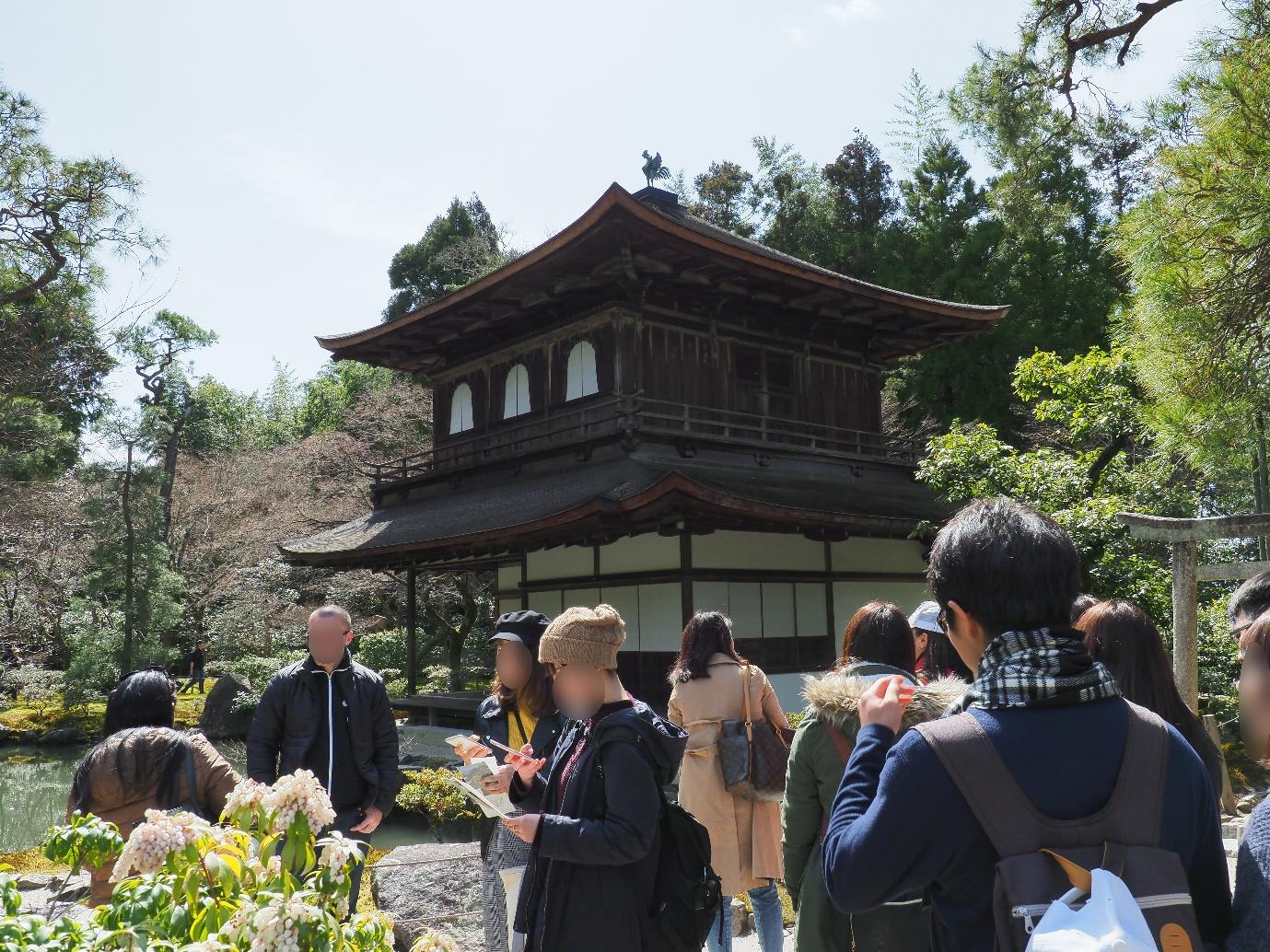 Zen-Ami Sakutei and Togudo
Look at the other one side. Near the Ginkaku, you can find out "Kincho-chi"(Kincho pond) and "Karesansui Tei-en"(Karesansui garden). These are form "Chisen-shiki Kaiyu Teien".
Karesansui Tei-en means garden that made with out of water.
Chisen-shiki Kaiyu Teien means enjoy look garden by walk around the ponds.
I uploaded photos below, and building that is in right side of photo is Ginkaku, and left side is Nishiki Kagami Ike(Pond). Softly-curved pond ,frame form, and garden plants are so great.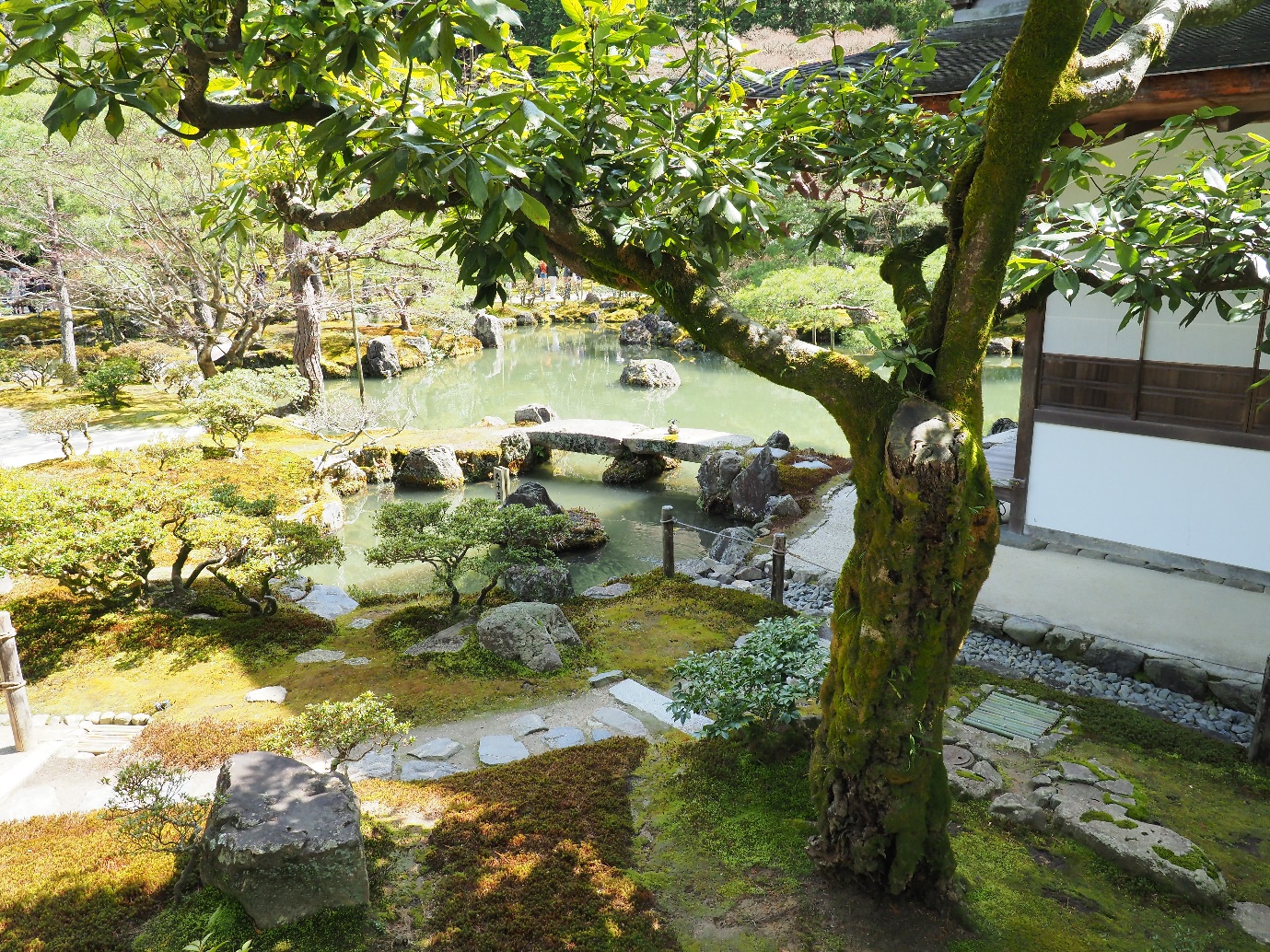 This Ginkakuji Temple's garden call "Zen-ami Sakutei".
And this modern design mountain mades from sand name "Kougetsu-dai". This mountain height is about 180cm(5.9ft).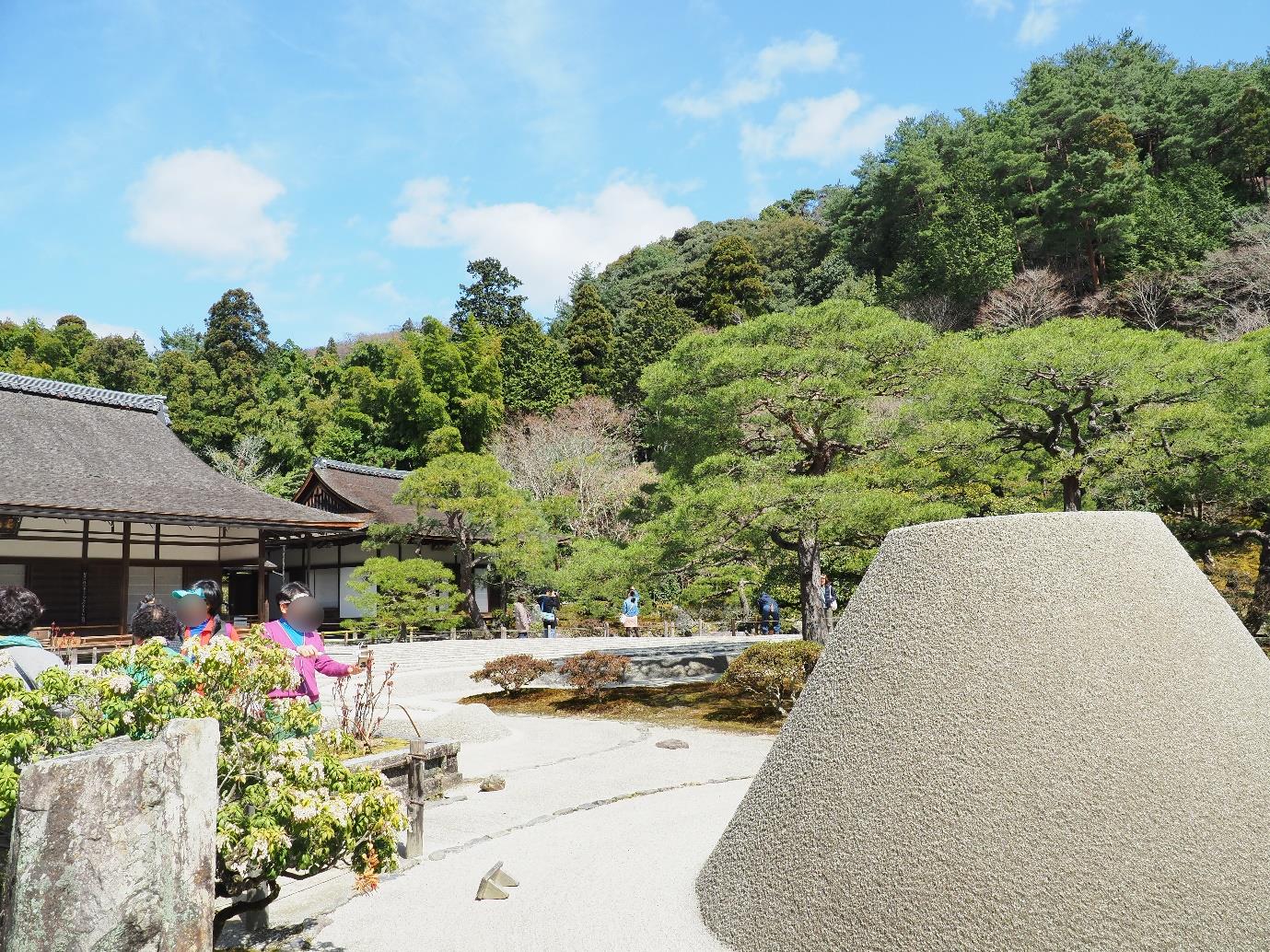 Ginshadan, that is show in below photo. I remembered my school trip because I was visit at that time.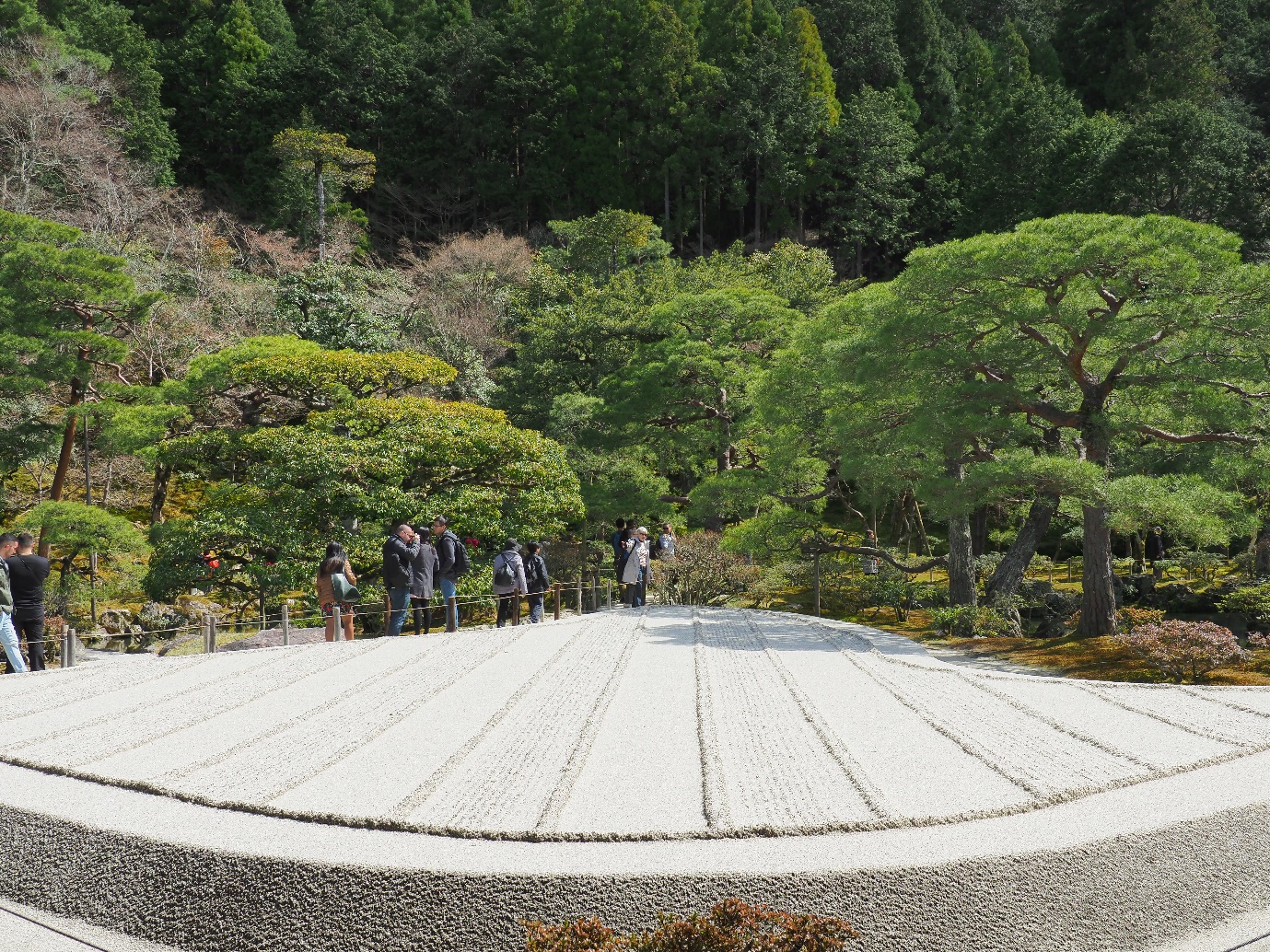 Famous composition from main temple side is so great.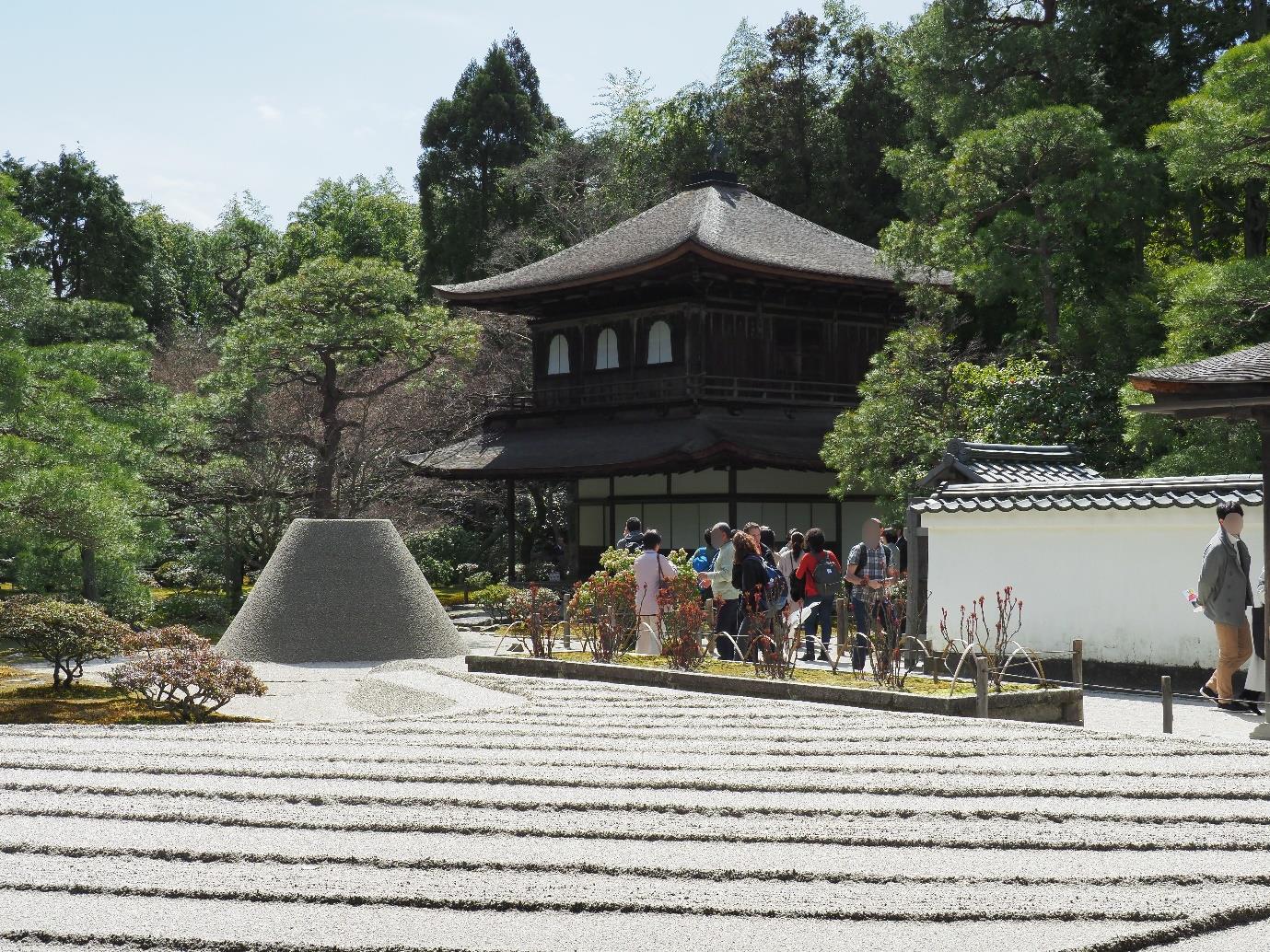 Then, I prayed in main temple.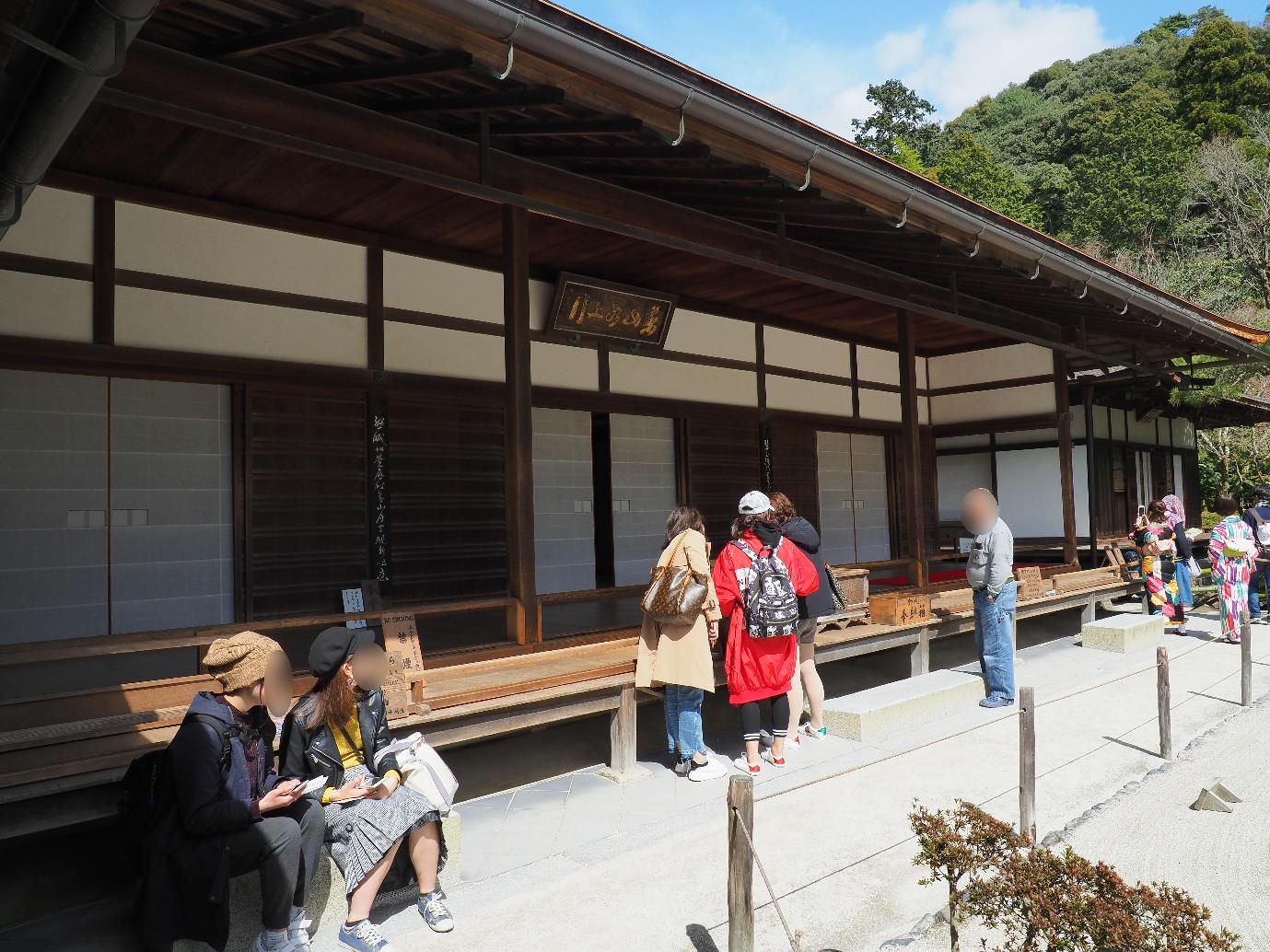 In the side of temple, you will find simple buiilding. But that building is national treasure. I almost missed out that.
This building name Togudo. That building can find in the right side of below photo. It looks so great.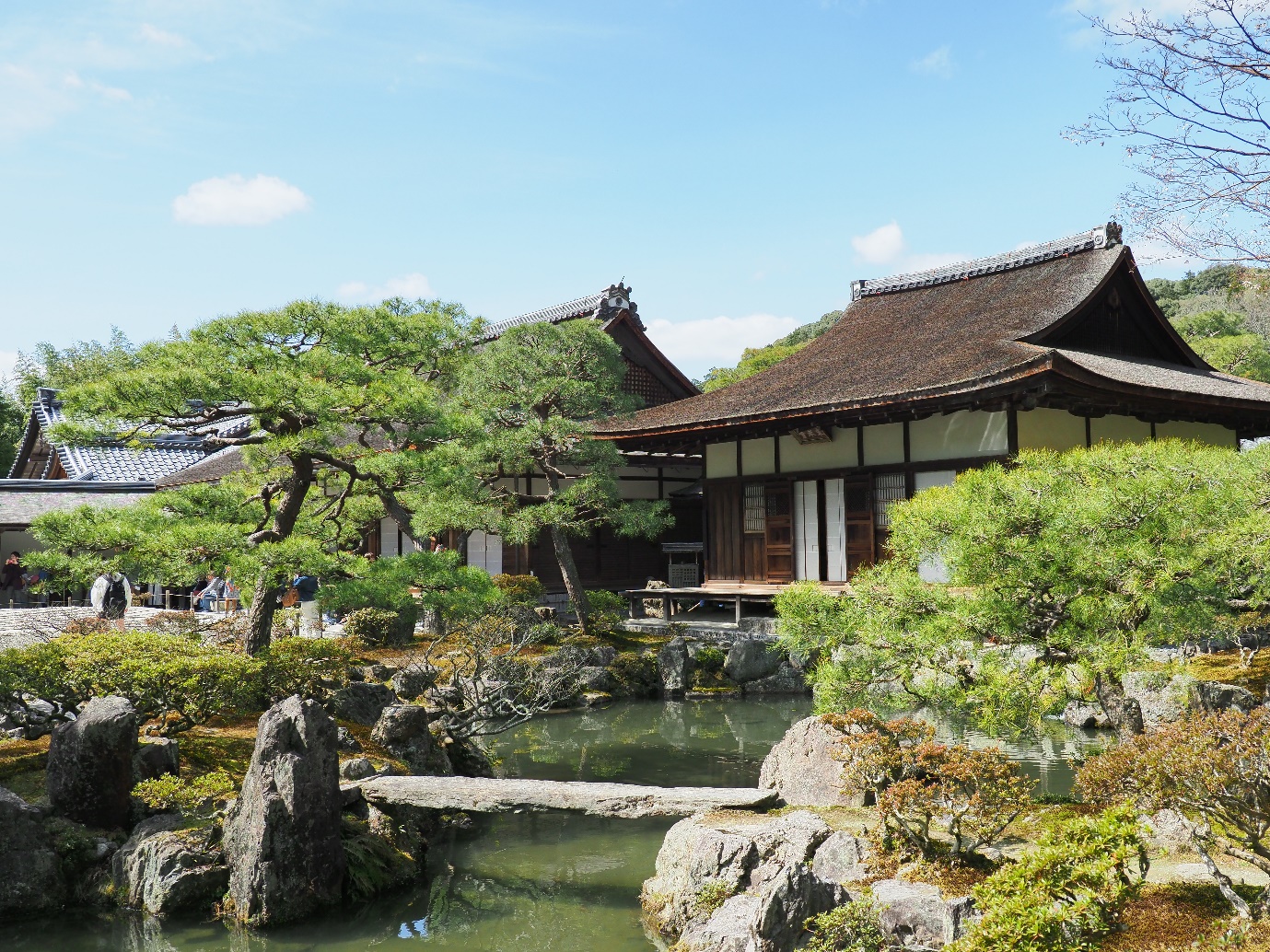 Discover garden
In this garden, it has so many trees,up and down so you can feel good while walking. After walk several minutes, I found a big tree that is aged 500 years.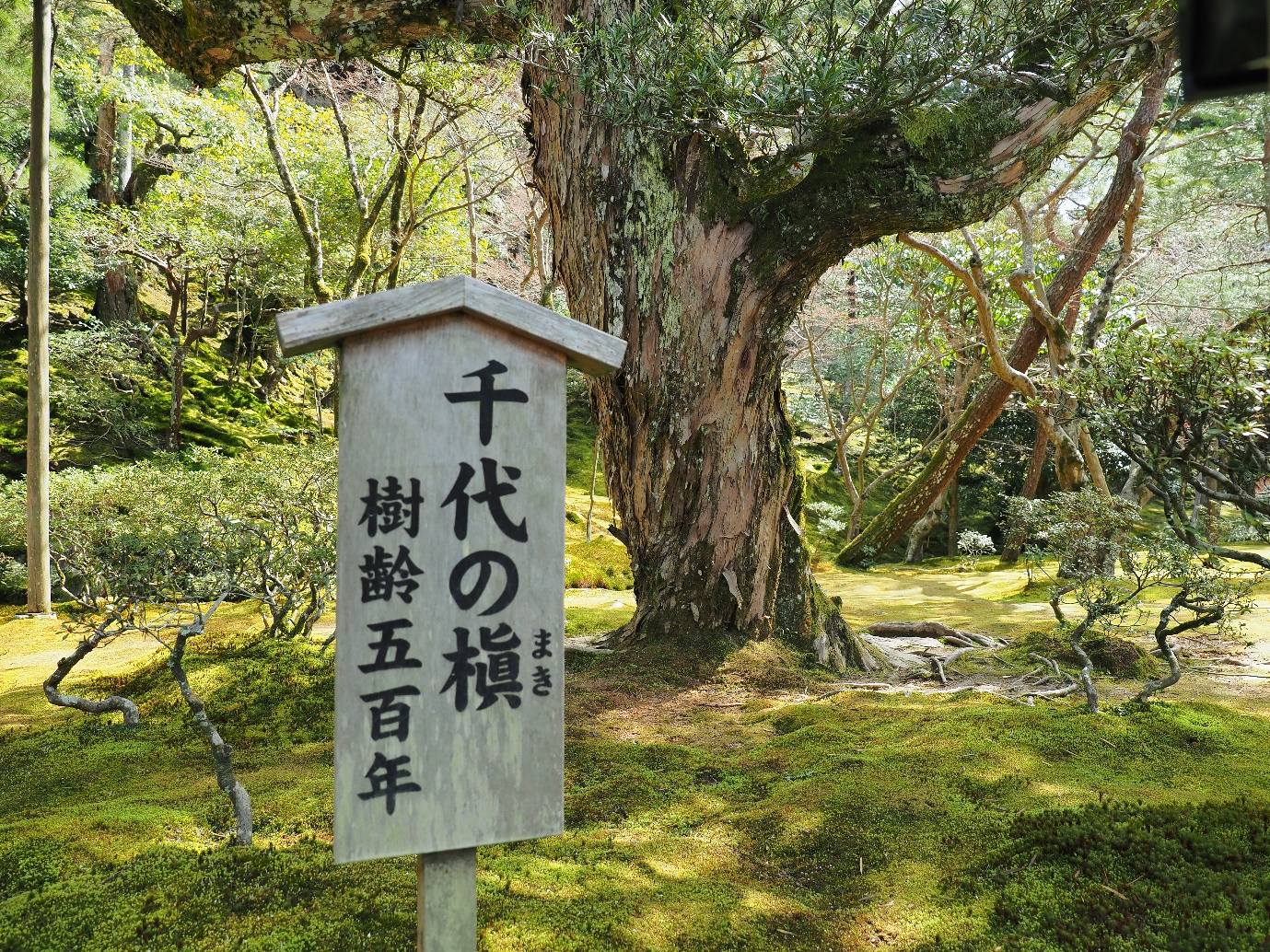 That tree has complexed branch so I confirmed that tree aged for a long year.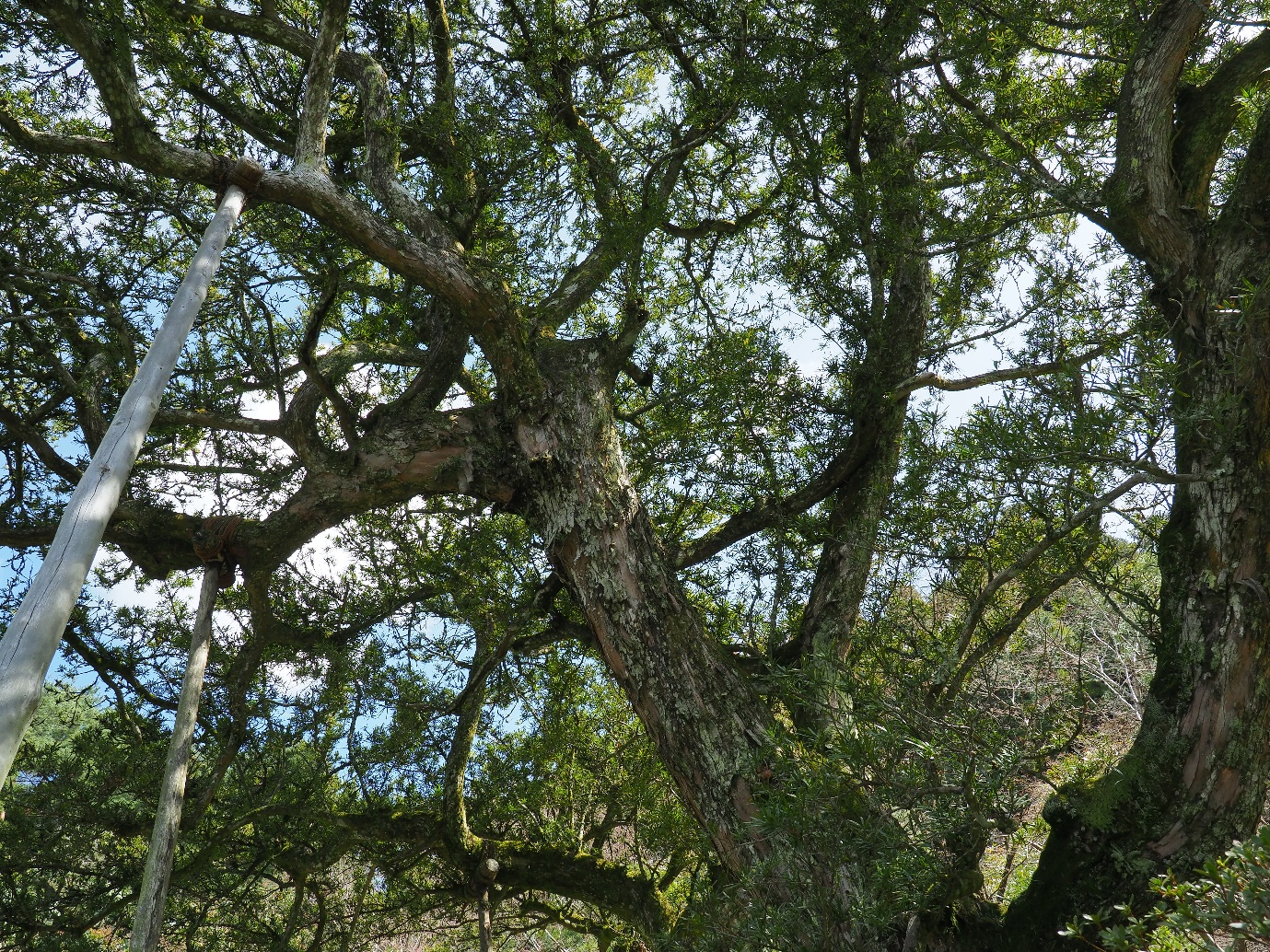 Before I visit there, it was rained so I can find a lot of mosses.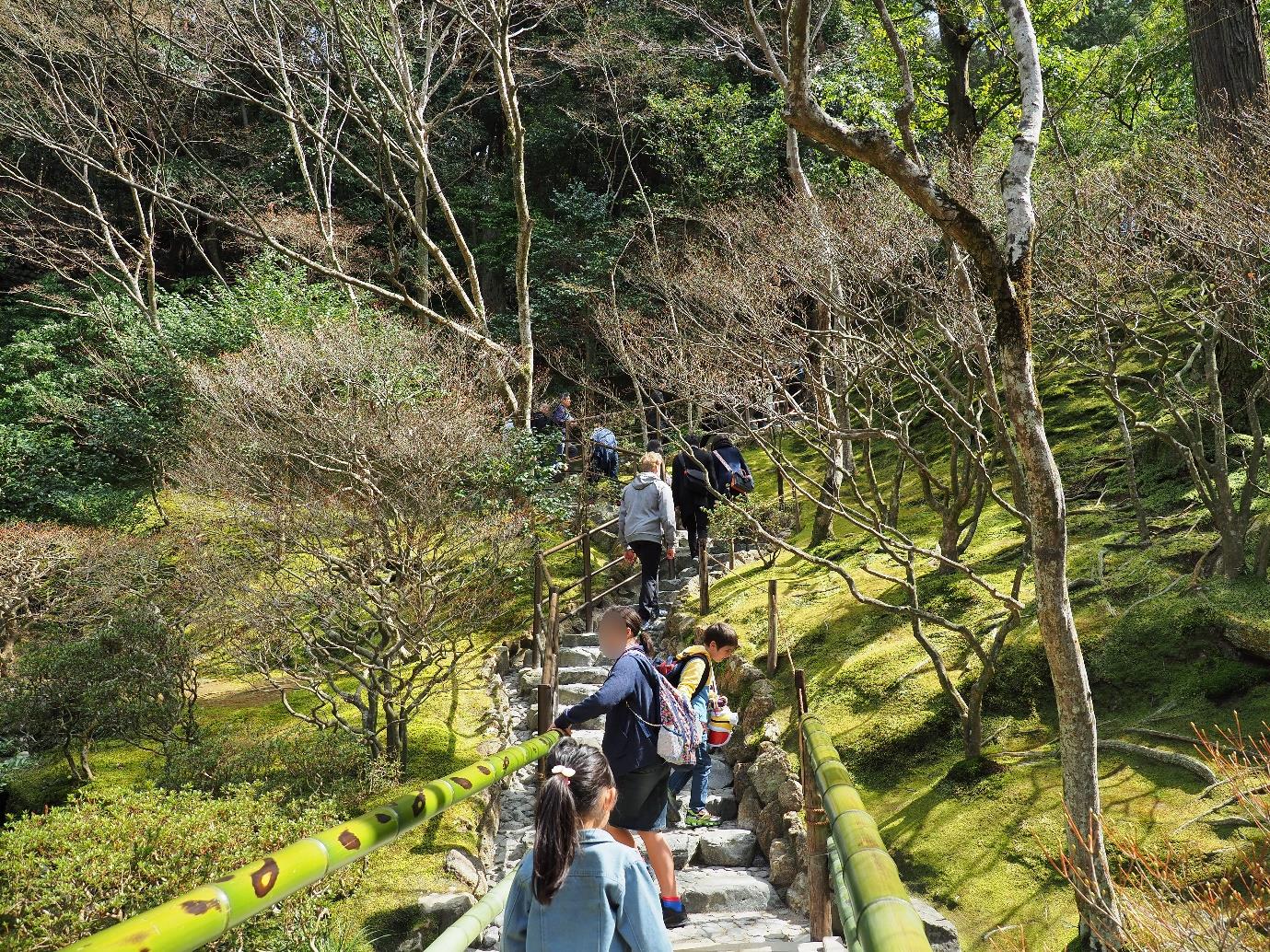 And the next, you will look springwater that is used Yoshimasa for make a Japanese tea.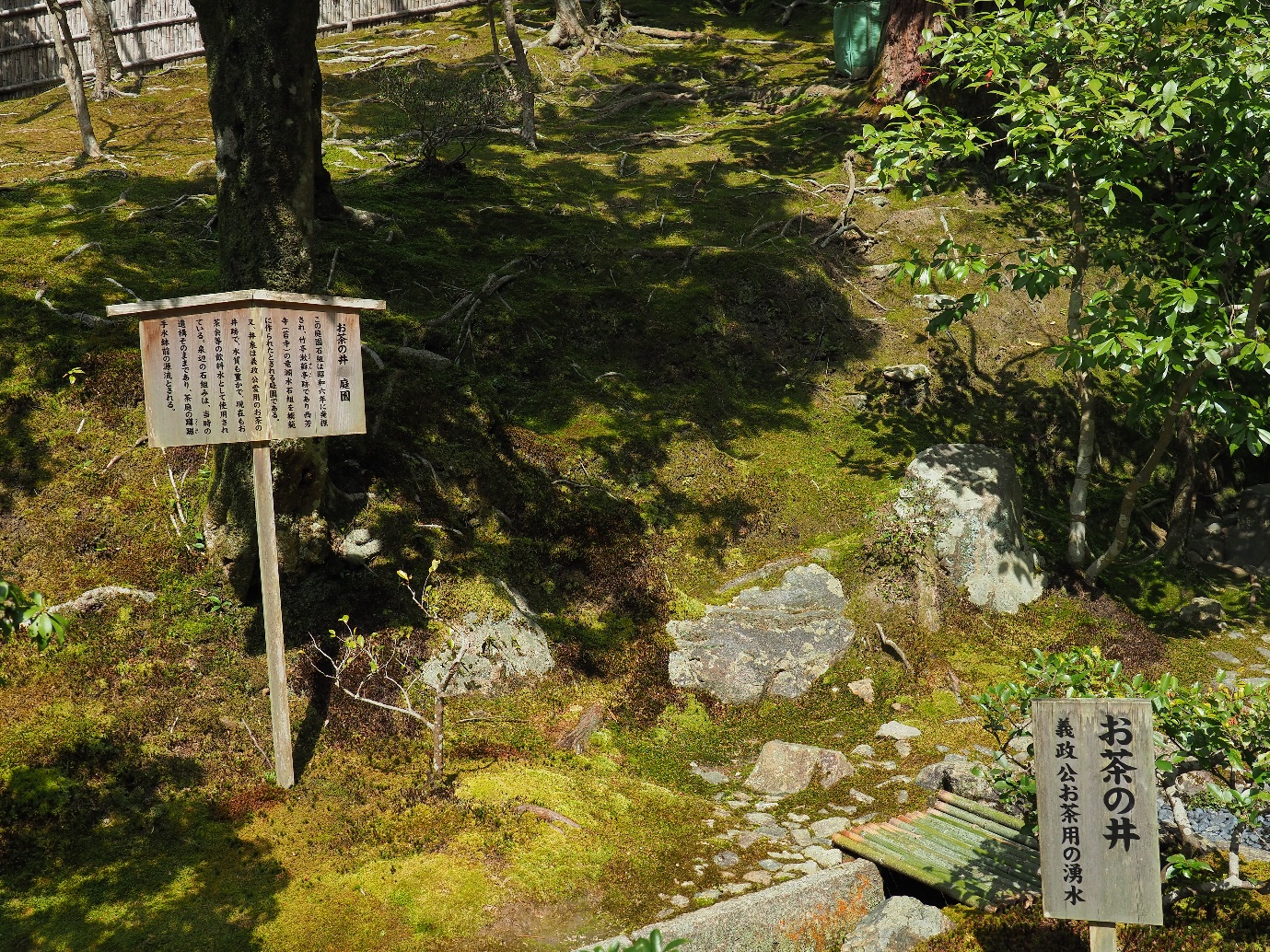 From top of the mountain, you will see a Gingakuji garden.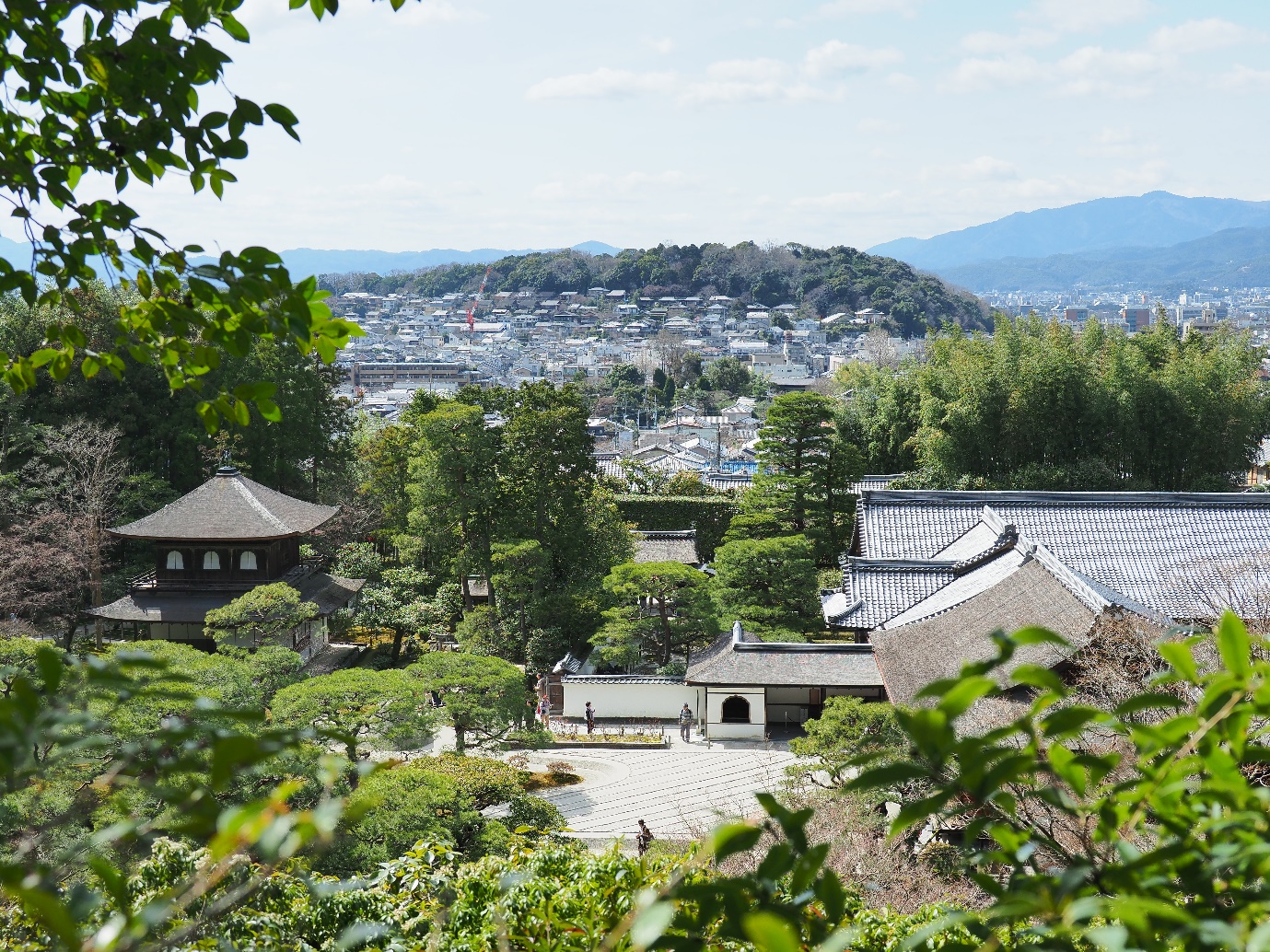 When go down from that mountain, I admired to the balance of camellia and moss contrast.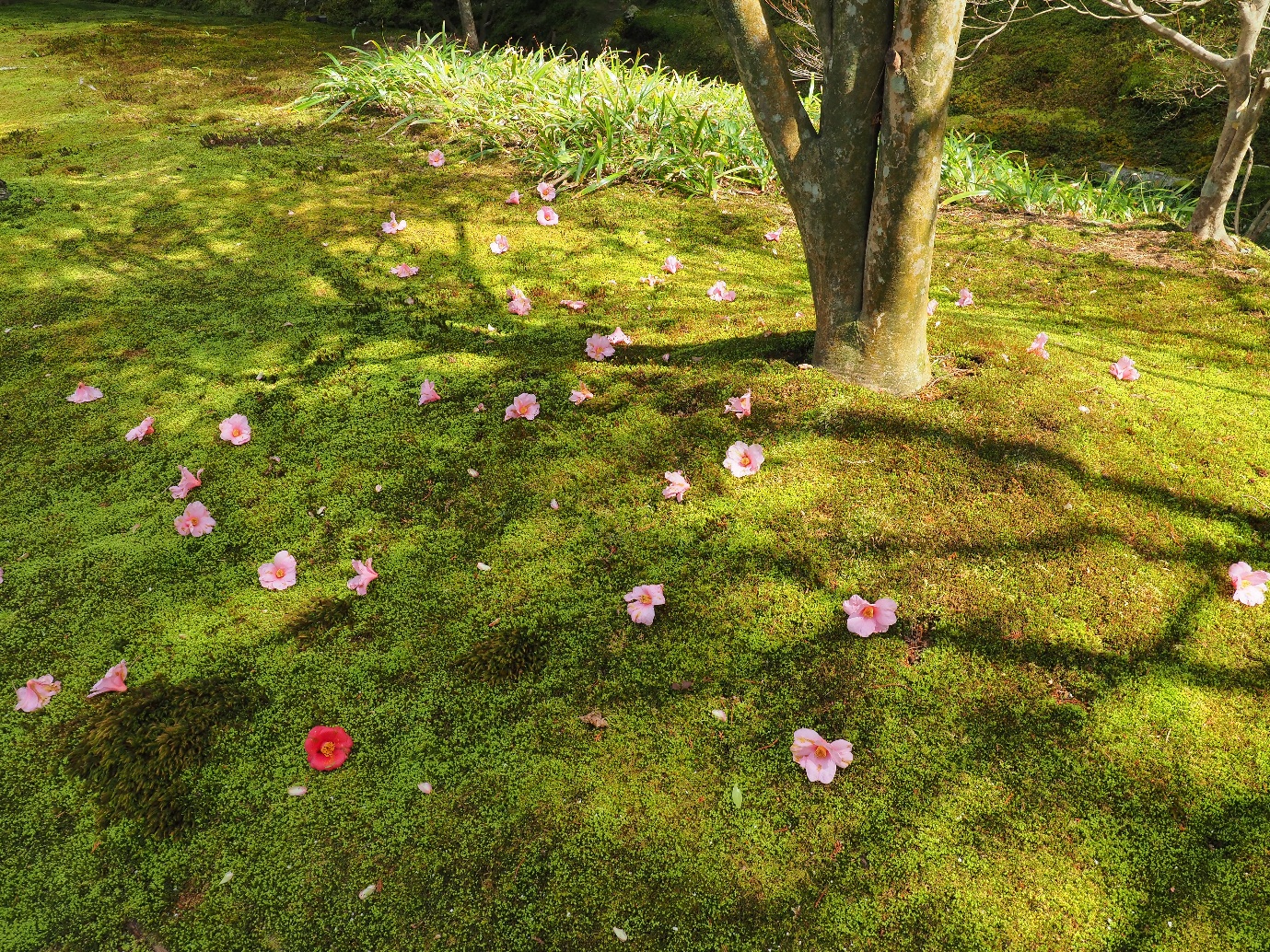 And... Nishiki-Kagami Ike(pond), Ginkaku, Pine tree... These flowers/trees becomes Japanese garden becomes beautiful.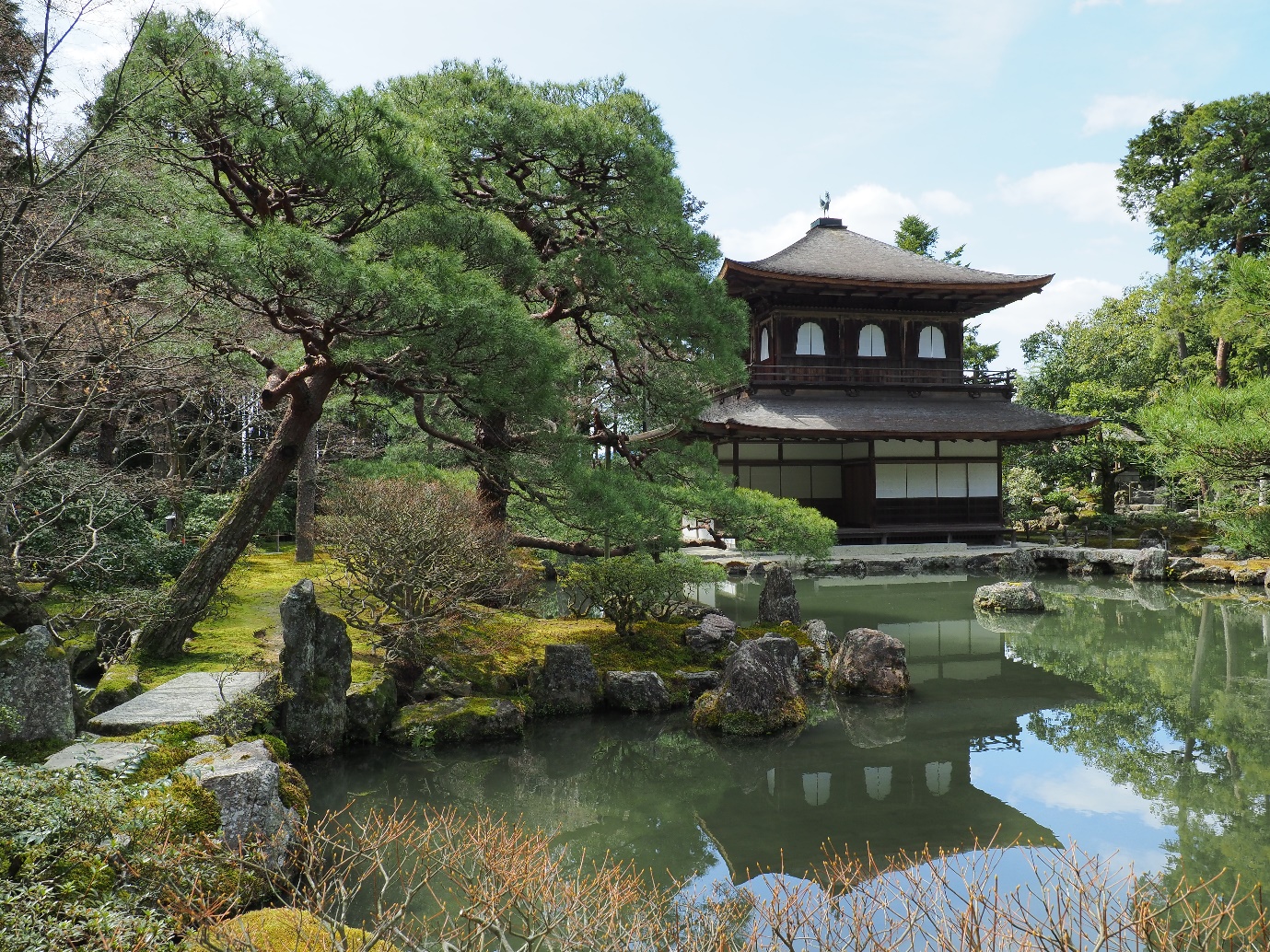 At the last of specified route, you cann see Ginkaku from the backside. Simple but beautiful.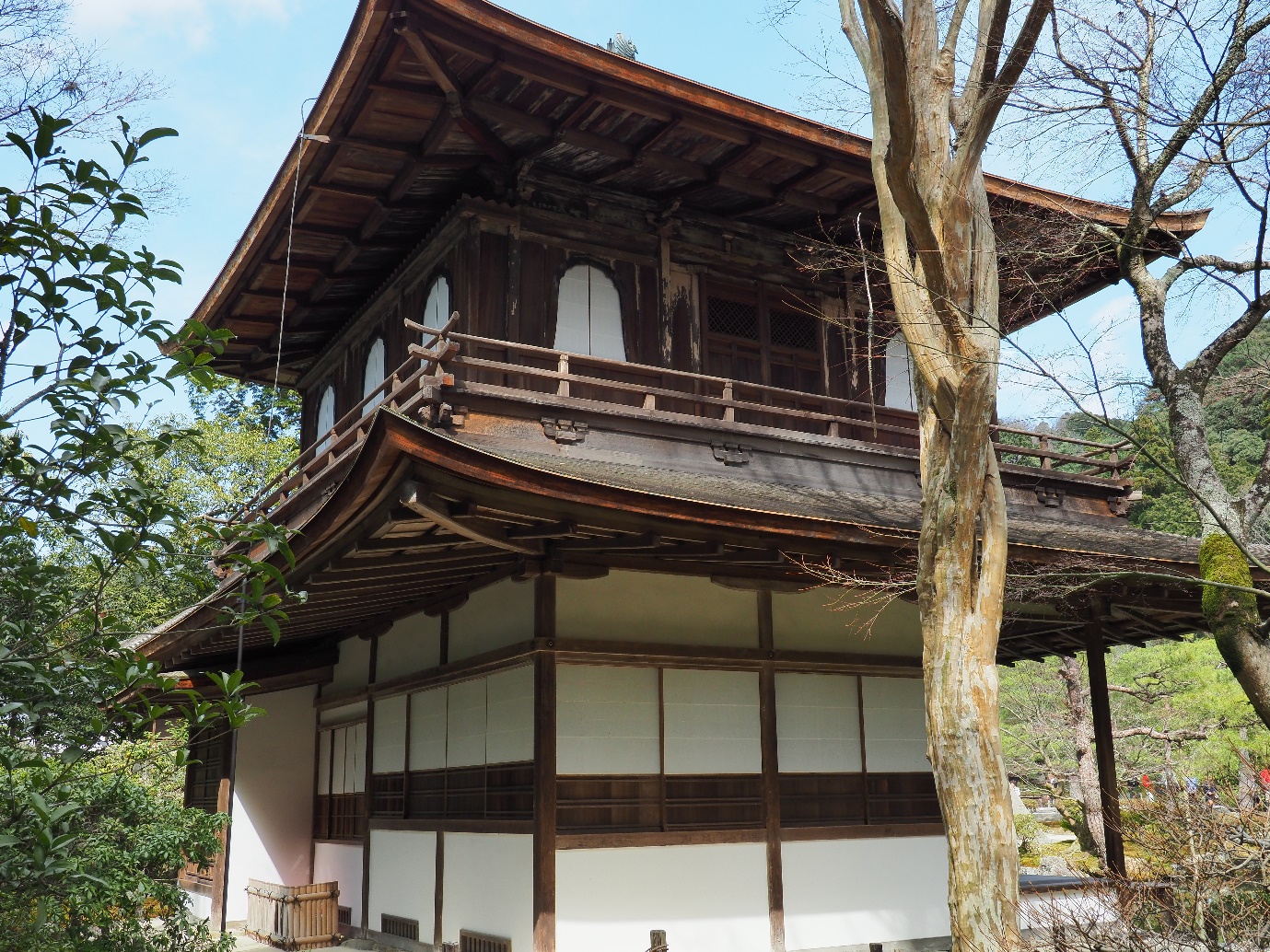 And new souvenier shop and bathroom(toilets) so it is good.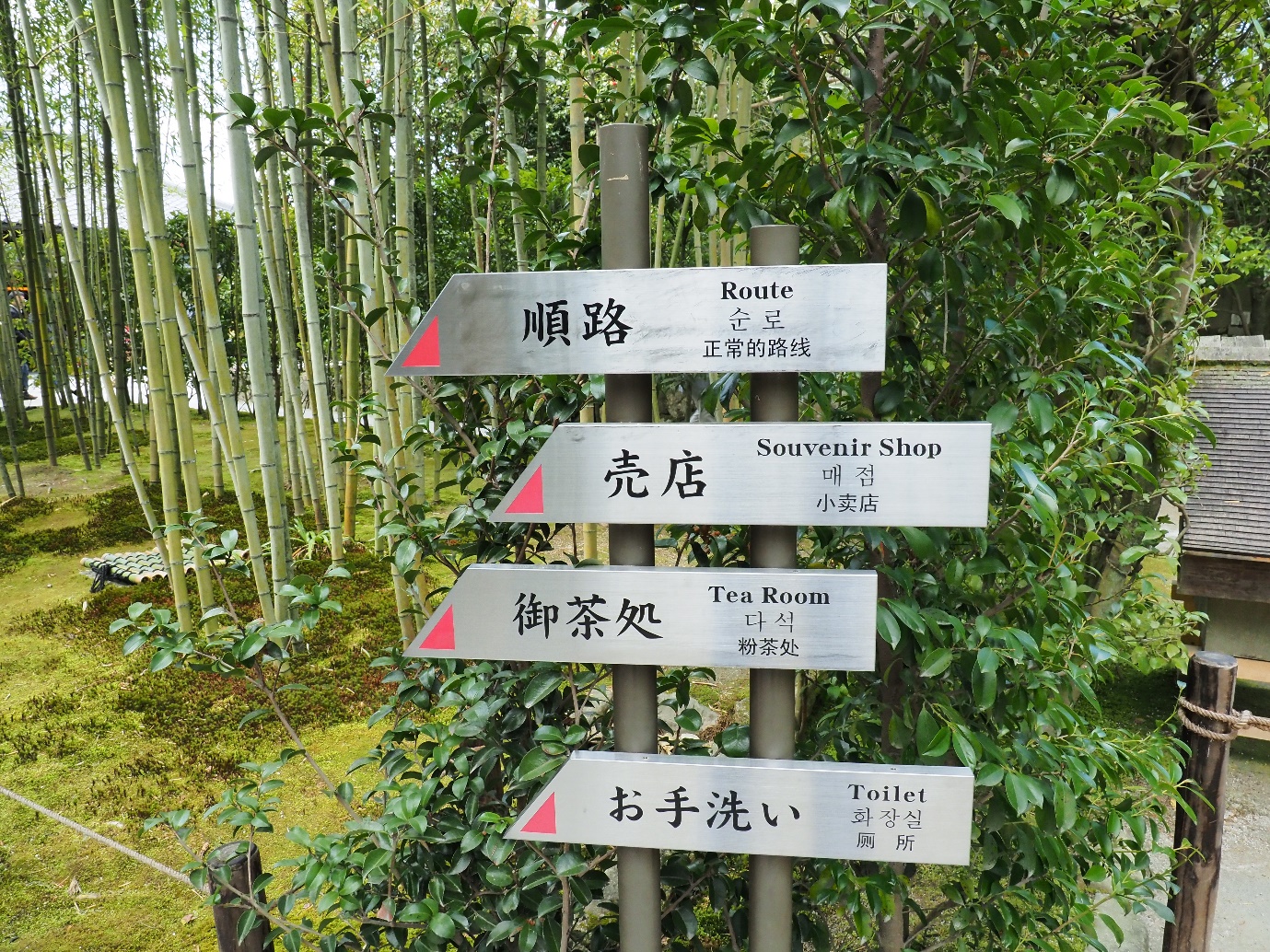 More information
Name:Jishoji(Ginkakuji)
Address:2 Ginkakuji-cho,Sakyo-ku Kyoto-shi Kyoto 606-8402 Japan
Telephone number:+81-75-771-5725
Official website:http://www.shokoku-ji.jp/g_about.html
Entrance fee:Adult(High school students or older) 500 JPY,Primary/Middle school students 300 JPY
Operation hours:Summer season(3/1-11/30) 8:30 AM-5:00 PM, Winter season(12/1-2/28 or 2/29) 9:00 AM-4:30 PM