Kyoto is famous for hot weather in the summer season.
It is caused by humid weather due to basin land environment. This environment might feel uncomfortable. Therefore, in this article, I will introduce some right places for escaping from a super hot climate.
It is a famous festival call "Furin-Matsuri."
For this time, I will introduce the Wind Chime Festival that holds from July 1st to September 18th in one temple names Shojuin, which located in Uji-Tawara-Cho.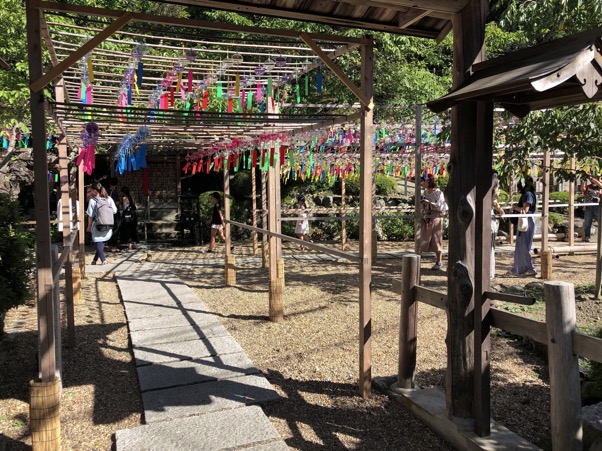 In that temple, it is hanging about 2000 wind chimes.
These wind chimes sound makes us feel cold.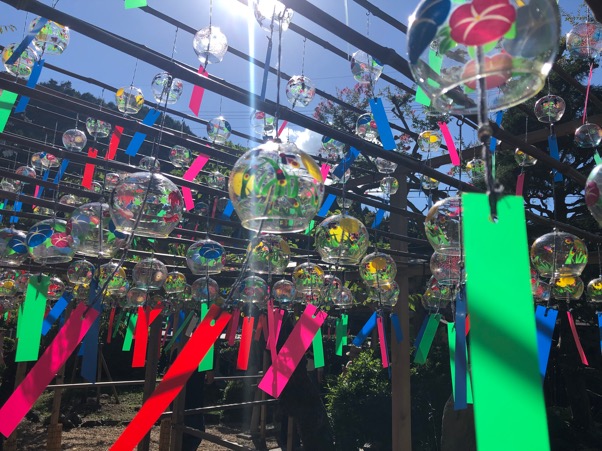 These wind chimes have different themes like Sunflower, Golden Fish, French hydrangea. These are kinds of photogenic also will not let you bored.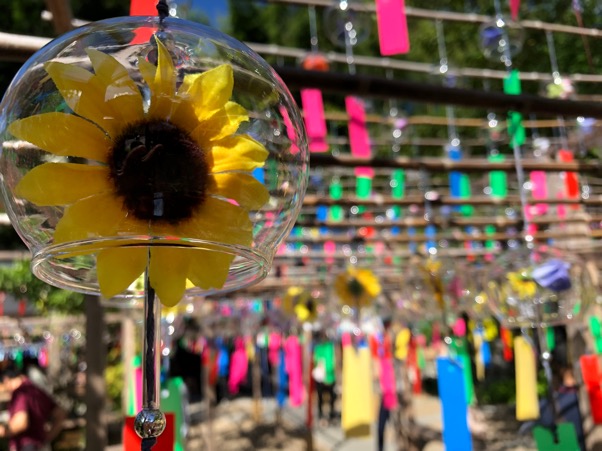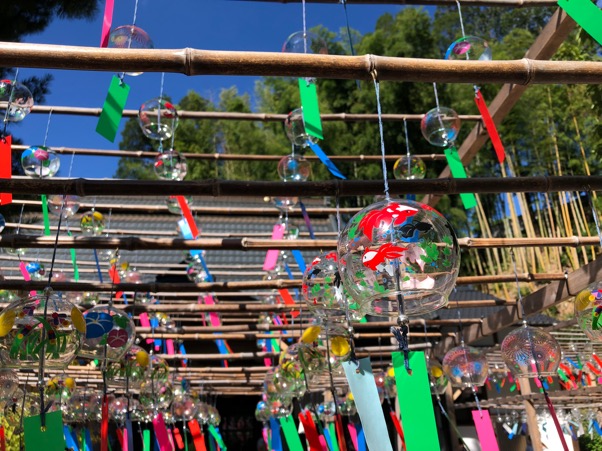 This area is about 5℃ colder than Kyoto City area so you might feel better than that area. You might feel colder by a combination of that climate and wind chime sound.
If you pay an entrance fee, you will get local green tea and sweets at the main building. Uji-Tawara-Cho is famous for the origin of Japanese green tea.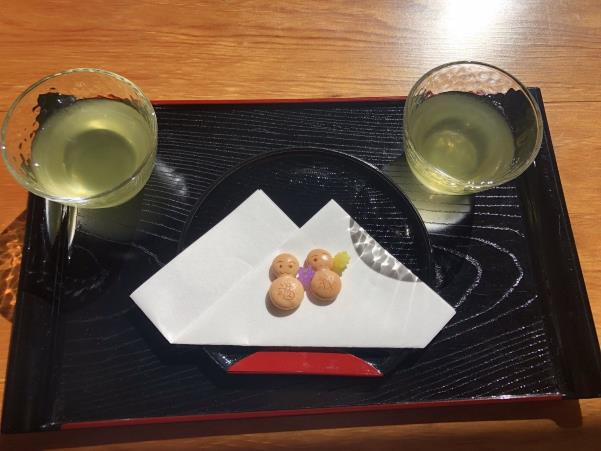 You will enjoy this theme and get relaxed by drinking excellent tastes green tea and watching furin(wind chime). You also could try to draw the wind chime class.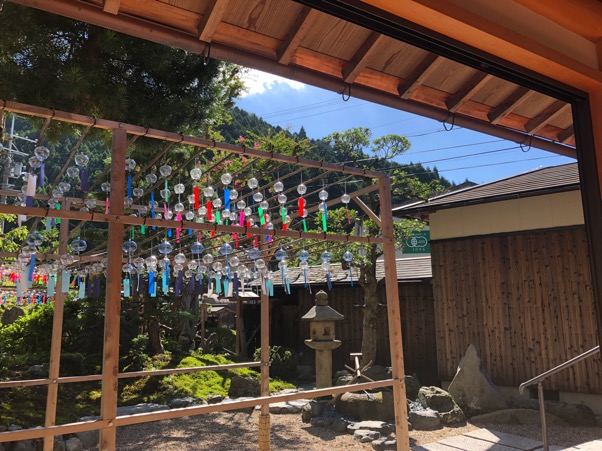 So I get interested in this event. But what is this temple?
It located in Uji-Tawara-Cho, Tuzuki-Gun, Kyoto. It is built for Shingon-Shu temple and about 800 years ago.
The principal object for the worship is Jyu-Ichi-Men Kanseinon, which built by Muromachi period. It only discloses two times per century.
It also has Fudo-Myo-Oh Zazo that built by Kaikei, which is a Buddhist statue creator mainly active on the Kamakura period and selected for Important Cultural Property of Japan.
This temple also holds another event such as making Buddhist prayer beads, Sutra copying, Yoga practice, Japanese tea party, and much more.
Heart-Shaped Window on Customer hall called "Inomemado" is photogenic!
In this temple, one another well-known thing is "Inomemado."
"Inome" means old heart style shapes in Japan.
Boar's eyes are looks like heart shape, so someone name like that.
That shape is used in tens of thousands of times so you should look into it.
Many couples are taking at this place.
I took a picture in summer, but it has different faces each season.
I have confidence that you could take a photogenic photo.
On the ceiling, they wrote a lot of arts that motif from flower and Japan.
It has about 160 pieces, and that provided by many Japanese artists and some other professionals.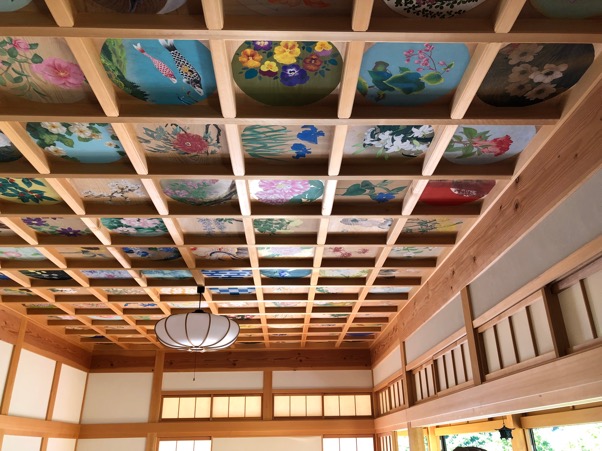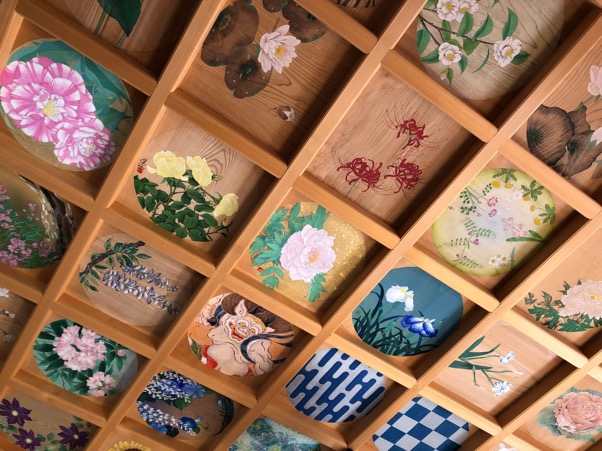 How to access to Shojuin
It is NOT convenient to obtain to this temple, so I recommend you to use a car.
It has a free parking lot that has a capacity of about 60 cars.
If you go to this place by car, you might need some driving skill since the width of the road getting narrowed.
If you go there by public transportation, you need to take a taxi from Keihan Uji Station or Kintetsu Shin-Tanabe Station. If you use Keihan bus, it has a terminal at Ichu-Mae, so you need to take the community bus. Community buses are free. However, it has a priority for residents.
That community bus is stopping at nearest stops for this temple call Okuyamada stop. Once you walk about 10~15 minutes, you will arrive at the destination.
Conclusion
This time, I introduced the Furin Matsuri.
You can feel cool by eye, ear, nose, tongue, and body, so it is recommended a spot for the escaping from a scorching climate.
I recommend you to visit this place.
More information
Name: Shojuin Furin Matsuri
Address: 149 Okuyamada-Kawakami, Uji-Tawara-Cho, Tuzuki-Gun, Kyoto, Japan
TEL: +81-774-88-3601
Entrance fee: 500 JPY
Admission hours: April 1st~October 31st, 9AM~4: 30 PM. Others, 9AM~4PM.
Official Website: http://shoujuin.boo.jp/