Do you know the "MARUGAME SEIMEN (UDON)"?
MARUGAME SEIMEN is the most famous Cafeteria style UDON NOODLES resutaurant in Japan.
The food was fresh, fast and a great value for the price.
I'm recommending to everyone I know. Not to mention it was delicious.
About MARUGAME SEIMEN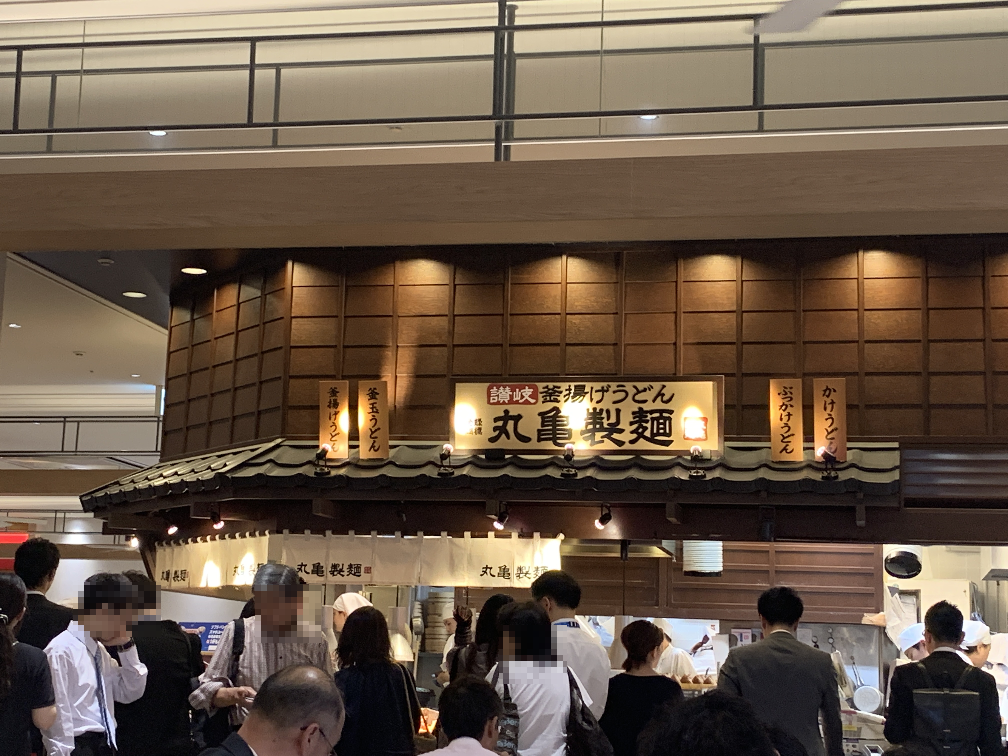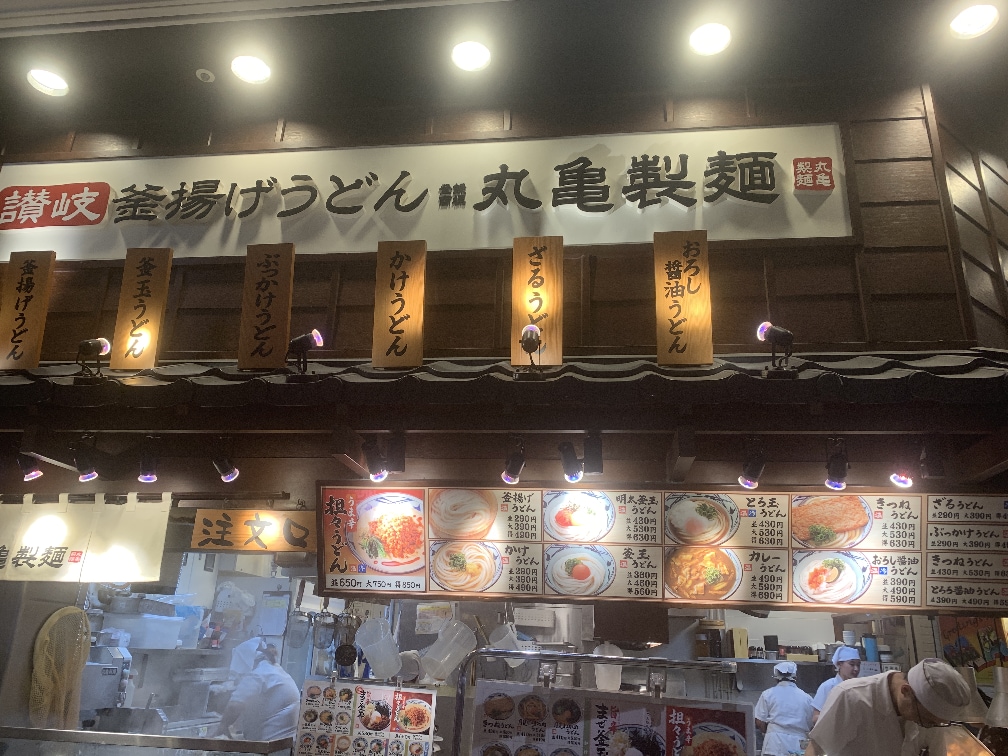 There are about 800 stores in Japan, MARUGAME SEIMEN specializes in Japanese authentic Sanuki Udon, which differs from similar Japanese Udon noodles in its taste and texture.
Sanuki is a region of the Kagawa prefecture in Japan known for its Udon noodles.
MARUGAME SEIMEN dedicates to provide Japanese authentic made-to-order Udon noodles which are freshly kneaded, boiled and cooked right in front of you every day.
It is an innovative cafeteria styled concept with a beautiful open kitchen.
HOW TO ORDER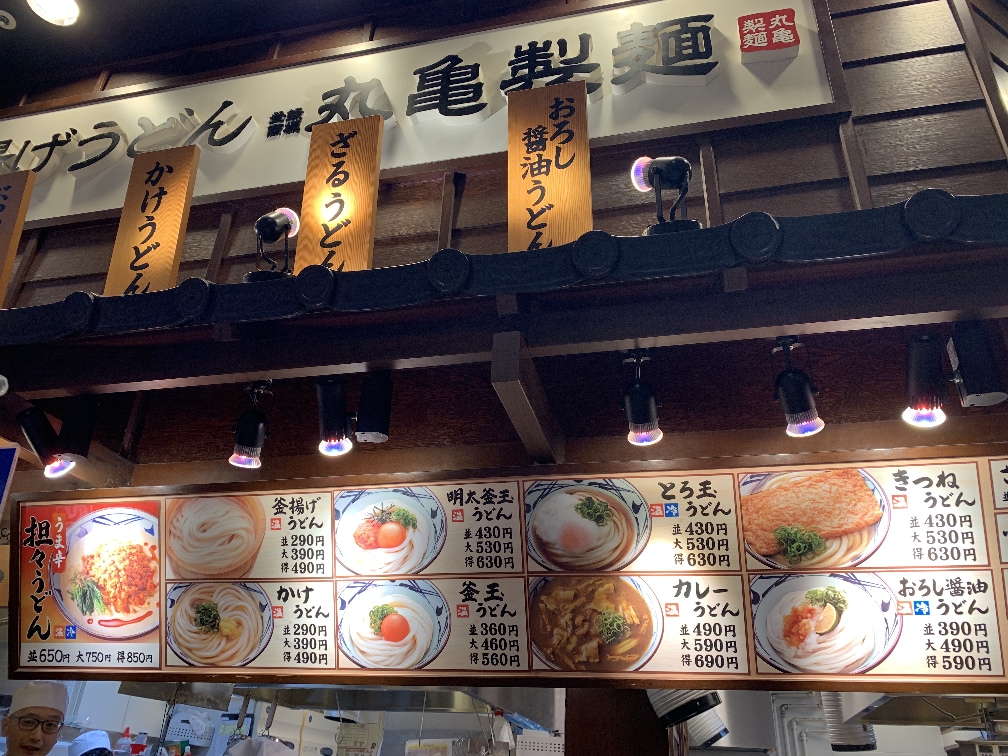 1. ORDER UDON
When you get in the restaurant, first you order udon at the counter. Choose your Udon and "Hot" or "Cold" serving style, followed by size,
"並 NAMI(Regular)" , "大 DAI(Large)" or "得 TOKU(Extra Large)".
For exsample, You can just say...
Bukkake Udon / Nami (size) / Cold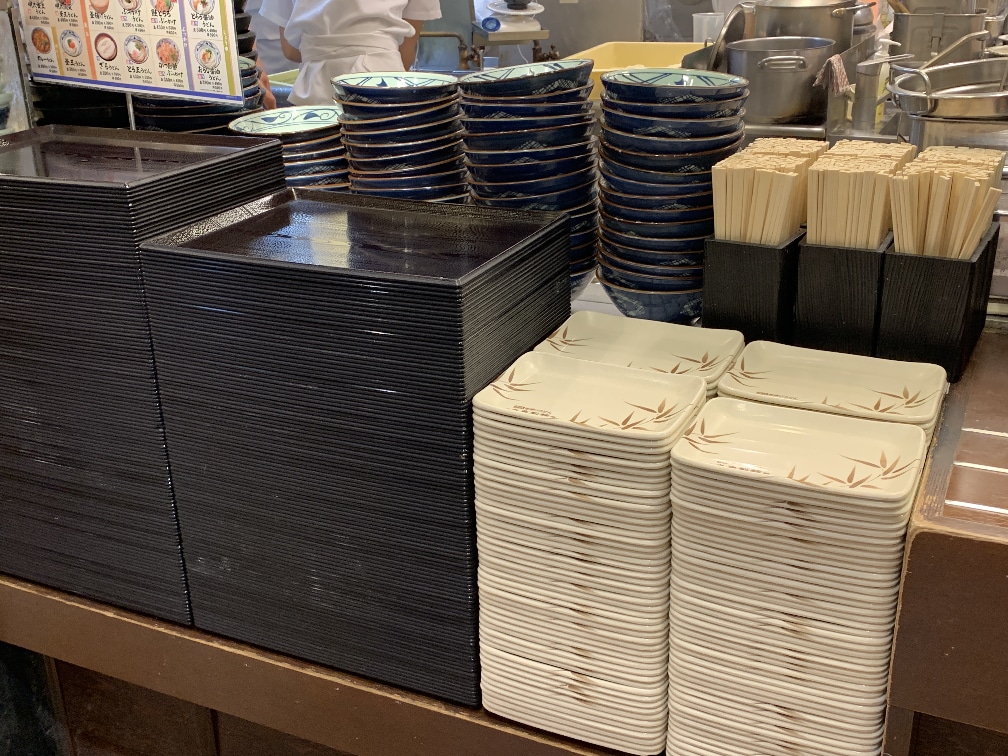 2. WAIT FOR COOKED UDON
Made-to-order, wait in line for the fresh Udon to boil.
Once received, proceed to Tempura & Omusubi corner.
3. CHOOSE TOPPINGS & MORE
Pick your favorite Tempura, Omusubi (Rice Ball), Inari (Fried Bean Curd Sushi) and other.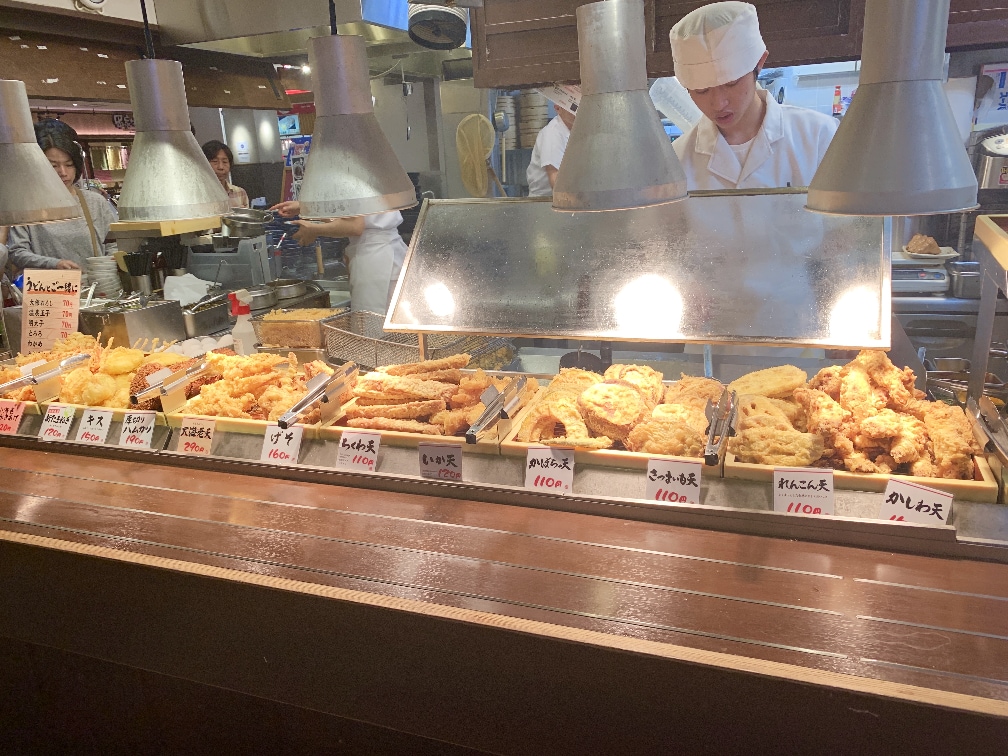 Omusubis and Inari are handmade with fresh ingredients.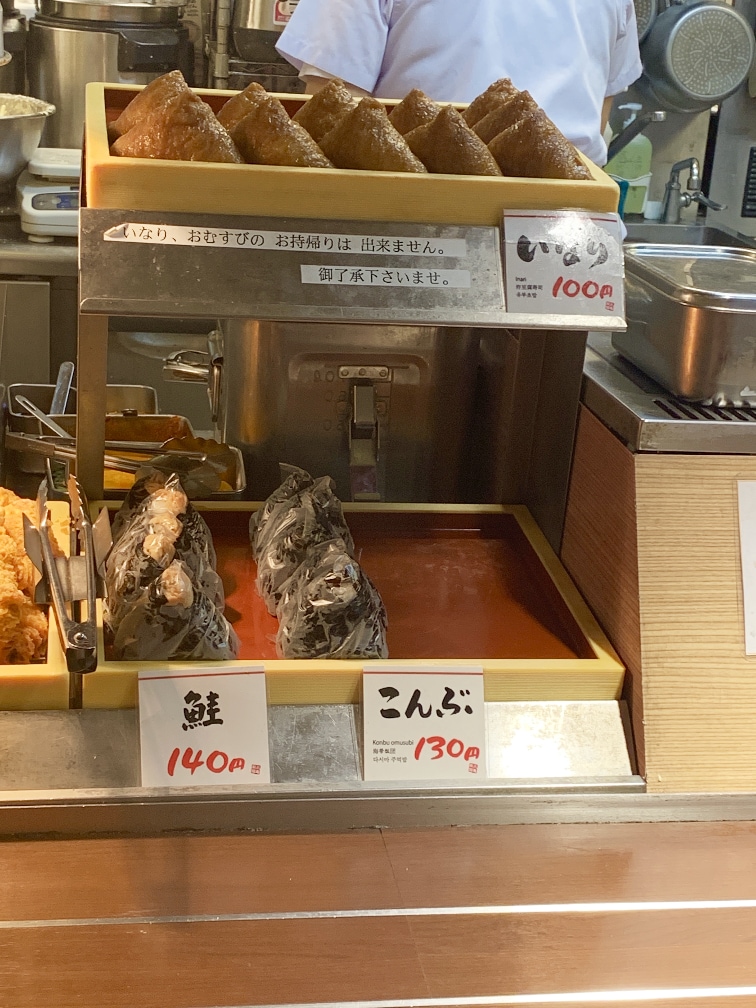 Also, it is good to top with 温泉たまご onsen-tamago(Half boiled egg), わかめ wakame(seaweed) or 大根おろし daikon-oroshi(grated radish) if you want.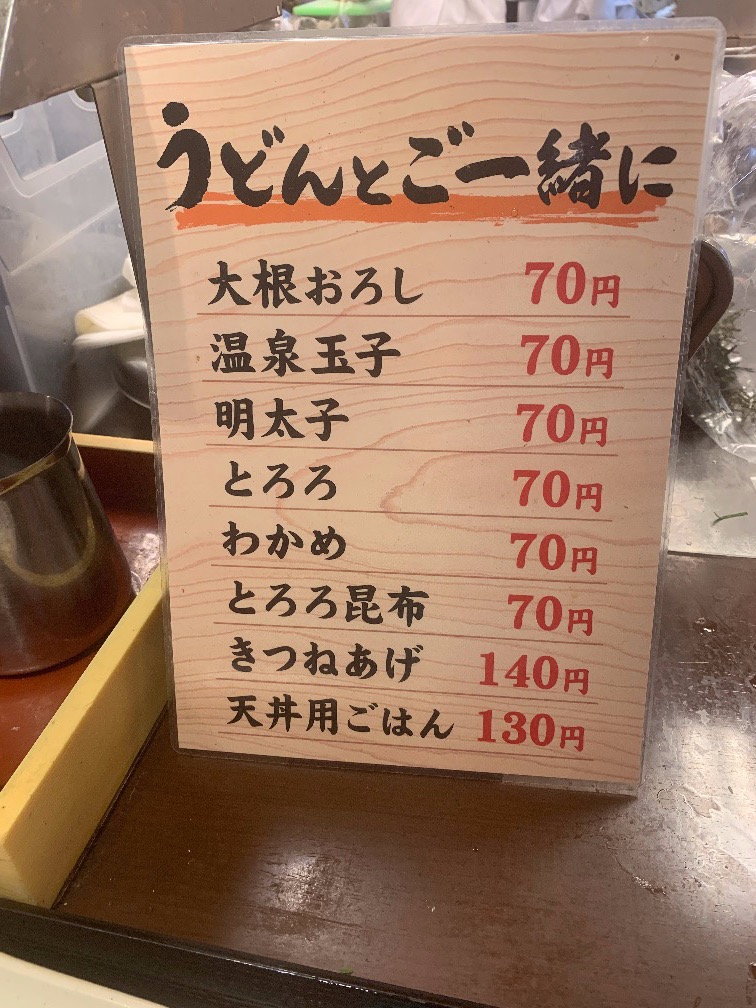 You can get some kinds of spices (such as green onion, ginger, sesame seeds, wasabi and so on) for free near the cash desk or at the customer tables.
4. PAY CASHIER
Proceed to register. Payment is cash only.
Some store can use an IC card such as Suica / Pasmo.
Find a seat and enjoy udon!!
5. Return
After finishing the meal, please return your dishes to the return shelf, called "返却口(Henkyakuguchi)" yourself.
Popular Kinds of Udon
They offer many kinds of toppings for udon.
Check out the menu below.
First, choose the kind of udon and size. Also you can choose hot or cold (when available).
冷 hiyashi = cold
温 atatakai = hot
kamaage Udon (釜揚げうどん)
Udon and water are taken straight from the kama (boiling pot). The udon is dipped in a smal cup of strong dashi.
The hot Kama water is not soup, it is just cooking liquid.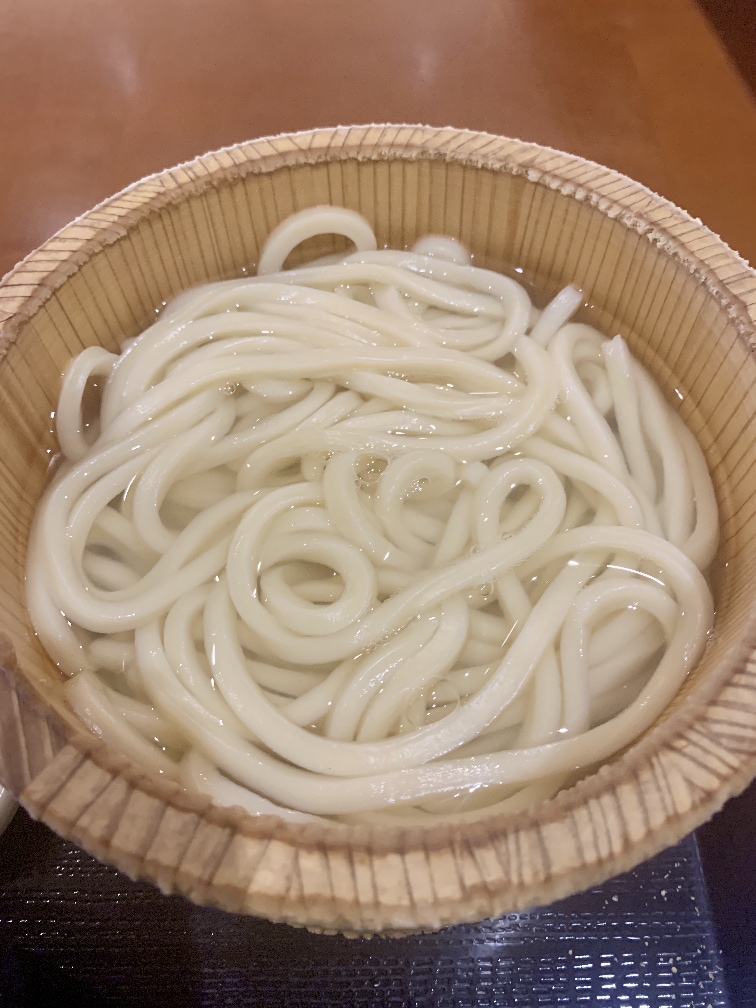 hot (warmed) dipping sauce.
Recommended to eat with wasabi, sesame seed and green onion! It is delicious if you add a little spice.
並 Nami (Regular) 290yen
ちくわ天 Chikuwaten 110yen
free: green onion, wasabi, sesame seed and hot pepper
Kake Udon (かけうどん)
This is the simplest kind of Sanuki udon.
Connoisseurs of udon eat kake udon to judge the quality of a shop.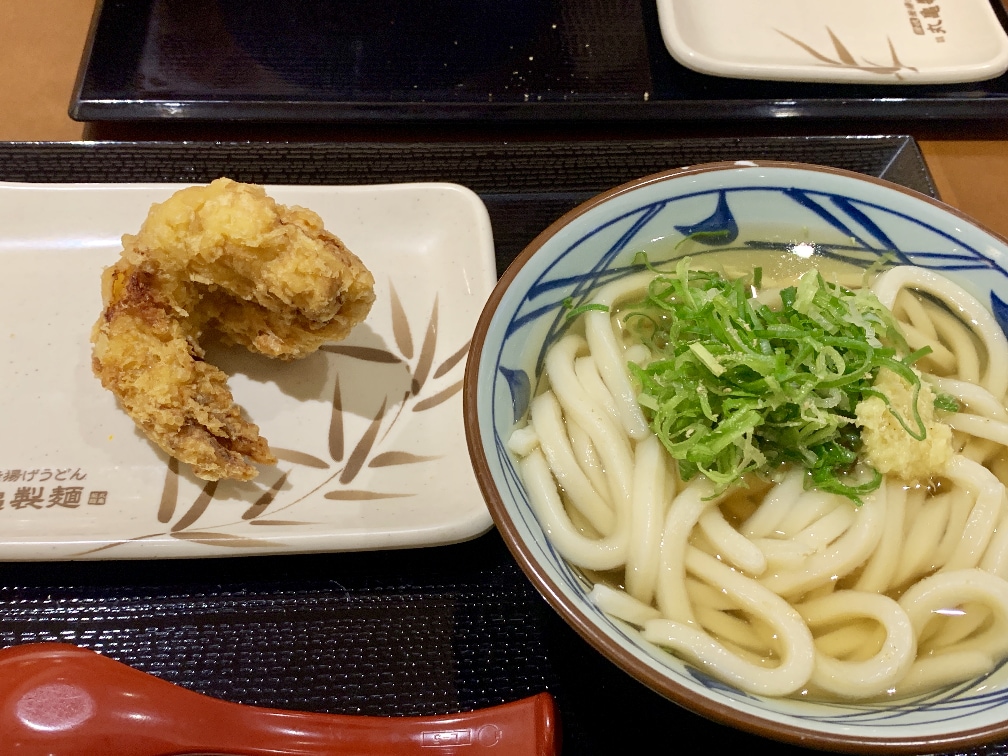 Topping green onion and ginger.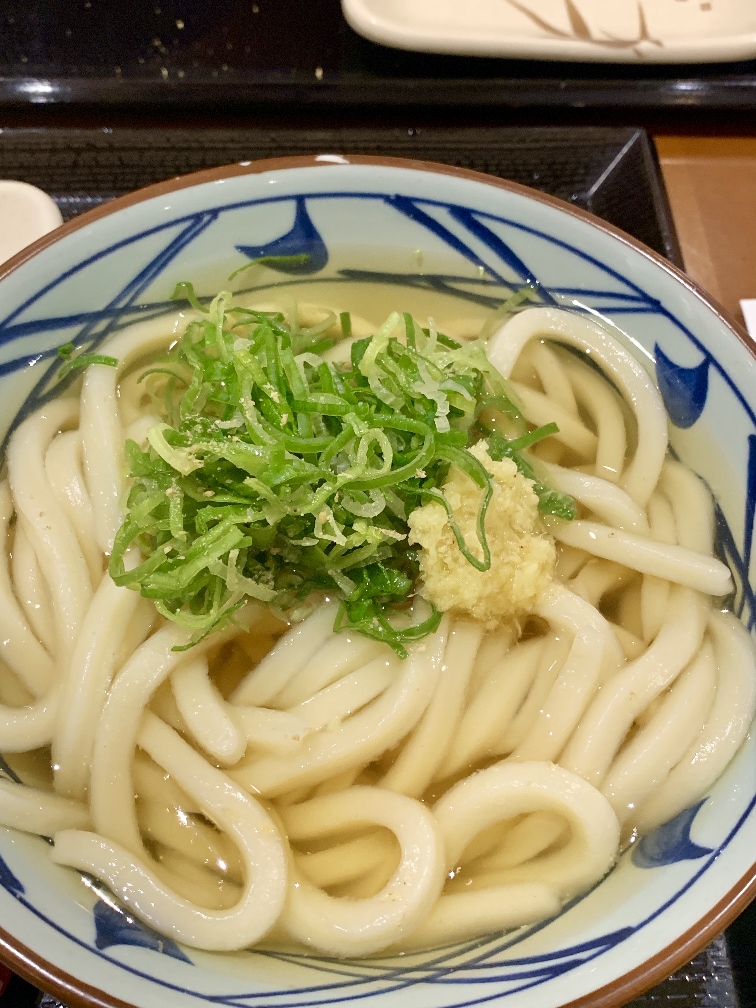 並 Nami (Regular) 290yen
かしわ天 Kashiwaten 150yen
free: green onion and ginger
Bukkake Udon(ぶっかけうどん)
Served with homemade sauce. Similar to kake udon, but usually has less dashi with a stronger flavor. Topped with green onions and eggs(Onsen tamago) is more better. It is also good to eat in the summer.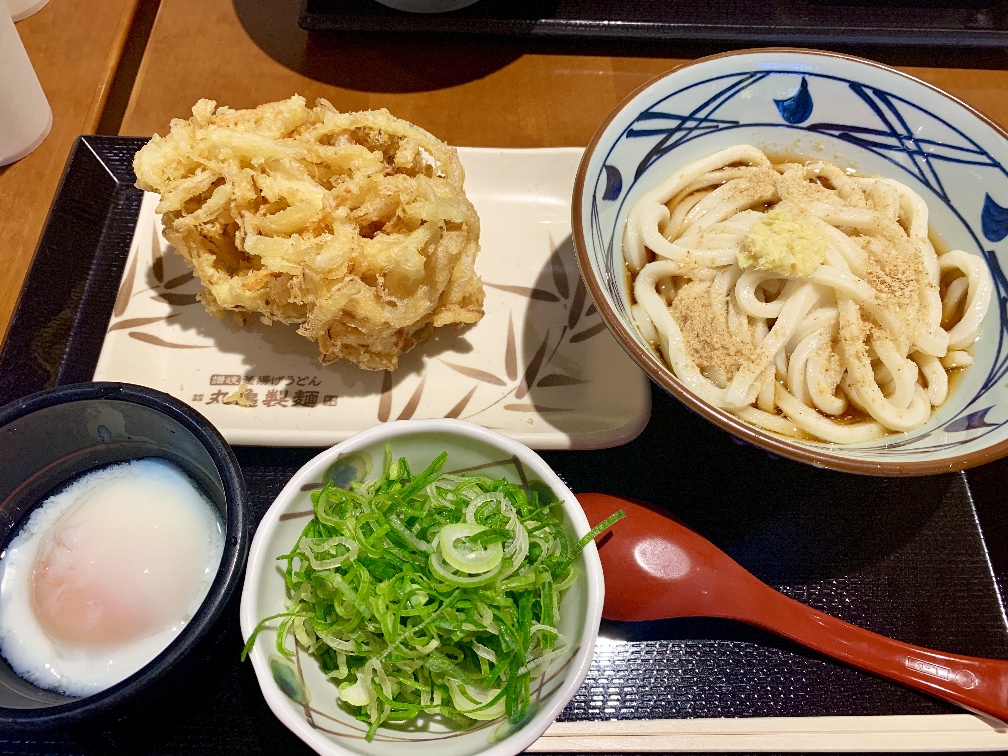 Topping your favirite ingredients!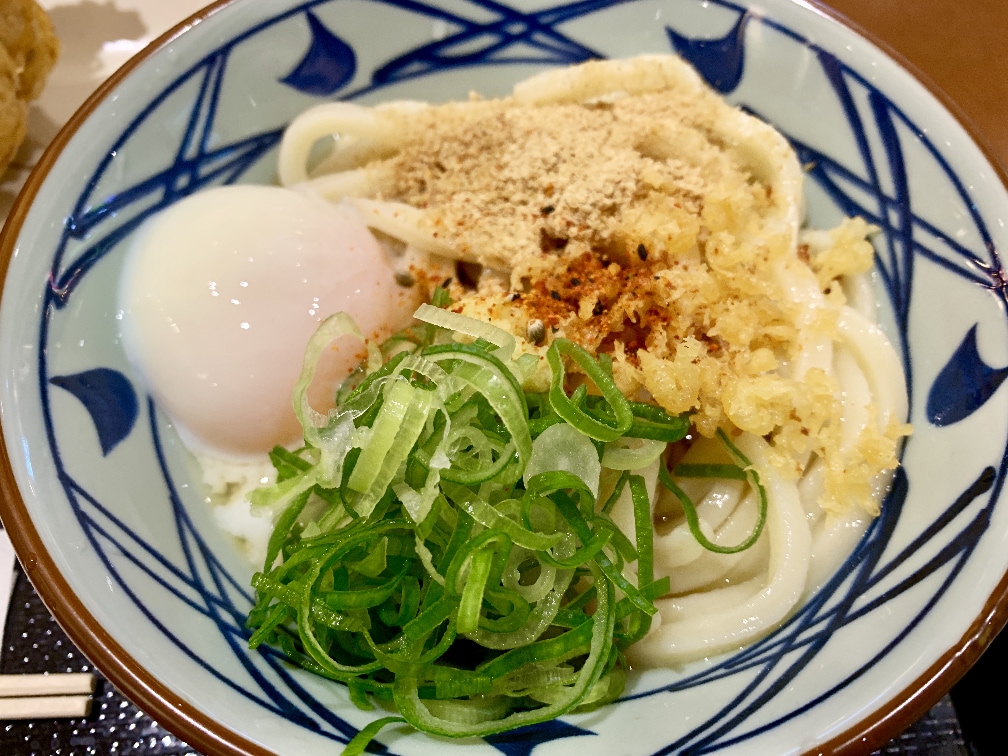 Add in half boiled egg, sesame, ginger, green onion and mix.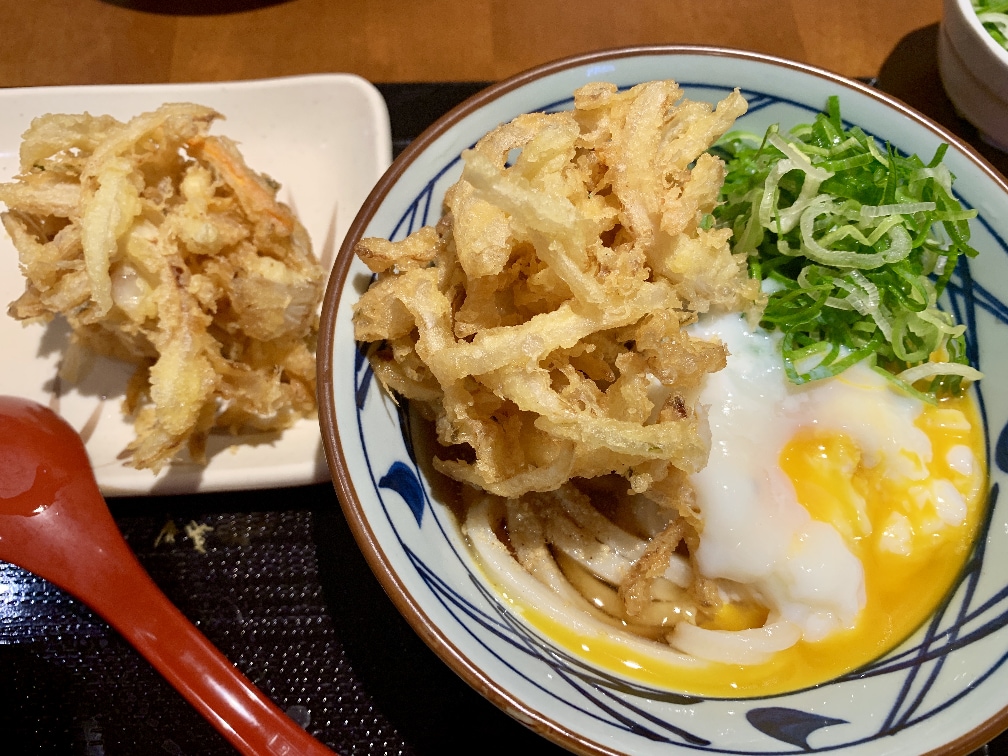 Mix well and eat!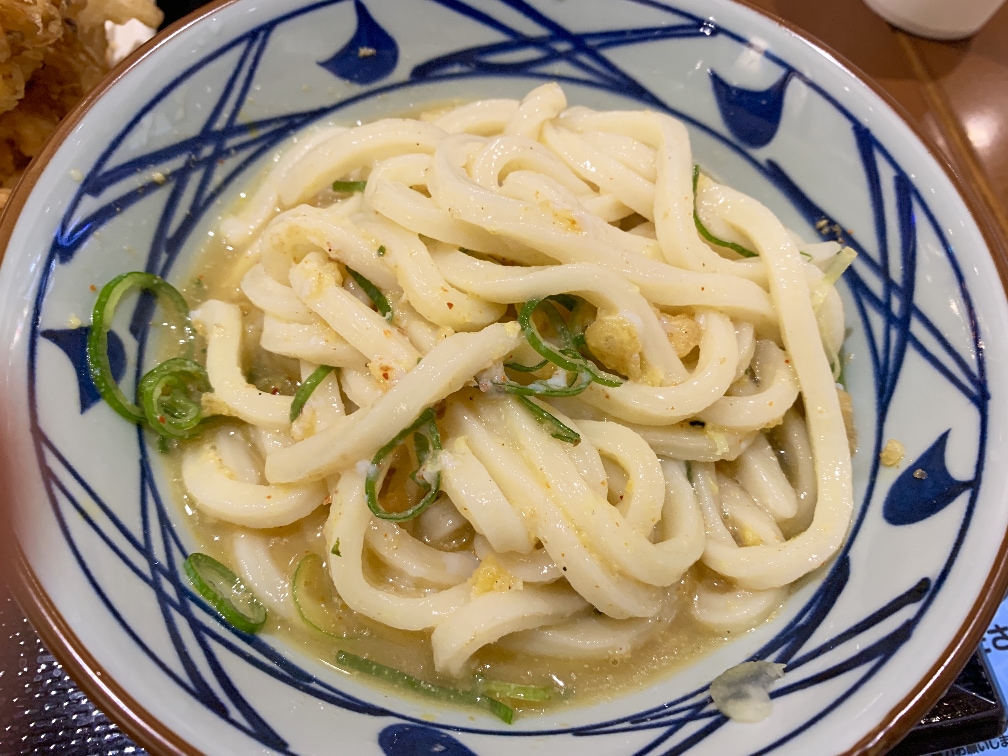 並 Nami (Regular) 290yen / 冷 hiyashi(cold)
温泉たまご half boiled egg 70yen
野菜かきあげ Yasai Kakiage 130yen
free: sesame seed, ginger, green onion
Tempura(てんぷら)
Tempura is standard in MARUGAME SEIMEN.
They provides various kind of fresh-fried Tempura (Chicken, Fish, Shrimp, Squid, many kinds of Vegetables) cooked right in front of you every day.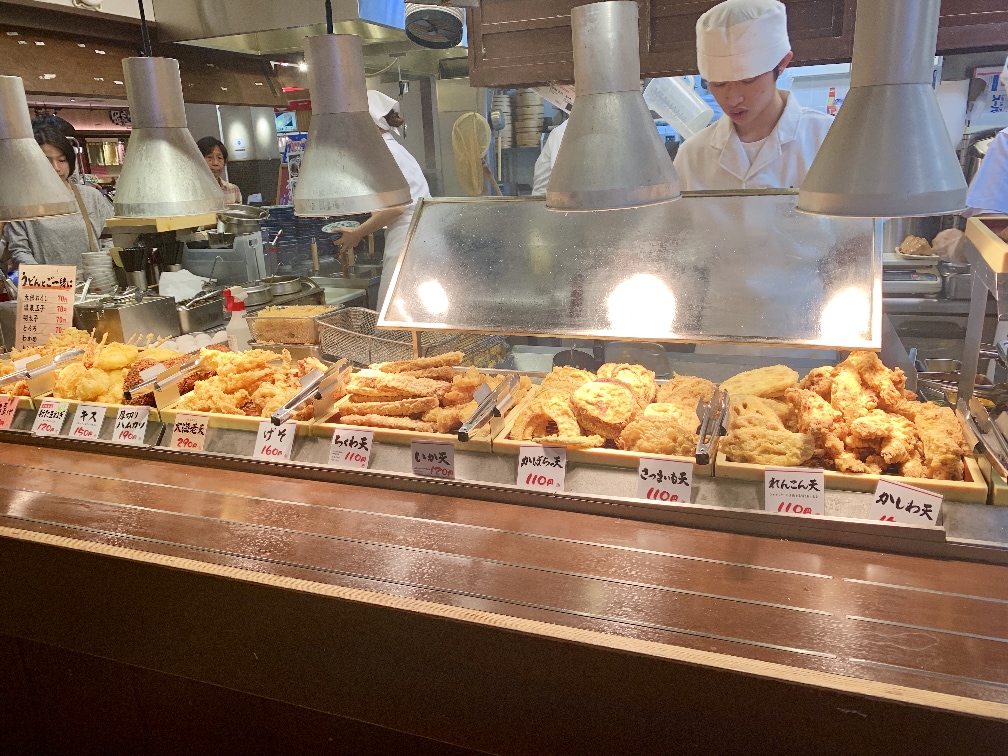 These are popular kinds of tempura available at MARUGAME SEIMEN. Affordable prices and taste good! Instead of using tempura dipping sauce (Tentsuyu) it is also good to put salt or Dashi-soy-sauce on tempura.
野菜かきあげ Yasai Kakiage (veggies) 130yen
It's large size!! The most recomended!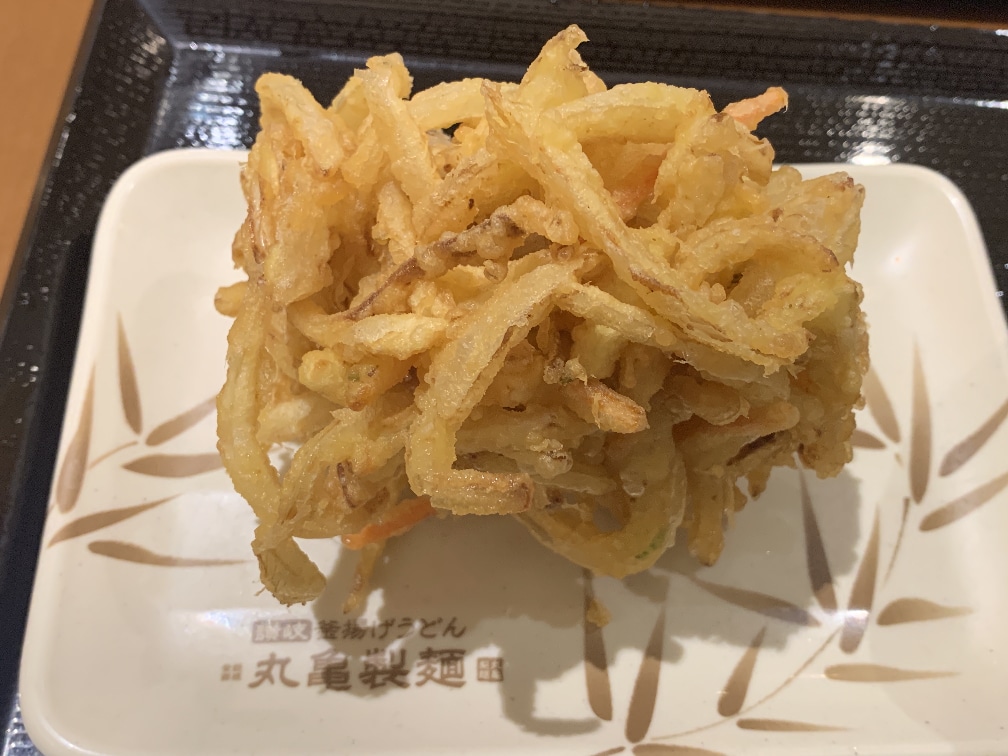 かしわ天 Kashiwaten(chicken) 150yen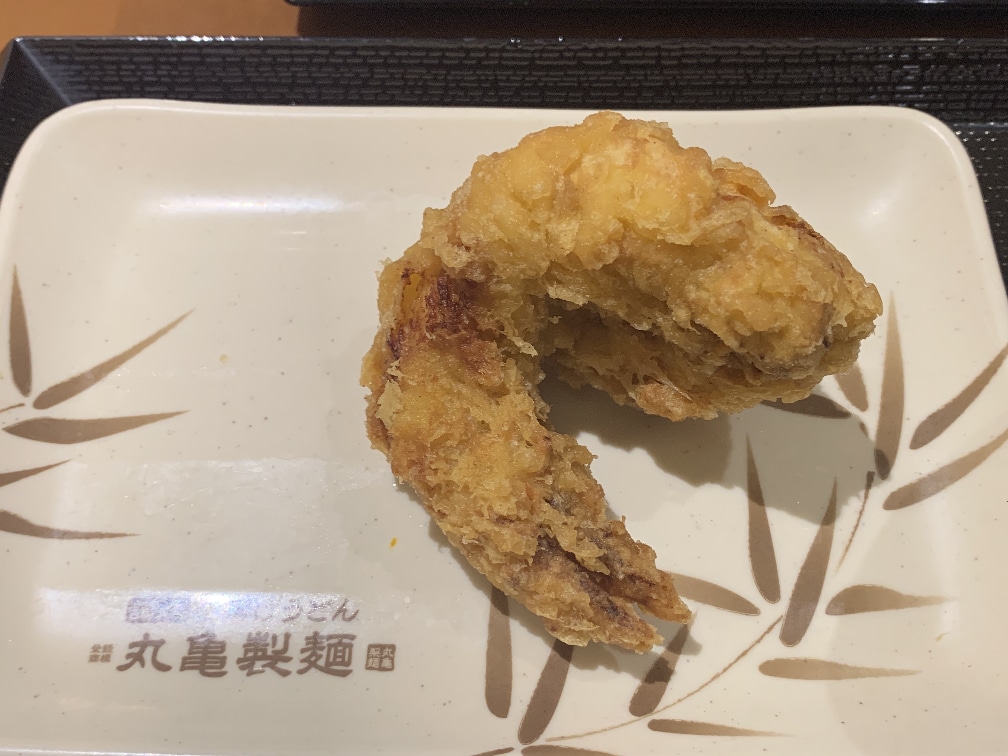 ちくわ天 Chikuwaten(fish cake) 110yen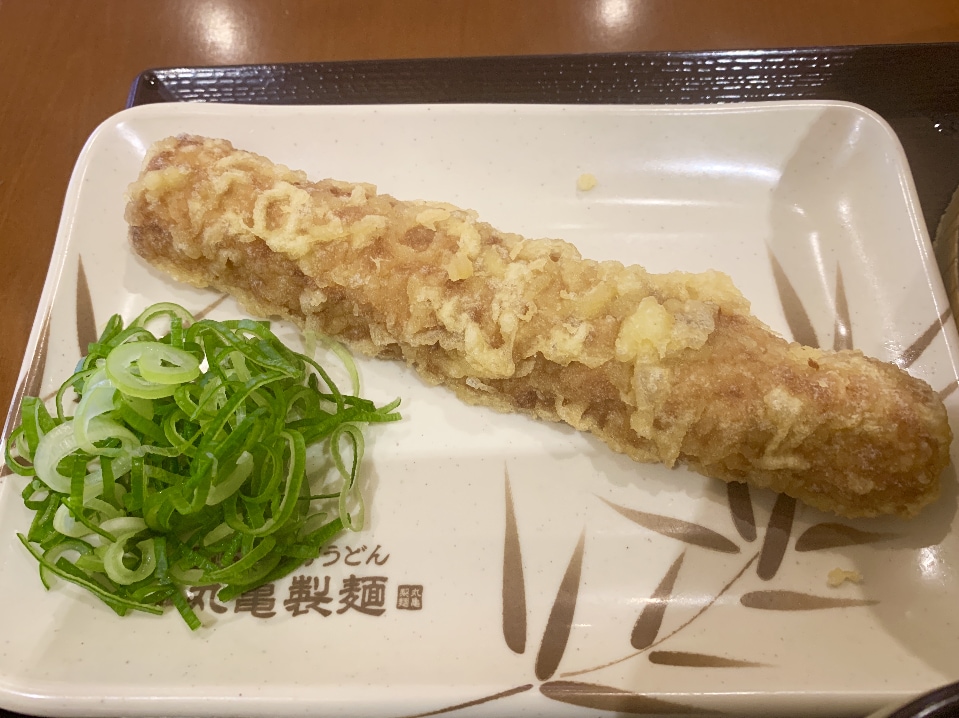 Let's enjoy udon with families or friends!!
Information
丸亀製麺 MARUGAME SEIMEN(UDON)
https://www.marugame-seimen.com
・Business hours depend on the store
・Tax is included in the price
・No cover charge, No service fee
Store search;https://www.marugame-seimen.com/shop/