Famous Japanese alcohol beverage in the world, "Saké." I'm coming to one of the largest towns in Tokyo... "Ginza" to find that.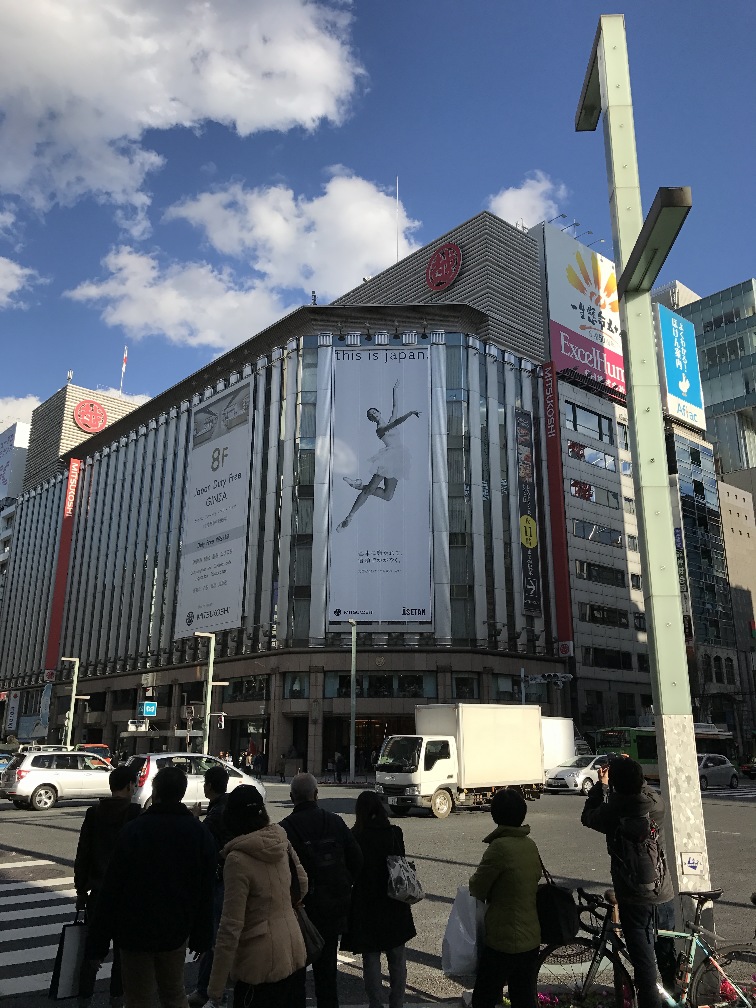 Saké now become major in the world. Despite that facts, in Japan, consumption saké is slightly decreasing. Moreover, unfortunately, not only decrease consumption but also decreasing manufacturers. But we have one good facts, that is now getting good quality in a lot of saké.
Also, similar to wine, saké has big diversity and have nice ABV to drink while eating. Furthermore, Japanese cuisine now register to UNESCO Intangible cultural heritage so definitely it has good saké movement in the world.
So, today I will introduce you one Sake bar that you can enjoy drinking!
Consume sake in Ginza!
That bar located near the non-major street, name "Showa-Dori."
Getting off at JR Yurakucho Station. It is near to Ginza.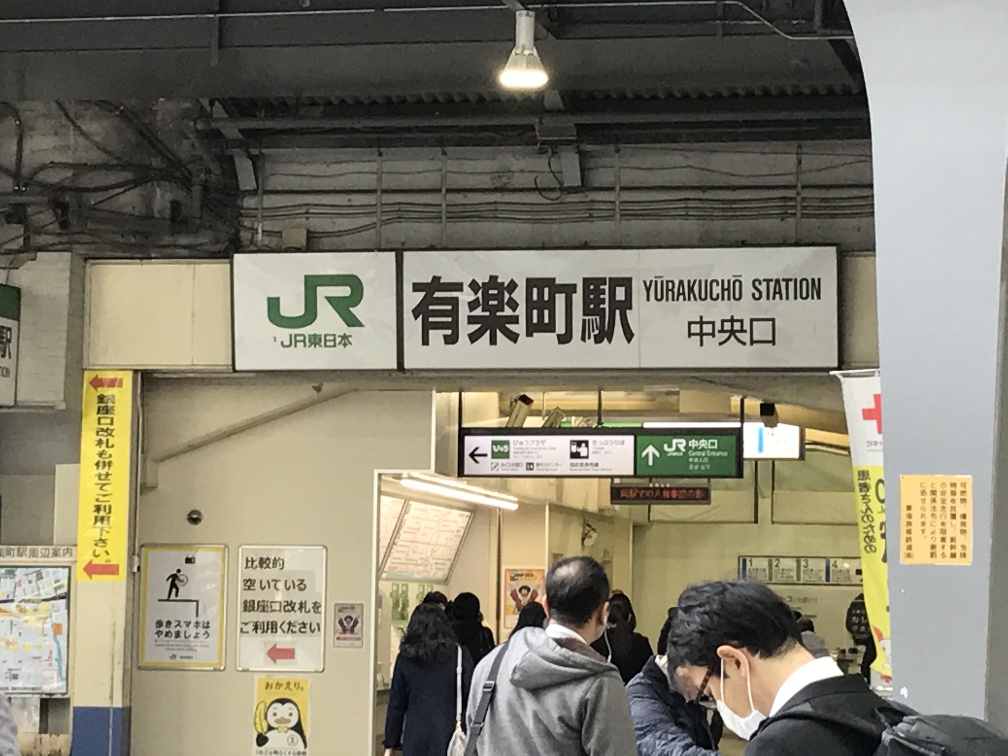 From JR Yurakucho Station Central exit, Go straight to Ginza-Dori and find Matsuya department store.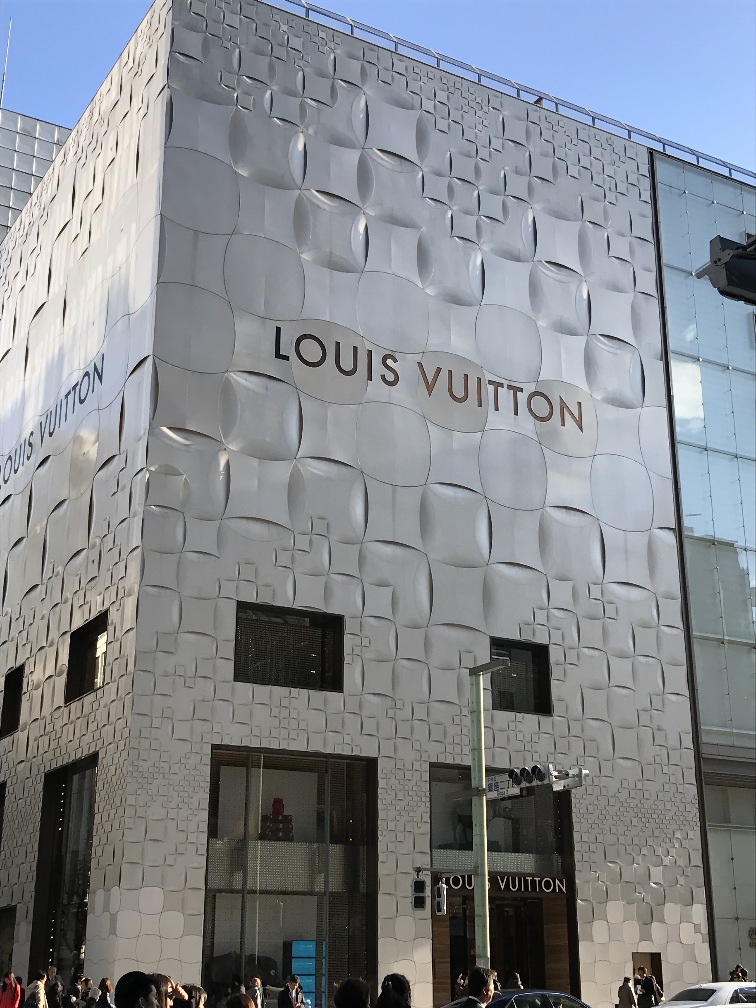 Do not enter to Louis Vuitton if you want to go to "Sake bar!" or you will lose all of your budgets! lol
Keep walking.
After a walk about 10 minutes, you will arrive at "Showa-Dori." If you look left-side, you will find one pedestrian bridge.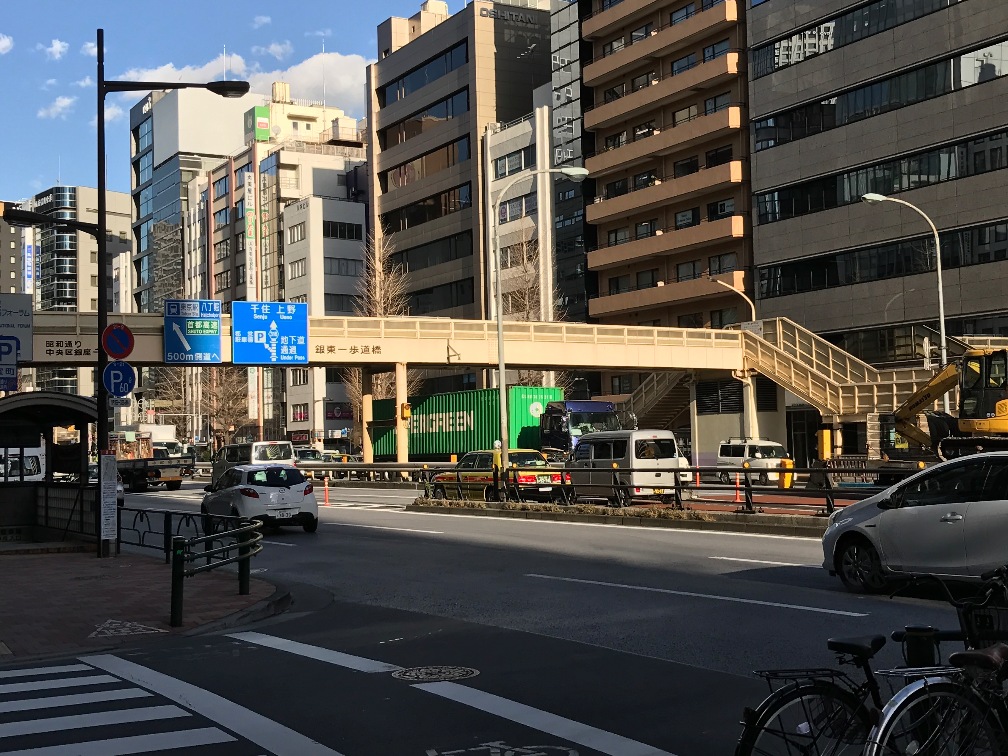 Go to there and cross the street! And then, bar is almost there. I can't wait to arrive at there!
Bar entrance is near to the bridge.
Below picture took before opening the bar, so a shutter is close.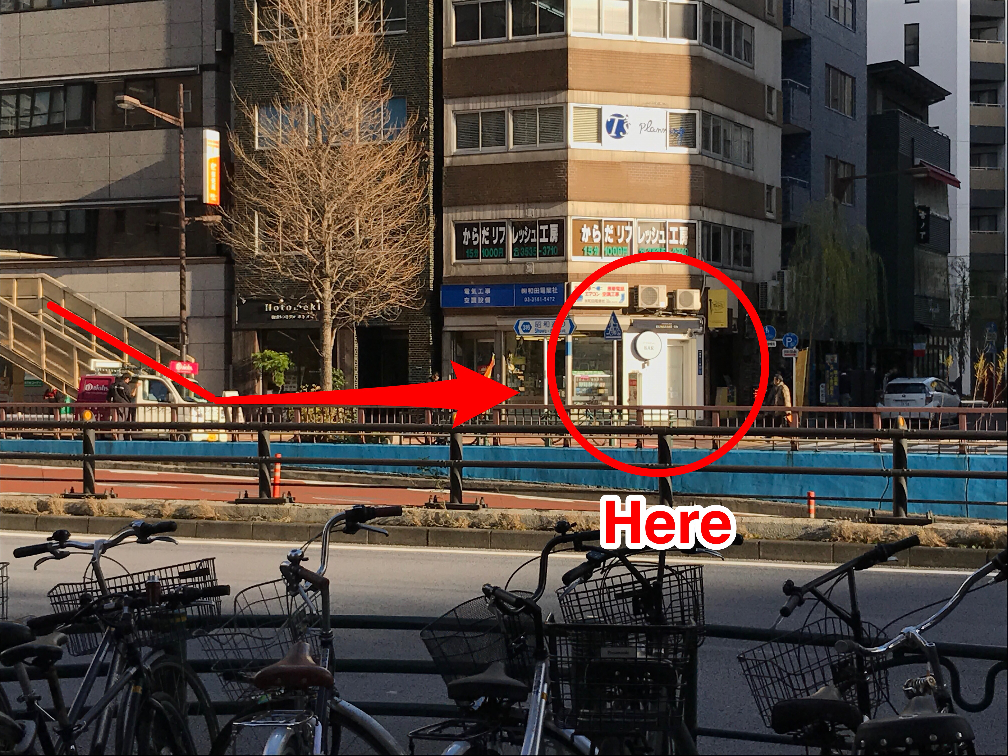 Open from 5:30 PM, so I wait a bit.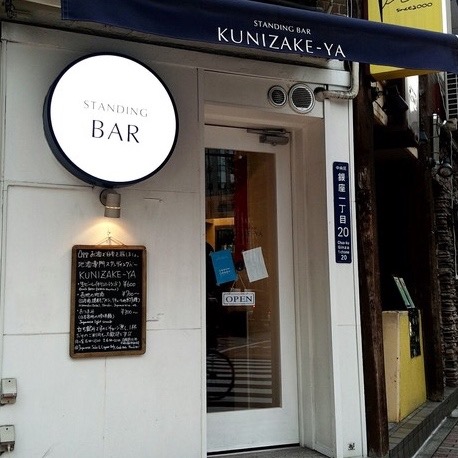 Enter to the bar!
Once you enter to the bar, this bar's owner Tuchiya welcomes you with smile.
[This bar is cozy so maximum capacity seems about 10 or less, and is only known to special people. But newcomer is also welcome!
This standing-type bar open from May 2013, and have one or more sake that made from each 47 prefectures. This bar motto is "Travel around Japan by drinking sake"... Nice.
Lineup: Mainly they have sake, but other kinds such as Awamori, Shochu, and Japanese wine and beer. Dinner is not available, but snacks are available. You can try each original meals.
If you look around inside the bar, you will find art and snack menu.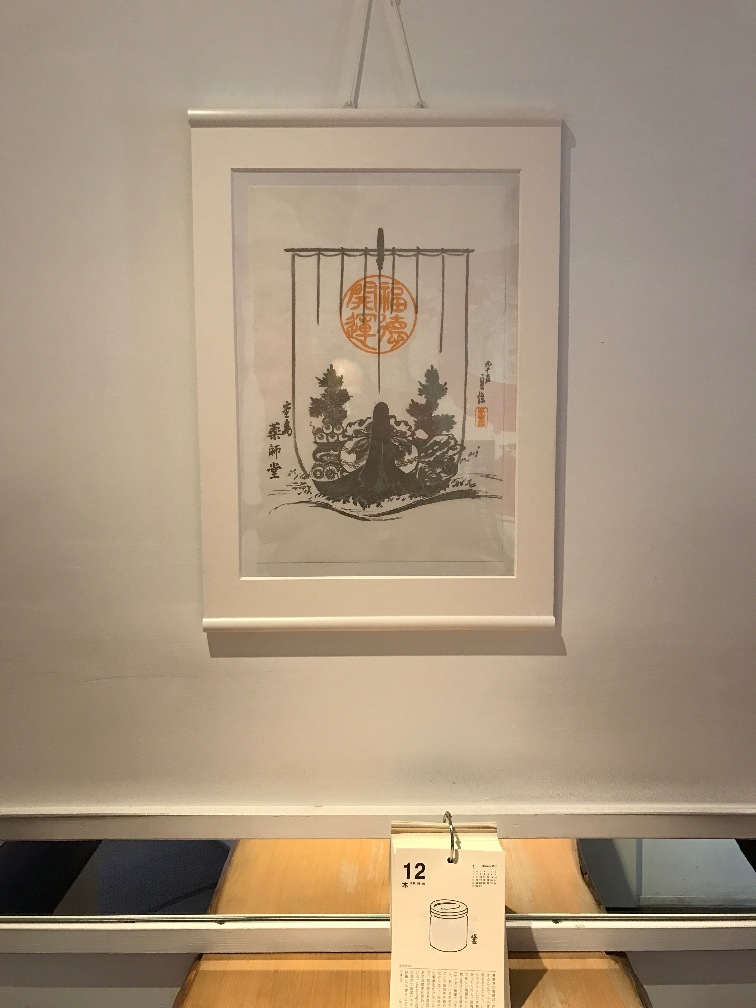 You can see some appetizer on the right side of below map. This bar have a rare snack(appetizer), so it is enough even if you only looking. But if you are getting your interest, let's order!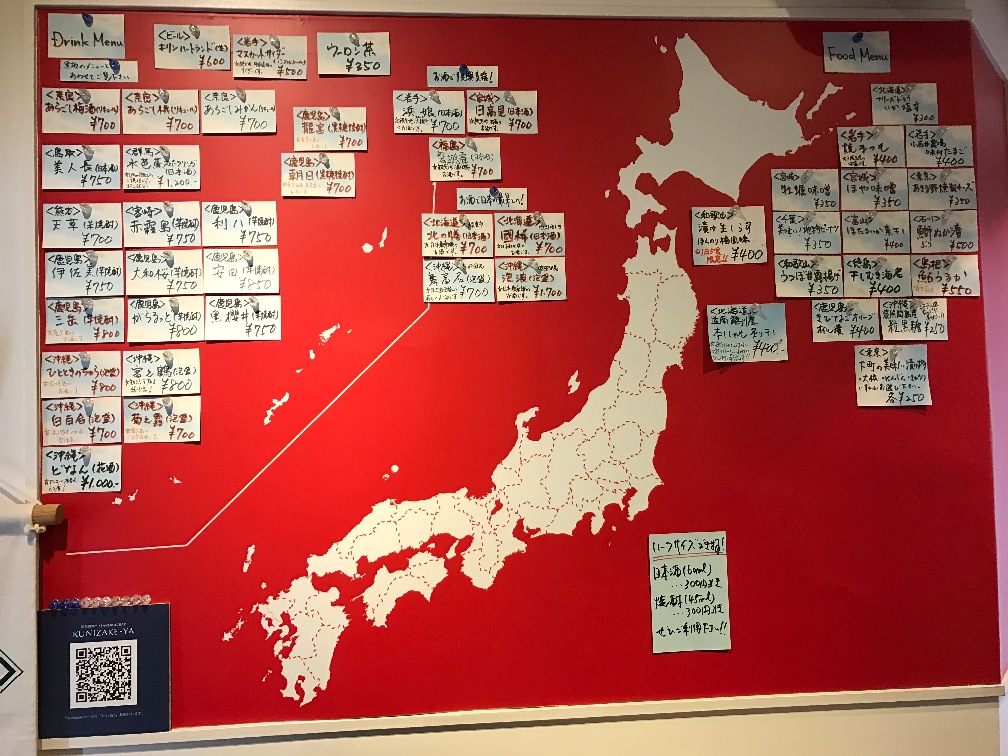 Look above your position! You can see the other menu!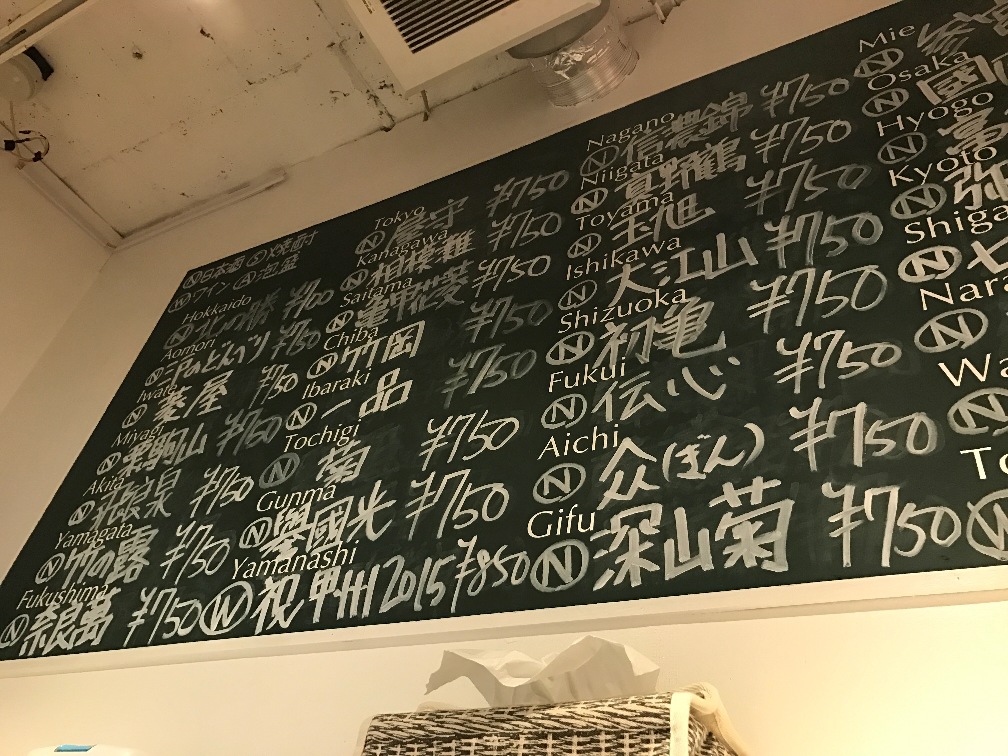 In the counter, it has a lot of sake glasses!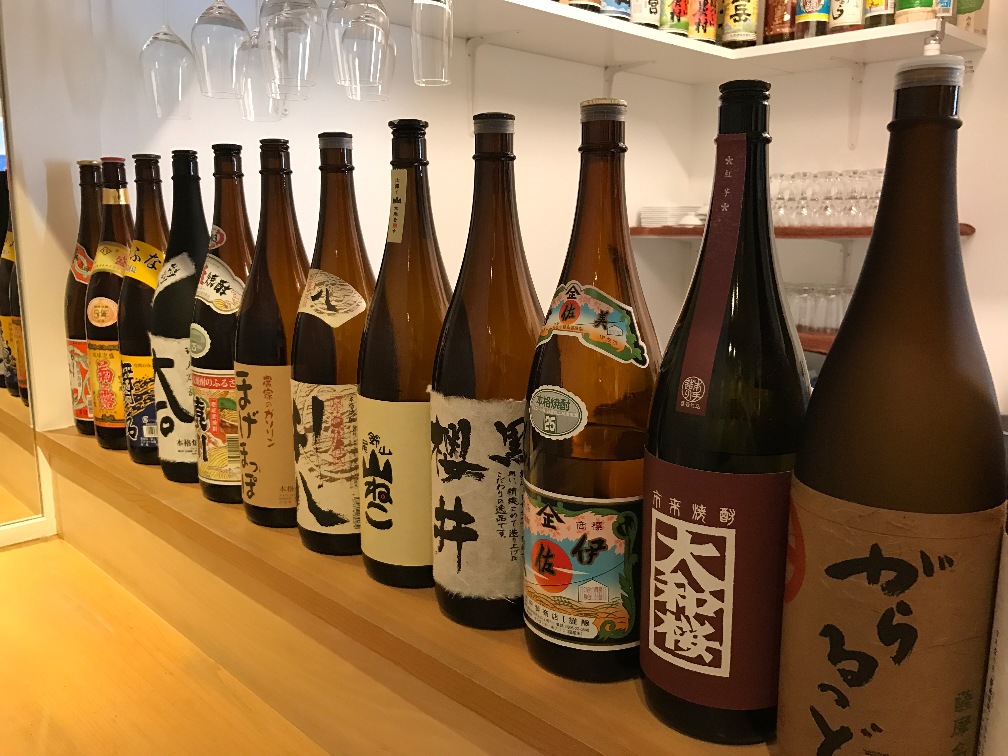 Also can see a lot of sake in the kitchen! (*´﹃`*)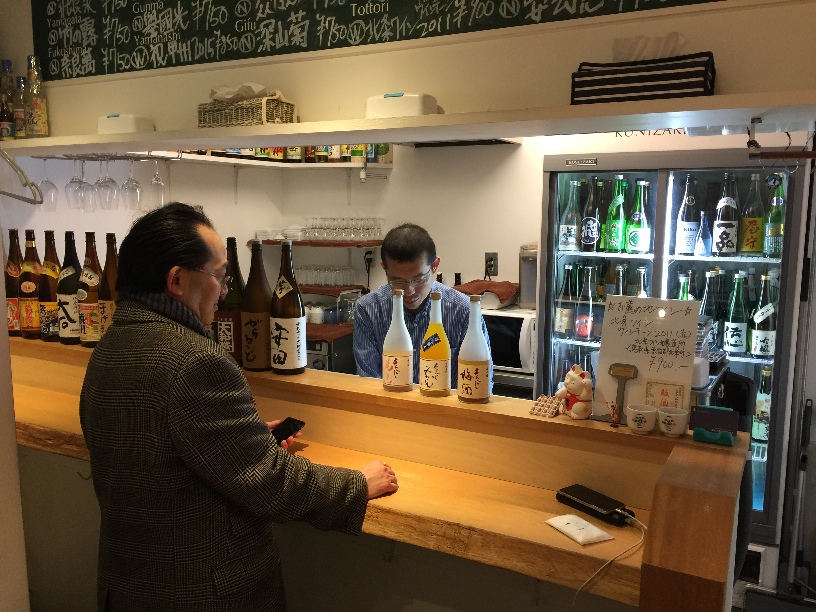 Atomosphere inside the bar is like this. Owner and customer is close and that is nice.
Get Sake now!
Today is the first day to come this Kunizake-ya in this year, so I ask recommend sake.
If you come here for the first time, you can tell your favorite and condition, and the owner tells you his recommendation so do not hesitate to ask anything to the owner.
Sake now come to here!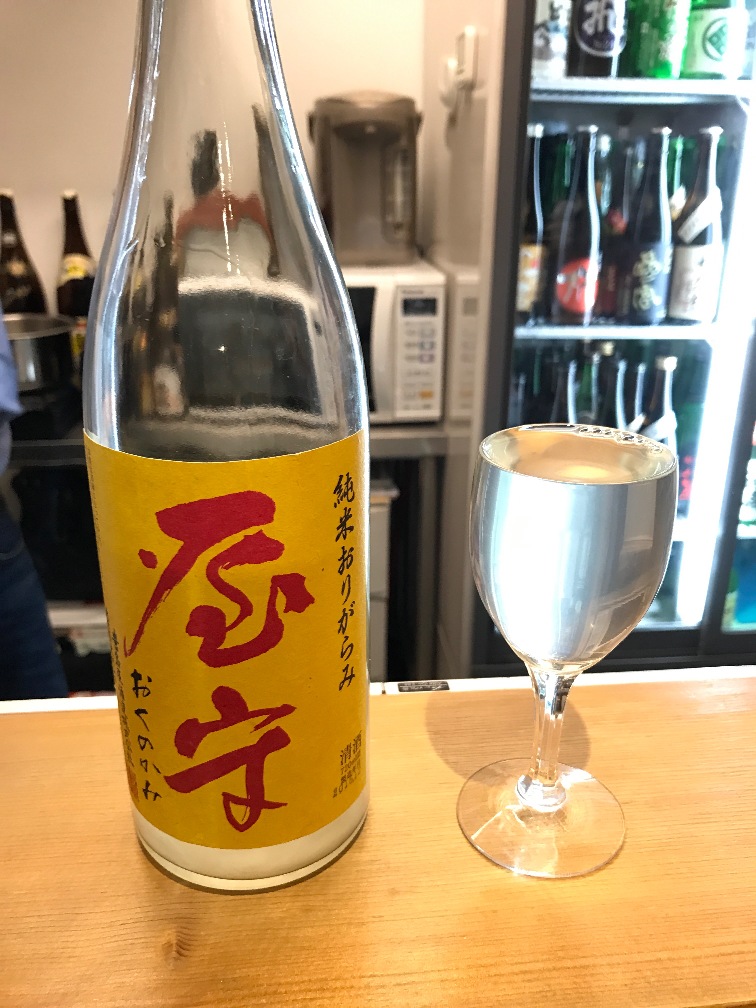 This sake is from Higashimurayama, Tokyo and seems opaque yellow color. I getting surprized become this sake is from Tokyo.
Put sake into the mouth,
"OMG! So greeeeeeeaaaaaat!"
During tasting, I noticed good and light scent. After that, I notice that left fresh, lightly-sweet and great bitter taste to the mouth. This sake treat my body.
This bar's average alcohol price is about 750 JPY so it is reasonable. Also, this bar mainly choose seasonal and limited sake.
You will notice the sake world is HUGE, and you could find your favourite sake!
After drink above drink, go on to the next one!
Me: "Can I get other recommend drink? Also, can I get recommend snack?"
Then he serve me peanuts. It is made in Chiba prefecture. It is small, but taste is good.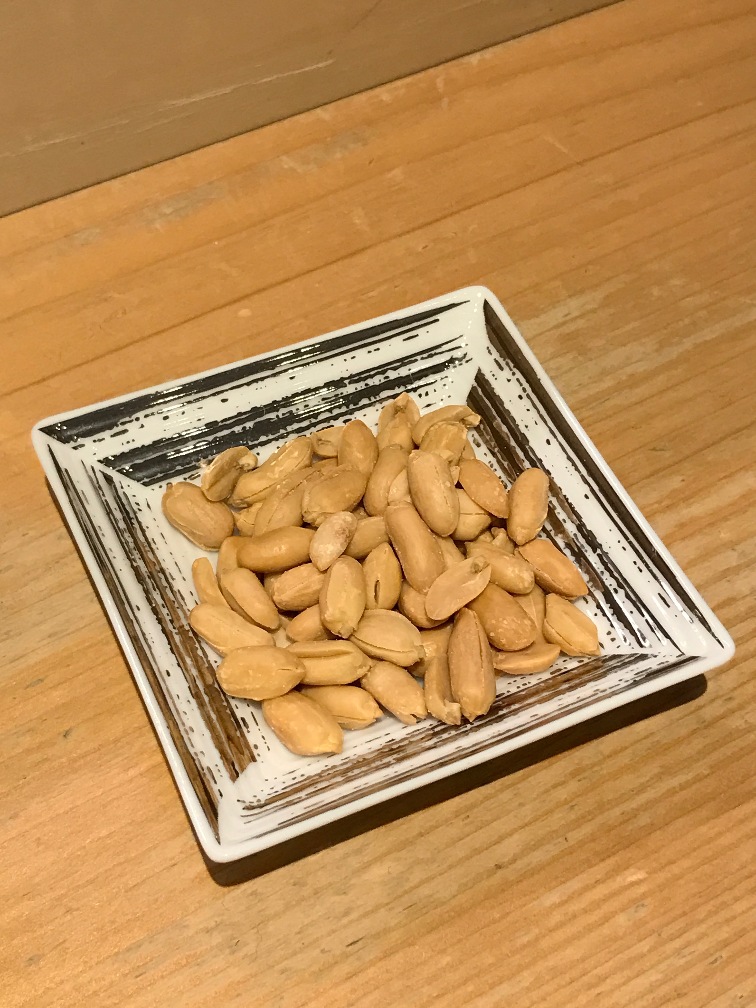 It is sweet so best combination for sake.
Then I got next sake. This sake name "Yamahai Gin".(山廃 众)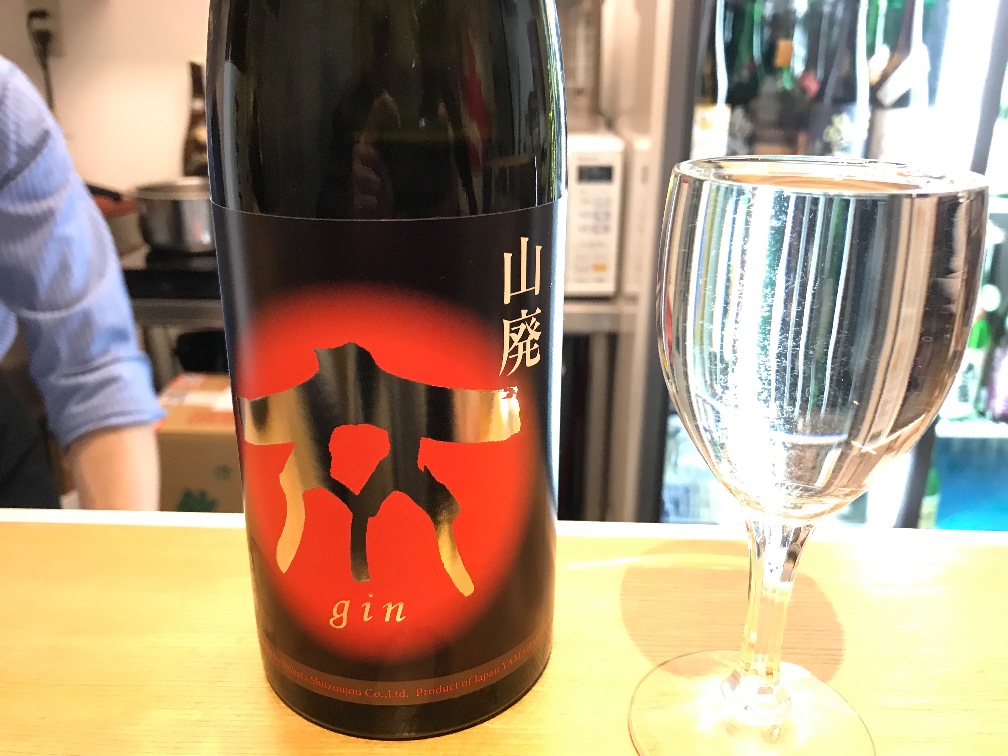 This sake is different from the last sake. It seems clear so I expect that is also good sake. This sake is from Wakayama prefecture. My mind is now move into Wakayama.
Now I put it in my mouth, and I say "Obviously great!".
Owner know my favorite.
なんと滋味深い味なんだろう。山廃純米原酒ということもあり、香り立ちはそれほどではないのですが、濃厚な味わいの中に力強さを感じる日本酒の原点を感じさせられるお酒です。手間をかけて作られた蔵の技術力の高さを感じることのできる素晴らしいお酒ですね。ワインで言うところのボルドータイプにあたるのかな。
That taste seems good for my body. Smell is not so good but taste is thick so I think how this manufacturer have good quality. If I compare this sake with the wine, it is like Bordeaux wine.
Eat peanuts and drink sake, and I say "This combination is so good."
Sake and peanuts combo is ultra good!
I cannot drink sake without snacks. Of course, sake and sashimi combo is the best but peanuts and sake combo is also good so you should try it.
You can find a good combination because this bar has a lot of snacks.
I consumed two great special sake, so I go back home with a good feeling.
Place code
Drink responsibility
Go there no more than two members and go home soon after drink! (You MUST contact the bar if you let more than two members)
DO NOT SMOKE AT THERE
DO NOT TAKE PICTURE W/O CONSENT!
Follow these rules and enjoy drink!
Next time, I will go to Yokohama to find another good place to drink.
Lastly, from the owner Tuchiya, sent messages to travelers in Japan!
Messages from owner Tsuchiya
In Japan, has excellent environment. From Subarctic to Temperature Climate, and each area's culture made a difference in sake, shochu, and wine. If you travel to Japan, you should try their original sake!
I introduced these sakes
"Yamori Shikomi #3 Jyunmai-Origarami-Kisyu"
Made by Toshimaya-Shuzo K.K.
3-14-10 Hisayonekawa-Cho, Higashimurayama-shi Tokyo Japan
TEL +81-42-391-0601 / FAX +81-42-391-1983
http://www.toshimayasyuzou.co.jp
"Gin Yamahai-Jyunmai-Genshu"
Made by Shibata Shuzo-jo Co.L.P.
39 Kanzui, Hokkyu-Cho, Okazaki-shi Aichi Japan
TEL +81-564-84-2007 / FAX +81-564-84-2785
Snacks
Peanuts made from Chiba
Bar information
Name: KUNIZAKE-YA
Address: 1-20-11 Ginza, 1F Ito bldg, Chuo-ku, Tokyo Japan
TEL: +81-3-3563-8300
Business hours: 5:30 PM-11:00 PM
Closed: Sunday, Japanese holiday and Monday on 4th week in the month. Sometimes they change close time and date due to out for buy sake. I recommend you to check close date/time on Facebook.
Misc.: You cannot smoke there, and this bar is small so you should not visit with so many people. If you go there more than two people, you MUST contact the owner
Cell phone coverage: Softbank, au, and Docomo.
Wi-Fi: Not available
Access:
By train:
About 4 minutes by walk from Tokyo Metro Yurakucho line, Ginza Icchome station A1/A2 exit
About 5 minutes by walk from Tokyo Metro Yurakucho line, Shintomicho station #1/#2 two exit
About 6 minutes by walk from Tokyo Metro Hibiya/Toei Subway Asakusa line, Higashiginza station #3 exit
About 6 minutes by walk from Toei subway Asakusa line, Takaracho A1 exit
About 10 minutes by walk from JR Yamanote/Keihin-Tohoku line Yurakucho station
By bus:
About 8 minutes by walk from Toei bus route "都03,04,05, and 業10", Ginza 4-Chome stop
Official website: http://kunizakeya.jp
Facebook: https://www.facebook.com/kunizakeya/