A secret gem in Kyoto
Kifune Shrine is a good place if you want to get away from the hustle and bustle of Kyoto city.
Kawadoko for an escape from the excessive heat in summer. Also, there have nice autumn red leaves in autumn.
In recent years, it also gets attention as a power spot.
This time, I wanted to see the Kifune Shrine with snow view so I checked the weather forecast and I went there.
Access to Kifune Shrine
It is a good choice to use Eizan Dentetsu Railway from Keihan Railway Demachiyanagi Station. Then you should get off at Kibuneguchi Station.
From JR Kyoto Station, transfer to Keihan Railway at Tofukuji Station.
At Keihan Railway, there is a sign for access to famous spots at the ticket gate exit of the station.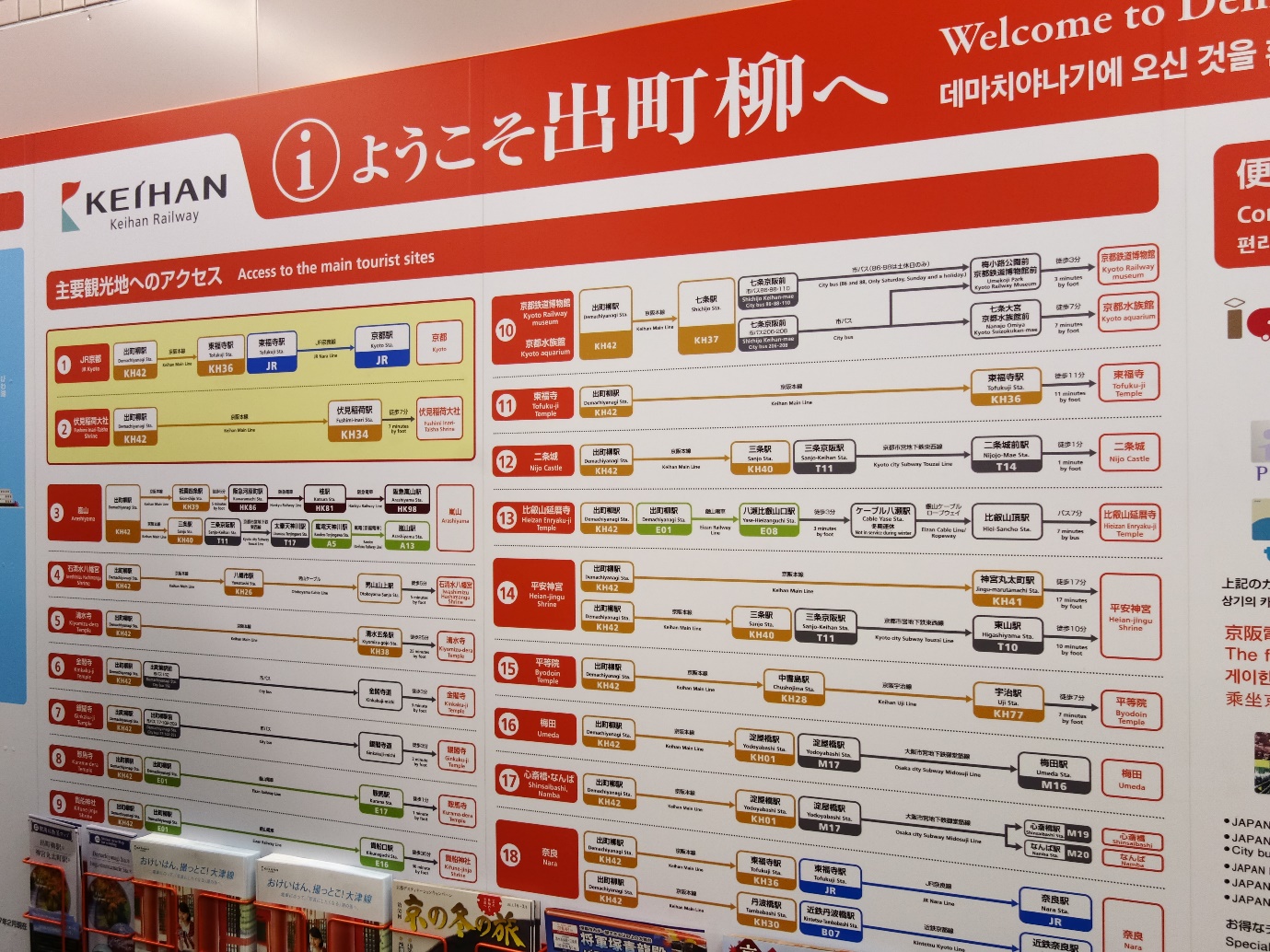 Once you exit the ticket gate, you will see a sign for transfer to the Eizan Railway.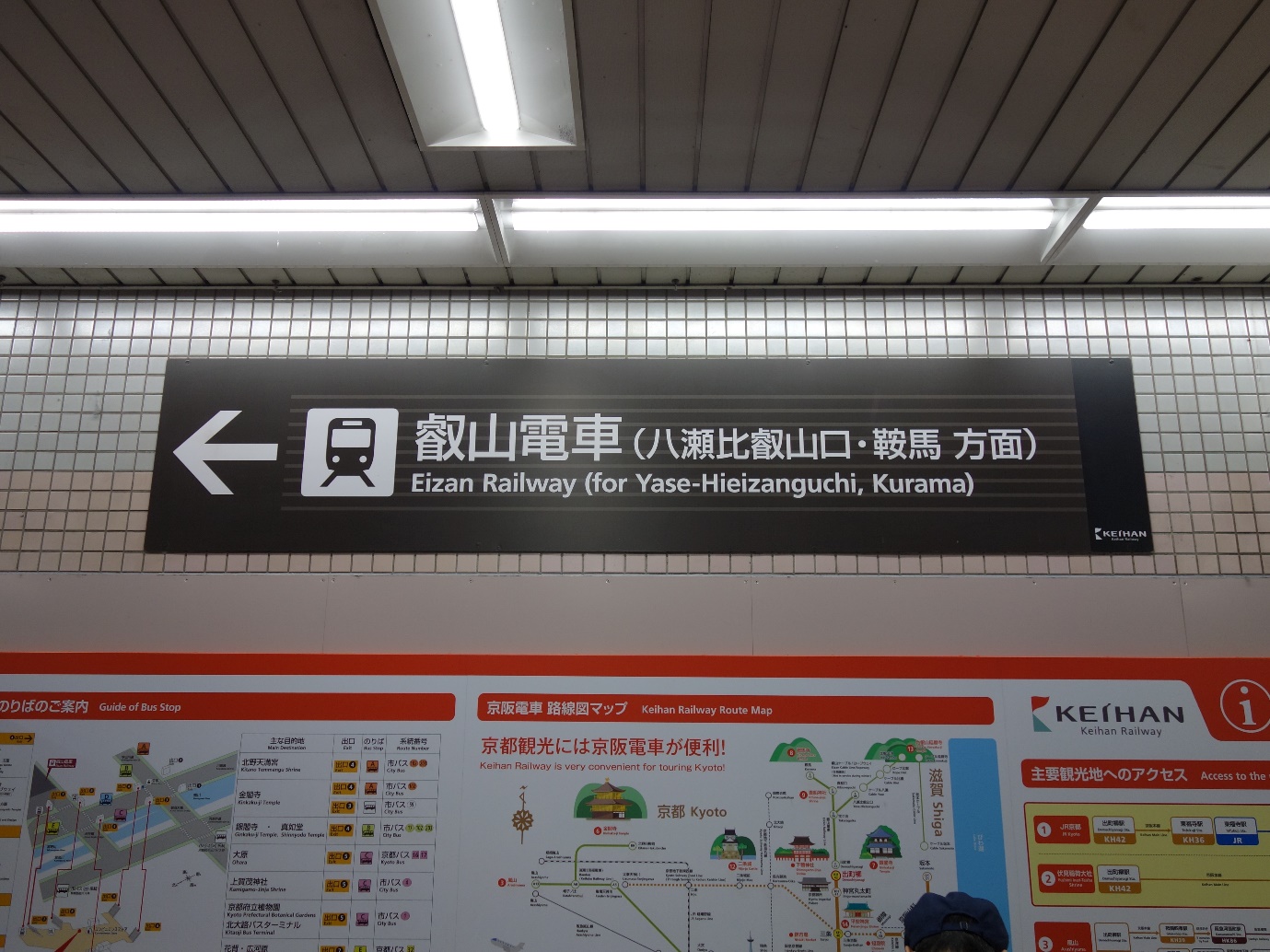 There has a money changer during the transfer to Eizan Dentetsu Railway so it is convenient if you are short of Japanese Yen.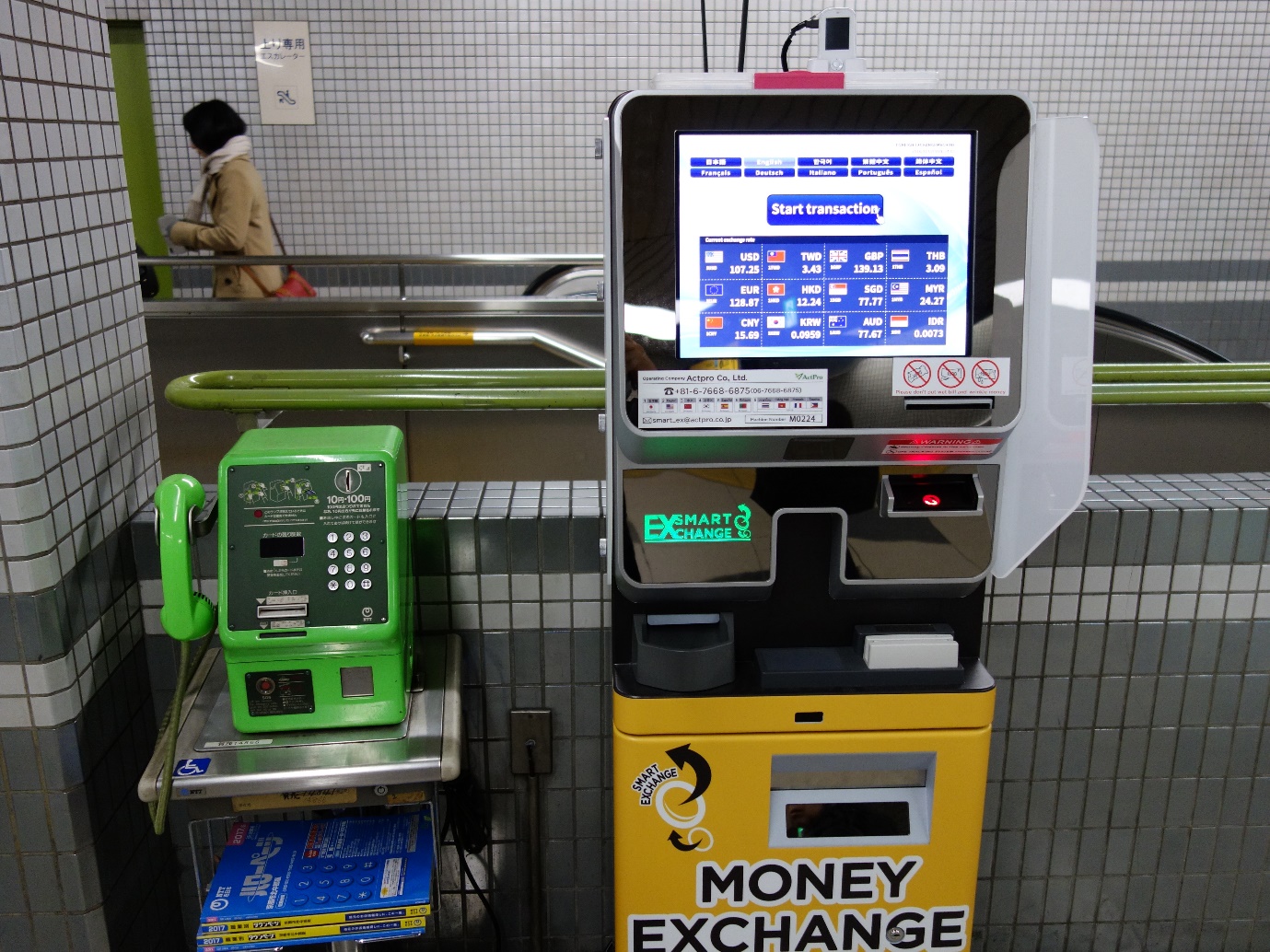 If you walk for about 5 minutes, you will reach Demachiyanagi Station on the Eizan Railway.
We bought 420 yen for adults to go to Kifuneguchi Station at the ticket machine and boarded on the train towards to Kurama station direction.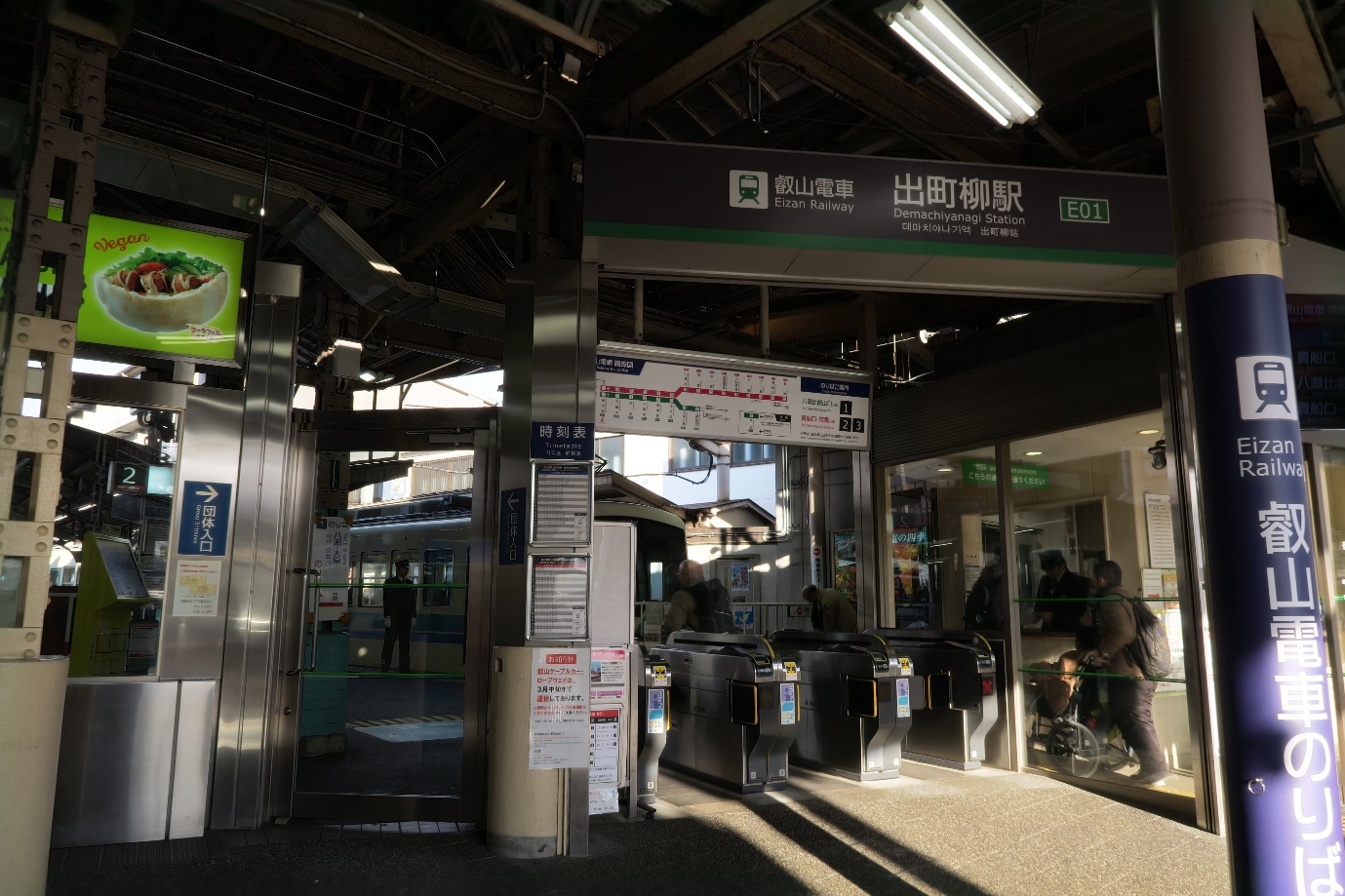 Now it's departure!
I like the Eizan Railway like Enoden that runs in Kamakura.
Let's leave.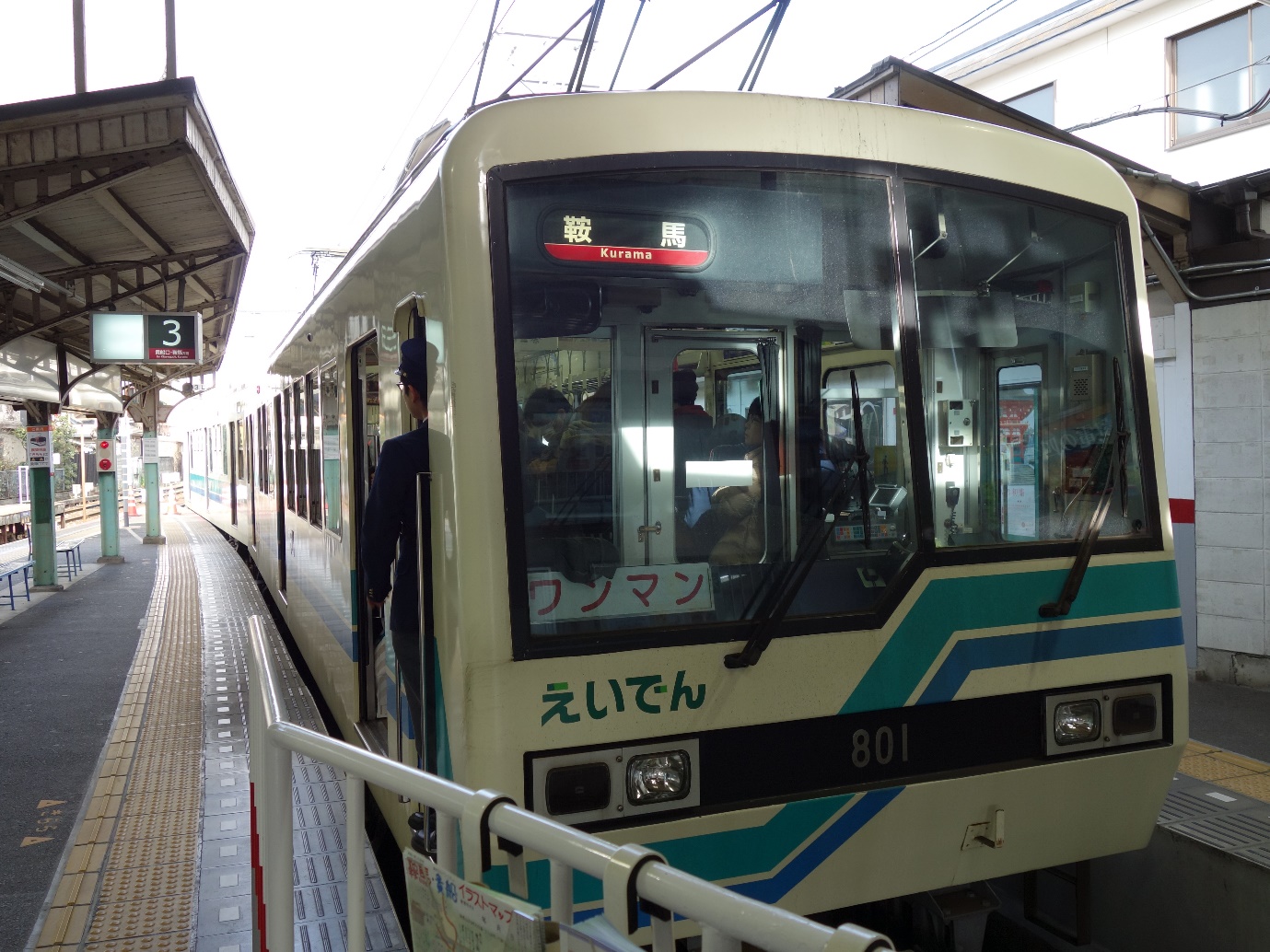 The snow forecast becomes true after 20 minutes of departure.
In this snow sights, tourists from overseas were cheering!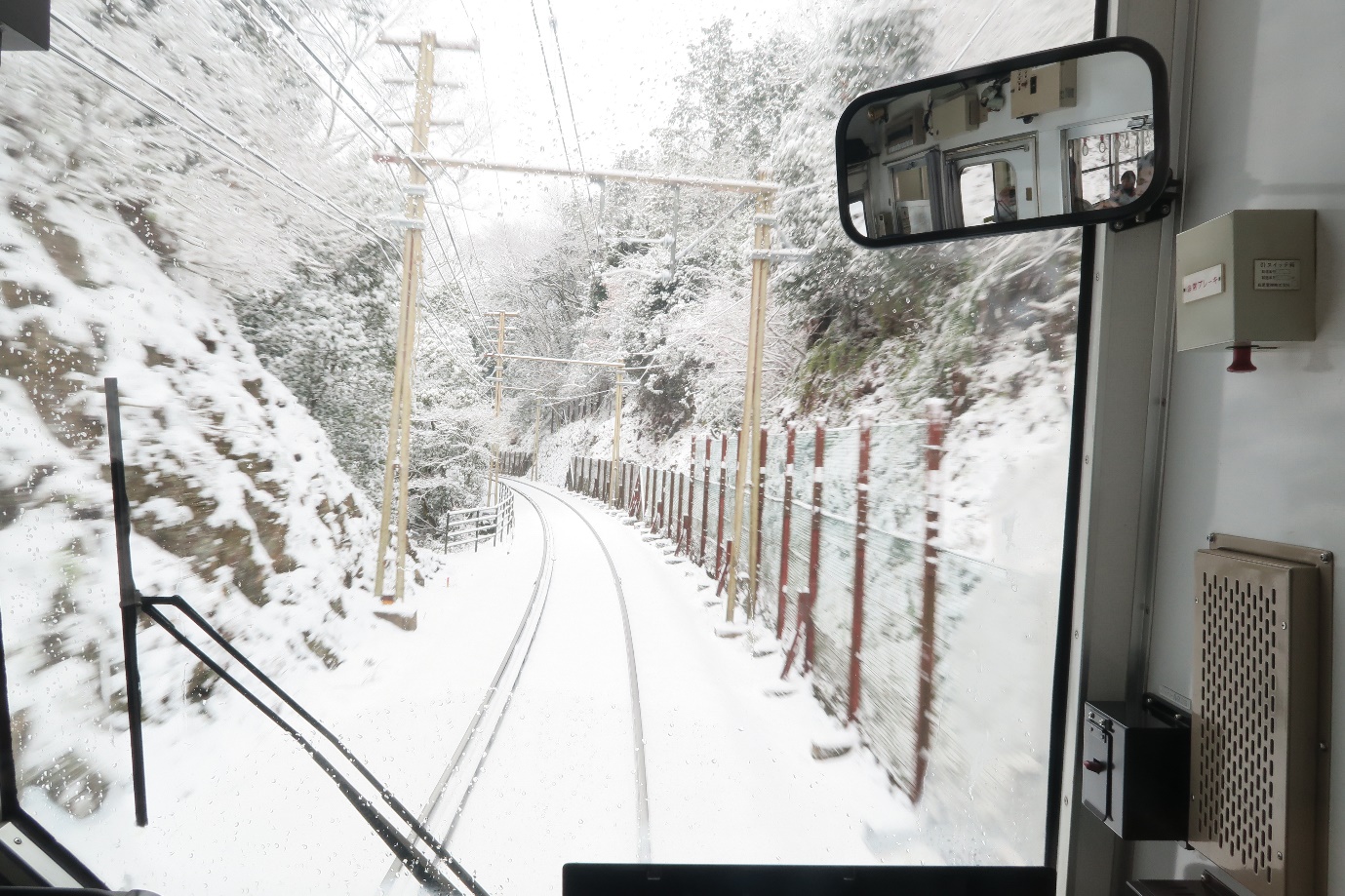 Finally, I arrived at Kifuneguchi Station. Now I'm getting excited.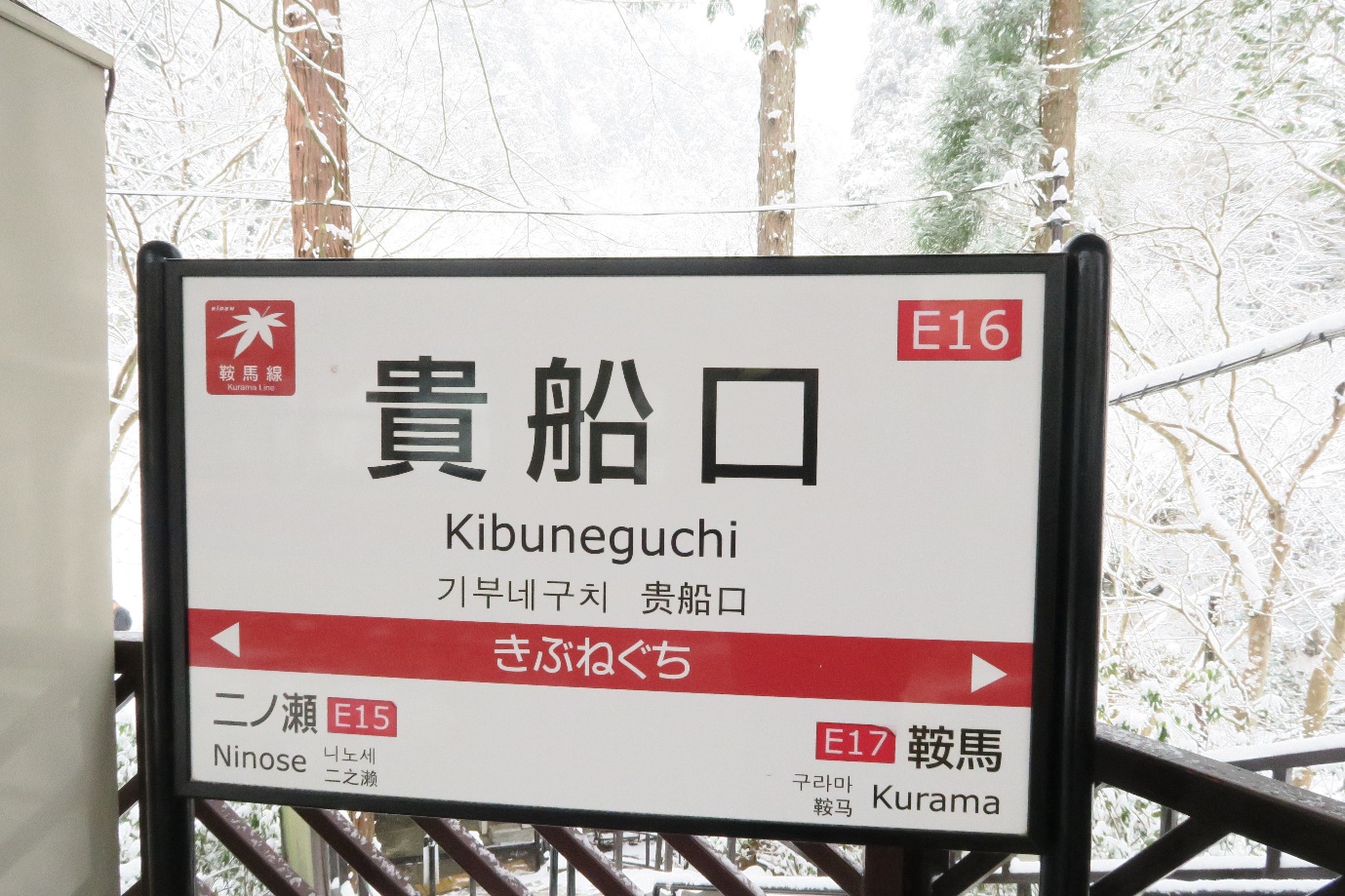 In retrospect, the simple and modest building of Kibuneguchi Station is wonderful.
There was a bus stop across the road from the exit.
Since there are only 2 to 5 buses departures per hour, we suggest you to checking the Kyoto Bus website prior you get onto the train.
For sure, if you try to get to the shrine by walk, you can reach there by takes 30 minutes. However, during the winter, since the route contains slopes and these are so steep, I highly recommend you to use the bus.
Because of snow on that day, the bus stop sign (pictured below) covered by snow and could not be seen! (The photo was taken on another day)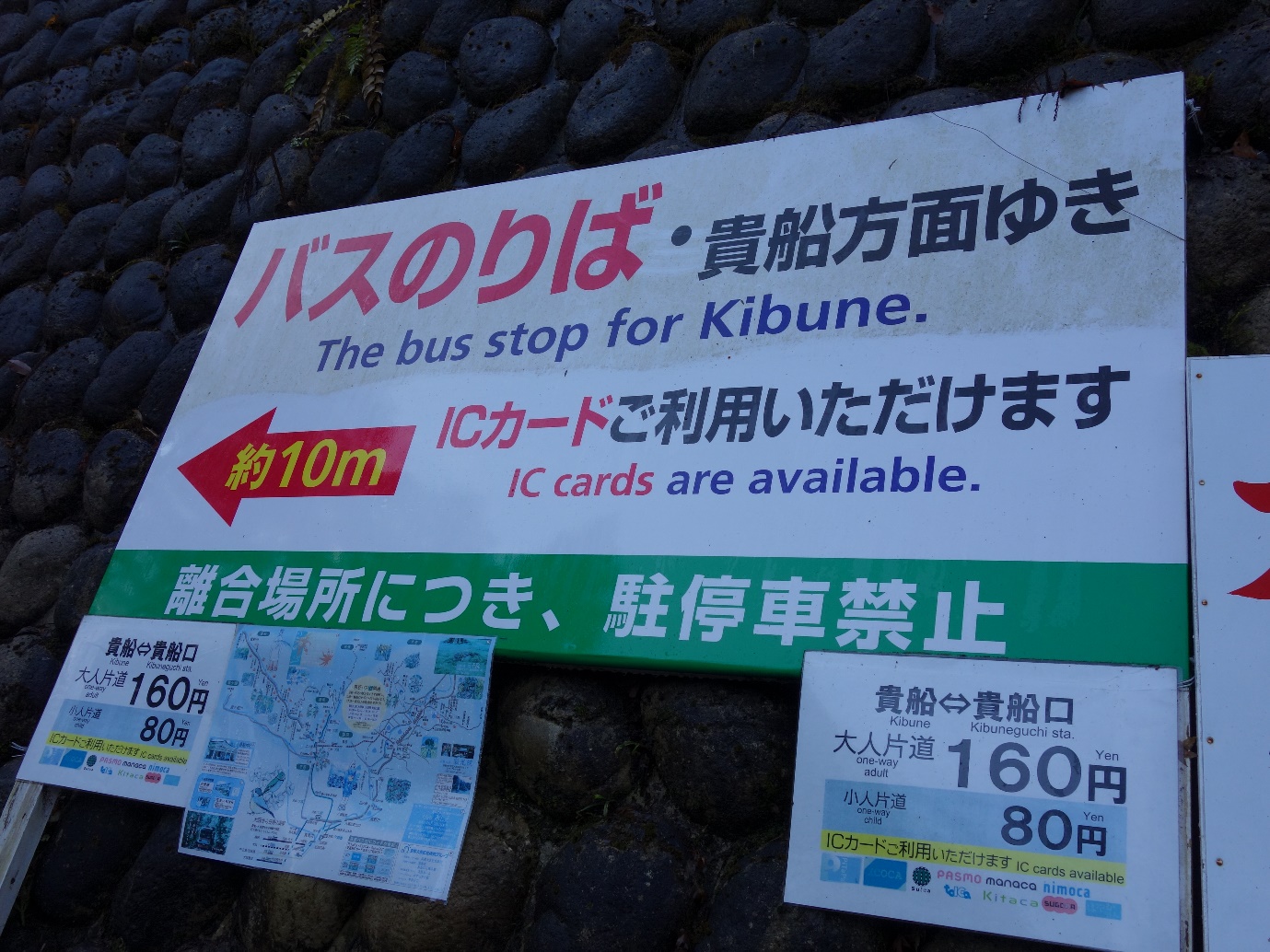 The bus slowly climbs a steep snowy road, and it will stop at the bus stop.
Check the returning bus timetable again.
From here, I stepped on the snow road and climbed for 10 minutes.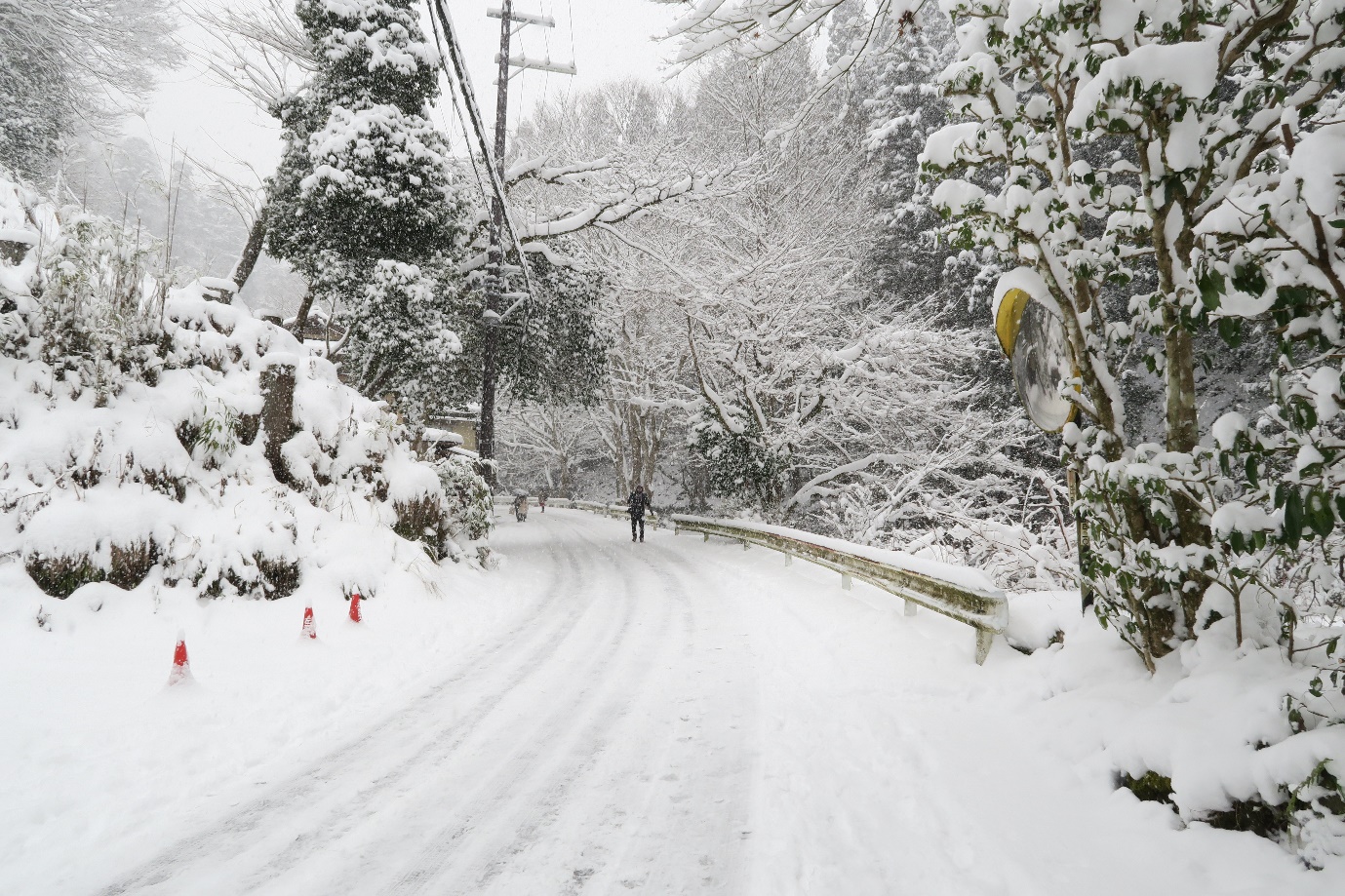 Vermilion lanterns and stone steps
After I walked for about 10 minutes, my body turned warm and I saw a vermilion shrine gate(a.k.a. torii).
"The Sohonsha Kifune Shrine" (Main shrine for Kifune Shrine) and carved in stone. Once you bow, go through the torii.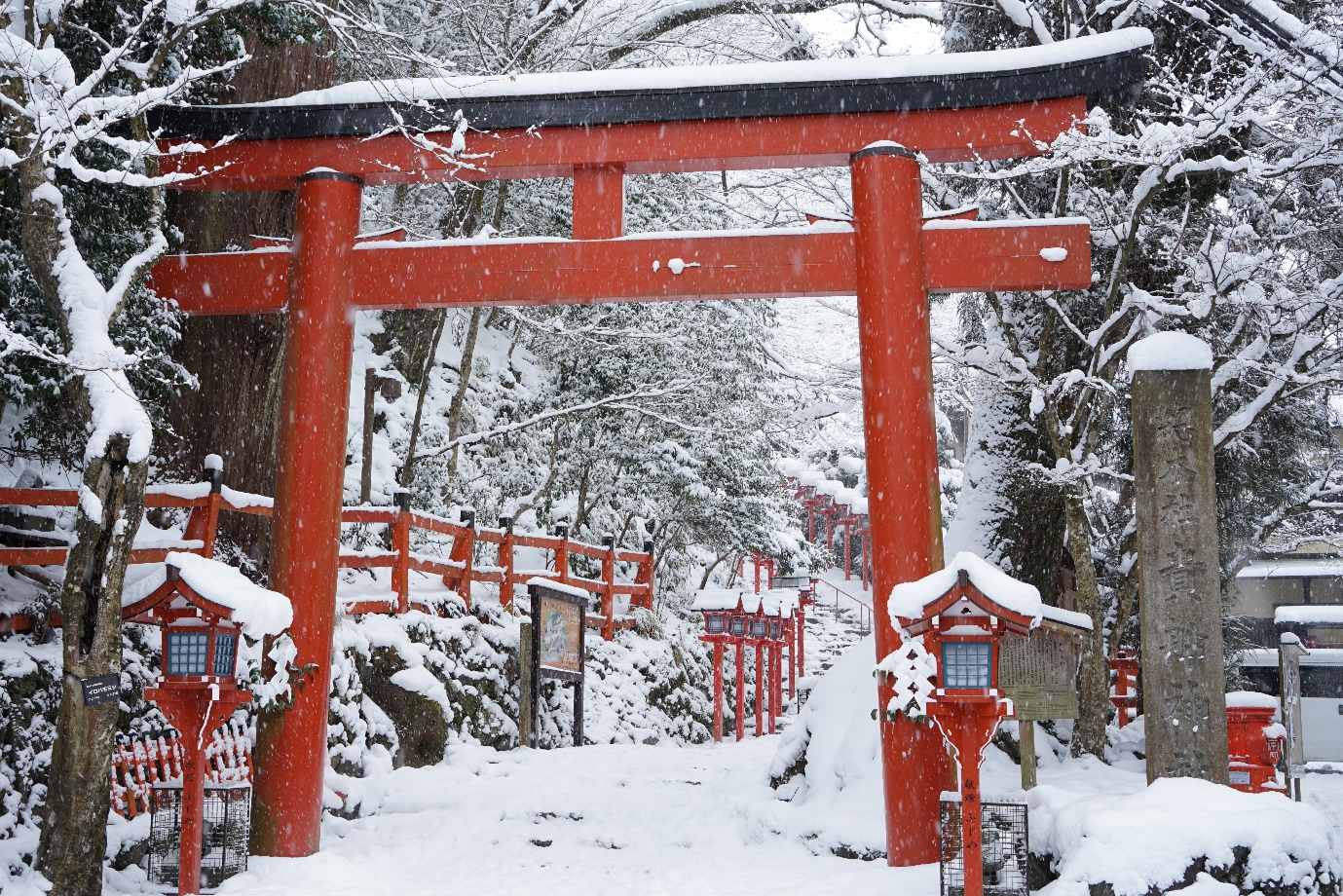 I felt happy because I like the time of autumn red leaves, but the contrast between vermilion lanterns and snow is also amazing!
I wanted to see this.
Climb the stone steps covered by snow to the main shrine.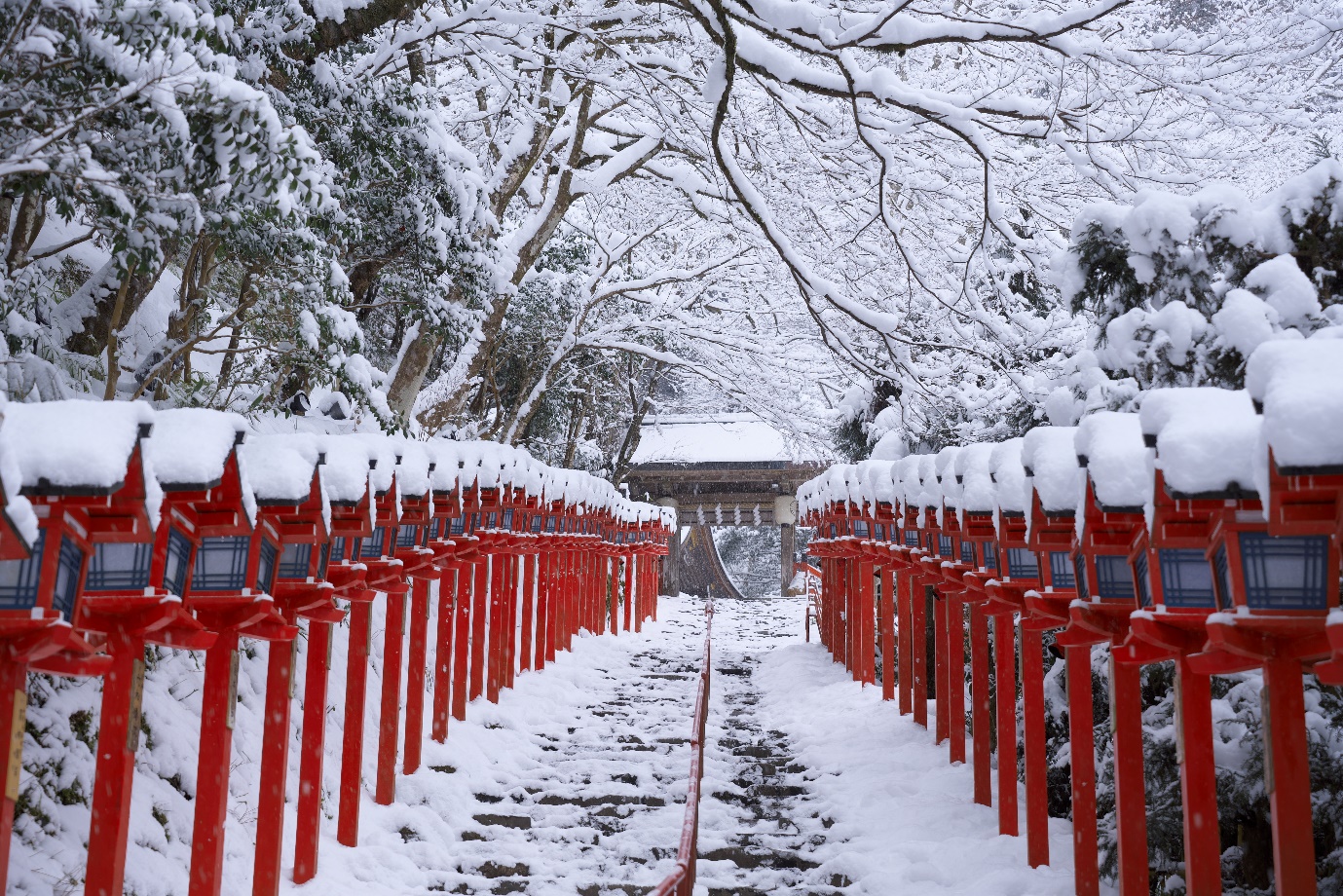 In the ahead of stone steps, you can see the "Chozusha" which means the place to wash your hands.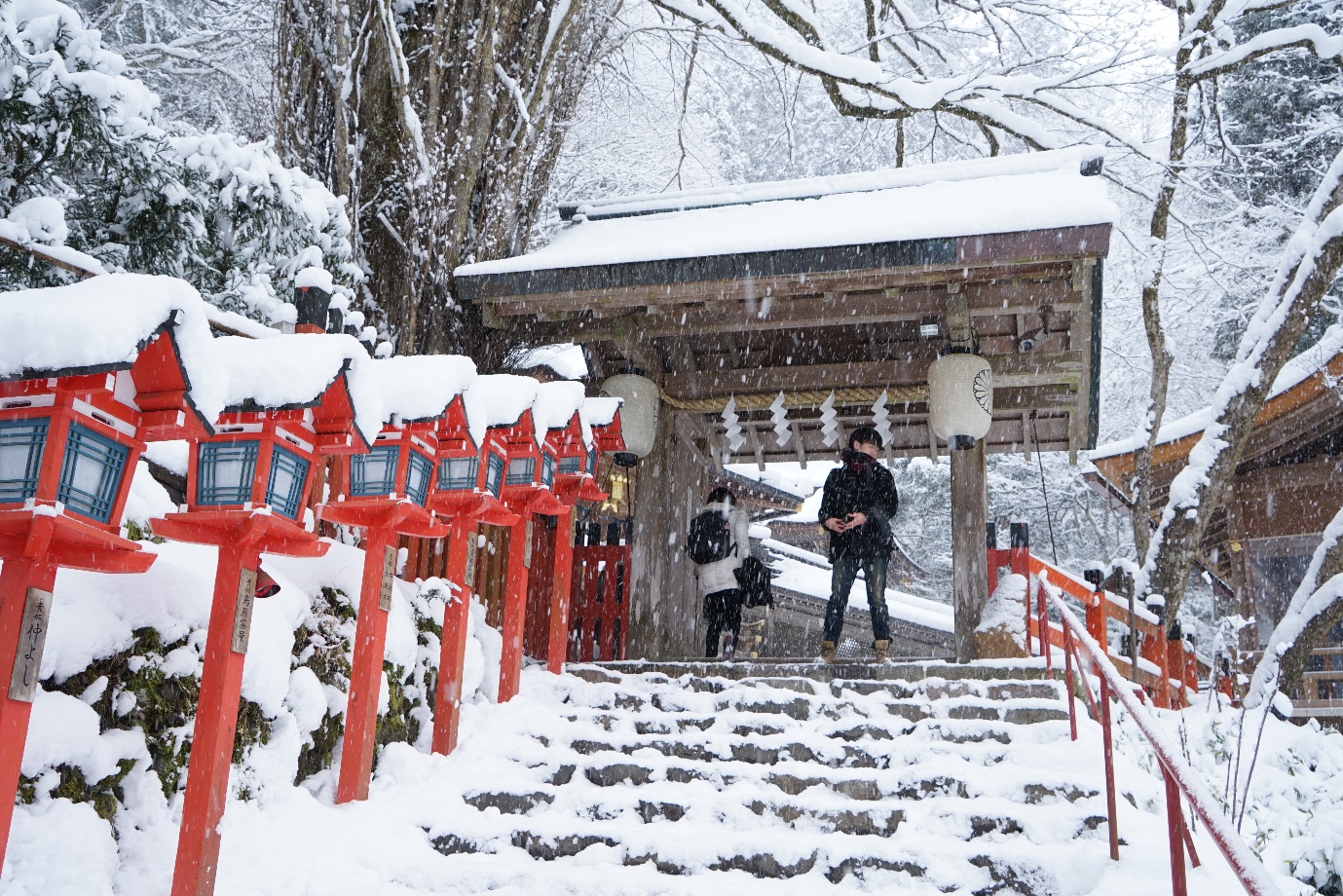 After I climb the stone steps and looking back, it looks so steep.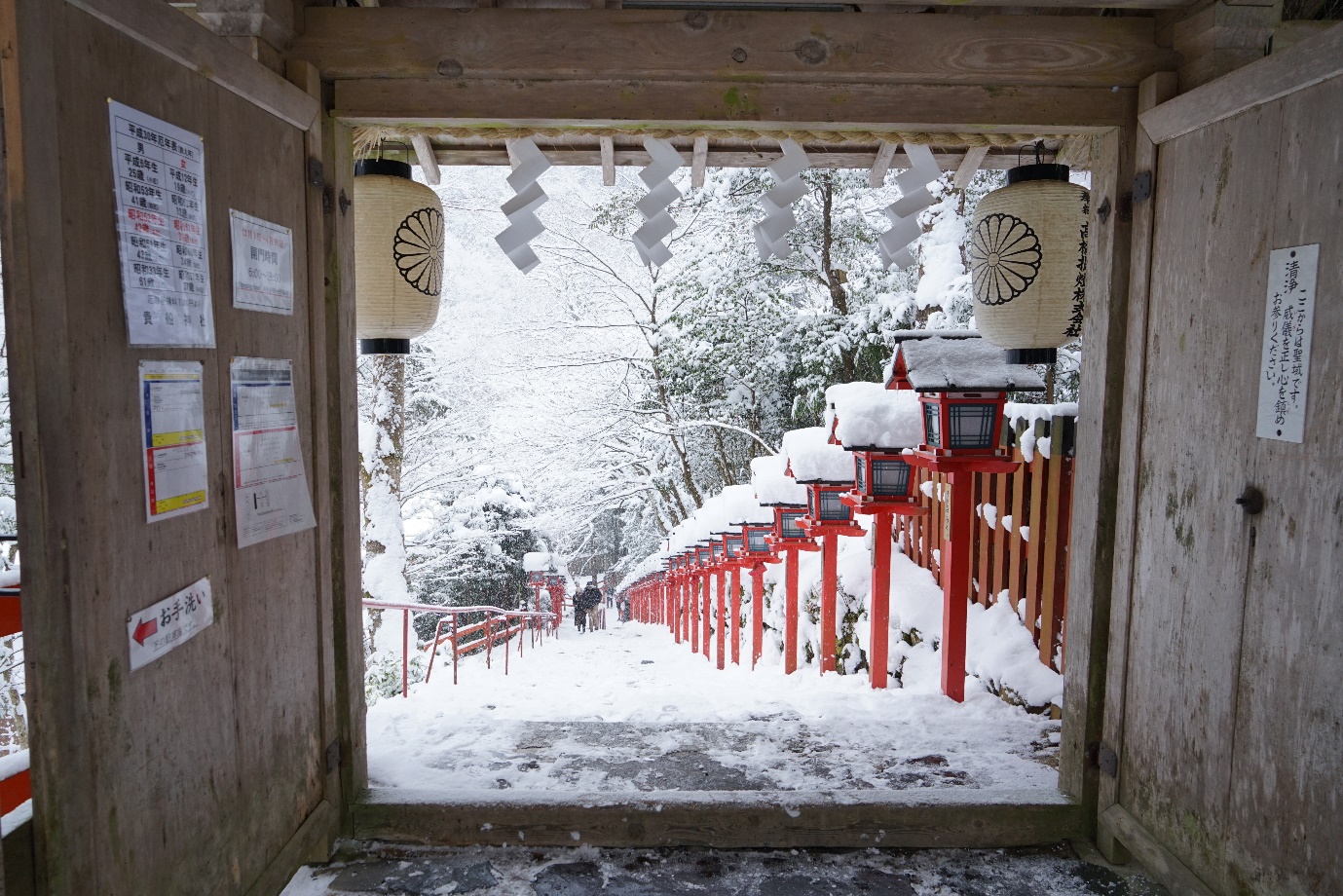 Chozusha is coming soon.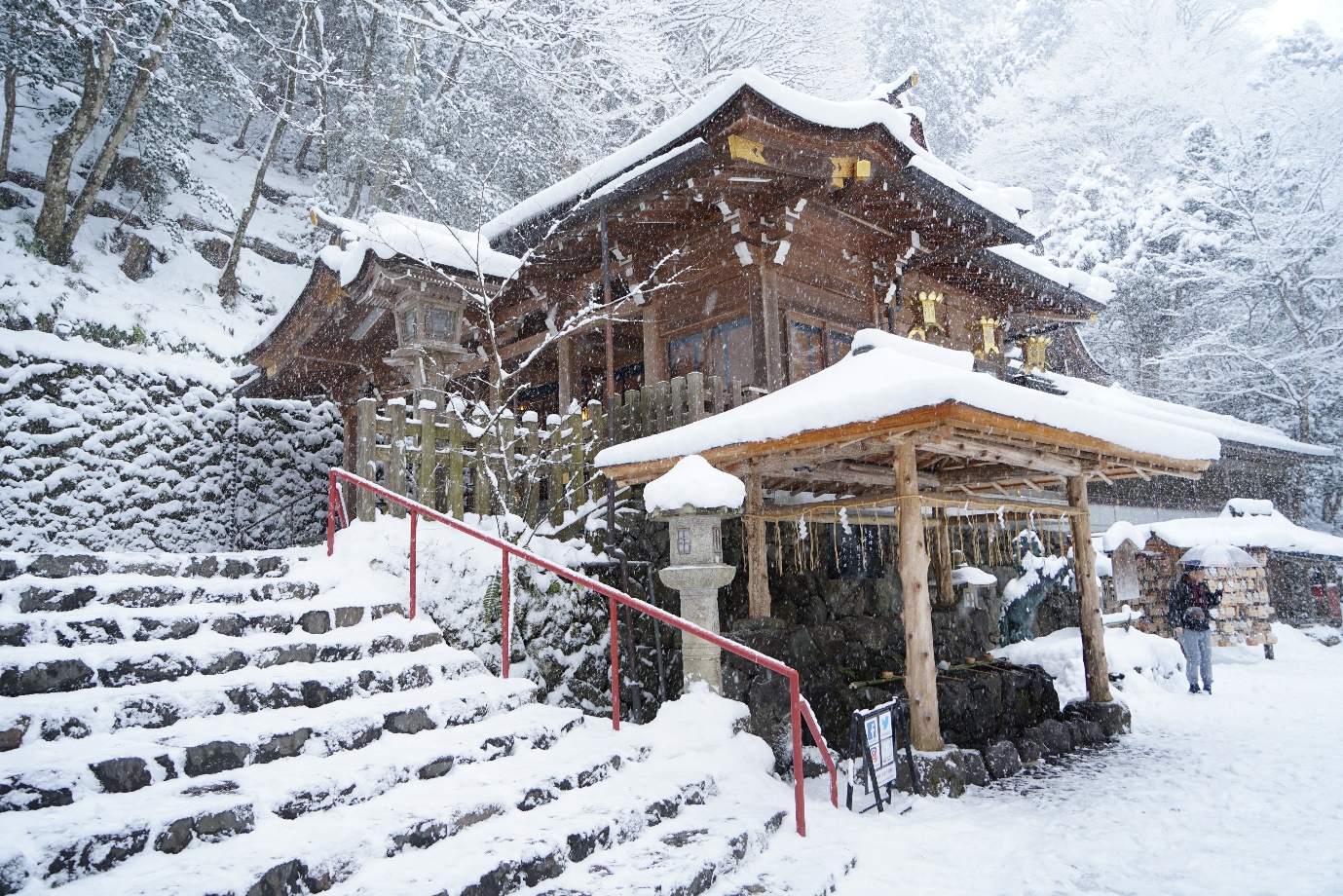 I cleaned my hands with the water of a clear Chozusha that looks almost frozen.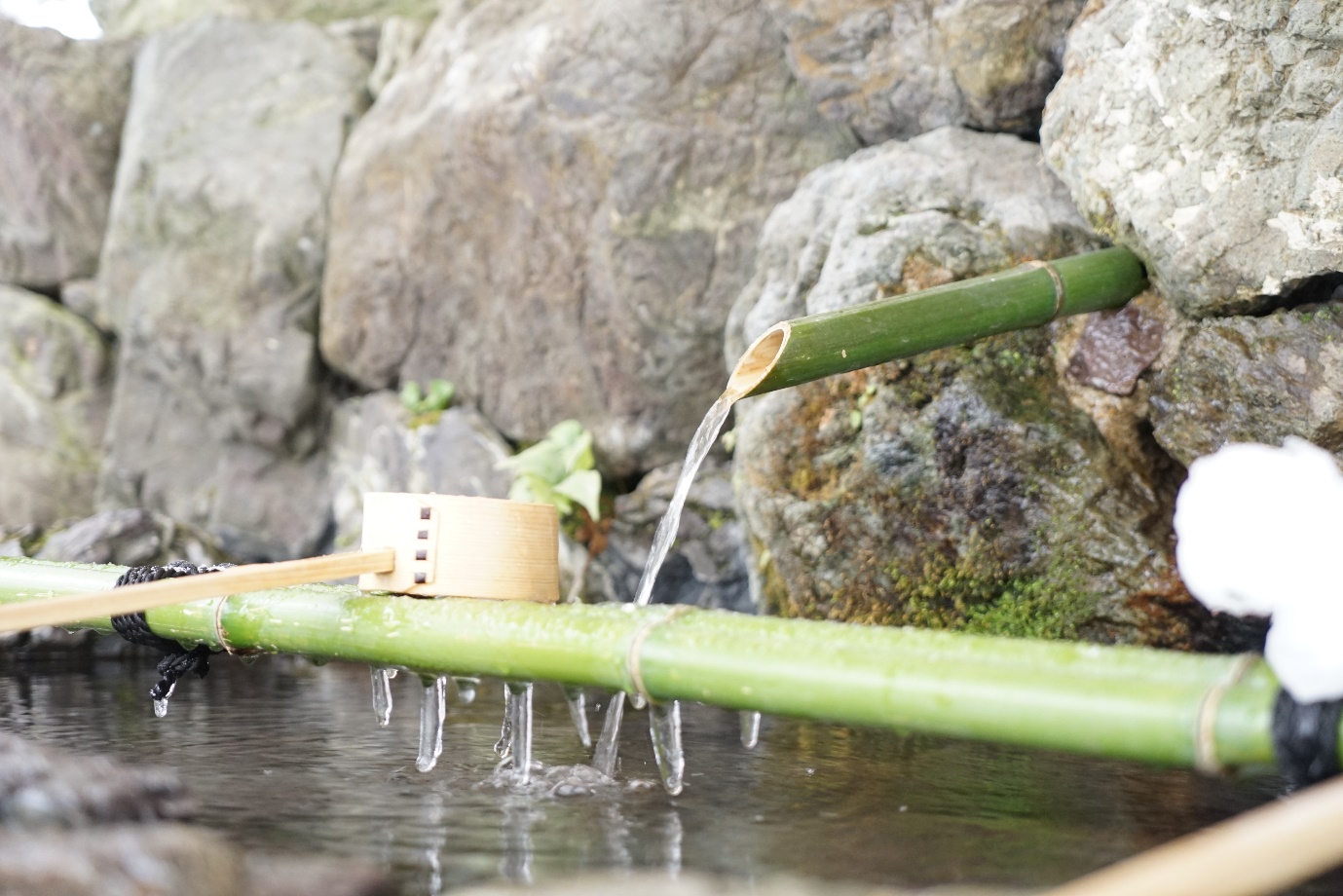 When I looked up at the left side, there was a tree with a splendid branch. This is the tree that assumed as the god.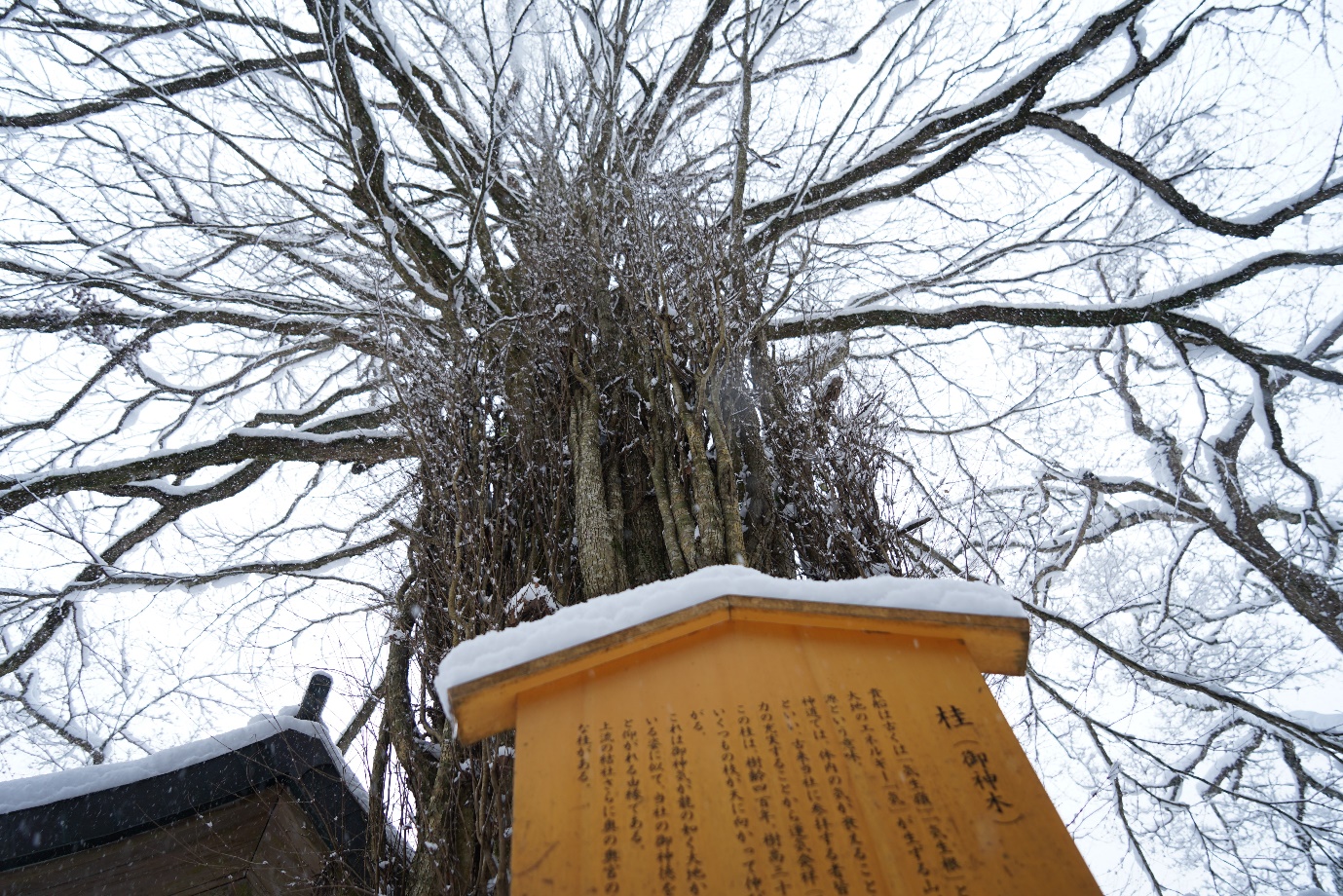 The left side is the Shrine office and the right side is the main hall.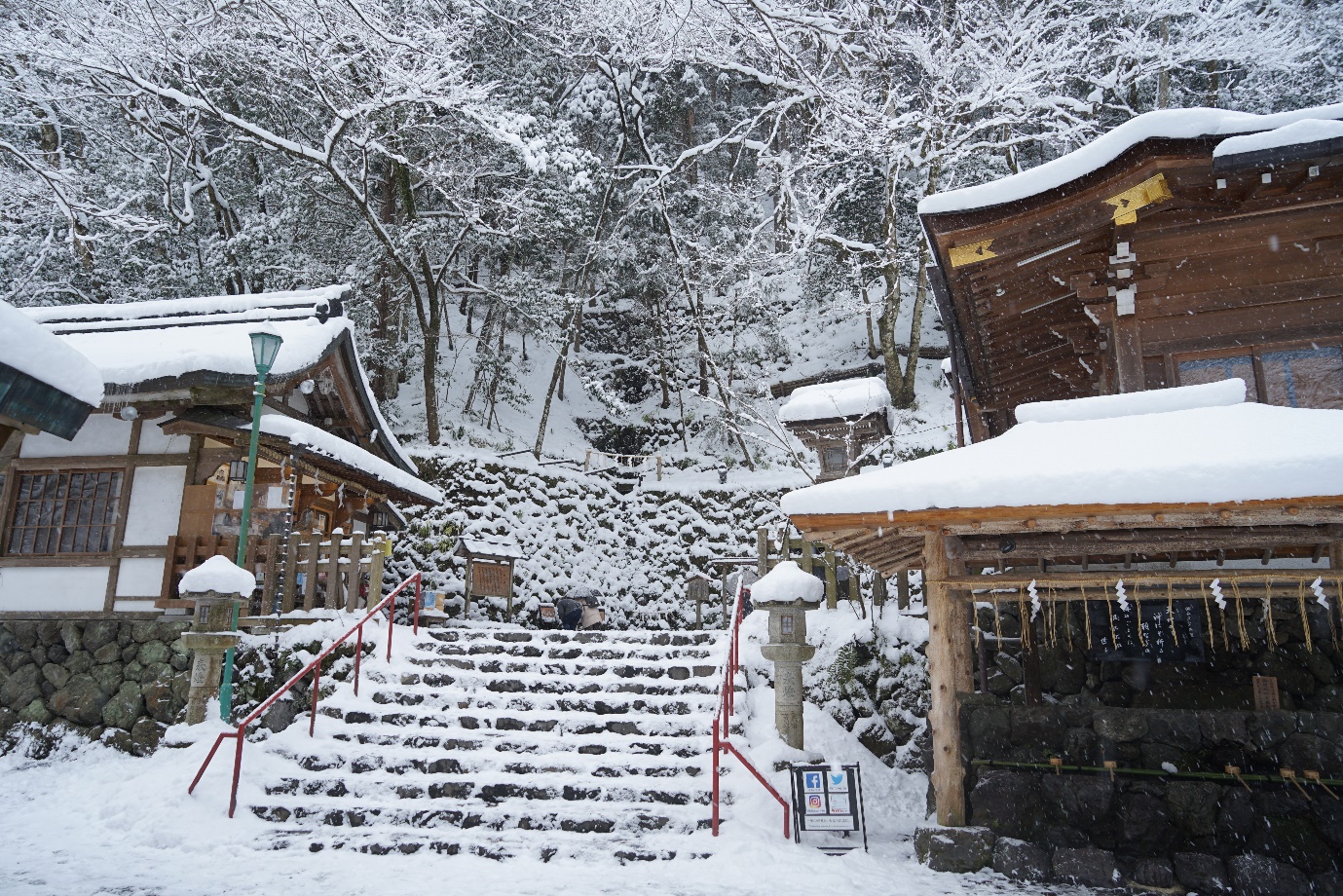 It 's time to visit the main shrine.
First, let's take a peek at the Shrine office.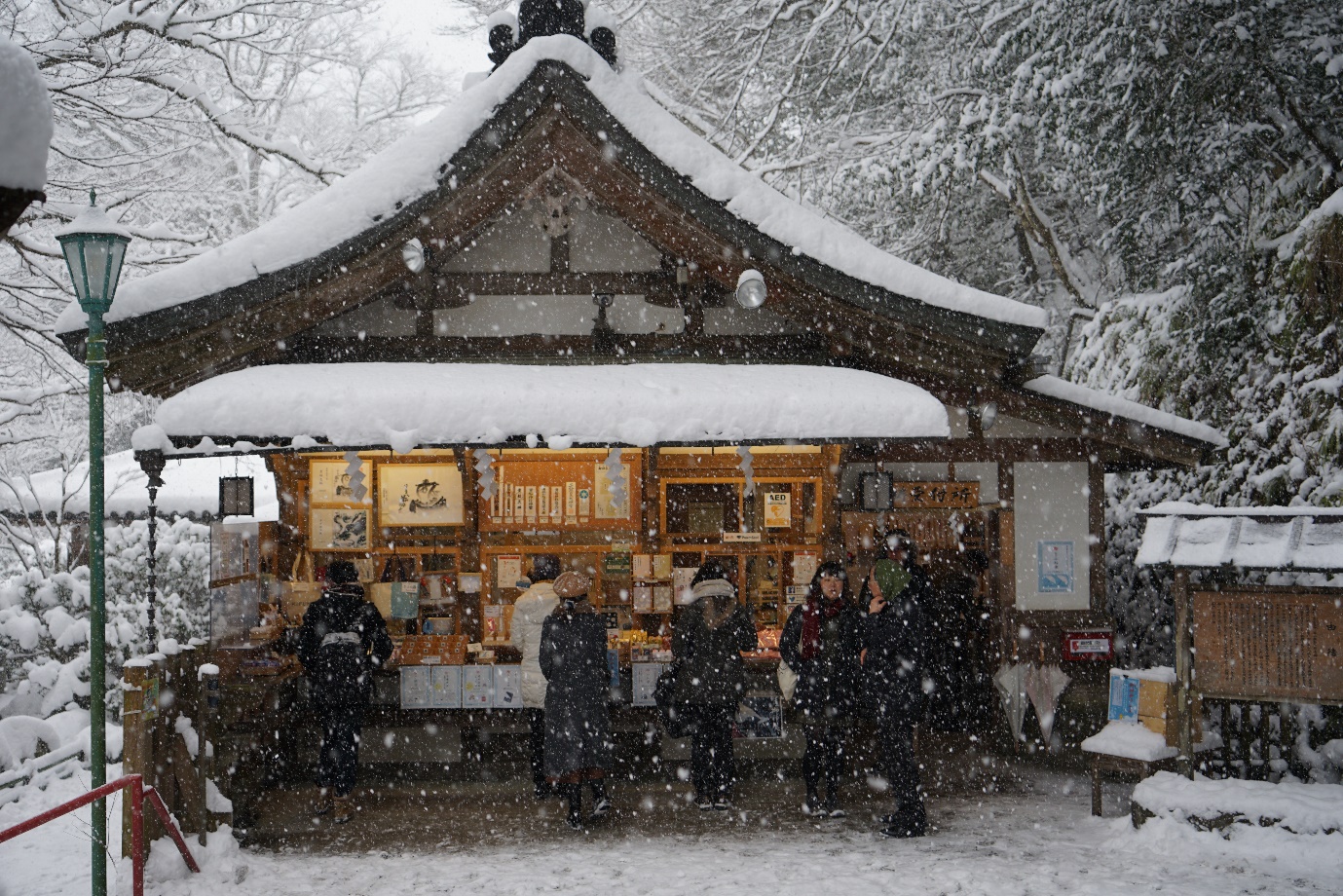 There was a "Mizuura Mikuji", a character that emerged when floated on the water.
Here, Kifune Shrine enshrines the god who controls water.
Since water is a source of all things, it seems that it has been gathering great faith since ancient times.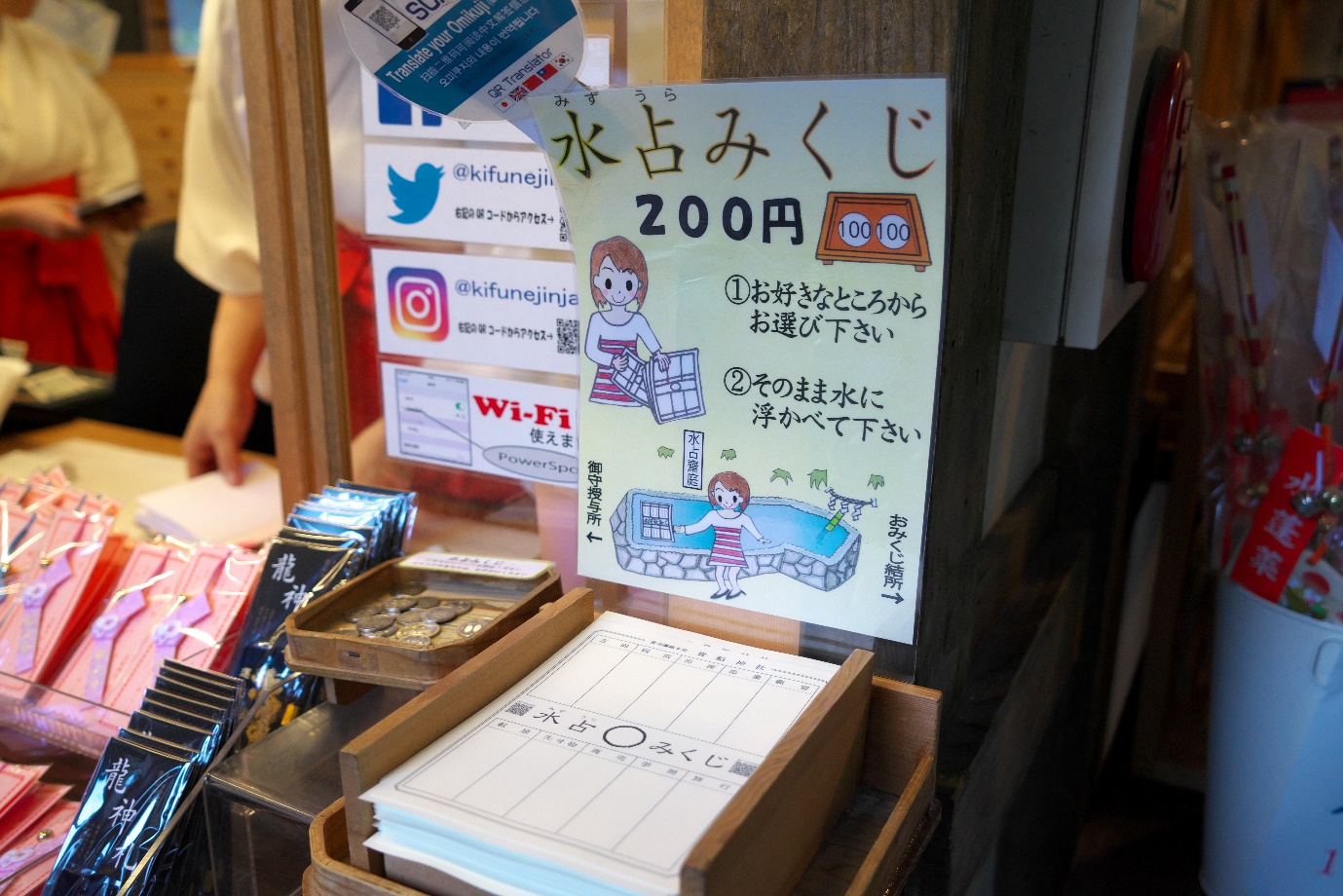 Looking at the side, water is dripping from the cliff.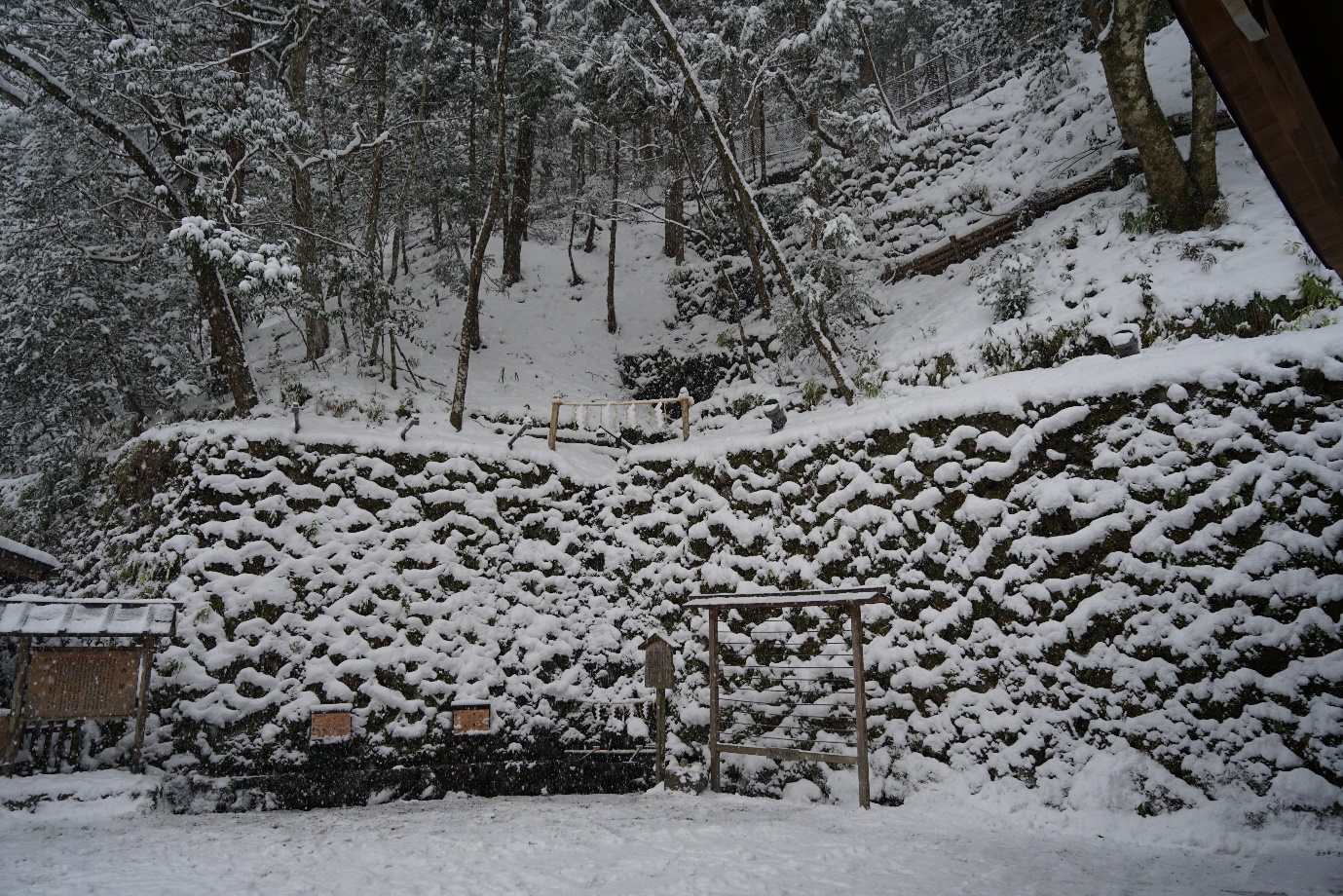 Once I float a water fortune in a puddle ...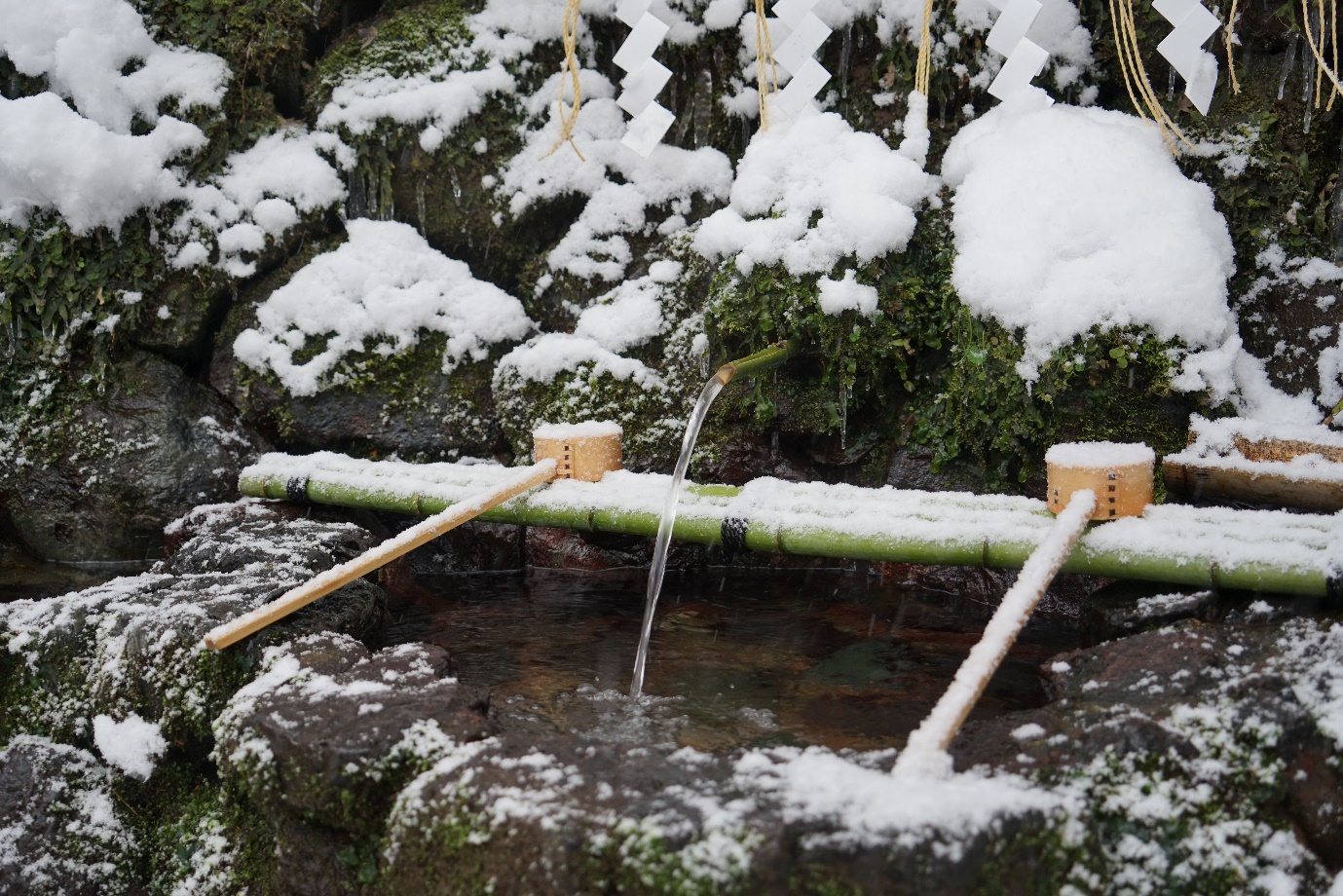 It shows that "You have some sort of good luck."
"Travel ⇒ Good to not to go", that also fortune said.
I don't travel much, but I will go to shrines and temples!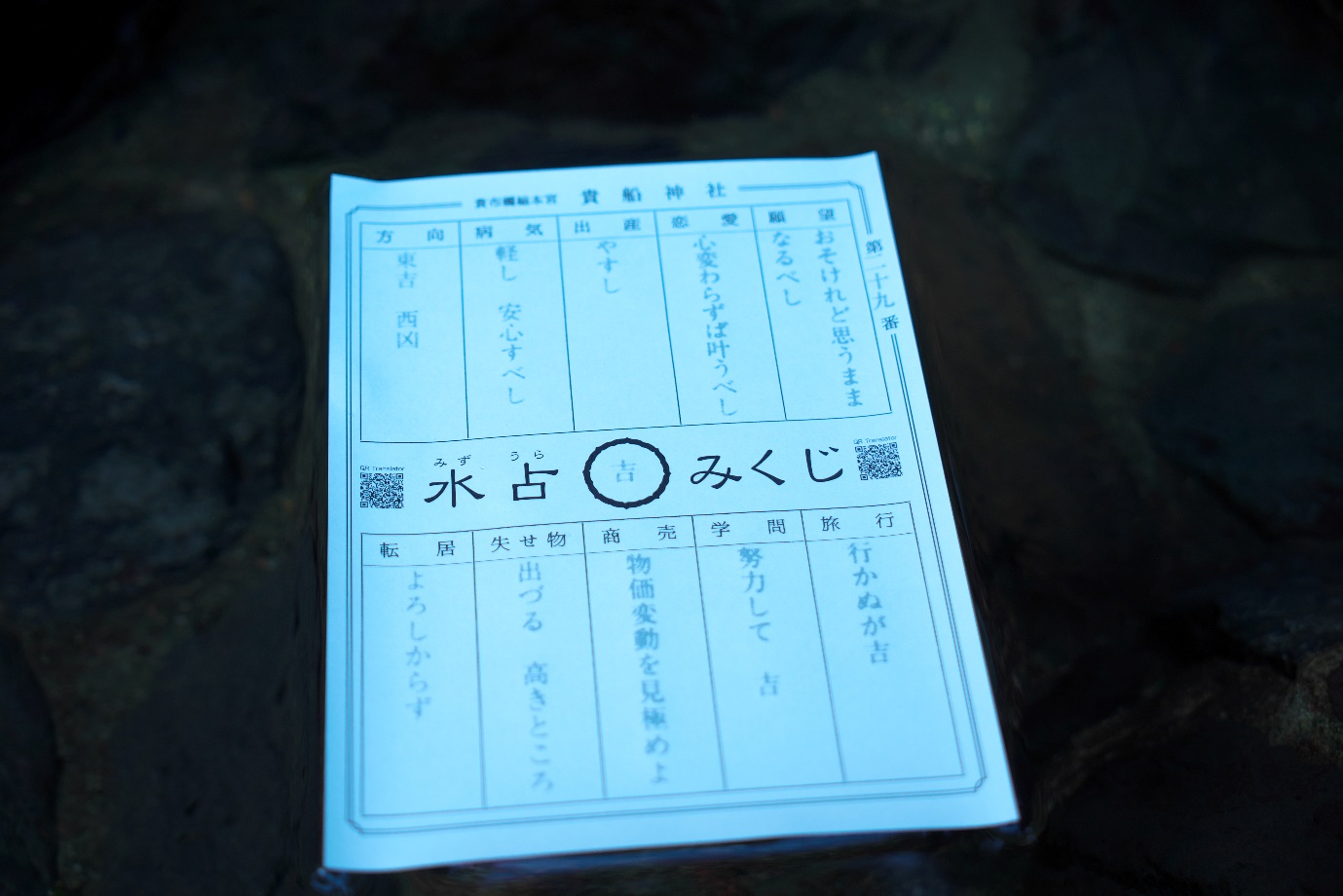 Snow is now more blowing. It was a more mysterious atmosphere.
Finally, I visit the main hall.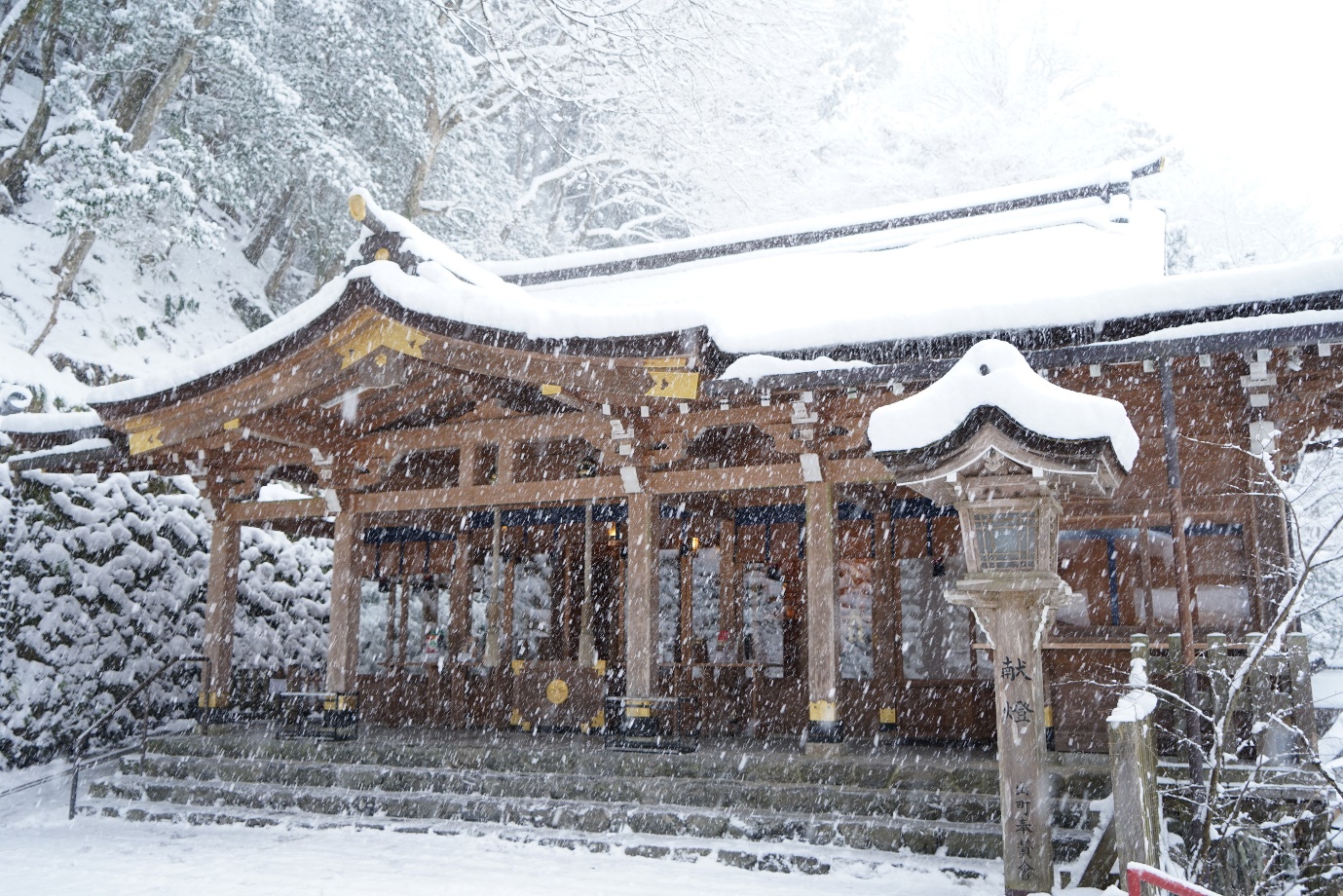 After giving a bow twice, claps for two times and bow once, I gave some offerings.
There was a "Futaba Aoi crest" in front of the donation box.
It is familiar with the line "Why don't you notice this Inro(Family Sign)?", "Futaba Aoi crest" by Mito Komon.
In Kyoto, the "Futaba Aoi crest" is famous for the world heritage Kamigamo Shrine and Shimogamo Shrine. There might have something relation between these shrines?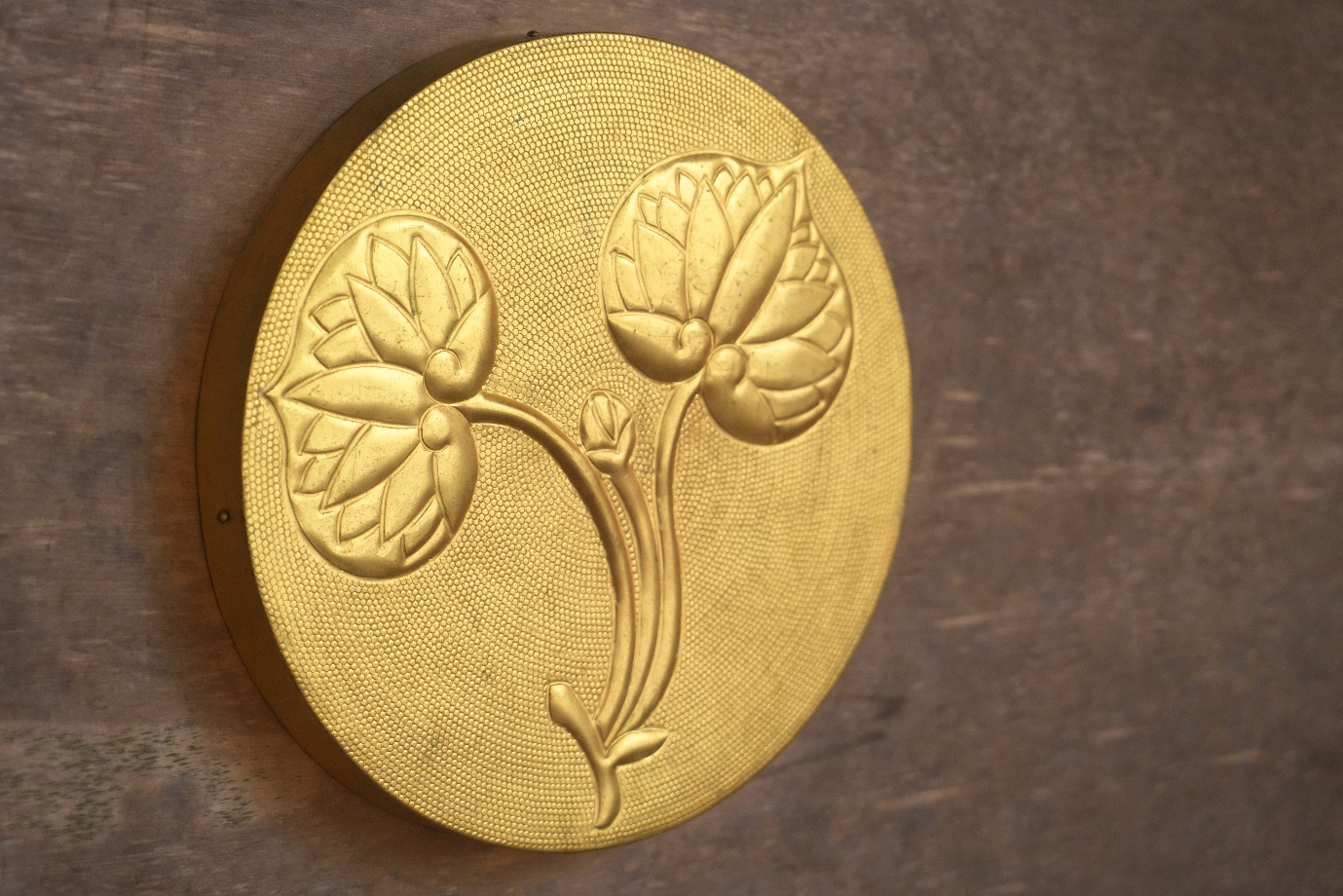 How was the snowfall of Kifune Shrine? Next time, I would like to introduce the fresh green season and Kawadoko.
Detailed information
Name: Kifune Shrine
Address: 180, Kurama-Kifunecho, Sakyo-Ku, Kyoto 601-1112, Japan
Phone: +81-75-741-2016
Official Homepage:http://kifunejinja.jp/
Name: Eizan Railway
Phone: +81-75-781-5121
Official Homepage:https://eizandensha.co.jp/en/
Name: Kyoto Bus Co., Ltd.
Phone:+81-75-871-7521
Official Homepage:http://www.kyotobus.jp/route/timetable/kana07/kibuneguchiekimae.html